This article may contain affiliate links; if you click on a shopping link and make a purchase I may receive a commission. As an Amazon Associate, I earn from qualifying purchases.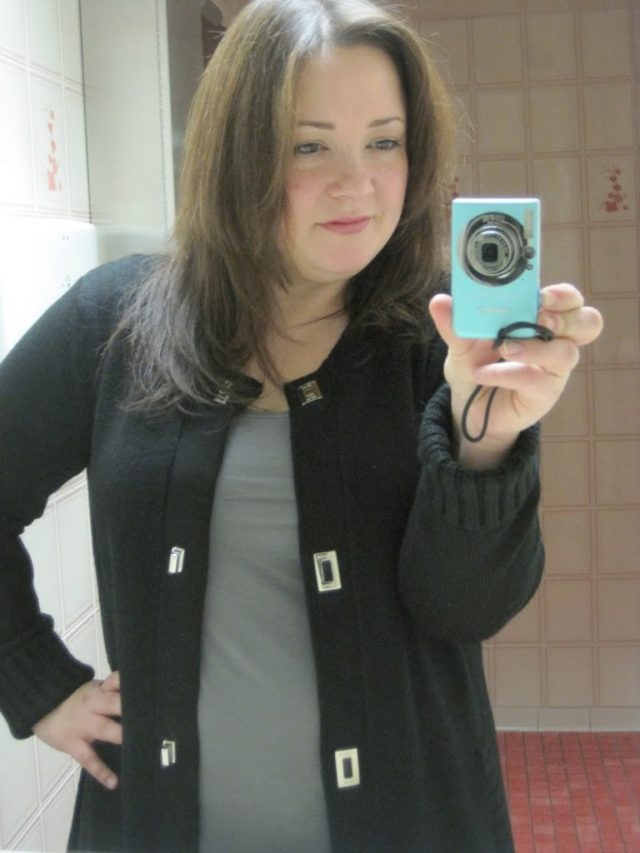 Black sweater coat – MICHAEL Michael Kors
Gray pima tee – Banana Republic (no longer available)
Black trousers – Talbots (bought last year on clearance)
Black city boots – Fitzwell "Andrea"
Silver hoops and cuff
Yep, an early work morning!
So I have been stalking this sweater for a long time. I saw it on the Nordstrom site, but it was never in my size. I searched online, and again could never find it in my size. I would Google, but it looked differently on other sites than it did on Nordstrom so I was confused. I knew this was the type of sweater coat I desired – tight, heavy weave, not clingy, the cool silver turnlock hardware, a length that would work with pants, jeans, or skirts.
At Nordstrom, this sweater was $180. Snap. That's a pretty hefty price for a sweater, but I thought that if it really was what I thought it could be, it would be my new millennium version of my "Trinity" sweater from The Limited. I bought that sweater… gosh maybe 2000? Well I still own it, if I get back to a 10 I will probably continue to rock it, and that sweater was a MAJOR staple in my wardrobe for nearly a decade. If one can find that perfect of a garment, well $180 seemed like an investment.
Then Nordstrom sent me a $20 rewards certificate (I keep a Nordstrom credit card just for these rewards). I felt it was a sign, and went back to their site to look for this sweater. They had it… no Large, but they did have an XL. I snapped it up and it arrived last night.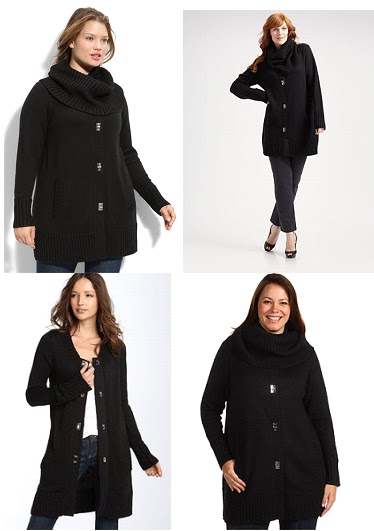 The many faces of the MICHAEL Michael Kors Turnlock Sweater
I now see why it looked differently on the Nordstrom site than it did on any other site. This sweater has a matching cowl. A tube about a foot in length of the same knit as the ribbed cuffs. It's held on to the cardigan by a sole button on the back of the collar, but easily removable. Removed, this sweater coat was exactly what was missing from my closet. A bit big, but not too large. But then I get to work, and I see this sweater is really big. Like a size too big. I really need a Large in this. I am glad I didn't wear perfume today, because I am going to return it or sell it.
So I look online, now that I realize this sweater has a wacky detachable cowl (which is super cute, but I don't think goes with the silhouette of this sweater). And guess what? It's currently $88.79 at Overstock AND if you go through Ebates you get 5% cash back AND Overstock right now has FREE SHIPPING!
So I ordered it in a Large. There were six left in Large Black, and a variety of other sizes and this sweater also comes in Gray. I really like it a lot, think it can be casual with a tee and jeans, but has refined enough of a finish that it could be worn with a sheath dress to a business meeting. And I really like that I found it for more than 50% of the original price!