This article may contain affiliate links; if you click on a shopping link and make a purchase I may receive a commission. As an Amazon Associate, I earn from qualifying purchases.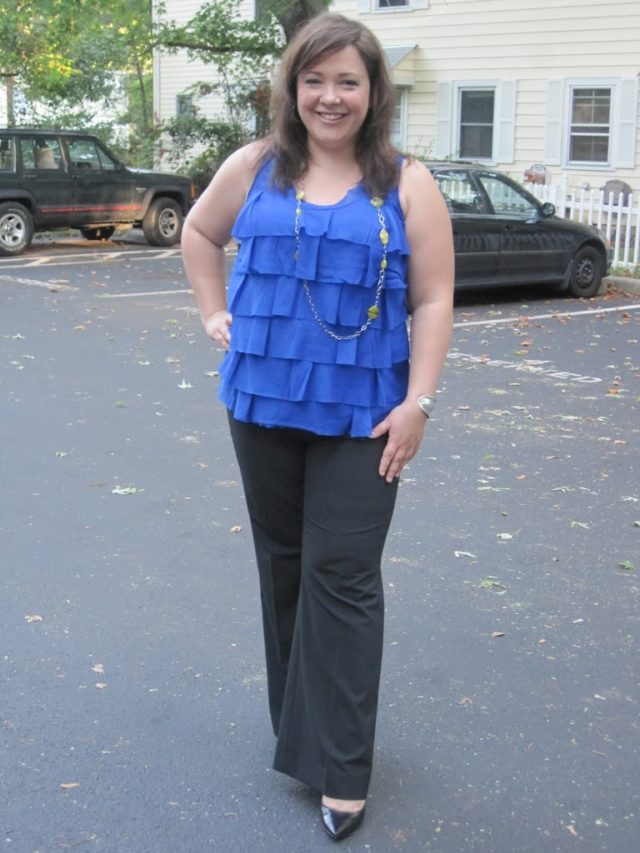 Top – Ann Taylor LOFT
Pants – Gap Perfect Trousers (and yes, these are the size 12 pants!)
Necklace – NY & Co
Pumps – Nine West (black leather version of the leopard ones I wore last week)
Silver hoops and cuff bracelet
Yes ladies and gentlemen, I am wearing a pair of SIZE 12 PANTS! Okay, they are a bit tight, they are unlined and stretchy, but this is a pretty fantastic accomplishment and something I have NOT worn since before I got pregnant. Hooray!
And I also got my hair cut and colored! Gosh it felt AMAZING, it has been far too long. I asked Kathleen (my uber fantastic stylist) to keep it brown, but with some touches of caramel or auburn for a bit of light. I did a partial highlights, with brown and the caramel color. I am trying to cover grays and roots, but don't want a single-process dye job because the bottom of my hair doesn't have gray and is a color I really like. On occasion I do a single-process, but usually a partial highlights will do plenty to even out the color, cover most gray, and look natural. She trimmed the layers, gave it shape and recut my sideswept bangs. I switch sides for my part and sometimes part my hair in the center, so she cuts for that. As you know, I also switch it up between straight, curly, and something in-between and I think she does a great job giving a cut that accommodates all these options. I decided to make it slightly straight today (dried with a round brush, no flat iron) to show the real shape of the cut. Saturday she made it pretty curly and it was very fun looking (I hope to have pictures from that in the next couple of days – they are on my husband's camera).
Makeup is my standard – Max Factor Pan-Stik, Laura Mercier Secret Camouflage, Nars blush in Orgasm, Revlon ColorStay shadow quad, DiorShow mascara, Revlon Super Lustrous lip gloss.
It will be a backwards week with my weekend recap after today (and possibly tomorrow) because of waiting for the photos. But we had a fun weekend – had friends over Friday night for some TV watching and Cava, Saturday we went to a festival at a nearby bar, Sunday we spent with my sister at our house. I even was able to fit in a lot of chores around the house and some house decor things (which I will post on my other blog – not sure why I combine home decor with having a baby but it has happened that way. This way if all you care about is fashion, hang out here. If you want to see what I do with my bedroom or the nursery, you can go over there).
So how was your weekends? Anyone do anything fabulous or lovely or relaxing? We had lovely weather in the DC area, how was it where you are?