This article may contain affiliate links; if you click on a shopping link and make a purchase I may receive a commission. As an Amazon Associate, I earn from qualifying purchases. 
Hey Allie,
I have been liking the equestrian boot with tucked in jeans look, but I don't know if I can pull it off. All equestrian boots I see online look really tall and I'm only 5'2", and let's say the not so slim side. I was hoping you could recommend something that may work for me. Do they make equestrian liked boots that aren't super tall?
Thanks,
Elvira
Hi Elvira:
As a fellow petite woman, I understand your issue. I remember a few years ago, found a fantastic pair of tall black boots that actually fit my calves, but had to stop wearing them because they dug into the back of my knees, causing major welts and sores. If the lower half of my legs were only an inch shorter, I would have been able to wear them. I have seen this happen far too many times – if I can find a boot that fits the width of my legs, it doesn't fit the length.
However, there are some great options out there.
First thing, measure your leg. Most boots describe how tall and wide the shaft is. Then you can immediately cross off certain styles or brands for being too tall or narrow in the calf. You will find not all brands or styles are the same, and some styles do run a bit shorter. Usually a shaft height of 14" or so works best for petite women. Sometimes that which is called "mid calf" will be the right height for your leg.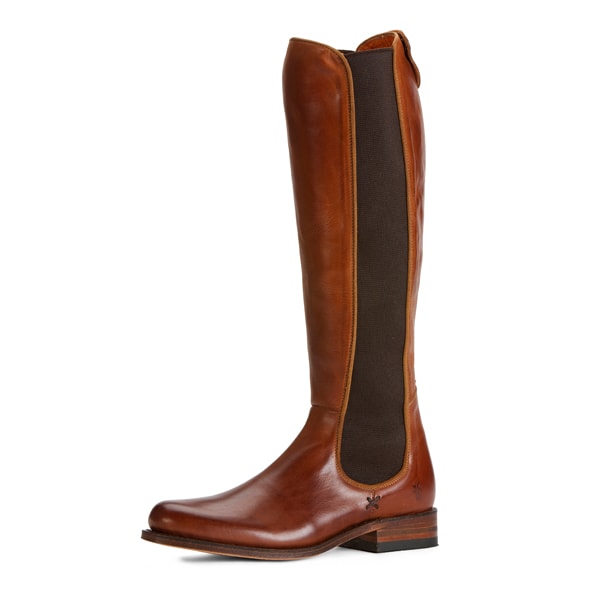 As for width, there are many chic riding boots out there with elastic gussets. Elastic will help your leg feel comfortable in a tall boot and make it easier to slip on. The Riding Chelesa boot from Frye has a 15" tall shaft that may work for your height (most riding boots are 16") and elastic gussets that are kind to a wider calf while still looking stylish.
Also if you find the boots of your dreams but they are a tad snug, you can get them stretched. Cobblers can add up to an additional two inches in a boot shaft without sacrificing style or quality. This process ranges in price depending on what part of the country you are in, but I have never heard of it costing more than $50 (usually closer to $20).
I have forever been a fan of Zappos – they have such an extensive selection, free shipping and returns and amazing customer service. I never hesitate to call them for additional information on an item I find on their site. Zappos carries great brands known for wider calves like Fitzwell and Ros Hommerson, and had plenty of equestrian-inspired boots. Today when searching "Wide Calf Boot" I found over 103 styles.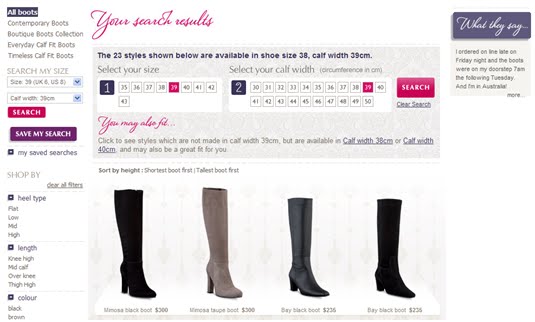 DUO Boots is a UK-based company that specializes in wide-calf boots. You can search their site by calf and shoe size, and then read very detailed descriptions and customer reviews on different styles. I have the Bern which is a similar style to the Frye Harness boot, which comes mid-calf. Just by looking at the images on this site, you can see that some styles are taller, others are shorter. They carry very classic styles that will be on trend for years to come. If you are unsure, DUO's customer service is quite amazing, they respond to emails with speed and much detail and can help you find a style that will fit your body and personal style. The only downside of DUO is that they are a UK-based company which means shipping and returns are QUITE the bear.
Wide Widths is a fantastic site, one I have shopped from for ages. Their site is nicely organized by heel heights as well as style of boot. When looking at riding boots, I found many elegant styles with a 14" tall shaft. As that WideWidths.com is a US-based company, there aren't as crazy of shipping costs. I have deal with their customer service by phone as well as by email and find them incredibly informative, helpful, and understanding with returns.
Hope this helps!
 

Readers, where is your place to go for wide calf petite boots?