This article may contain affiliate links; if you click on a shopping link and make a purchase I may receive a commission. As an Amazon Associate, I earn from qualifying purchases.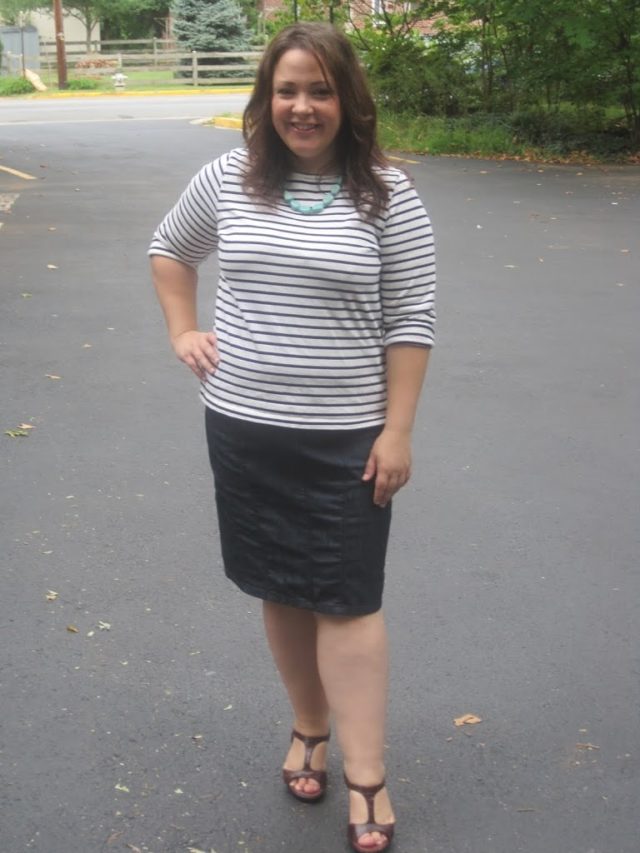 Top – Lands End
Skirt – Ann Taylor
Necklace – Target (couple years old)
Shoes – Sofft
Yesterday I received this top from Nordstrom in the mail. I had a plan to wear it with my gray strappy pump/booties from Miz Mooz and my dark straight jeans. And then my large arms and shoulders and breasts had a different idea. I couldn't get it over my elbows or my neck. It was like an above-the-head straightjacket.
Speaking of Nordstrom, I don't love the revamped site – takes longer to load, harder to find things. And what's up with your shipping? I place an order for five items and I get each of them in separate boxes from different Nordstrom stores all over the country. Shipping used to be quick – within a week. This gray top I bought ordered on the 5th and I just received it last night (along with another separate box holding one tiny cardigan). Not too thrilled about this waste of boxes and shipping materials, and the extra use of fuel/energy to ship all these additional boxes all over the country.
And this Ann Taylor skirt? I don't know if it grew with laundering or if I have shrunk (will find out tonight at my weigh-in). Anyway it rides up to my ribcage now and seems loose all over. Grrrrr.
By the way, I called my hair salon and made an appointment for Saturday morning. YAY! It's been FAR too long and I can't wait for a proper cut and color touch-up!