This article may contain affiliate links; if you click on a shopping link and make a purchase I may receive a commission. As an Amazon Associate, I earn from qualifying purchases. 
Saturday night my sister and I had a date night. For Christmas she got us tickets to see Grace Potter and the Nocturnals at the 9:30 Club in DC so I had been looking forward to Saturday night for quite a while. Grace wasn't to get on stage until 10:30 so I was able to put Emerson down for bed before we headed out.
We started with dinner at Ben's Next Door. Neither of us had been there before. Tempted to get shrimp and grits, but instead got a salad with filet mignon on top and was not disappointed. Had a great chat with my sister, so long that by time we walked over to 9:30 we had missed the opening performer. However we still had time to grab some drinks at the bar and wriggle ourselves into a really good spot to the right of the stage.
This was not my first time seeing Grace Potter and the Nocturnals; I think the first time I saw them was in 2007. I love a female singer who can really rock out, and Grace has an amazing voice. The band is really good too, and they complement her voice and can really jam out, being spontaneous, playing off each other. I always appreciate a band who can sound even better live than recorded, and isn't afraid to go off the beaten path and show true talent and unplanned jamming ability.
Saturday night, this didn't feel like the same band I have seen and loved so many times before. Yes, they sounded great, but it was too polished, too routine. Grace looked amazing, and sounded amazing, but I didn't get the chills like I have in the past. At the one time when the Nocturnals did jam out, the crowd just didn't feel it. It took me until then to realize that Grace Potter and the Nocturnals have a new fanbase – the people who love Grace from VH1 Divas, their songs on the radio, Grace's pretty face and fun dresses. Those who only know the band from "Paris (Oooh La La)" and looked utterly confused when they started the show out with "Joey."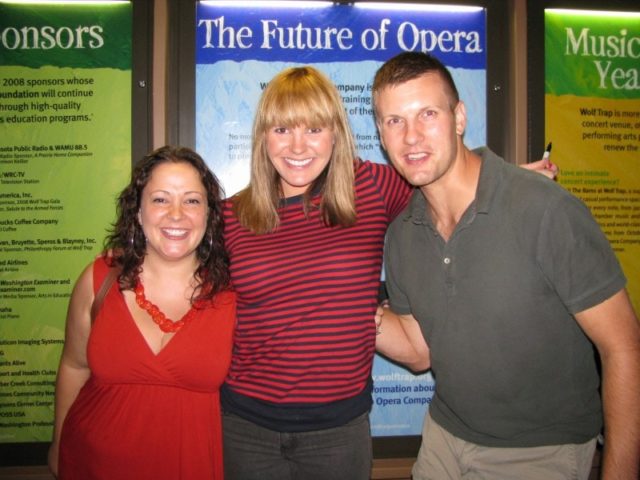 Me & my husband (and Emerson en utero) with Grace Potter, 2008
Don't get me wrong, Grace Potter and the Nocturnals are still a great, talented band. I am happy to see the success they are getting, that now they have an opening band instead of being the opening band. And I respect bands that know how to grow together. They still sounded great and still looked to be having a blast together on stage, however they have become a radio band who caters to their radio audience, and I don't think I am part of that audience. I won't refuse a chance to see them play live again, I just won't be clamoring to be the first in line to purchase tickets.
Anyway, on to the important stuff – the clothes. I wore a new gray and white striped tee I got from J. Crew's Final sale, with my LOFT leather skirt, Ann Taylor military jacket, tights and my Cole Haan booties. My bag is a little tiny crossover from the Mulberry for target line – perfect size for Smartphone, lip gloss, ID and some cash. I was in a rush to get Emerson down before I left so I didn't get any pre-evening photos. After the show, after dancing and sweating and jumping, my sister tried to get some shots outside the club: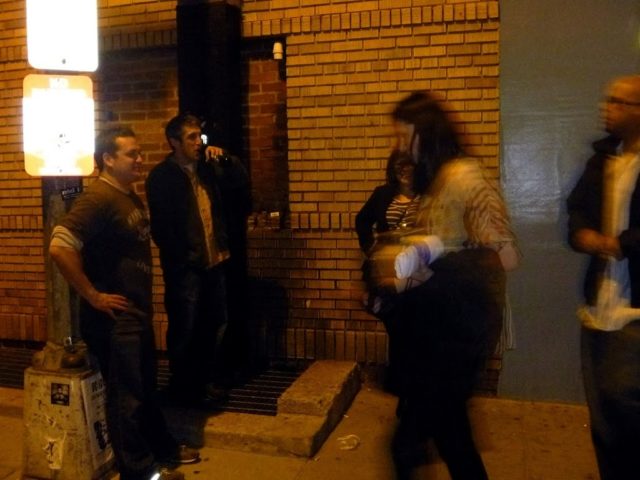 That's me behind the woman walking…
I am a magnet for people walking in the frame…
The only picture my sister got – good example of how the bangs look when sweaty!
After the show, we wanted to go to a bar but every place on U Street was packed. We gave up and headed back to my house and watched SNL on the DVR. All in all it was a great night and I am even more jazzed for the upcoming shows on the schedule – next week I am seeing Black Joe Lewis & the Honeybears with my girl friends, and on April 2nd my husband and I are going to see Warpaint (and meet up with blogger Miskabelle!).
Follow Me | Twitter | Facebook