This article may contain affiliate links; if you click on a shopping link and make a purchase I may receive a commission. As an Amazon Associate, I earn from qualifying purchases.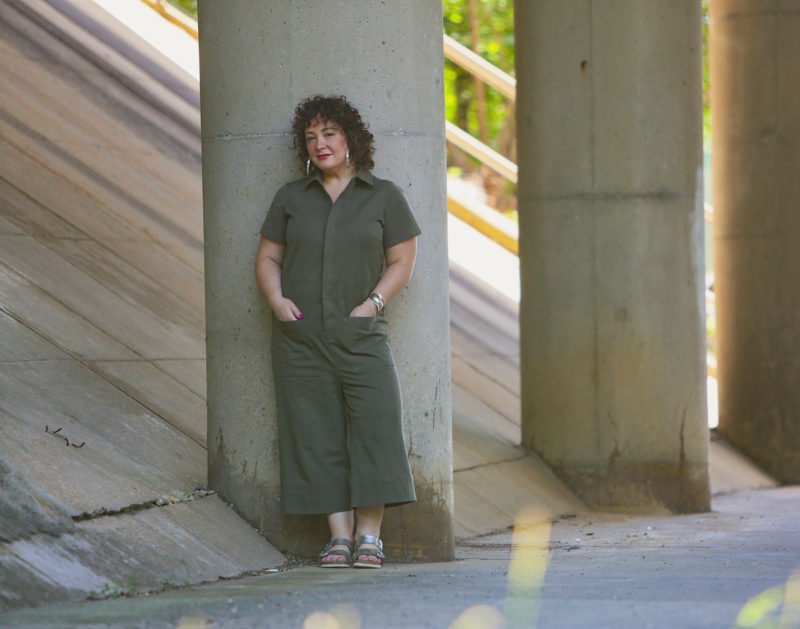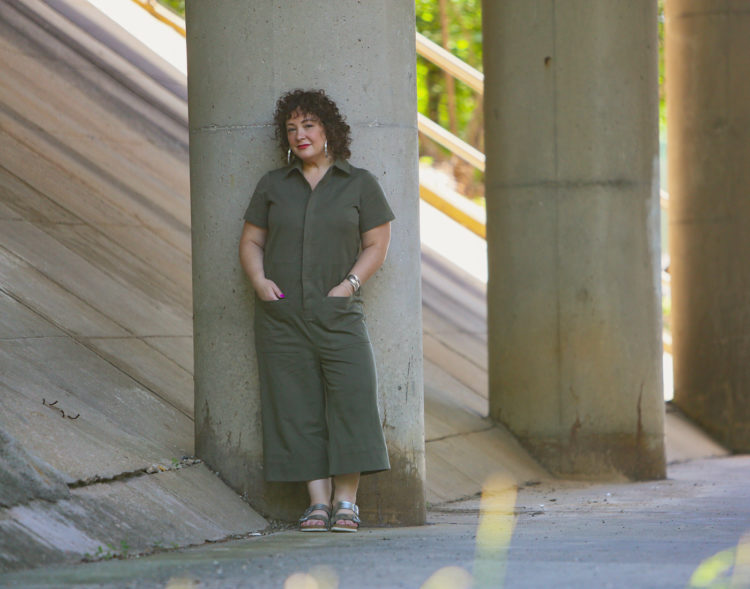 They always say the older you get, the fewer f*cks you have to give. I see this when it comes to my wardrobe. I have less patience for clothing that is difficult. I don't want to be pinched or sucked in, I don't want anything too complicated to care for, and I've started breaking all the rules regarding figure flattery. I mean, what is considered flattering anyway? Nine times out of ten, it is a garment that makes us look taller and slimmer or to have a more hourglass shape. And why do we desire length, a slimmer figure, or an hourglass shape? Sometimes I love to highlight my bust, to showcase how I now have a waist and curves above and below it. And I like the look of having pieces of clothing end at points on my body that makes me look more proportional. And other times… I don't have any more f*cks to give and I just want to wear what is comfortable and fun.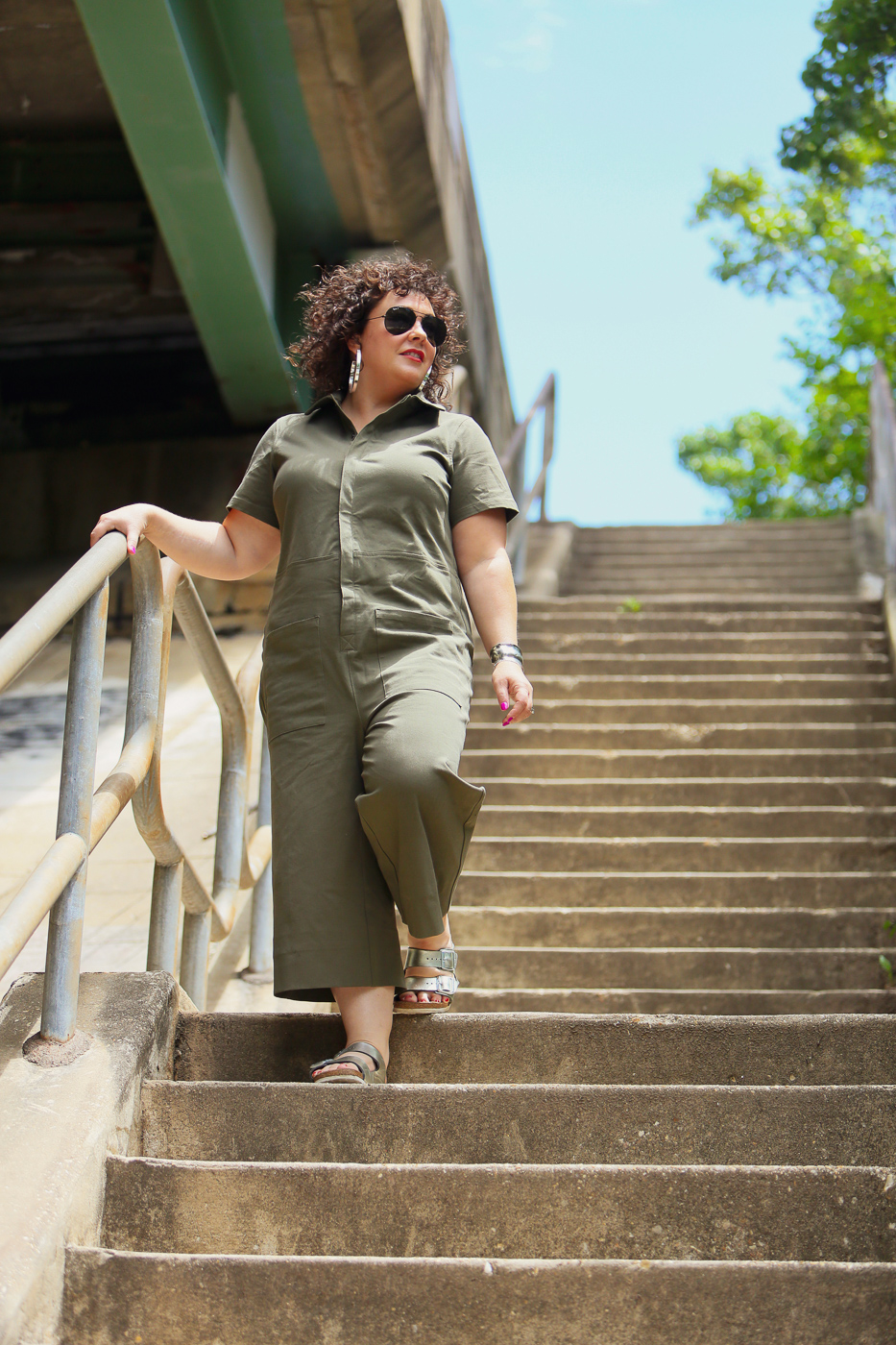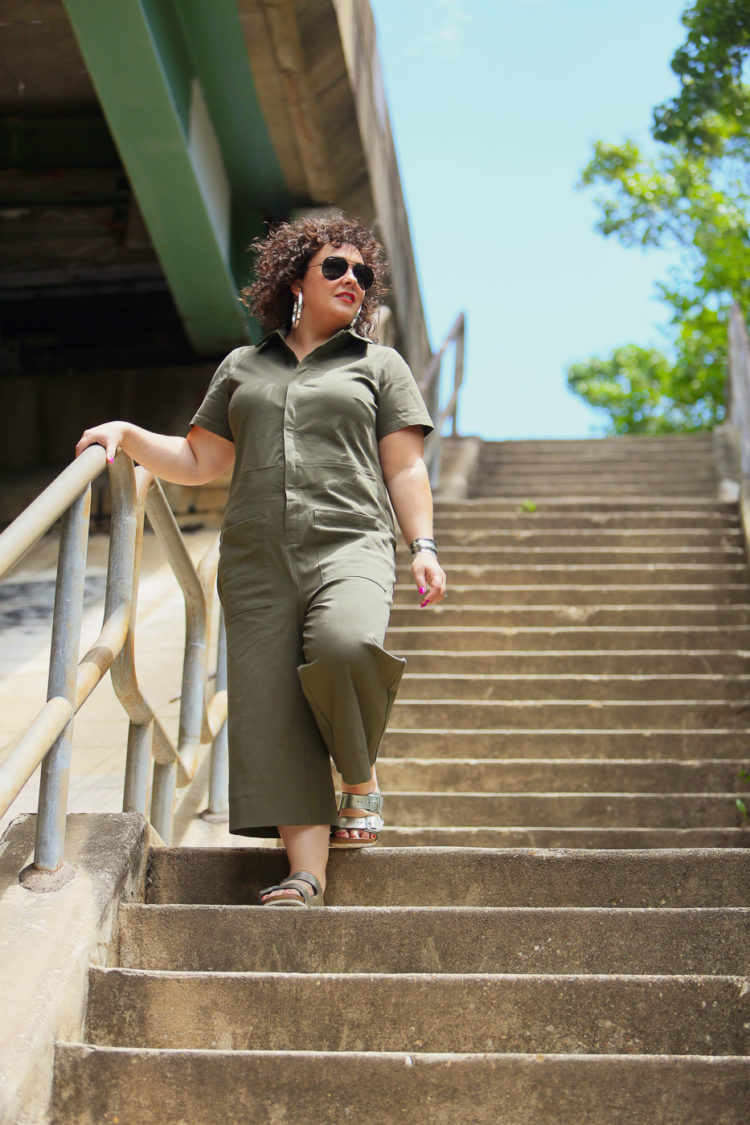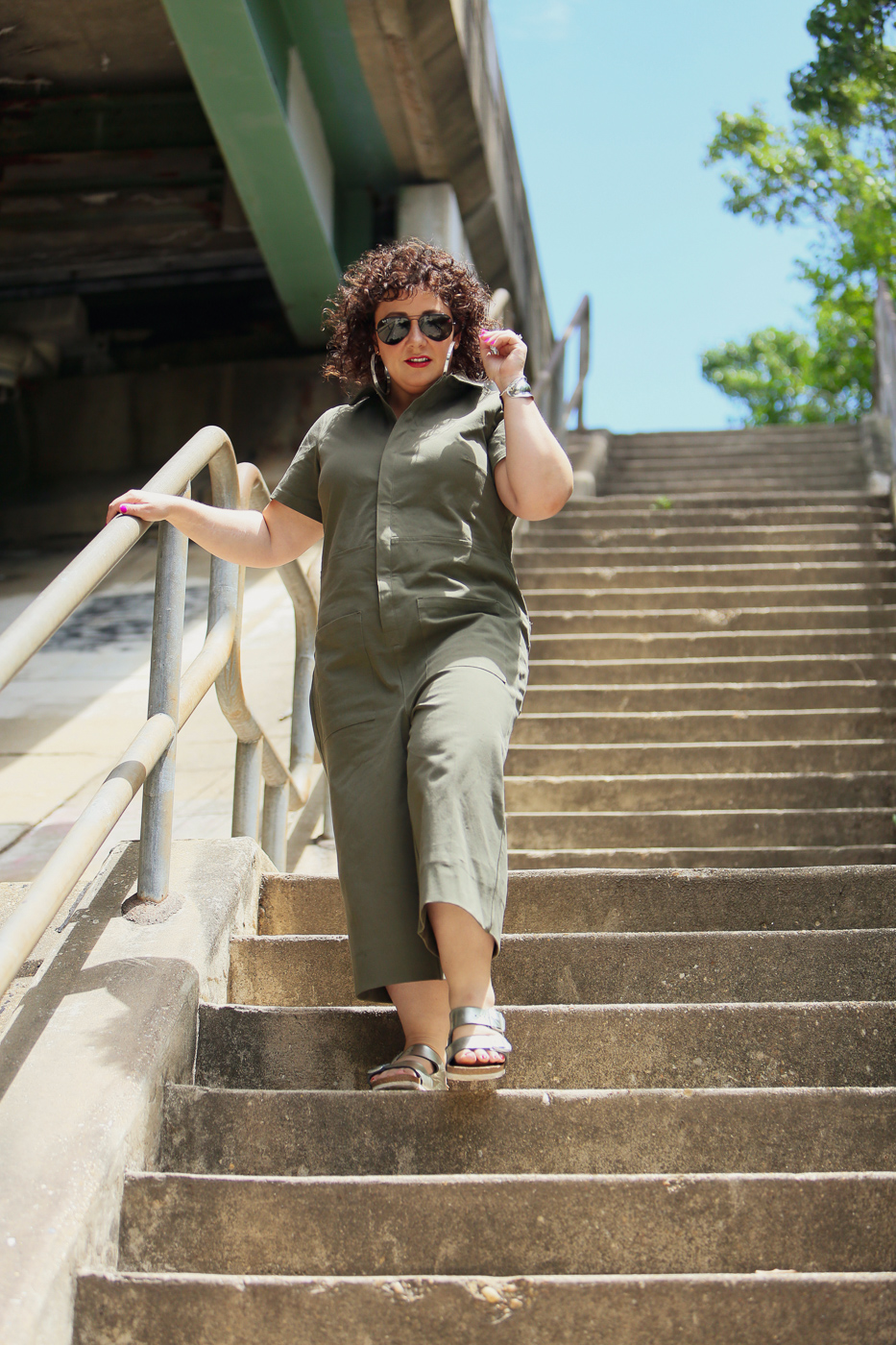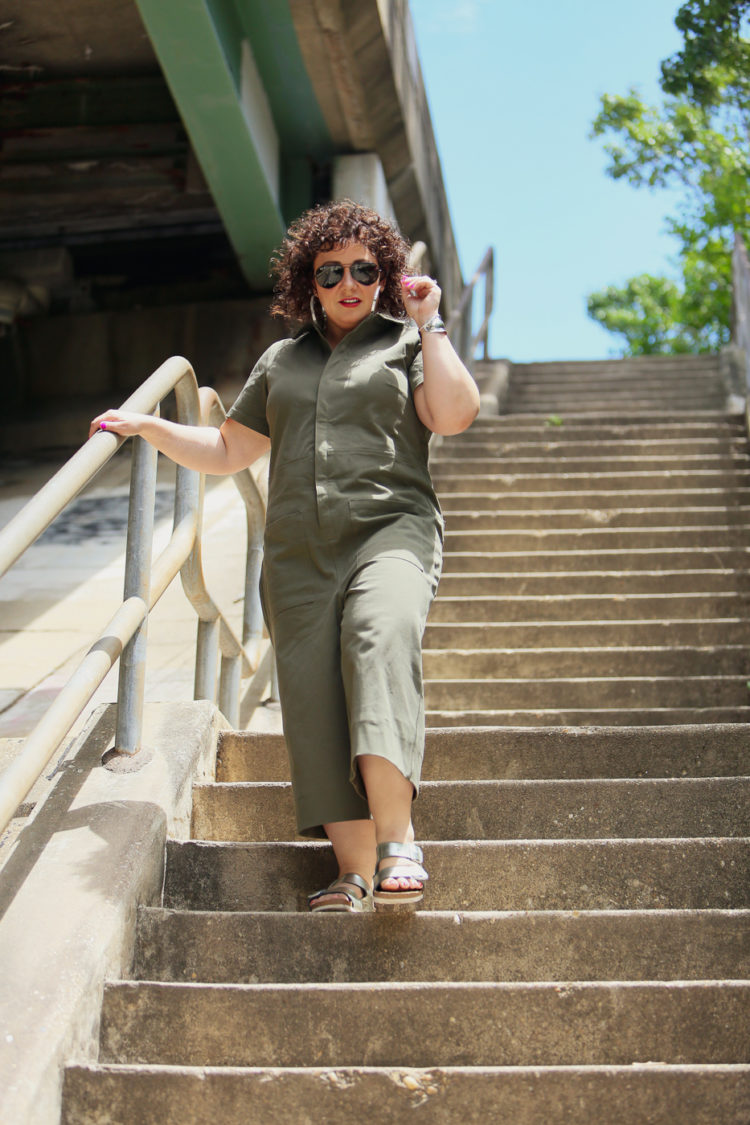 Coveralls: Kate Twill Jumpsuit c/o Universal Standard (XS) | Earrings: Cober Hoops c/o Jenny Bird | Bag: ALLSAINTS (sold out, this one is almost exactly the same one) | Shoes: Birkenstocks | Sunglasses: Ray-Ban | Lipstick: L'Oreal in Matte-Traction Red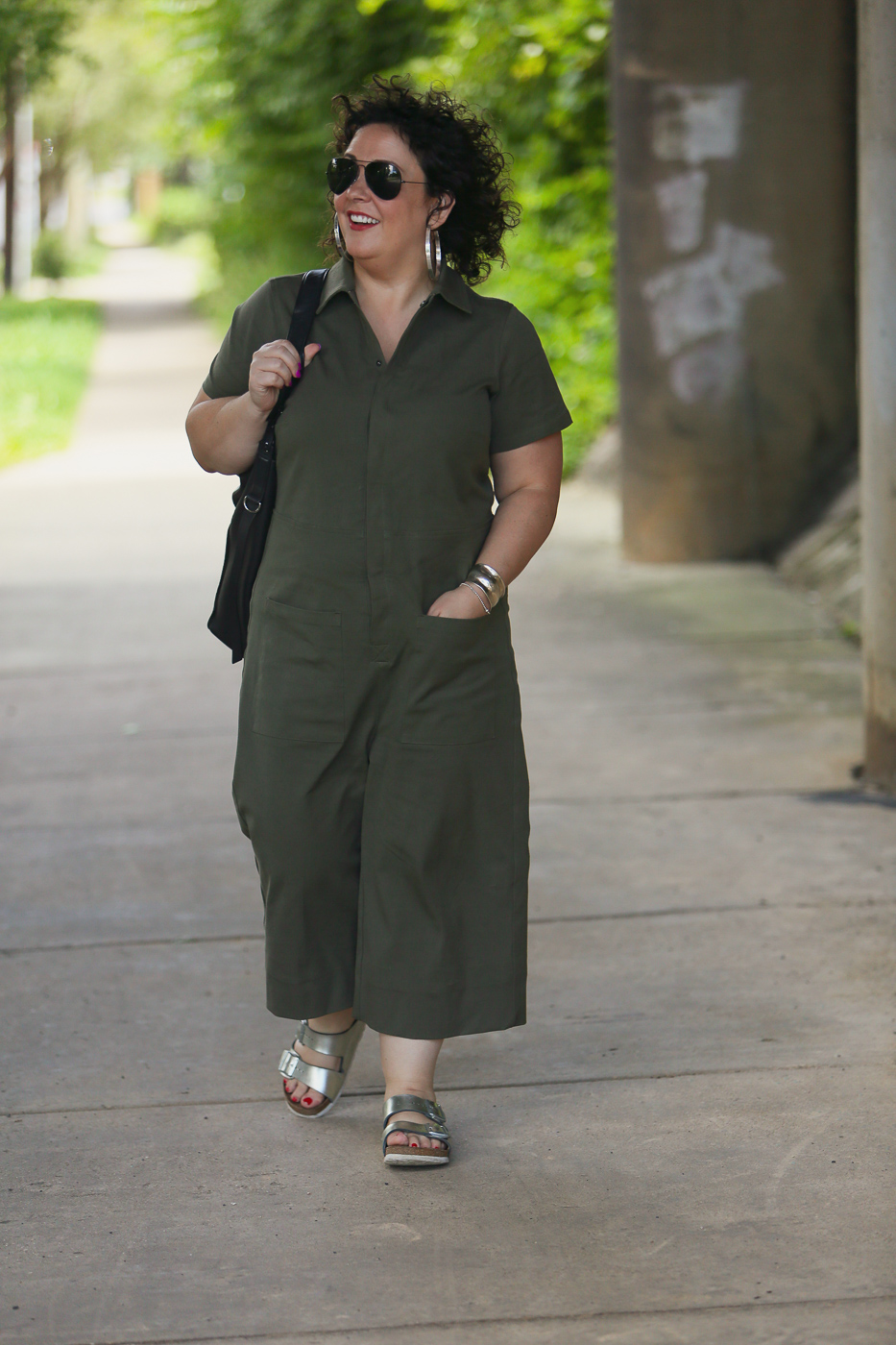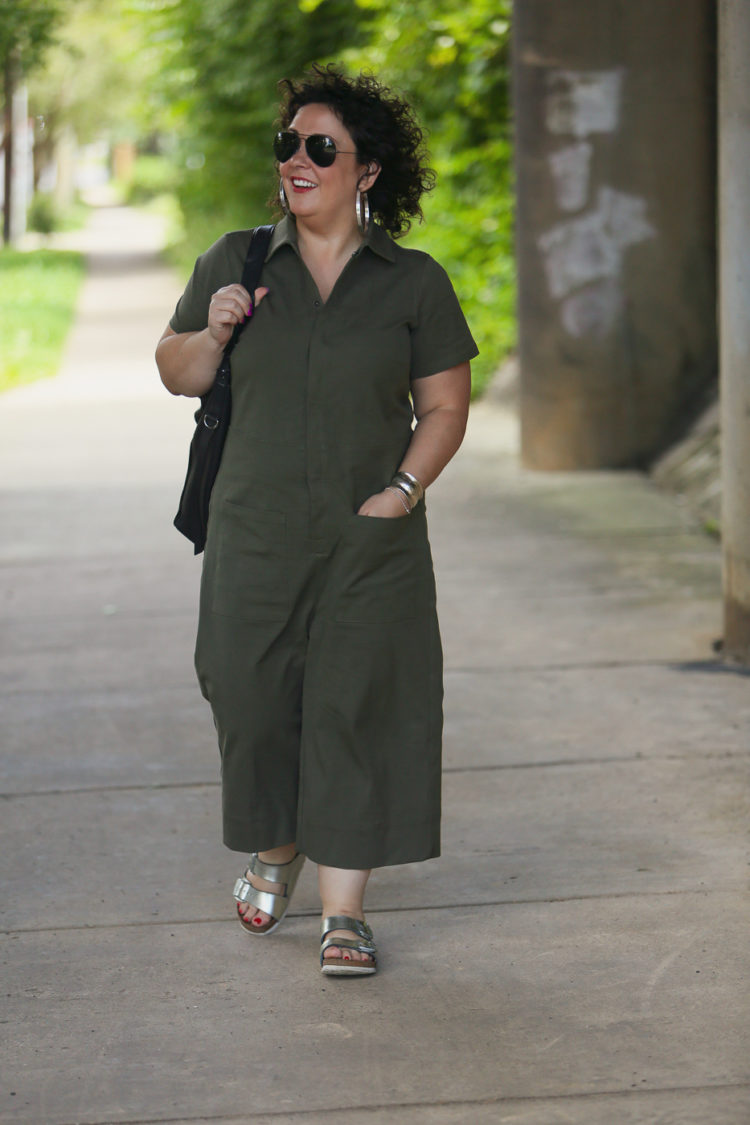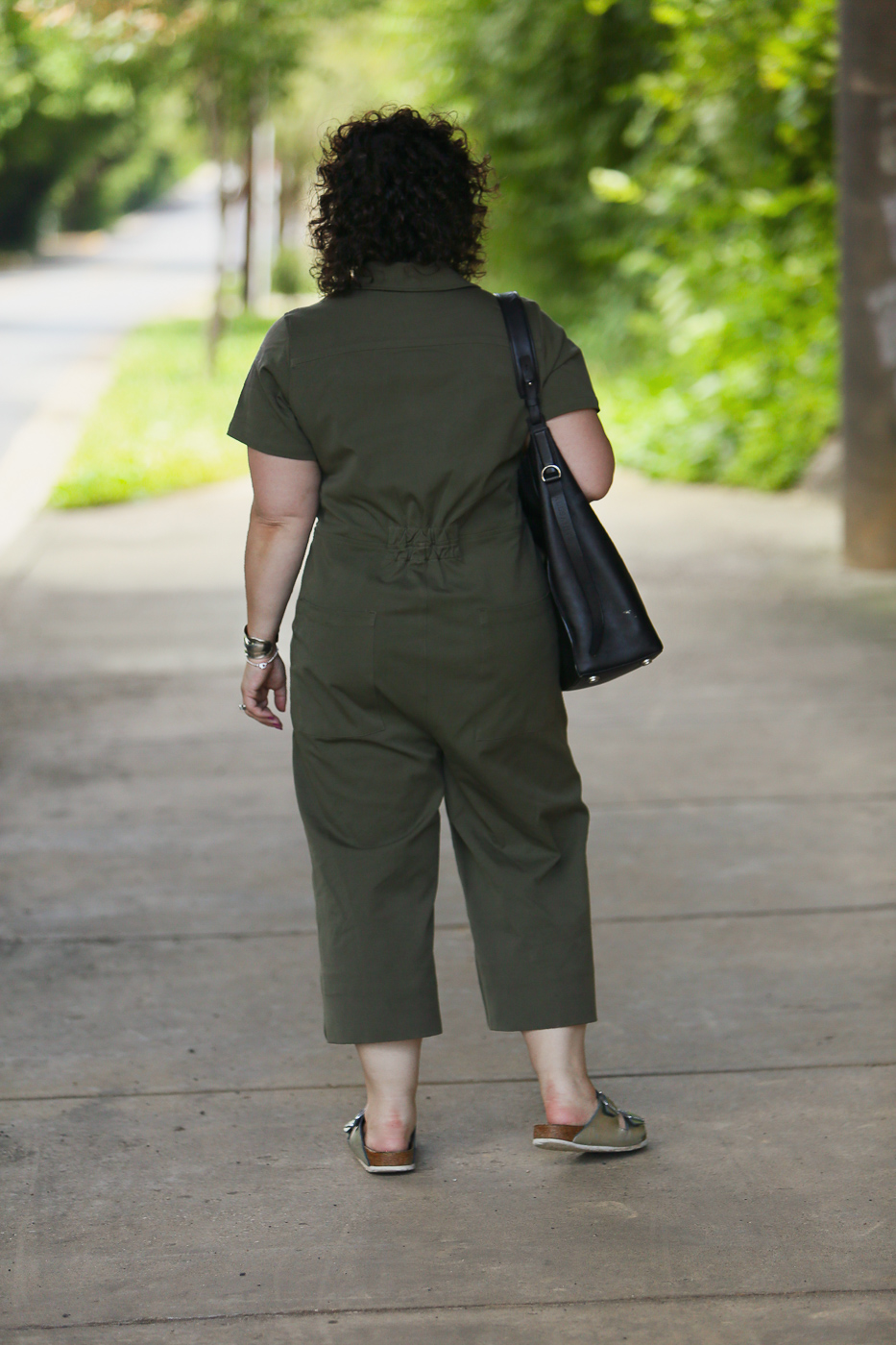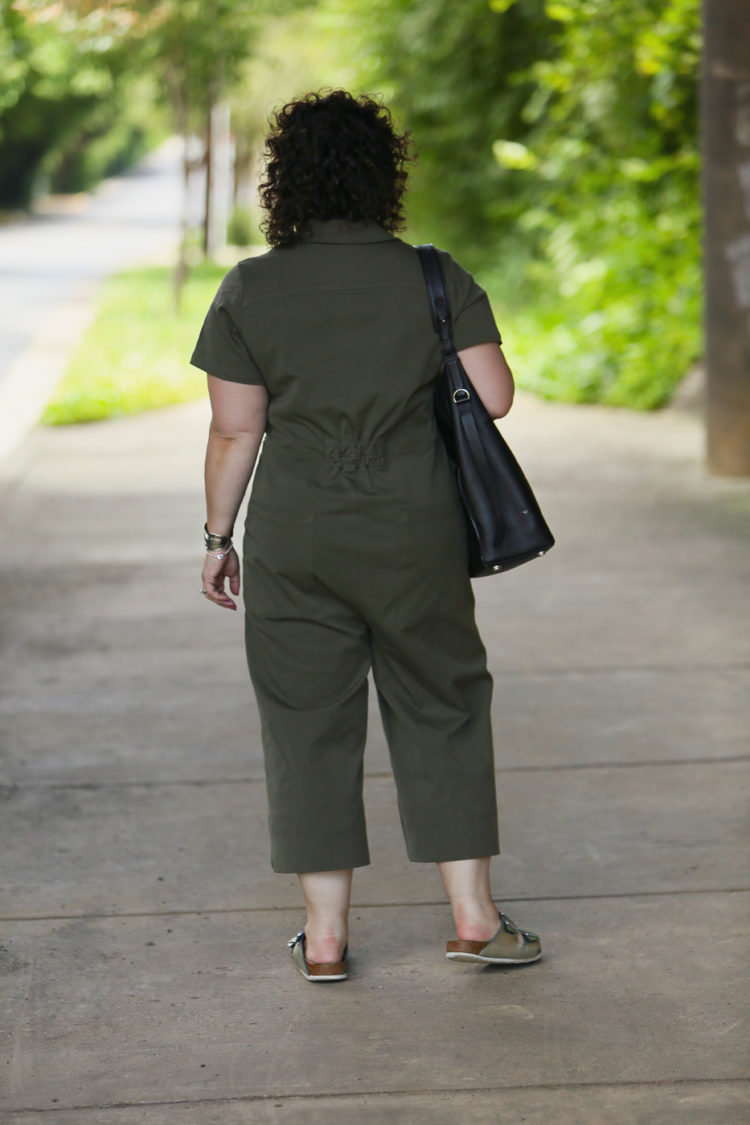 I love overalls, coveralls, and jumpsuits. Any fashion advice column would say that being short, busty, and solid that these items would not be figure flattering. I have proven those experts wrong and own many that do create a flattering effect on my body. This red jumpsuit is a fave; this black short-sleeved one always makes me feel six feet tall, and I even own overalls that don't make me look like Mr. Potato Head. But other ones I wear not because they are flattering, but because they are fun. My black overalls are one, this denim jumpsuit another (oh how I miss you, one of the saddest things to give up when my body changed shape). And these coveralls… as soon as Universal Standard launched them I HAD to have them. They come in black or green; I liked the idea of green for summer. They are supposed to be cropped, but on my 5'3″ body they were this weird length that wasn't long enough nor cropped enough. I am not sure what length I want, so I put up a temporary hem with Stitch Witchery and my iron and wore them out and about at this length. I think I'll like them a hair longer; I'll adjust it, try it out and if I like it take them to the tailor for a permanent crop.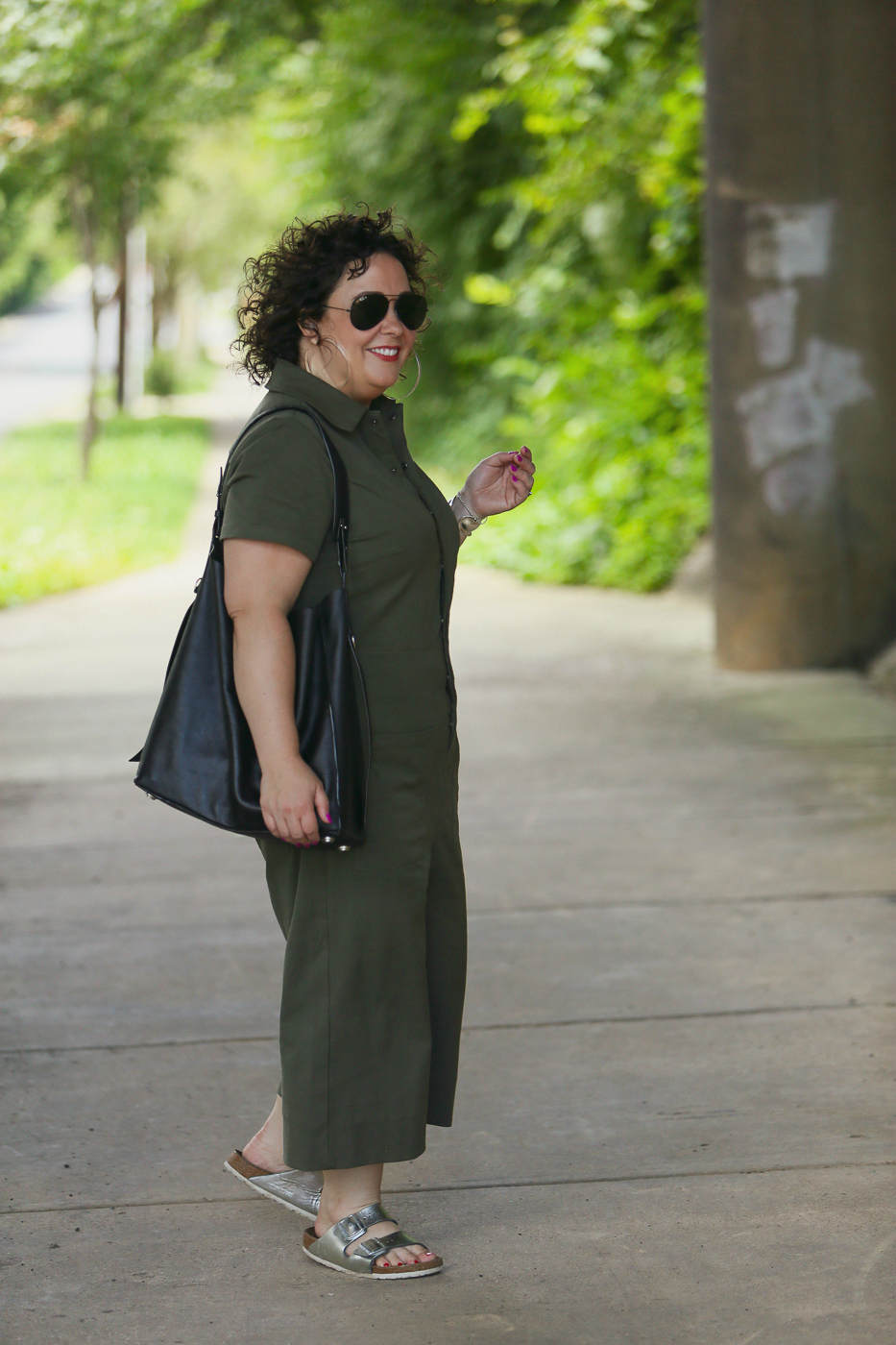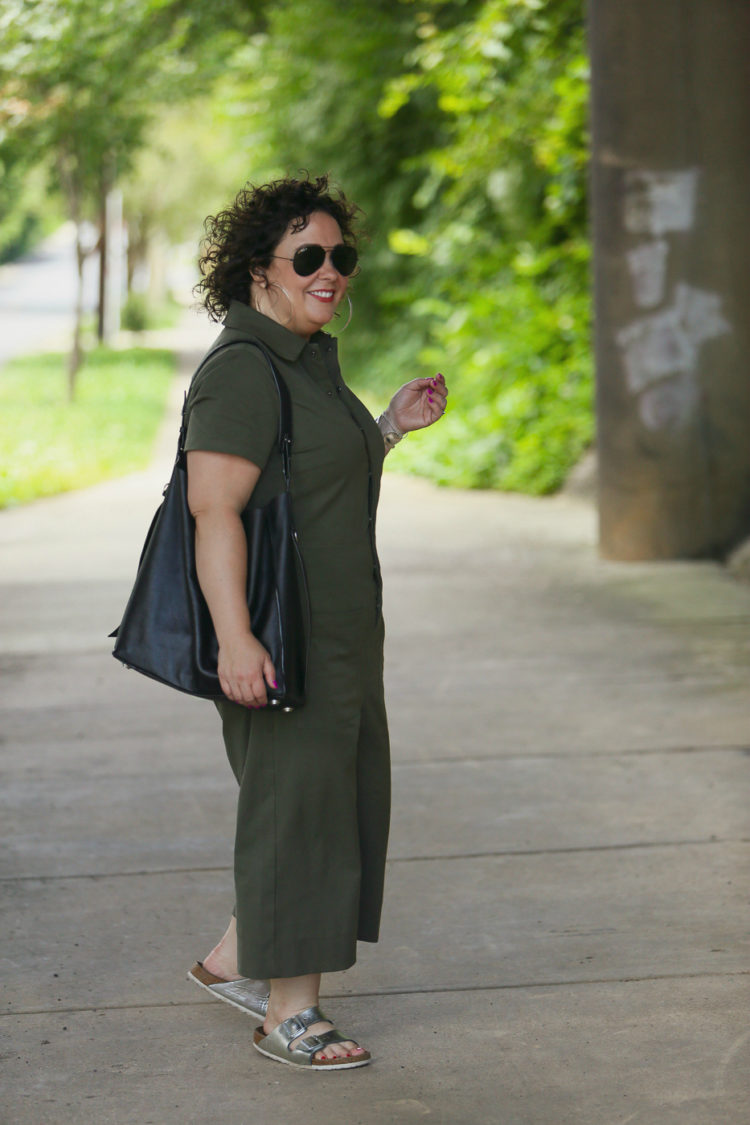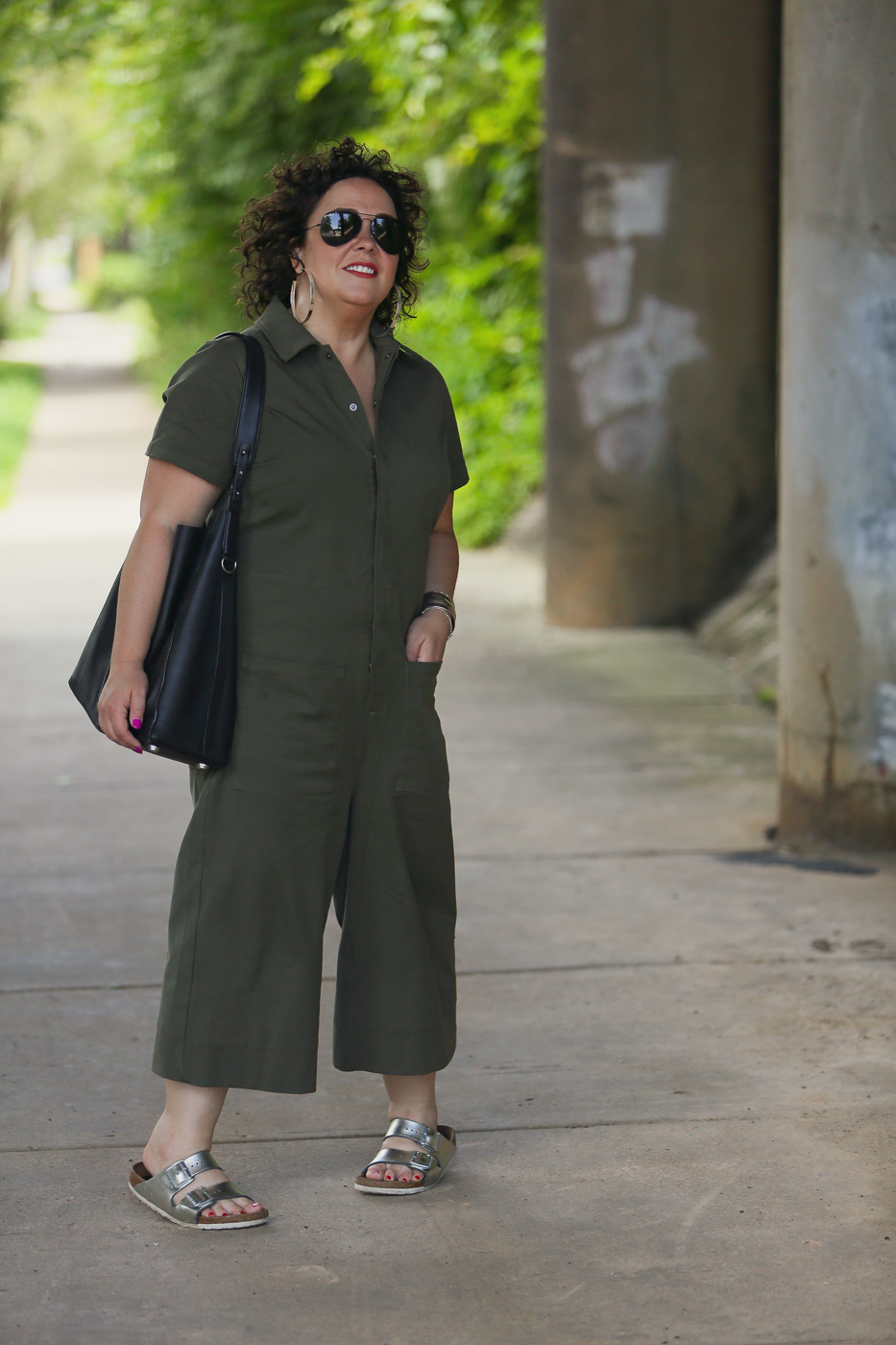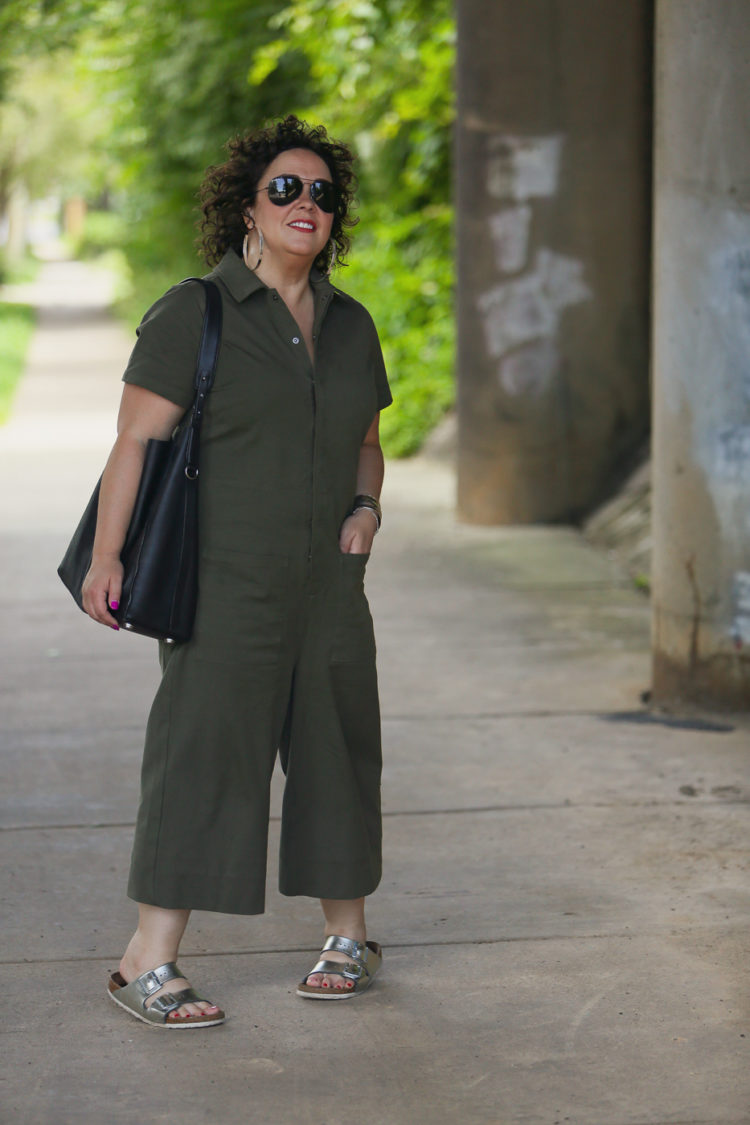 This jumpsuit is stretchy, and unlike many coveralls that have buttons, this one has snaps. And snaps that go long enough so if you're in the bathroom you can yank this thing open, easily slide it down and get to business. AKA this is a piece of clothing that allows you to remain hydrated. I love the giant pockets; this day I ran a lot of errands and had my sunglasses, my car keys, and my iPhone Plus in my front pockets and they felt secure. Come fall and winter I'd love to style this with a black or striped turtleneck and heeled ankle boots.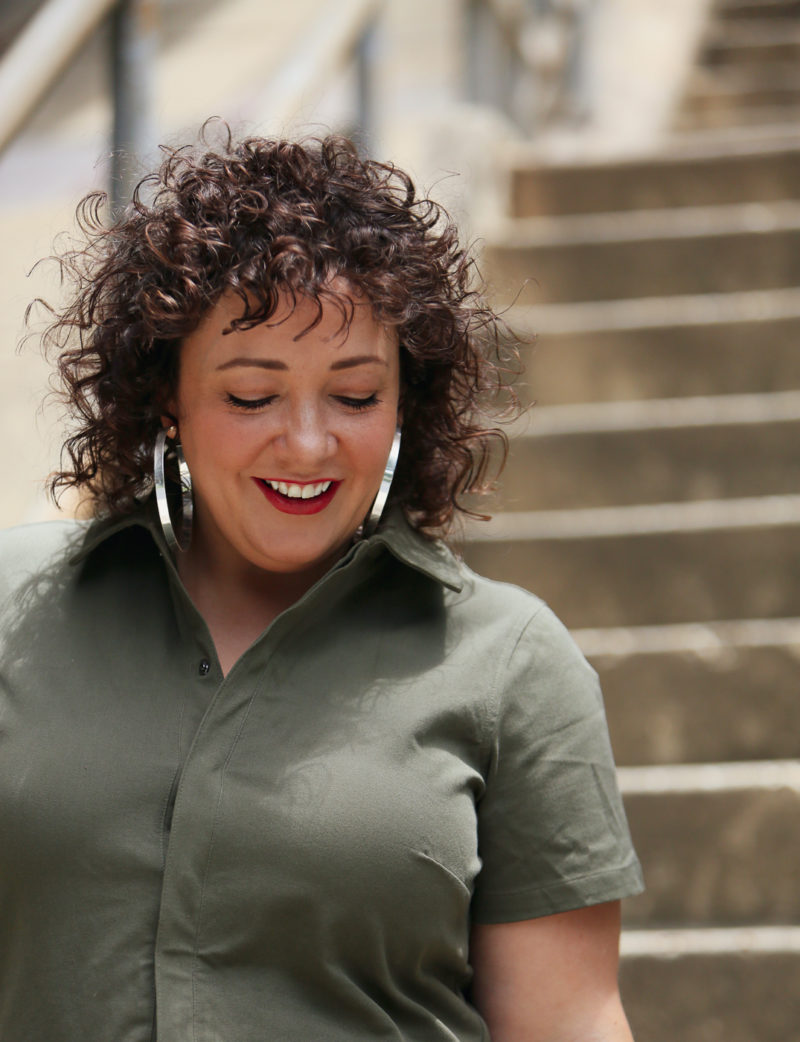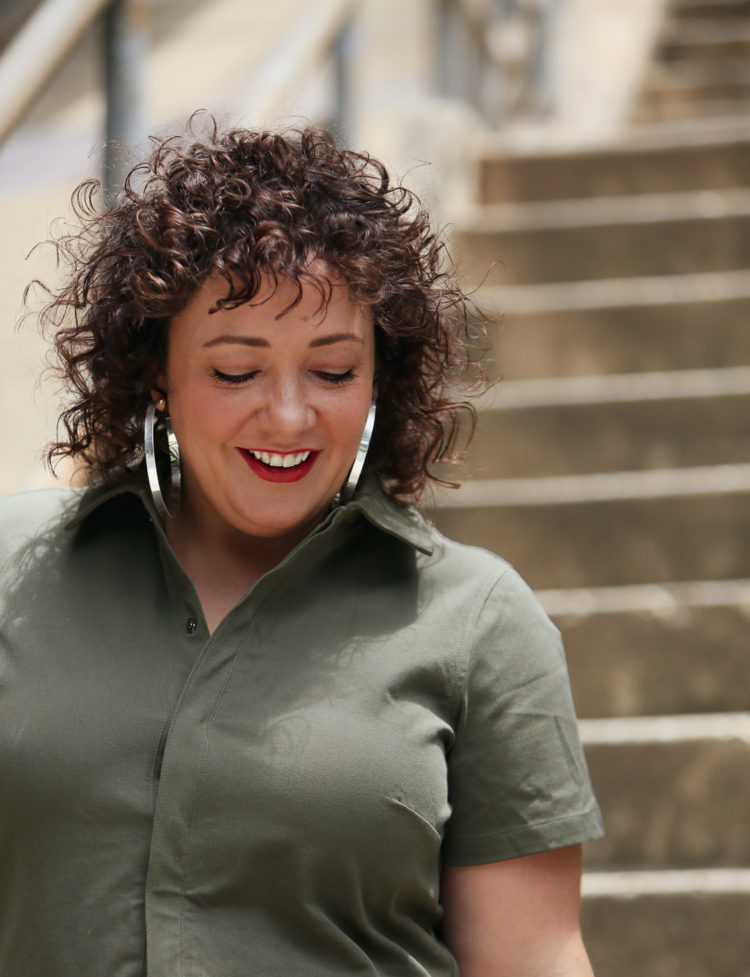 Continuing with the no f*cks look, I paired the jumpsuit with silver Birkenstocks. These are three years old, perfectly broken in, and one of the only pairs of shoes I have where my feet feel better after wearing them all day than going around barefoot or in my slippers. As I mentioned in this post, I love adding big bold shiny jewelry to a casual look to make it more purposeful. I find red lipstick accomplishes the same thing; this lipstick is my absolute favorite red. It's matte and I like how it wears away so gently so I don't end up with a ring around my lips or a weird patchy effect and it's not too intense that it can't be worn with an otherwise simple or bare face.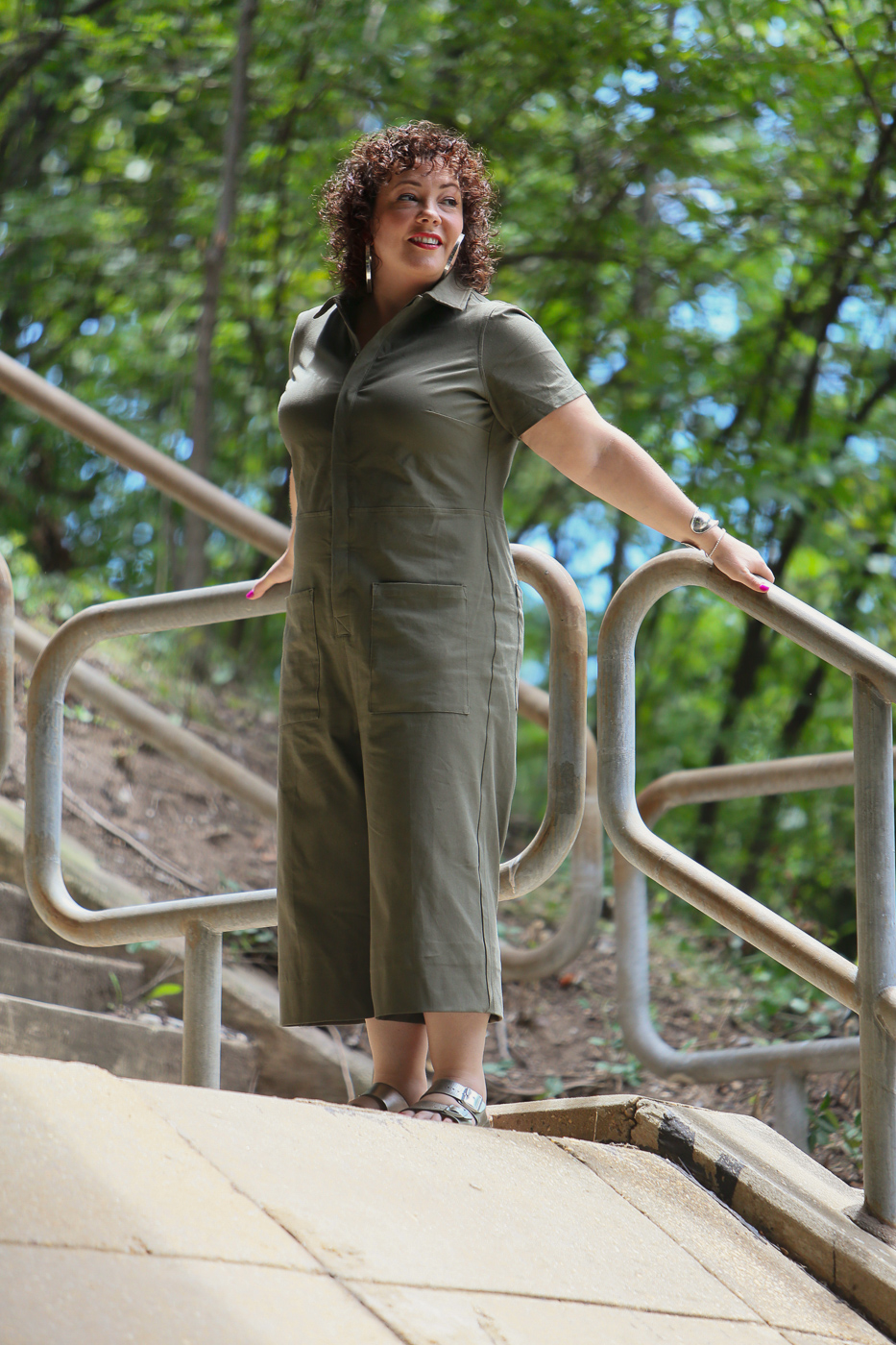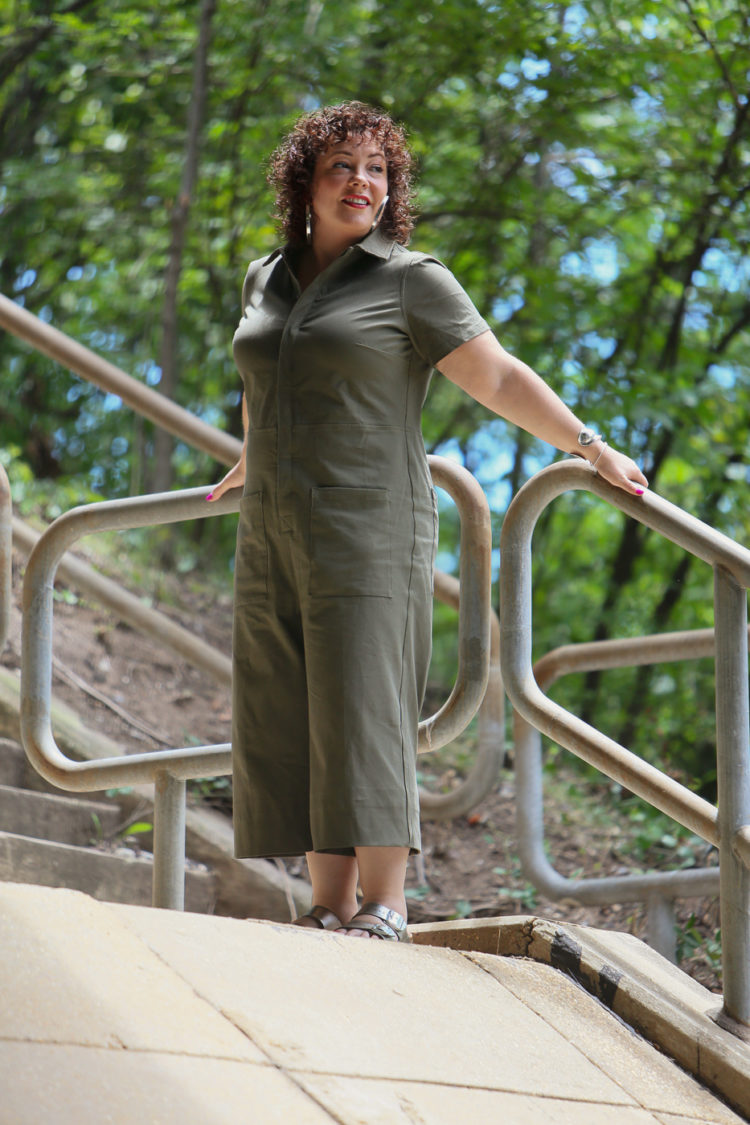 I really believe the most flattering thing to wear is what makes you feel comfortable, happy, and true to yourself. I'm finding with age, a new hairstyle, and a new fitness routine my personal style and what I enjoy wearing keeps evolving. But I'm getting more joy out of wearing what may be seen as unflattering or even ugly to others and finding ways to make it mine and therefore, quite flattering for me. Have you had your style evolve with age, life changes, or body changes?
Shop the Look: