This article may contain affiliate links; if you click on a shopping link and make a purchase I may receive a commission. As an Amazon Associate, I earn from qualifying purchases. 
Hi Allie,

Just found your blog and I really love it. Now I have a question. Like you, I'm a woman with curves. I've noticed that you sometimes wear tailored button down shirts. I really love the style because I think something with strong lines (as opposed to flowy) works best with curves. My problem is (of course) the gaping button issue. I have narrow shoulders and a 34D chest. Anything that fits in the shoulders is too tight in the chest. Anything that fits the chest is way too big in the shoulders. I just had to send back an adorable

Theory "military" shirt

because the front just wouldn't lie flat and stay closed. I'd welcome any thoughts or ideas you have.

Thanks so much!

Lisa
Hey Lisa, boy do I understand your plight! I have often scoffed at "experts" who claim that every woman needs a crisp white shirt in her wardrobe. They must not know really busty women, very curvy women, women with broad shoulders, or many other shapes that can't usually wear a button-down shirt in a stylish manner. For many years I haven't even attempted a button-down shirt because I knew that it would gap at the bust. If it didn't gap at the bust, it would sag on the shoulders or be too large in the torso.
However lately I have purchased a couple tailored button-down shirts and have found that I can wear them with success. Here are some tips to finding shirts: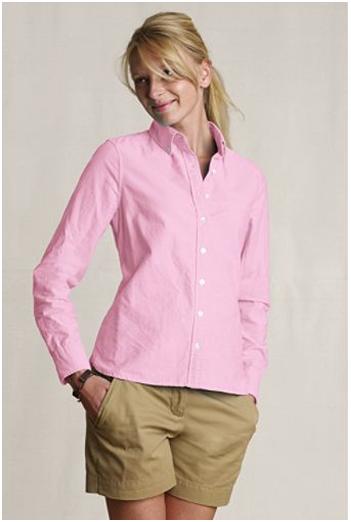 1. Be Brand Loyal. If you find a brand that works for you with one tailored shirt, there's a very good chance that other tailored shirts from them will also fit. On a whim, I purchased a Heritage Oxford from Lands End Canvas, thinking I would have to wear it with a camisole underneath. I was happy to find that the shirt actually fit in the shoulders, bust AND torso. I have since purchased two more tailored shirts from Lands End Canvas – two completely different styles and fabrics from the Heritage Oxford, yet they too fit me in the same great manner.
A few years ago when I had a different shape, I found that tailored shirts from Banana Republic or Eddie Bauer fit me like a dream; now along with Lands End Canvas, I have found success with Ann Taylor shirts.
Don't assume you can only buy your shirts brand new – if you know that a certain brand or designer fits you well, check out eBay and local thrift stores. I find that button-down shirts are in great supply at thrift stores, and I have been able to find high-end brands for great prices.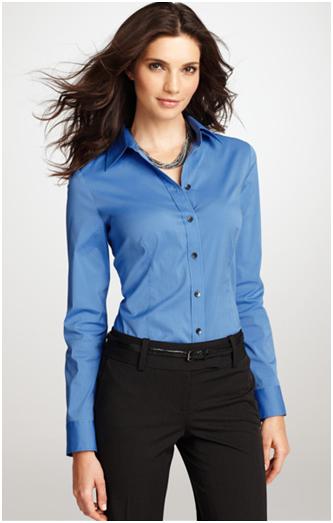 2. Love Your Lycra. When a shirt has a bit of Lycra spandex added to the cotton, you will be more likely to get a good fit around your curves. Not only will Lycra help with fit, it will also help repel wrinkles!
3. Get Pinned. Every single button-down shirt in my wardrobe has a safety pin
on the inside between the two buttons at the bust. Going from the inside of the shirt, you can grab the placket without pinning the top layer of fabric. This will keep the bust area from gaping when you sit, and the safety pin will be invisible.
Another great option is fashion tape
. I could go into all the great ways to use fashion tape, but Sally McGraw of Already Pretty has already written a great post on it so do check it out!
4. Befriend a Tailor. No shirt will fit you perfectly right off the rack because no woman is built exactly like the brand's fit model. This doesn't mean you are unusual, it just means you may need a little nip or tuck to get the right look in a tailored shirt.
Jean at Extra Petite recently wrote a great post about how she had a chambray shirt altered to fit her body. For $15 she had the sleeves and torso narrowed to fit her frame; tailors and seamstresses can bring in shoulders, shorten sleeves, put in darts and do all sorts of other tricks to make a shirt fit you perfectly. As that tailored shirts are pretty classic, this is a worthy investment – a great-fitting shirt can be a wardrobe staple now; the same shirt can still be a wardrobe staple five years from now.

5. Find Kindred Spirits. You are not the only one who has an issue with shirts fitting over her bust. There are now many brands and designers that specialize in clothing for curvy women.
Reader Ruth recently sent me the link for Carissa Rose, a brand that is geared towards fitting women with fuller bustlines. Their shirt collection has a great selection of classic button-downs as well as some novelty pieces.
The company Rebecca & Drew makes custom shirts (and shirtdresses!) based off bra size, not clothing size. They are known for high quality materials and if you are getting a custom fit, you know you will have years of flattering wear from each piece.
Pepperberry is a UK-based company that creates clothing for women with larger busts. They carry a couple classic tailored shirts, but also knit tops, dresses and coats made to flatter and fit the fuller-bust woman.
NOTE:
The lovely company
Rebecca & Drew
is offering offer an exclusive
25 % discount
for Wardrobe Oxygen readers. For online purchases:
25WO2
. The discount will also apply to in-showroom purchases if any of you are in New York and would like to visit Rebecca & Drew for an in-person fitting!
Follow Me | Twitter | Facebook