This article may contain affiliate links; if you click on a shopping link and make a purchase I may receive a commission. As an Amazon Associate, I earn from qualifying purchases.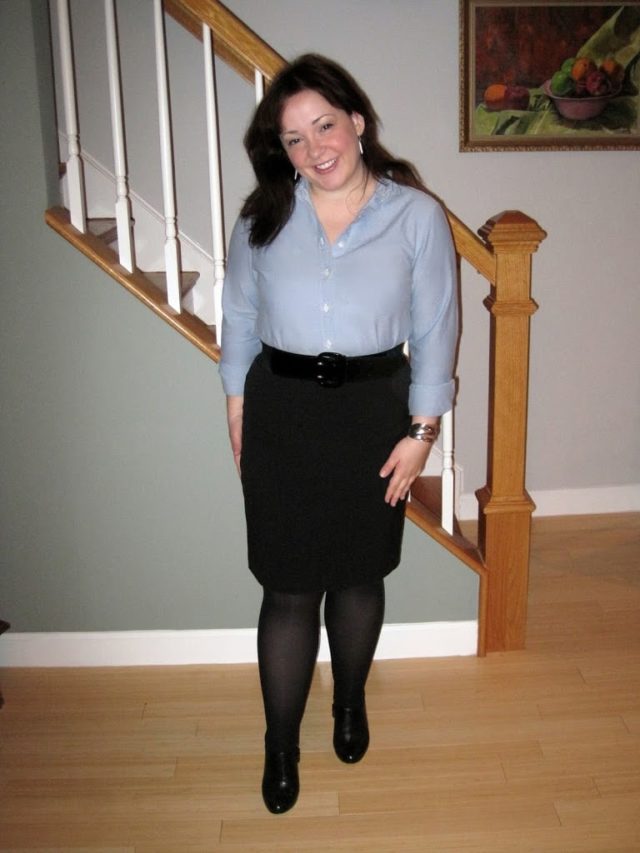 Blue oxford – Lands End Canvas "Heritage Oxford"
Black pencil skirt – Calvin Klein
Black patent belt – Ann Taylor (no longer available)
Black tights – Nordstrom
Black leather booties – Cole Haan "Air Talia"
Silver cuff
These pictures show why I just can't "do" bangs. I play too much with my hair and they end up being parted, moved, start feathering to the side. I think my husband finished all photographs in 30 seconds and my hair style changed this drastically. Think I will stick with sideswept bangs that can easily blend into my hair.
I have very exciting news to report (Twitter followers, you already know) – This skirt is two sizes smaller than what I wore six months ago. This is a NEW pencil skirt. I bought it over a month ago on clearance in a 12 Petite because I KNEW I would be that size before spring, and my original black pencil skirt has just become too large to wear (it's a 16). When I bought this skirt, I couldn't get it over my booty. Now, it zips nicely, and fits without looking hoochie-mama. Hooray! Also check out the new shoes – another weight loss milestone! It is so exciting to be back into a 12 petite – and not a stretchy item like my Gap Perfect Trouser Jeans. This is a fully-lined skirt – no give going on here.
A very early morning today – up by 4:25am for work. Didn't want to wake Emerson but I swear that girl can smell me and as soon as I tiptoed past her door to go downstairs and let the dogs out I hear, "Hey Mommy! What are you doing??? MOMMYYYY!" So my husband drove me to the Metro and I can have another day with my car buried under snow.