This article may contain affiliate links; if you click on a shopping link and make a purchase I may receive a commission. As an Amazon Associate, I earn from qualifying purchases. 
I didn't really NEED these shoes. I have ankle booties that I can wear with skirts, and I have a pair of city boots I can wear with jeans and trousers. However the ankle booties are peeptoe, and the city boots… well I just don't like them. I bought them out of desperation.
When you are overweight, you don't carry that fat just in your belly – it goes everywhere, including your feet. After having Emerson I had an extremely difficult time finding any shoes that would fit. Before getting pregnant, I was already wearing brands that tended to size wide, or purchasing wide widths whenever available. After she was born, my feet were almost as wide as they were long. I became a huge fan of brands like Sofft, David Tate and Fitzwell for offering extra-wide width shoes with style.
A year after Emerson's birth, my feet had narrowed slightly – enough to make many of these lovely wide shoes I bought almost unwearable. I decided to purchase a new pair of city boots to replaced the very worn, now too big (and slightly dowdy) David Tates I owned. I tried a couple of my old favorite brands – Franco Sarto, Nine West, Enzo Angiolini, Impo, found them all to be too tight on my still-puffy tootsies. After reading online, I checked out Fitzwell and found a pair of booties that had a slender kitten heel, extended toe box, and weren't that cute on top, but knew that portion would be hidden by my pant leg. They fit, they were incredibly comfortable, and they got the job done.
I learned during my adult life to buy lower- to mid-priced shoes because my wide yet short feet would quickly stretch them out, and anyway I had some stinky feet that would make even the most-babied shoes unwearable after a season or two. I didn't think this would ever change. Then I had a baby and joined Weight Watchers. Childbirth changed my chemical makeup and I was happy to find out it made my feet far less stinky. I could switch out insoles, wear natural-fiber socks and have shoes stay nice forever. And with Weight Watchers, I am seeing the padding disappear from my chin, my belly… and my feet. My slimmer tootsies started swimming in my Fitzwell boots – I started compensating by wearing thick socks and subconsciously purchased less pants because I didn't like my only winter pants-appropriate footwear.
One day I was doing some virtual window shopping at Nordstrom.com and saw a pair of Cole Haan booties on sale. They had the Nike technology that people rave about. This bootie looked really classic and versatile – so versatile I thought they could be worn with pants AND skirts. Unlike the ankle booties I already owned, they had a closed toe and no memorable details. They had a more… modern and stylish silhouette than my Fitzwell city boots (and a higher heel, which I liked). I would have NEVER considered Cole Haan pre-pregnancy because I couldn't see spending so much on a pair of shoes that would be grody within a year. But they were on sale for less than $150, and I am a new Allie, with new feet…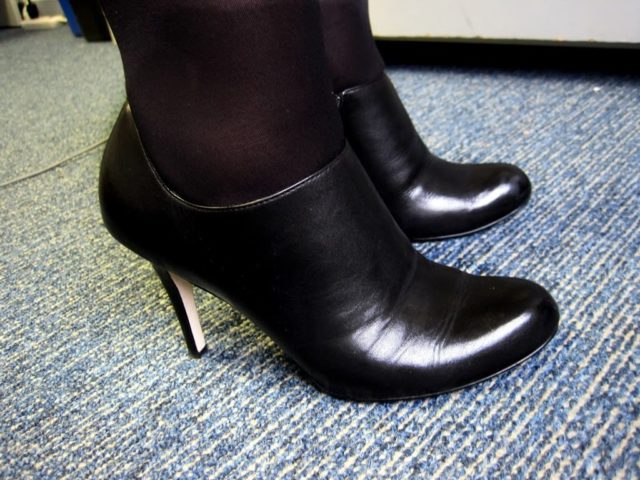 They arrived on Monday and I didn't even open the box until Tuesday. I just NEW they wouldn't fit. Tuesday night, after putting Emerson to sleep I went and tried on the shoes. Oh my, the leather is pretty, the heel is the perfect width and height, and they FIT! Omigoodness, they FIT! Not only do they fit, they are comfortable. Not as insanely perfectly comfortable as my Miss Sixty booties, but darn-patootin' close! It feels GOOD to be wearing well-made shoes that fit, flatter, and could easily be in my wardrobe for years.
So technically, I didn't need another pair of shoes in my wardrobe. However I think these shoes are good for my soul, as well as my soles!