This article may contain affiliate links; if you click on a shopping link and make a purchase I may receive a commission. As an Amazon Associate, I earn from qualifying purchases.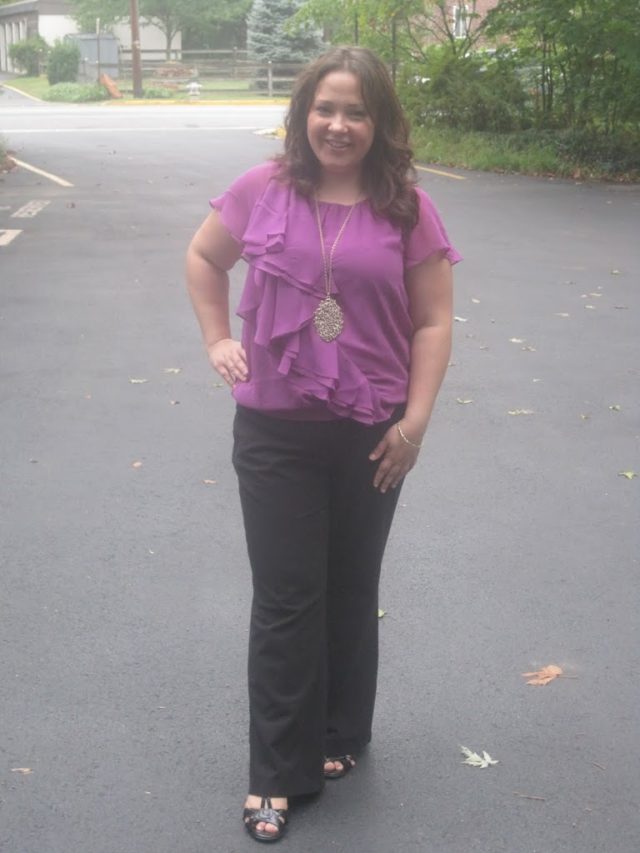 Blouse – Ann Taylor LOFT
Trousers – NY & Co.
Necklace and bracelet – Ann Taylor
Shoes – Sofft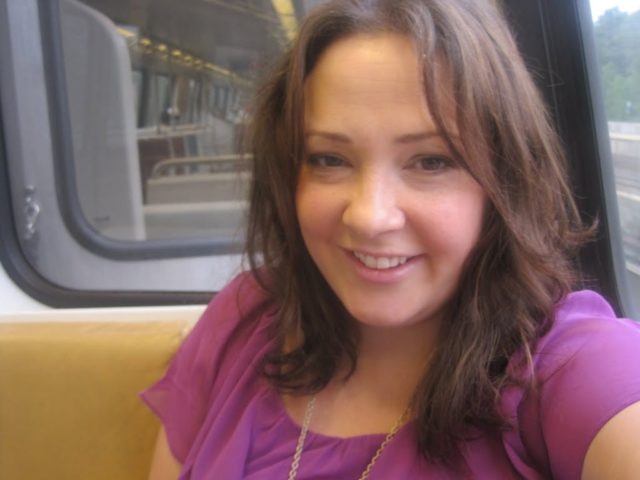 I have STILL not gotten a haircut and I need one so badly. The only way I can get my hair to work is to put sections in my curling iron, and it ends up looking scraggly very quickly. This week I WILL get my hair cut!
Here I am on the Metro this morning, makeup is pretty simple – Max Factor Pan-Stik, Laura Mercier, Secret Camouflage, Nars blush in Orgasm, Revlon ColorStay shadow quad in Neutral Khakis, DiorShow mascara and Dior Addict Lip Glow. When I got on the Metro (post-photo) I added some Bare Escentuals Buxom lip gloss in Dolly.
As for this weekend, it was a nice one. Saturday we started off by accompanying my sister to Mitchell Gold + Bob Williams in DC to look at couches and fabric. She has had her new home for a year and with her new home buyer tax rebate, she has decided to use some towards a couch for her living room. My husband and Emerson were bored pretty quickly and went for a walk around U Street while my sister and I played with fabric samples and test drove various couches. No exact winner yet, but a lot of food for thought.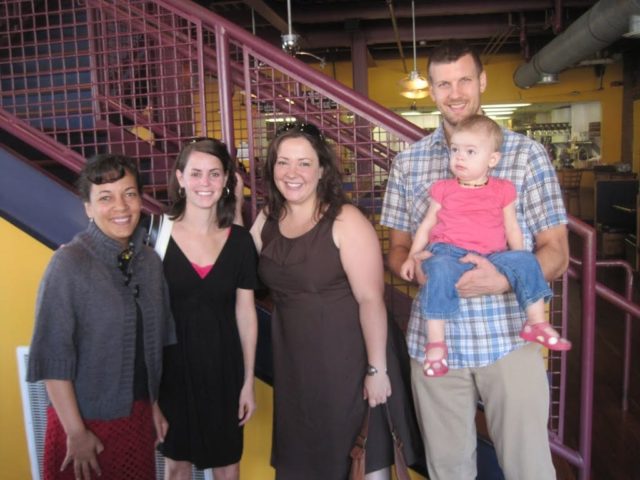 After we stopped by Franklin's for lunch and I bumped into two women who went to high school with me! One was in town from Hawaii, the other I hadn't seen in eons so it was a fantastic mini reunion! Here I am with them, my husband and Emerson! As you see, I re-wore my new brown dress from Merona for Target.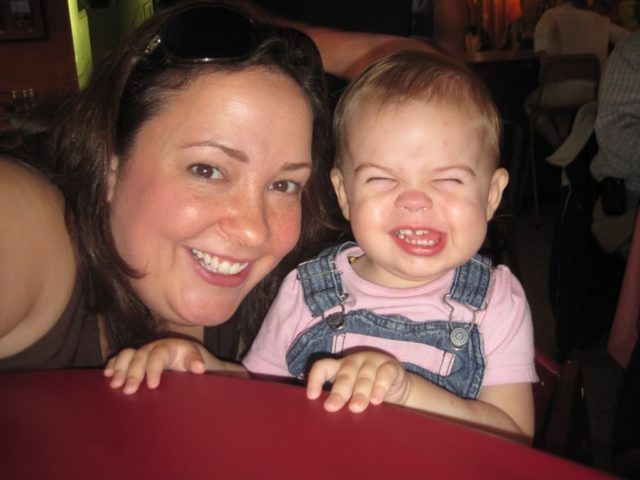 After lunch, headed home to do a couple chores and let Emerson take a nap. After we headed to our town center for a Blues festival that was taking place (I put back on the brown dress and this time wore brown stacked flip flops from J. Crew). Lots of live music, many familiar faces. Emerson had a blast dancing with the music, and we had a nice dinner at a cafe in the town center. I love this picture of Emerson – this is how she reacts now when someone says, "Cheese!" If you follow me on Twitter, you know I already shared it. It's now my computer wallpaper too. What a ham!
Sunday was rainy and gross and I didn't leave the house. Got a lot of home projects done and lots of QT with Emerson. Spent the day in a Gap v-neck sweater that is now too big along with some cropped yoga pants. Not too stylin' but good wear for rolling ont he floor with a toddler and doing laundry! How was your weekend?