This article may contain affiliate links; if you click on a shopping link and make a purchase I may receive a commission. As an Amazon Associate, I earn from qualifying purchases.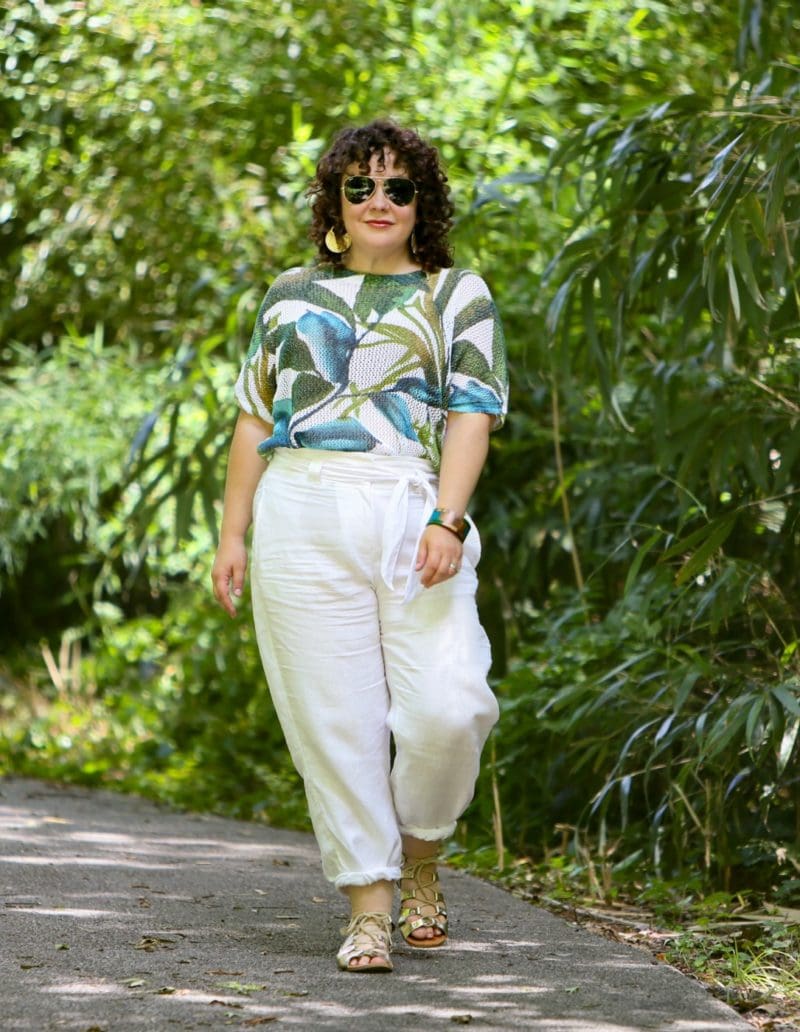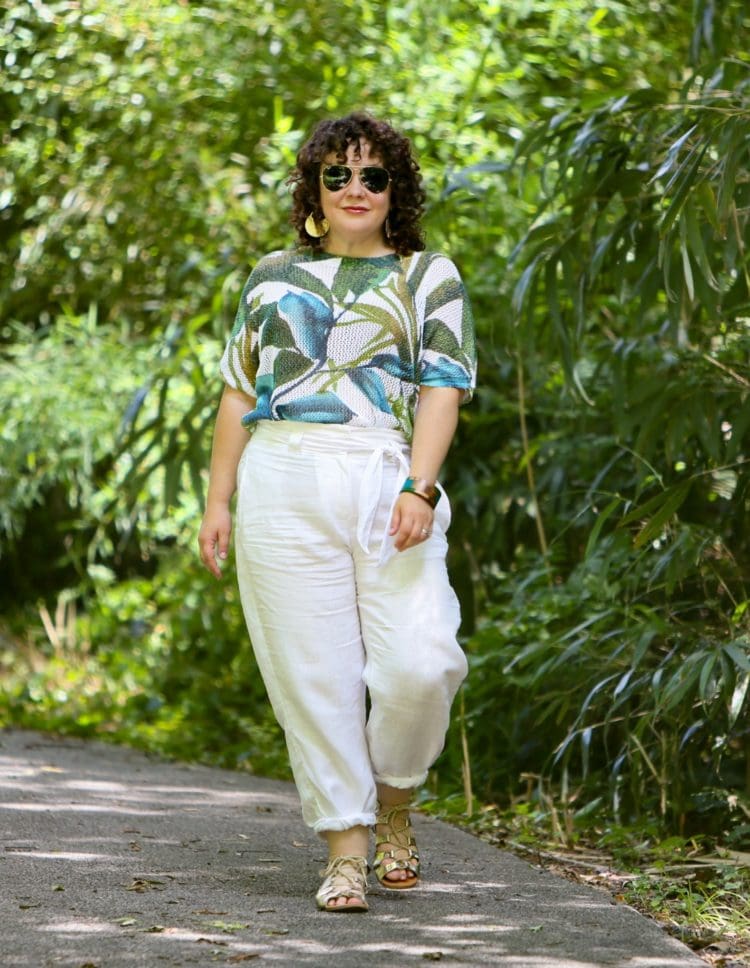 I can't think of anything better to wear to stay cool in the summer heat than linen and mesh. However, such fabrics can look sloppy, and are also known for being transparent. This look I wore for an outdoor socially distant event. It was a hot evening in July and I was comfortable the whole evening thanks to the choices in fabrics. Especially after the past few months we've had, I am no longer sacrificing comfort in the name of what others may find to be fashionable. It does require careful shopping and having a well-stocked intimates drawer, but it is possible to stay cool in the summer heat and look pulled together.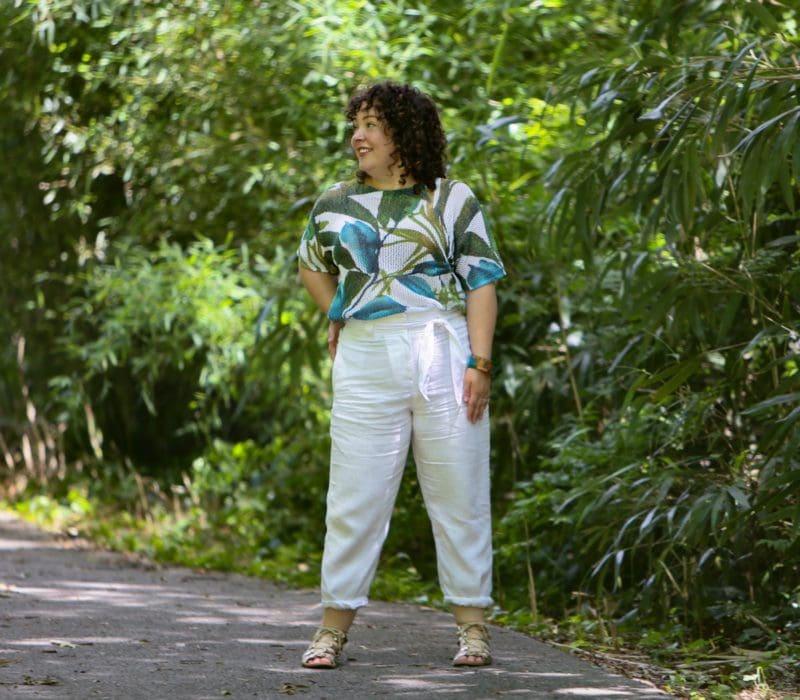 Sweater: Palm Print Open Weave Sweater c/o Chico's (size 2) | Pants: Linen Tie-Front Crops c/o Chico's (size 2) | Bracelet: Wide Blue and Green Wood Cuff Bracelet c/o Chico's | Earrings: c/o Chico's (sold out; similar) | Shoes: Bella Vita (old and no longer available, similar concept) | Lipcolor: Aragon from NARS | Sunglasses: Ray-Ban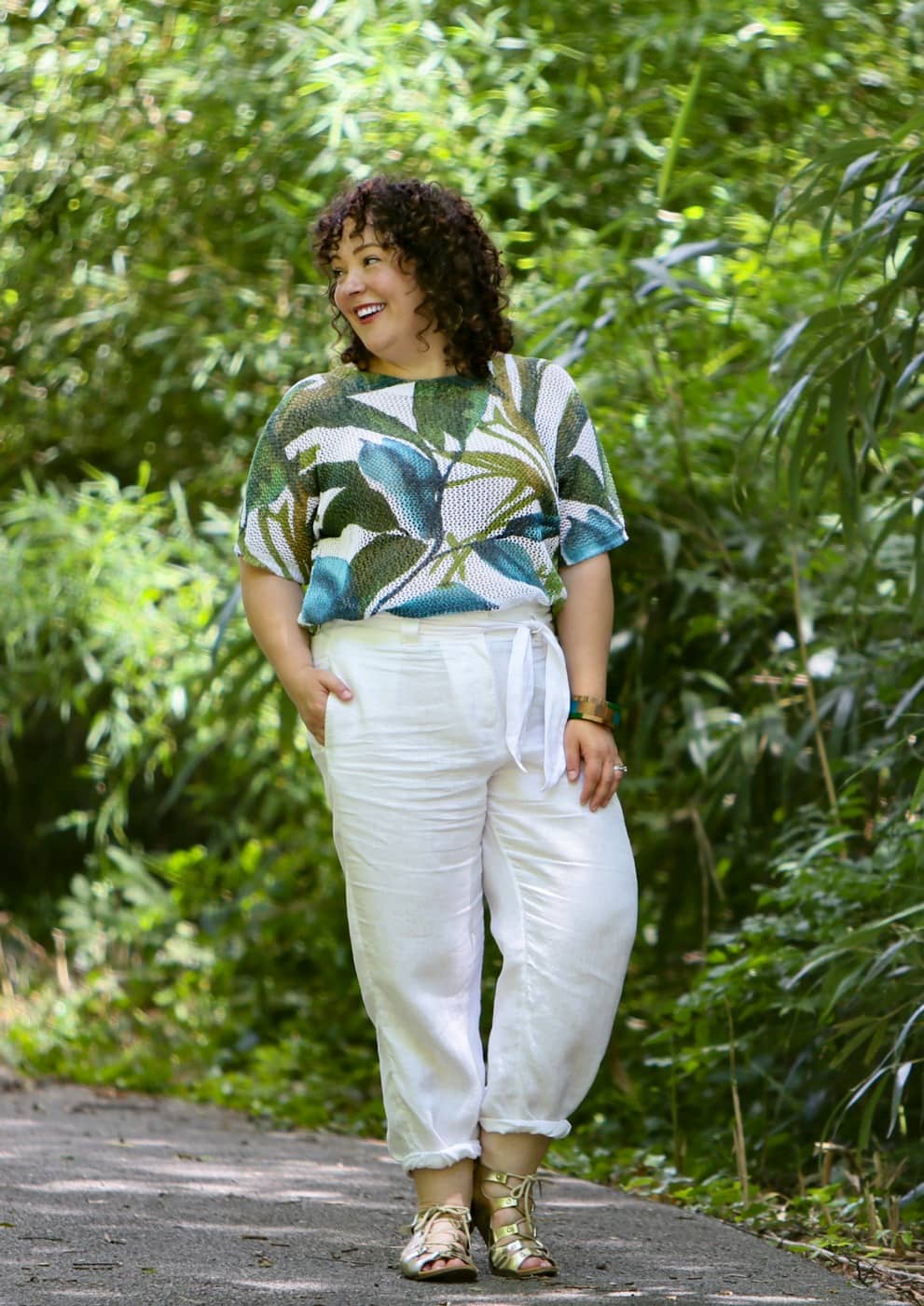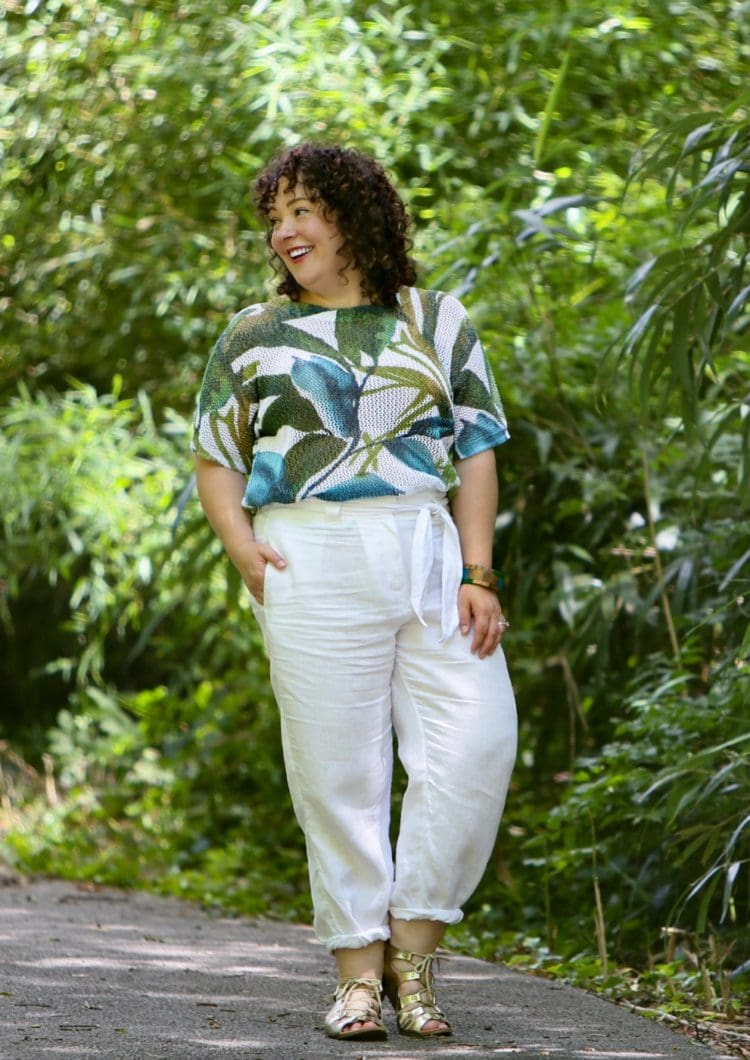 Friday, July 3rd my sister invited me, my daughter, and our mom to her backyard for a viewing of Hamilton since it was now available for watching on Disney+. The four of us had splurged on tickets to see Hamilton live at the Kennedy Center at the end of June. With all that is going on, the performance was canceled and our money refunded. This felt like the next-best option. My sister has a small and charming backyard with a gate to easily enter without entering her home. She set up her TV on the table on her deck and created three separate seating areas for her, our mom, and then me with my daughter. We started watching at 7pm and enjoyed it while the sun set. We each brought our own drinks and snacks. You can see a photo of the setup on Instagram.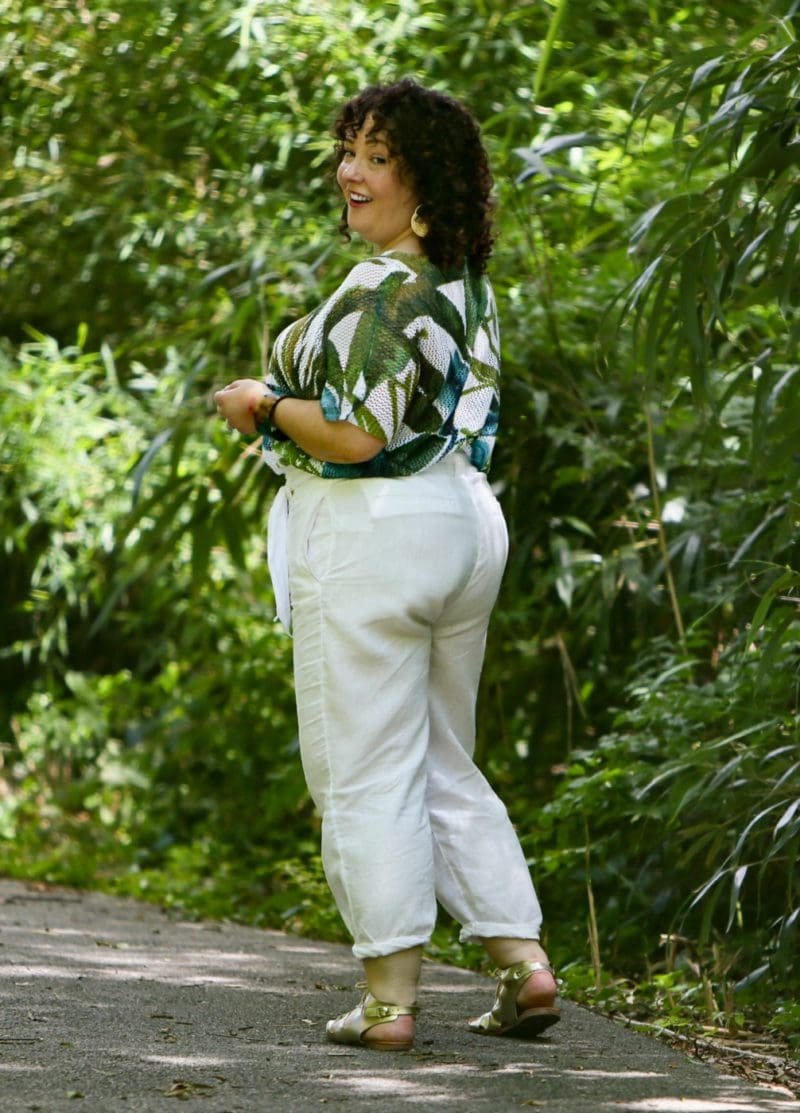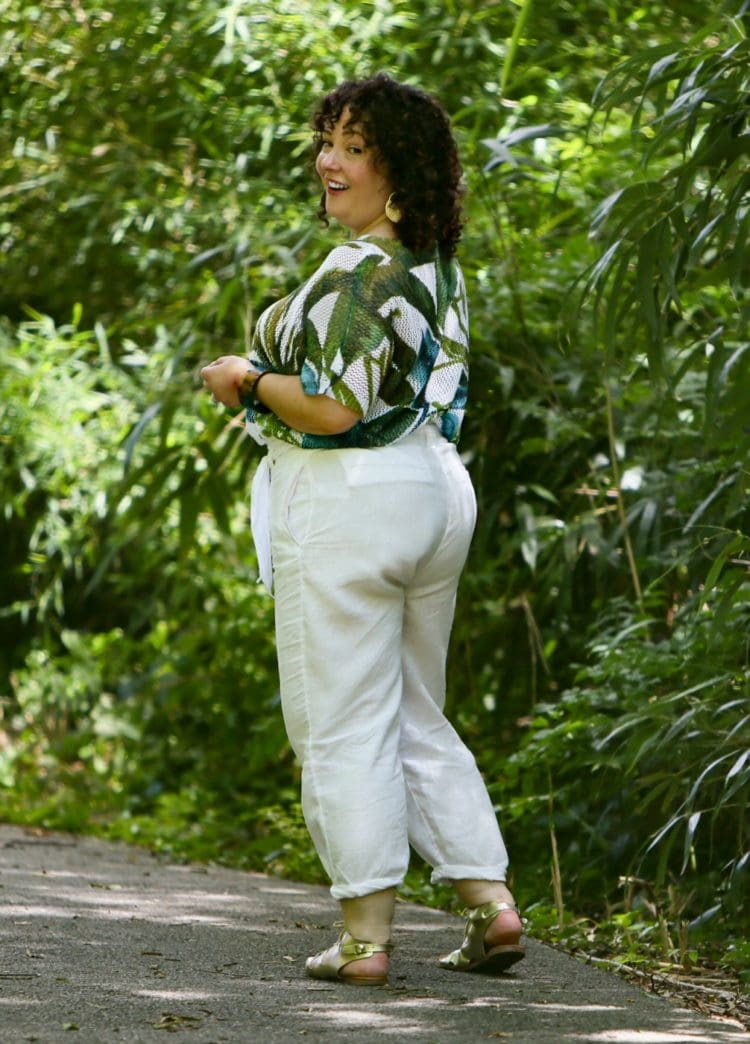 A couple of weeks ago, I shared some looks from Chico's that incorporated pieces from their linen collection. I shared how I have been a fan of Chico's linen, how it resists wrinkles, stays cool, washes up well. One of the comments on that post asked how the back view of the pants looked after wearing them a few hours. These are the same white linen tie-waist cropped pants from the previous blog post. While I washed the pants after that first wear, I didn't wash them after wearing them to my sister's so I could show you how they stretch out over time. I feel the pants evenly stretch out, which is typical with linen, without getting saggy in the rear or front.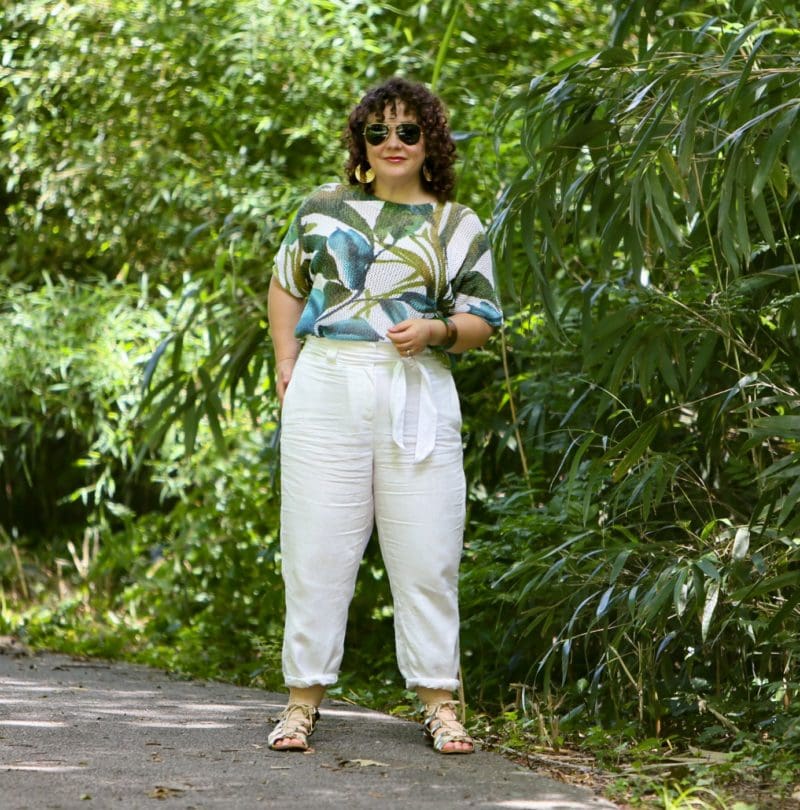 You can see from the photos that the white linen is transparent… against white. You can see the zipper placket, even the label inside. But you can't see my undergarments. It's because I chose a seamless pair that is very close to my skintone to prevent contrast. The underwear is these to be specific, my favorites to wear under lightweight and light-colored fabrics!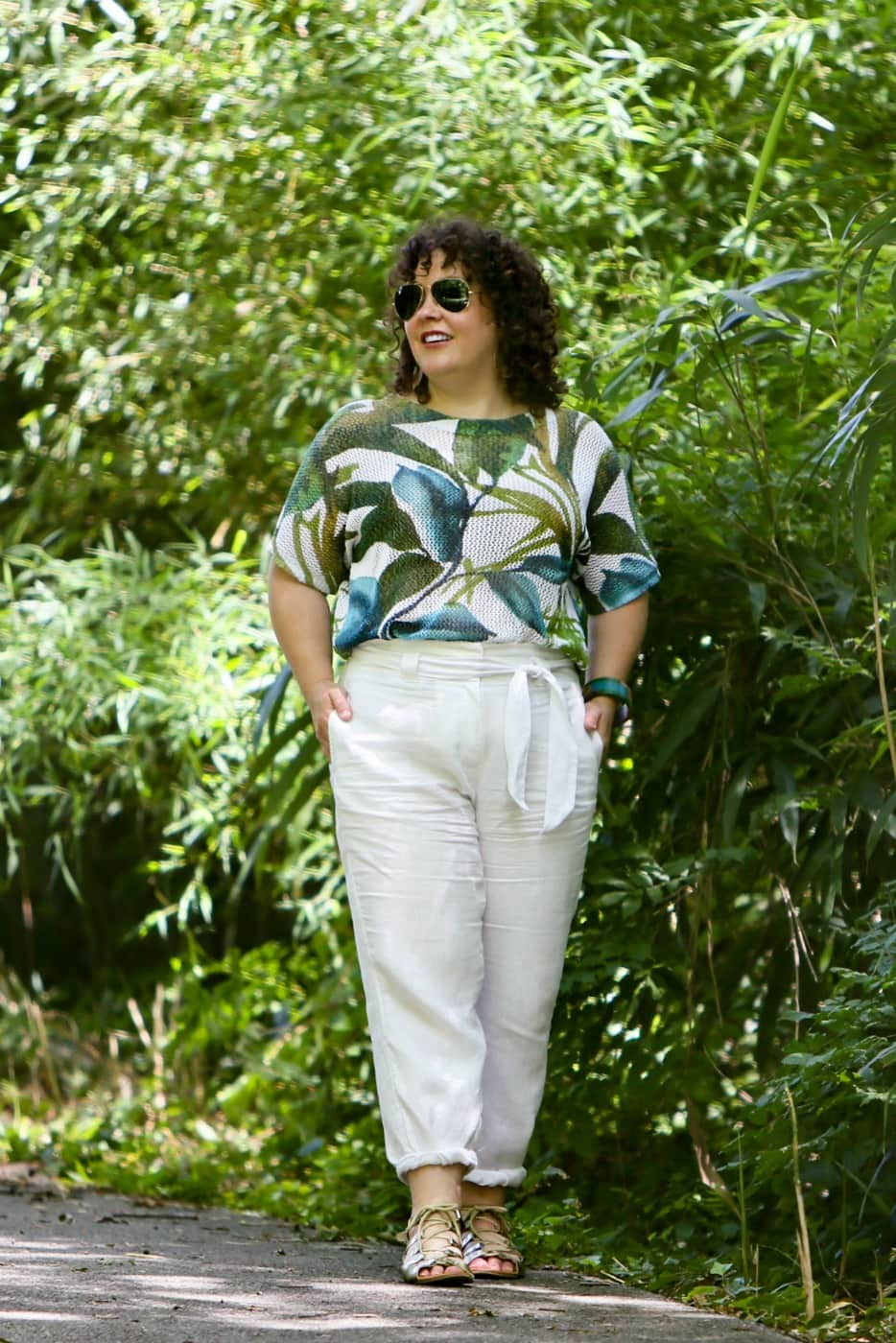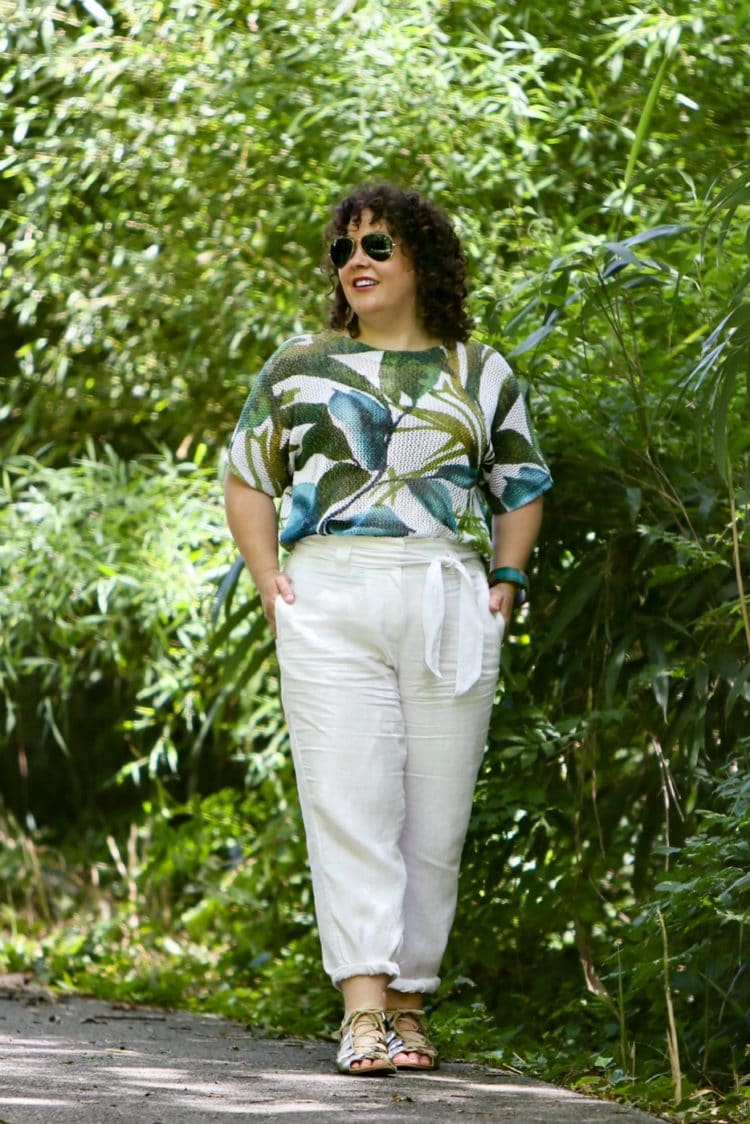 The pants are a weird length on my 5'3″ self and they don't come in petite. With tailors not an option right now and my sewing skills lacking, I decided to roll the cuff to give a beachy effect. Remember doing this with your jeans back in the late '80s/early '90s? Same concept. I folded over the hem to narrow it, and then rolled them up to keep it in place. I've been known to use one of those tiny safety pins that clip on clothing hang tags in such hems; fold over, pin it on what at that point is the outside of the pants to keep it in place, and then when you roll up the safety pin is hidden.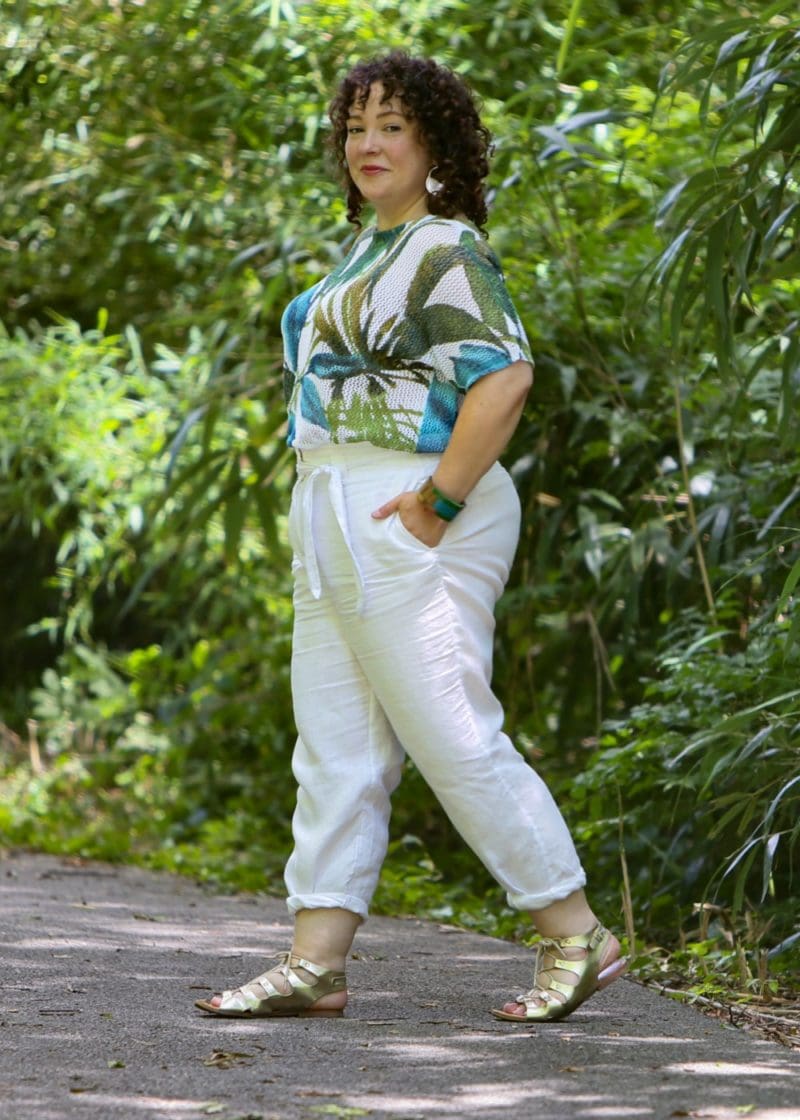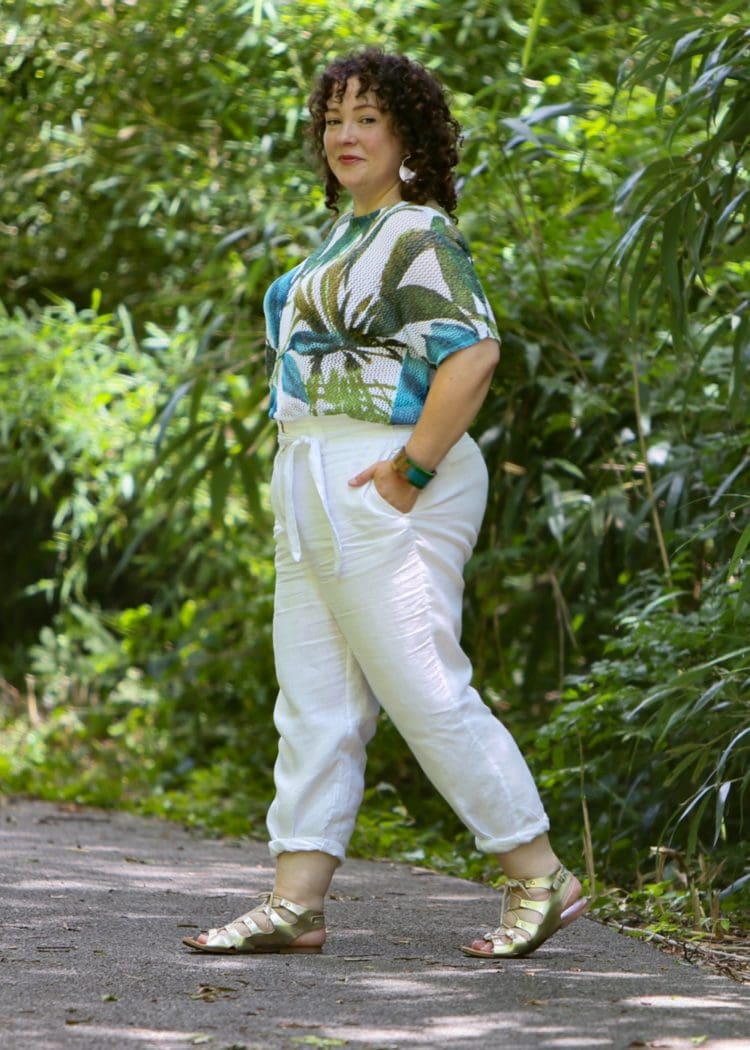 The sweater is mesh, and it's the kind of sweater I usually don't even consider buying because I never know what to wear underneath. A camisole defeats the purpose of buying it for ventilation. But I loved the look of the sweater so I took a chance. Underneath all I have is the Fantasie bra I reviewed in this post. Since it lacks lace and bows and details and is so close to my skintone it just disappears under the top. Even my daughter sitting right next to me asked what in the world I had under the sweater, it really didn't show. If you feel uncomfortable, consider wearing a bralette that looks less like traditional lingerie and more like a cropped tank but don't feel that you need to cover up all your skin because it really doesn't show and you deserve to be comfortable this summer.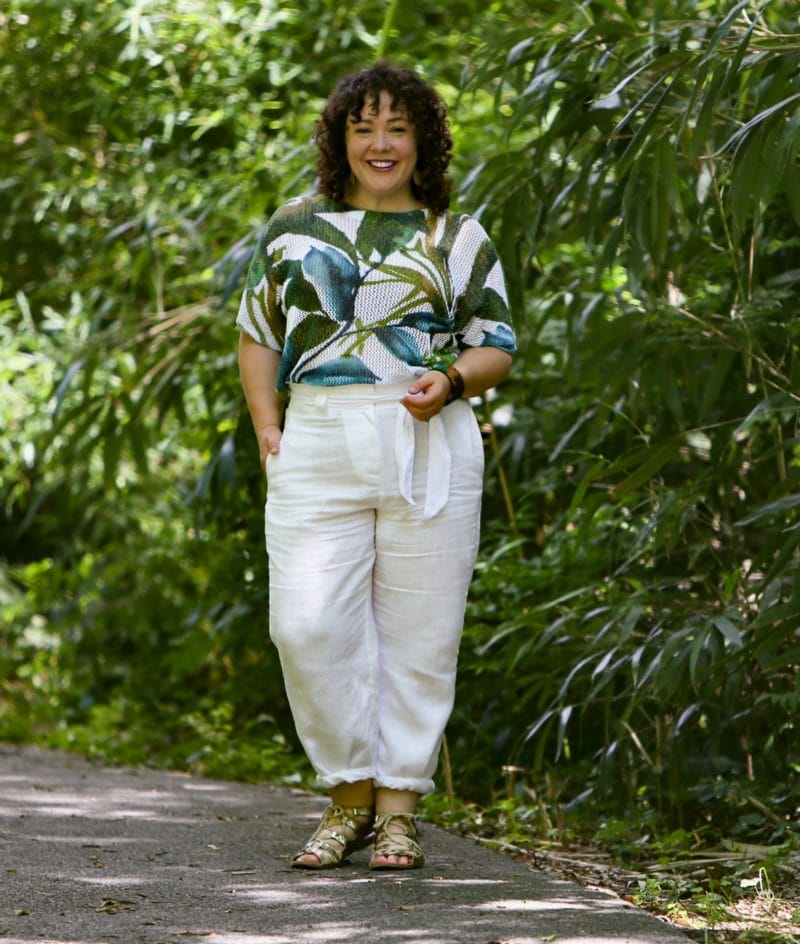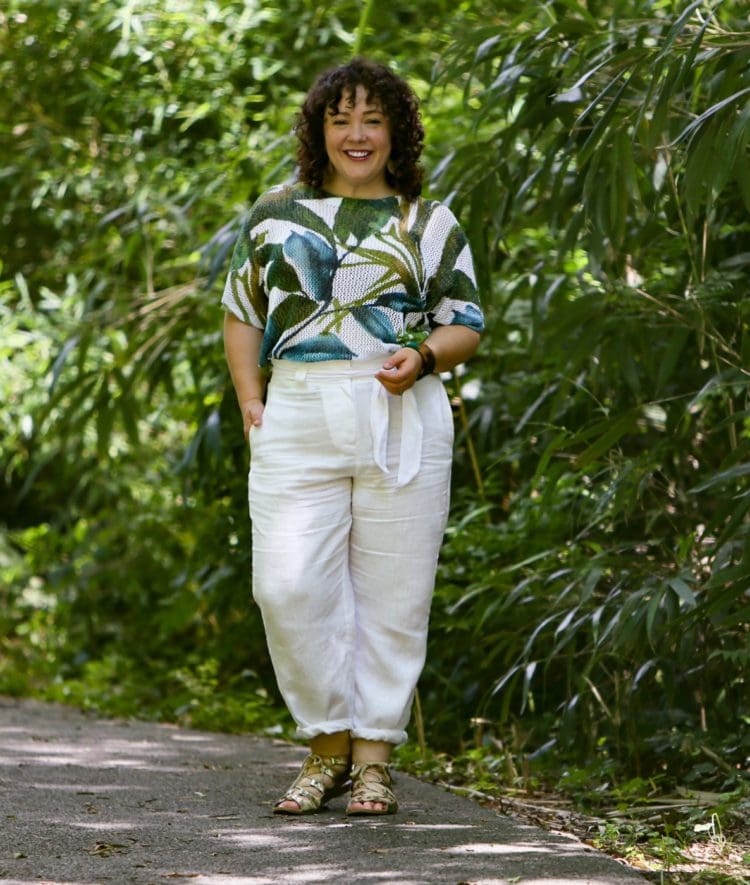 The shoes are from Bella Vita and are old… a few years. I can't find them anywhere and it's hard to offer an equivalent. I don't love the look of these shoes, but I love these shoes and will cry when they kick the bucket. I have wide feet and short toes which means stylish sandals are near impossible. So many wide-width sandals with multiple straps to corral my pinky toes look so darn… frumpy. These are so nothing they work with everything. I've worn them to Diner en Blanc in 2017 with a chiffon maxi dress and 2018 with a crepe one-shouldered jumpsuit. I've worn them to a cocktail party on the beach because I knew they'd be easy to slip off and wouldn't get sand caught in nooks and crannies. I've worn them with shorts and wide-legged pants and maxi dresses and jeans. I'm a big proponent of owning a pair of flat or almost-flat metallic sandals as they go with most everything from April to October.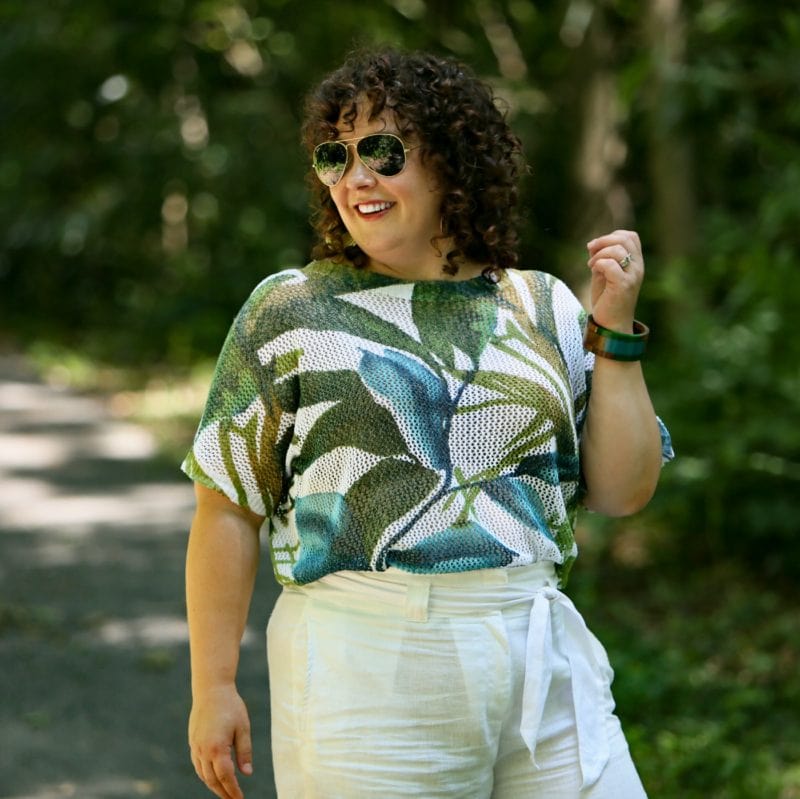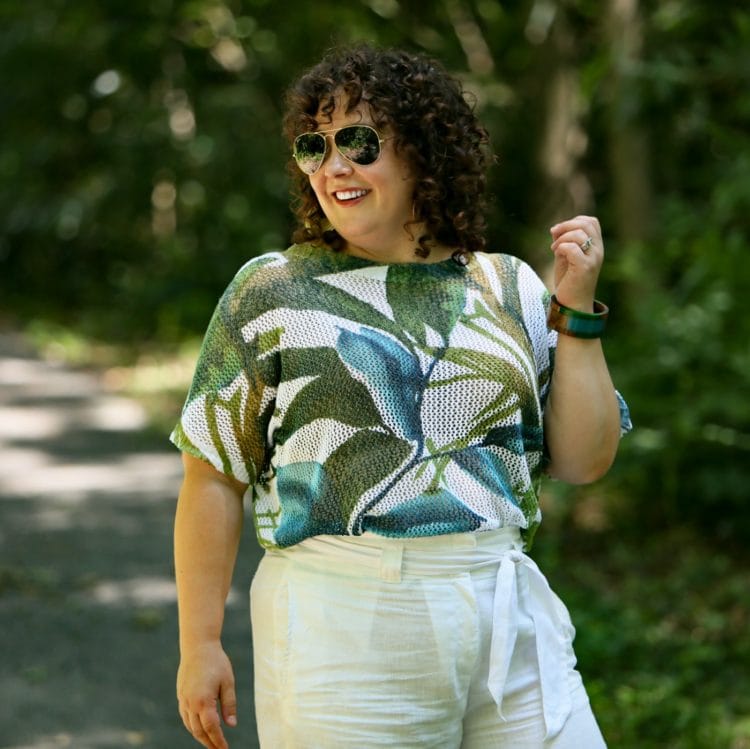 The jewelry is from Chico's, they always slay with their accessories. The wood bangle is so cool, they have a lot of different wood bangles this season. The earrings are sold out but they have plenty of other cool options. I like how lightweight these are, like wearing nothing. These are a similar concept. The lipcolor is Aragon from NARS. And the sunglasses are my Ray-Bans which I have had for a decade.
All pieces from Chico's were gifted by the brand, but I was not required to write this blog post in exchange and was not paid to write this post.
Shop the Post: