This article may contain affiliate links; if you click on a shopping link and make a purchase I may receive a commission. As an Amazon Associate, I earn from qualifying purchases.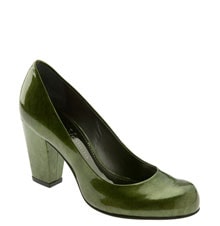 Can I tell you how excited I am that green seems to be hitting all the stores for fall? Bright emerald green is one of my favorite colors. It isn't the best color against my face, but makes for an utterly awesome accent color. Green shoes, a green necklace, gosh how lovely would a green Birkin bag be? I love green with texture too – snakeskin, croco embossing, ostrich, grosgrain trim… I am seeing sassy green heels on tons of celebs so that means they will be in my local Nordstrom in about a month!
As an FYI, I will be out of town this weekend, so I will post Thursday and then not again until Monday. You KNOW there will be outfit photos from my vaca!
Oh, just found out I totally spammed my ENTIRE Gmail address book via Shelfari. I was trying to look for one friend who had Shelfari but didn't know what her screenname was, ended up asking everyone I knew to join Shelfari. For those of you who have Gmail, you know that your address book has not just those you have saved, but the addresses of anyone you have emailed. Yeppers, any job I have ever applied to, all my customers for The Body Shop at Home, the people who got my "congratulations!" reply-all email when my friend Susan recently sent out a "we're pregnant!" email (think there were like 25 people on that email), old coworkers, current coworkers, fellow bloggers, anyone who bought stuff from my Dilly's Closet site, gosh I could go on and on…. spent 30 minutes emailing everyone to profusely apologize.
I am trying out a new name for my other blog. I want to create logos and new looks and feels for these blogs and I realized it is SUPER hard to get "What Every Woman Needs in Her Wardrobe" to fit in a little button. My friend Shelly gave me the name idea, let me know what you think… and if any of you are graphic designing gurus who want to help with some logos for nothing more than my love, adoration and maybe a plug on these blogs do let me know!
I have a few product reviews for you…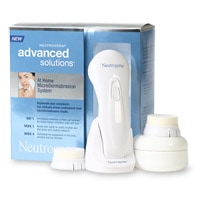 Neutrogena Advanced Solutions At-Home Microdermabrasion Kit: My sister bought this product and either didn't like it or it counter-acted with her current skincare routine (ProActiv) and gave me what remained – the handheld vibrating applicator, two sponges and a tub of some of the cream. I tried it once and forgot about it. A couple weekends ago I decided to use it again and found the sponges had gone bad (fell apart) so I decided to buy a replacement kit.
The replacement kit comes with one sponge and a tube instead of tub of the cream (which I find far more convenient). The process is to put a quarter-size amount of the cream on the sponge, which snaps on to the vibrating applicator (that my husband thinks looks like a vibrating something else). Then you dot on your cheeks and forehead, and massage each area for no longer than two minutes.
Well, I did my chin and nose as well, since these two places are the most acne-prone and I have a bit of sun damage I would like to get rid of sooner rather than later. The cream feels as though it is full of… glass dust. It's coarser than sand and reminds me of the results after grinding down glass when I took stained glass courses. It is in a creamy base. It's easy to control the cream so it doesn't get into your eyes or mouth. When finished, I rinsed clean (it rinses easily) and then applied my Vitamin E Moisture Mash from The Body Shop. My skin glowed and looked very happy and healthy.
Ten minutes later, my chin began to burn. My husband said I looked as though I had sunburn – my chin was red, my cheeks pink, and my forehead had a few rosy splotches. This redness lasted maybe 15 minutes total, and again my skin went back to pink and happy. Several days later, my skin still looks better – a bit softer, a bit more dewy, all in all happier. I plan on using this on a more regular basis now that I have a complete kit!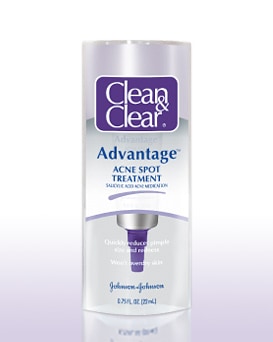 Clean & Clear Advantage Acne Spot Treatment: If 100% of all people in a trial saw improvement in their skin after using this zit-zapper (that's what the ads say), well I just had to have it for myself!
I am not one to get a lot of acne, but when I get a spot it never seems to go away. Starts as a bit of redness or soreness (usually around my mouth) and comes to a nice white or black head a week later. Some hot compresses and various products end up having the spot clean out, but then I am left with a scar, or a second coming of the zit. I still have scars on the side of my face from zits I had a year ago. I am always looking for some miracle cure to keep away the scarring and have the spots gone STAT.
Well I got this stuff and used it on the sore/not-yet-emerged spots and in two days there was nothing left! I decided to REALLY see how good this stuff was and use it on my chin. My chin looks smooth and acne-free but if I stick my tongue under my lower lip to jut out that skin below my mouth, you will see a little army of tiny whiteheads that have resided there since high school. Twice a day for a week I have been applying the Acne Spot Treatment and about three days in, I started feeling something rough on my chin, as though I had spilled food and it had hardened on me. Embarrassed, I ran to the bathroom and looked in the mirror.
Nothing.
I jutted out the skin with my tongue and there were my whiteheads… coming to the surface. Not soft and oily, they were hard and almost popping out of the skin. Could I finally be losing my whitehead army?
A week later, the skin is still rough to the touch, but fine in appearance. A few of the whiteheads have left all together, the skin is not irritated and I am excited that maybe in a month they will all be gone 100% and forever. I also apply to any potential zit at night and the next AM seem to be in the, heh heh, Clean & Clear!