This article may contain affiliate links; if you click on a shopping link and make a purchase I may receive a commission. As an Amazon Associate, I earn from qualifying purchases. 
I know I seem a bit late with this, but with 100 degree days here in the Nation's Capital it is hard to think of sweaters and tights! However as the catalogs and magazines hit my mailbox and I surf the 'net I see all these GORGEOUS new looks for the upcoming season and I just HAD to post about them. Now there are tons of new looks for fall, I have just listed those that I think can easily work into most people's wardrobes to make them fresh and new, without being a slave to fashion.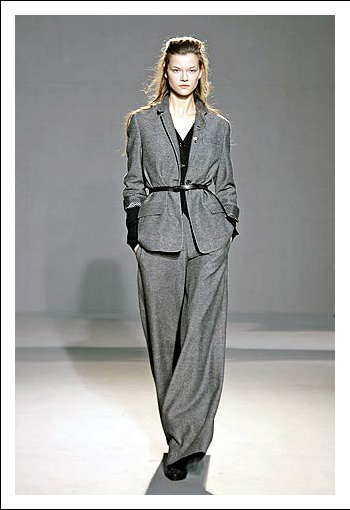 Gray, Gray and More Gray. Gray is THE neutral color for this season and I couldn't be happier. Softer than black and easier to blend into your wardrobe than brown and camel, gray is the feminine neutral that will make your brights pop, your pastels glow, your other neutrals look very current.
Consider a pair of gray trousers with a wide leg (think Katherine Hepburn), a gray pencil skirt or a 40s inspired jacket with bracelet-length sleeves to jazz up your current office basics. Instead of standard black pants for a night on the town, try some gray slouchy menwear-inspired trousers with your cami or beaded top. As for knits, nothing is more cozy than a kitteny soft gray cashmere crewneck with everything from ivory wool trousers to your favorite jeans.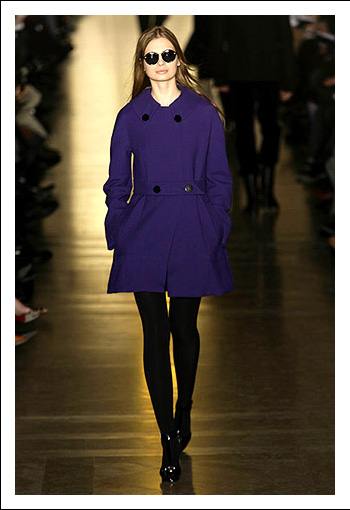 The New Brights. Red is always a popular accent, but this season try a bright cobalt or a regal purple. These cooler jewel tones are being shown with black accents to really make the colors pop in a modern way, but will also look great with other basics (gray, camel, ivory).
Consider a basic merino sweater in royal, or possibly a bright plum croco-embossed pump to spice up your basic work attire. I have seen a ton of these new hues everywhere from the local department store to J. Crew. If you are a "Winter" a la Color Me Beautiful, then this is your season to stock up on those hues that make you glow. For warmer complexions, consider plums, berries and indigo shades that may be more flattering and still quite current.
For evening, get out of the black routine with frocks in magenta, cherry and bright reddish-purples. These colors look amazing in satin and silk because they really have the hue look saturated and modern. Unlike a few years ago when these shades were combined with lace and other details, this season is more about simple solids – let the color be the star of the show.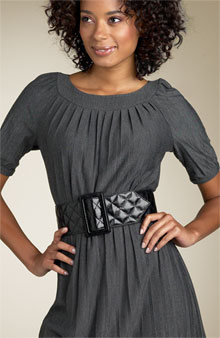 Patent Accents. Patent leather is no longer just for summer days; this fabric is a huge accessory must-have for the fall.
A black patent belt around your favorite white shirt, a pair of bottle green patent round-toe pumps with your standard brown suit, this will add some stylish shine to your wardrobe without being too outlandish. I personally bought a pair of black patent pumps as go-to footwear for the next wedding or special occasion and have gotten a surprising amount of use from my red patent croco-embossed peeptoe heels.
A great idea – if your wool winter coat has belt loops for a self-belt, consider switching it out for a patent number this season and give your outerwear new life!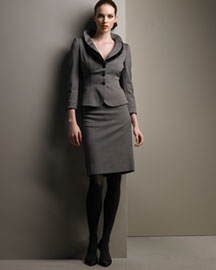 Suiting Up in a Ladylike Fashion. From Katherine Hepburn to Diane Keaton in Annie Hall, suiting is front an center for fall and it's all shown with a touch of femininity.
Retro 40s feminine shapes are seen in bracelet-sleeved jackets and pencil skirts; wide-legged trousers evoke Kate, and vests with slouchy pants have a 2007 spin on the 70s menswear look. Tweeds, glen plaids and traditional suiting fabrics take center focus; gray is obviously the most popular color this season. The suiting is softer, sweeter, more ladylike no matter which style icon it is emulating. Even the "power" pieces on the runway have softened edges that are not nearly as tough as their 1980s counterparts.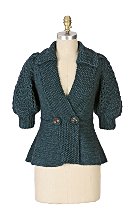 Knitwear Everywhere. If you love knits and sweaters, then this season is the time for you to stock up! Knitwear is everywhere from traditional sweaters to jackets, dresses and coats.
I am loving the fall's version of a tee shirt dress in merino wool or a more substantial knit. Simple crewneck and v-neck sweaters lend themselves to the menswear trend for trousers, keeping it slim and simple on top to let the bottom half get the limelight. Jackets are softened by being in substantial knits with vintage details. Knits have a feminine touch with waist detail – long sweater coats come with a self-belt or take your favorite crewneck and put a belt over it to accentuate your curves.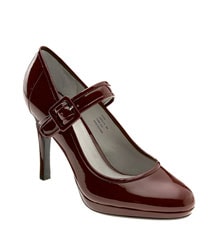 Children's Shoes for Adults. Those black patent leather babies from your childhood have grown up and are a must-have for fall. Seen now with a slim heel, slight platforms, peeptoes, colors along with basic black and other feminine details, these shoes are a stylish replacement to your daily choice of black pumps. Peeking out of a pair of pants, paired with a dress (with or without hose or tights), they are whimsical AND fashionable!
Your old-school oxfords have grown up too. Now with a tall and slim wood heel, possibly with an open toe, in a bevy of colors and fabrics, this style of shoe hasn't gotten play in almost a decade. Paired with jeans to suits to flirty dresses, they are a smart choice for the cooler months and quite versatile. I love the look of a contrasting color of tights – pair your solid dark dress from last fall with burgundy tights and black oxfords, or spice up a simple black outfit and tights with oxfords in cordovan or dark cherry.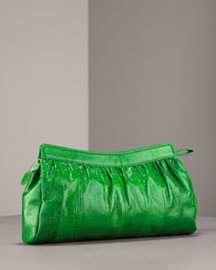 The Return of The Clutch. I have always said a clutch is a must-have in every woman's wardrobe for evening affairs. If you have had trouble finding The One, you won't this season. Not only is the clutch great for evening, it is also being shown as a choice for daytime (works so well with those 40s inspired fashions). Leather, satin, or any other fabric; whatever size works well for you.
Pack away those wristlets for now and invest in an elegant clutch (if it has a hidden strap inside, it will be just as convenient at the club or bar).