This article may contain affiliate links; if you click on a shopping link and make a purchase I may receive a commission. As an Amazon Associate, I earn from qualifying purchases. 
Reader Elizabeth contacted me last month on Facebook, asking if I would do personal outfit and wardrobe critiques/commentary. She sent me a picture of her outfit, asking what I would do to it to change it up some. She said she had a lot of go to outfits that she felt were missing something and was looking for low-cost suggestions on how to jazz up more ordinary outfits.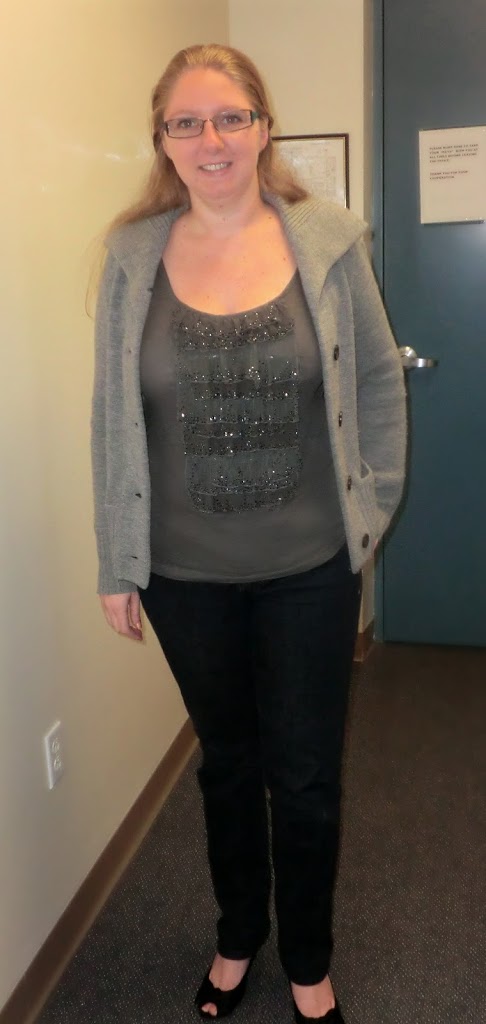 Elizabeth's outfit is J. Crew's Arrow Sweater Jacket in Heather Gray, J. Crew's Vintage Cotton Amour Tank in Dark Pewter, and Calvin Klein "Pencil" Jeans in Black. Her shoes are B.P. for Nordstrom's "Bow Heels" which are no longer available, but are a black peeptoe with a 3" heel.
I love the look of mixing a cozy sweater with a top with some glam to it. It's a great way to add some sparkle to a work-appropriate look. Also, by wearing jeans in a deep saturated black, they look more appropriate for the office and give a nice long slim line to the body. The heel height continues the long line, and makes this outfit great for drinks with the girls after work.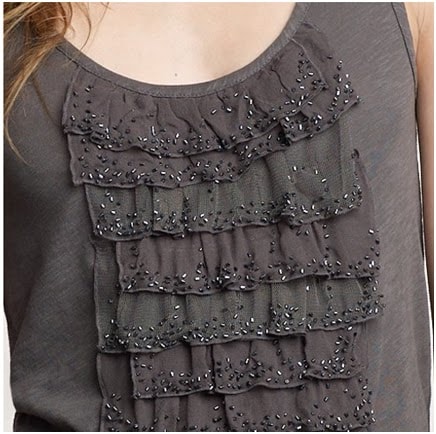 The top gets its sparkle and glam from ruffles – some from the knit of the tank, some from mesh; these ruffles are decorated with metallic dark gray beading. It is the type of decoration that can work well with additional sparkle from other accessories. Hematite (or faux/dark gray metallic) and smoke crystal jewelry would compliment it beautifully without bling overkill – some earrings with a little dangle, a thin chain with a small pendant that hits below the ribcage, or even one of those rope-style necklaces that you wrap around your throat like a scarf, letting the tassels hang below (I found one of these a few years ago at The Limited for an amazing clearance price). Though the top is a scoop neck leaving a lot of skin at the collar, I wouldn't do a short necklace because it would ruin the long line of the outfit and actually would compete more with the ruffled detail. The only type of short necklace that would work is a very delicate one with a small charm or solitaire, the chain almost invisible, the necklace just adding a bit of sparkle.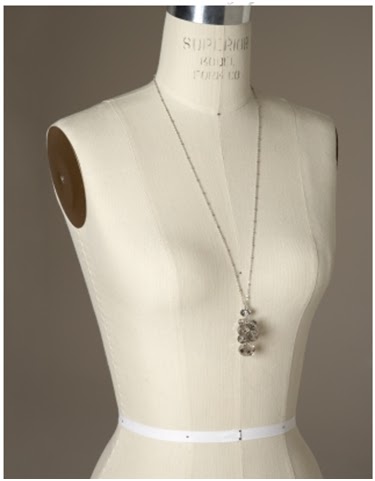 You can find hematite and smoke crystal jewelry for amazingly low prices right now as that many stores consider it "winter" accessories – check out places like TJ Maxx, but also discount fashion shops like H&M and Forever 21 (and The Limited – looking online I like their Colorblock Chain Necklace, Rondell Pendant Cluster Necklace, and Black and Hematite Chain Necklace) – I often find amazing scores on jewelry at these retailers.
I don't know how you feel about makeup, and I know this picture was taken at work, but I feel cosmetics can really make an outfit cohesive. Your fabulous glasses bring color up to your face, but for them to not steal the spotlight, it could look great to add some more color to your lips.
Clinique's Almost Lipstick in Black Honey
is my go-top lipstick when I wear gray – it's a sheer wash of color that can be darkened by more application. The shade is like a berry stain, but the lipstick has a nice natural looking shine. A lower-cost alternative is
Burt's Bees Lip Shimmer in Fig
. Again, apply one layer for a light color, add more layers for a darker color without feeling cakey or false. I also love using
Clinique's Almost Lipstick in Black Honey
on my cheeks for a natural and subtle flush.
I love these items you have purchased (gosh I want all of them in my wardrobe!). They make a cute outfit together, but could also work individually:
I see the tank with a black blazer and dark jeans for a night out on the town, it could even be tucked in and worn with a suit for a corporate affair. Layer it with a darker gray or black tissue-weight tank underneath so you have a higher neckline and wear just them with those jeans, a pair of big silver hoops, and pointy-toed heeled booties. Come summer, that top can look quite seasonally appropriate with white jeans. I also think it would look great with a longer, slim v-neck boyfriend color – black or gray are a given, but you could really switch it up with mustard, chartreuse, or a deep berry shade.
That sweater just looks so cozy, yet luxe. I would love to see it with even more sparkle – a sequined tank in ivory and jeans or even some tweed trousers would be lovely. It could be used like a blazer and be worn over simple structured dresses, or a crewneck and pencil skirt. Try a different silhouette by buttoning just the top two buttons so it nips in at your smallest point and flares out for a feminine silhouette. I would also love it with a thin, long oblong scarf looped at your throat – it wouldn't add bulk but would keep with the cozy theme and make a great relaxed weekend or Casual Friday look.
And those jeans, fantastic. Great color and length makes them so versatile! They could be tucked into boots, worn with flats, with ankle booties, and as you have shown, can totally rock with a pair of heels!
Want me to do an outfit commentary for you? Email me your photo and details!