This article may contain affiliate links; if you click on a shopping link and make a purchase I may receive a commission. As an Amazon Associate, I earn from qualifying purchases. 
I am trying to pare down my wardrobe and have it higher functioning and recently found a black crepe lined dress at a thrift store that fits me like a glove. It has a round neck, short sleeves, darts and seams that make it fit really nicely but not trashy and it comes to my knees. Thing is, I have no clue how to make it look cool and look like me. I like color and modern lines and am known for my unique jewelry and want to make this dress work for everything from work to a wedding to a work party. Suggestions?
That sounds like quite the thrifting gem! A versatile fabric that dresses up and down with ease and a silhouette that can work year-round. I am guessing this is a silhouette you're not familiar with, which is causing the frustration. No worries, here's some suggestions to get your creative fashion juices flowing!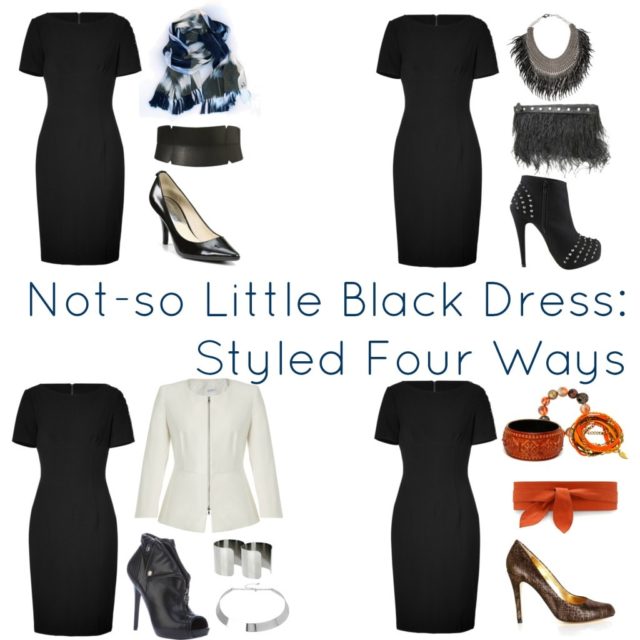 Such a dress can seem quite ordinary on its own, but a simple and classic silhouette is easy to accessorize to put your personal style spin on it. With such clean lines, it's the perfect backdrop for great accessories. For the first ensemble, I accentuated the waist with a wide black leather belt. Having the belt the same color as the dress prevents it from cutting the figure in two, but adds interest and an edgy vibe. a funky scarf looped at the throat and some sleek pumps completes a look that would work at the office and even for a daytime wedding.
The second ensemble shows how a seemingly conservative dress can have a rocker vibe if properly accessorized. Have your dress work from desk to dinner with a quick change of accessories – a statement necklace, unique clutch, and studded booties transform this classic frock into a rocker's dream.
This style of dress is perfect for the office, even if you're known for having the more funky or creative personal style. A jacket with a crisp, modern silhouette will give a whole different shape to the dress. Add modern silver accessories and a funky shoe to put your spin on boardroom attire.
Black is the perfect backdrop for colorful accessories. A leather obi belt in pumpkin orange will add a fun pop to the sheath and tie in unique bangles you may have picked up from your travels. To keep from looking too matchy-matchy, a pair of tan snakeskin pumps complete the ensemble.
Follow Me | Twitter | Facebook | Instagram