This article may contain affiliate links; if you click on a shopping link and make a purchase I may receive a commission. As an Amazon Associate, I earn from qualifying purchases.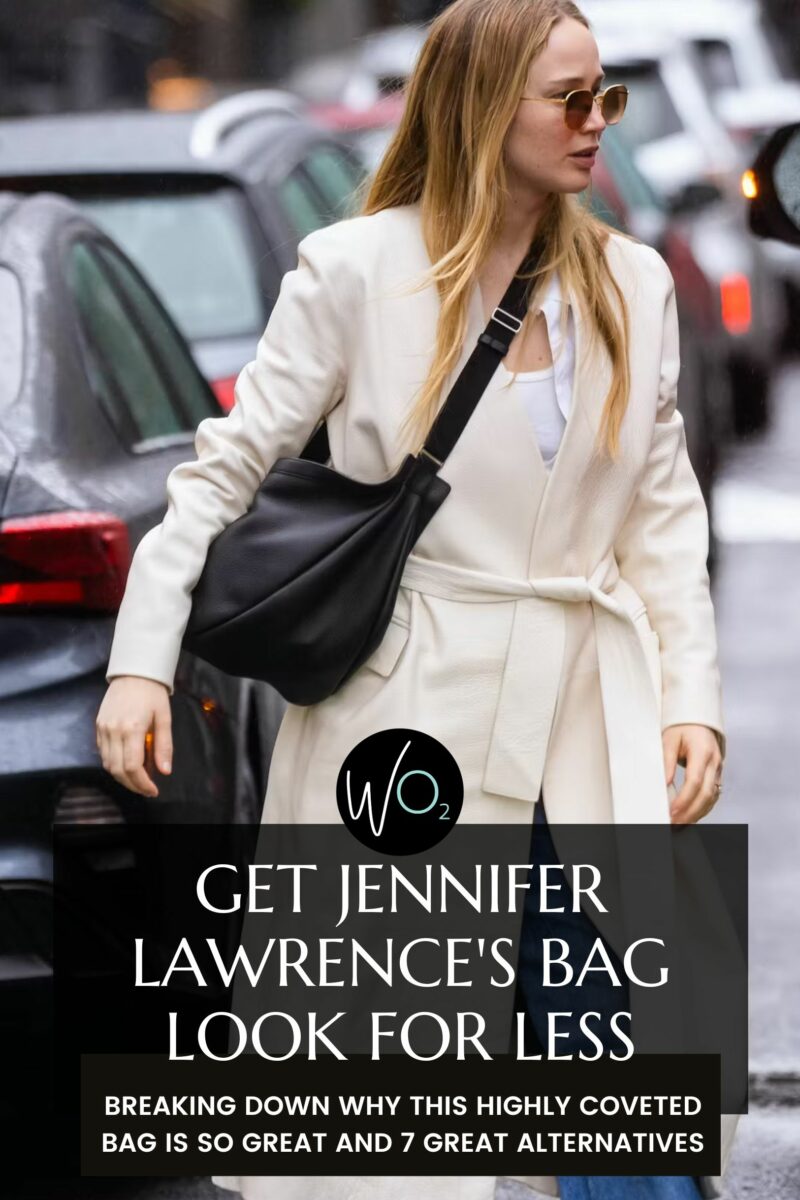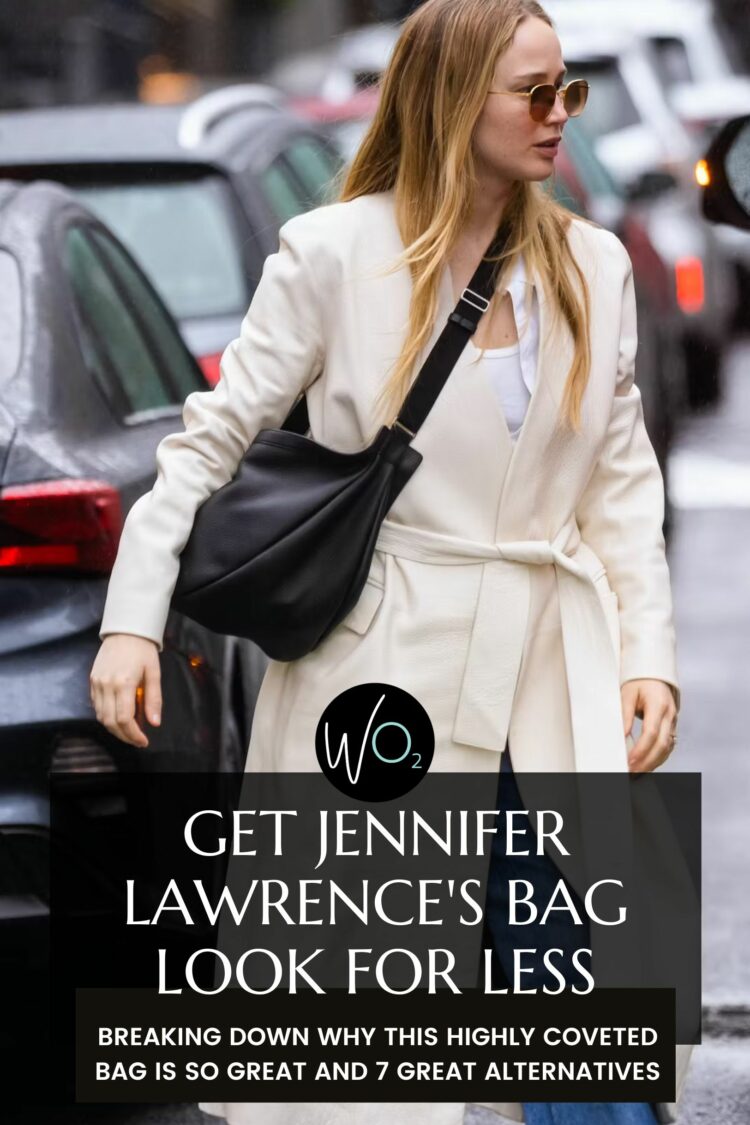 Jennifer Lawrence's Black Crossbody Bag for Less
You know me, I hate counterfeits and so-called dupes of designer items, but when I saw recent photos of Jennifer Lawrence and more specifically, Jennifer Lawrence's black crossbody bag, I knew that A) it would cost more than my monthly mortgage (and possibly more than my car), and B) I could find the look for less because it's not a proprietary design, and it's one that has been around for years.
Jennifer Lawrence's Latest Style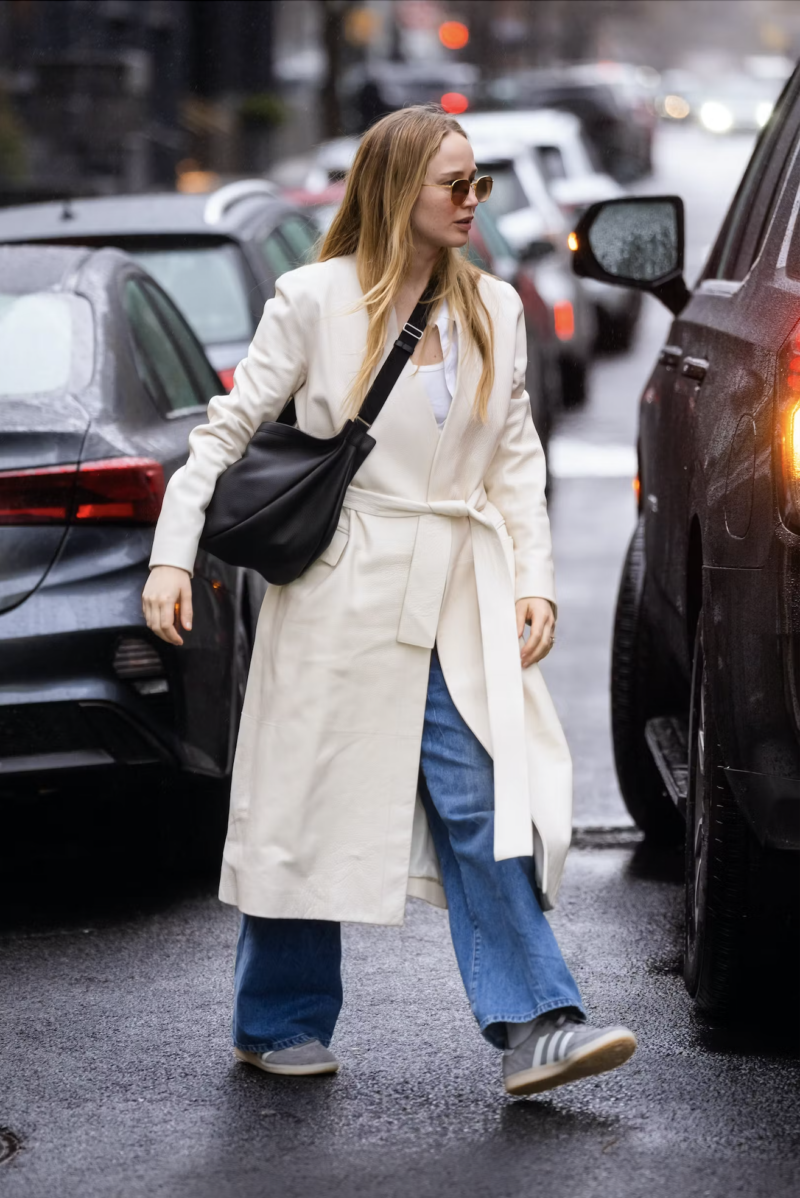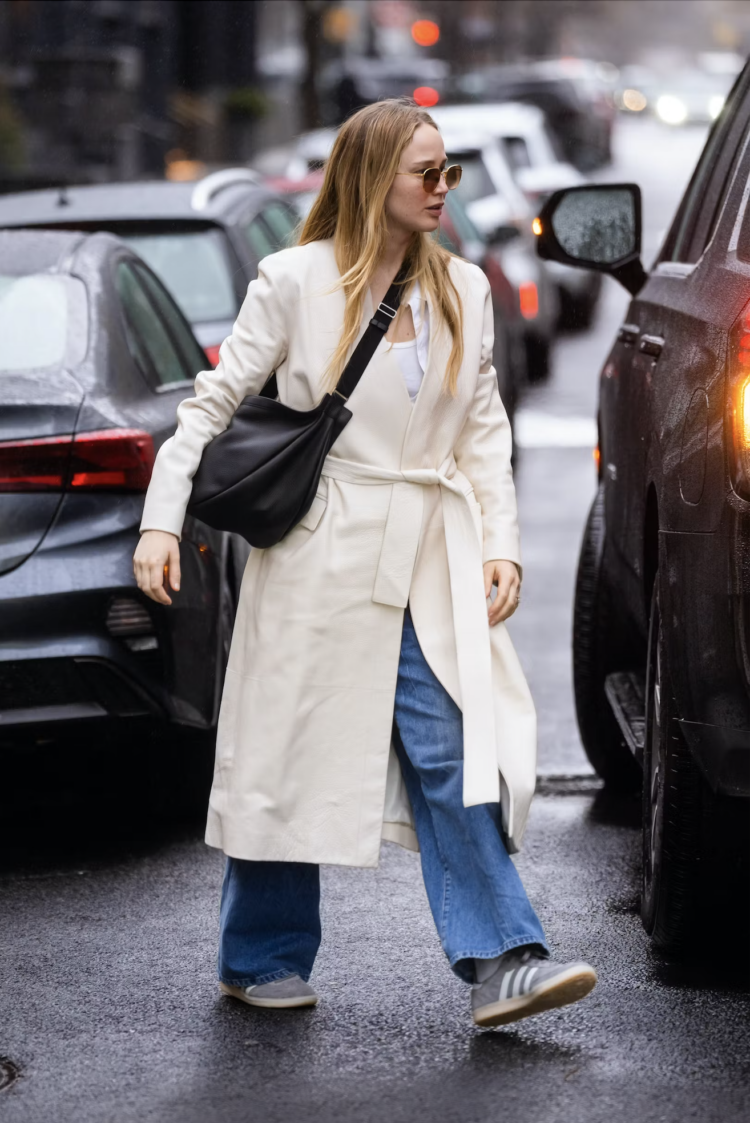 Jennifer Lawrence's latest looks have been getting quite the buzz. While never being a style slouch, Lawrence has been seen all over the globe promoting her latest movie, No Hard Feelings. She has been seen on multiple red carpets and the streets of the most cosmopolitan cities in everything from evening gowns to t-shirts and jeans and it's clear she has a stylist and a specific goal she is trying to achieve with her attire.
That stylist is Jamie Mizrahi, known for dressing celebs like Adele, Nicole Richie, Riley Keough, Eva Mendes, and Jessica Alba. After college, Mizrahi worked under stylist Elizabeth Sulcer before moving to a job at Vogue. Falling in love, she moved to Los Angeles with her husband she continued assisting celeb stylists like Petra Flannery and Simone Harouche.
Her big break came after meeting Cassandra Grey, who asked Mizrahi to do styling for her new company, Violet Grey. Through that, Mizrahi met celebs like Eva Mendes, who liked her work so much she invited Mizrahi to dress her for a movie press tour. A recent addition to Jamie Mizrahi's client roster is Jennifer Lawrence.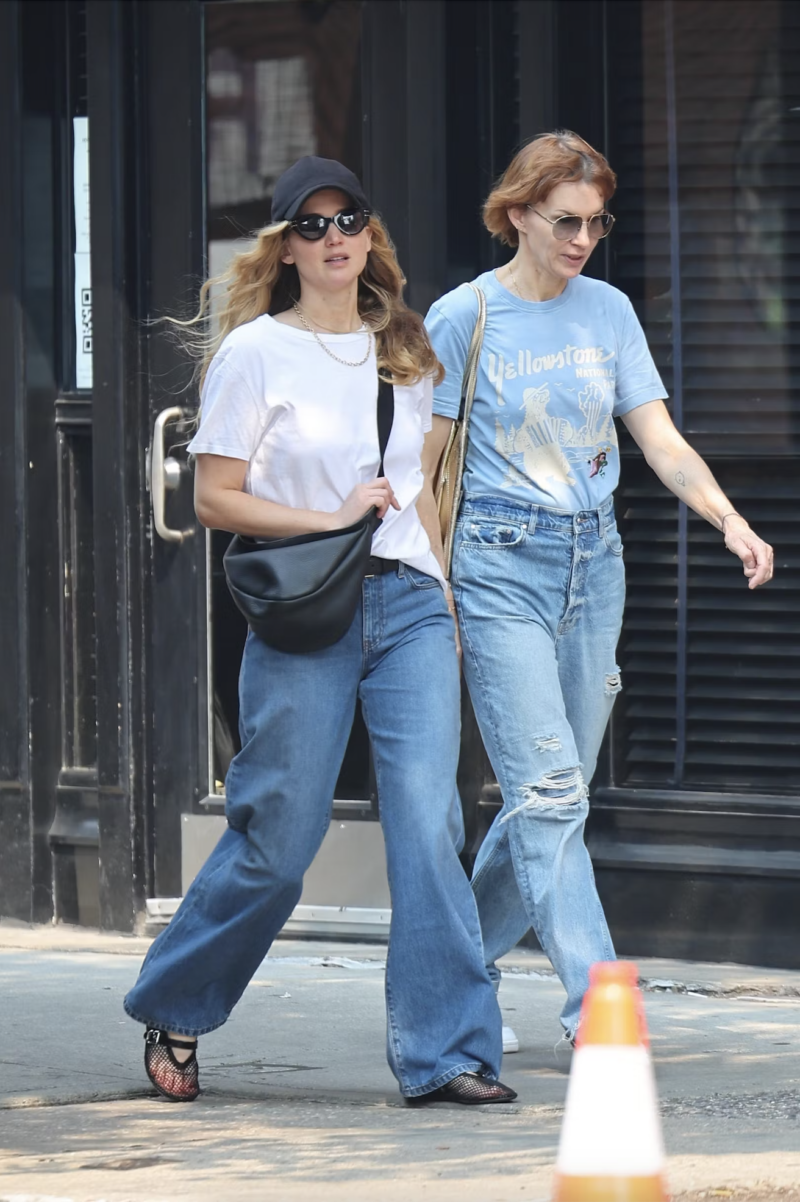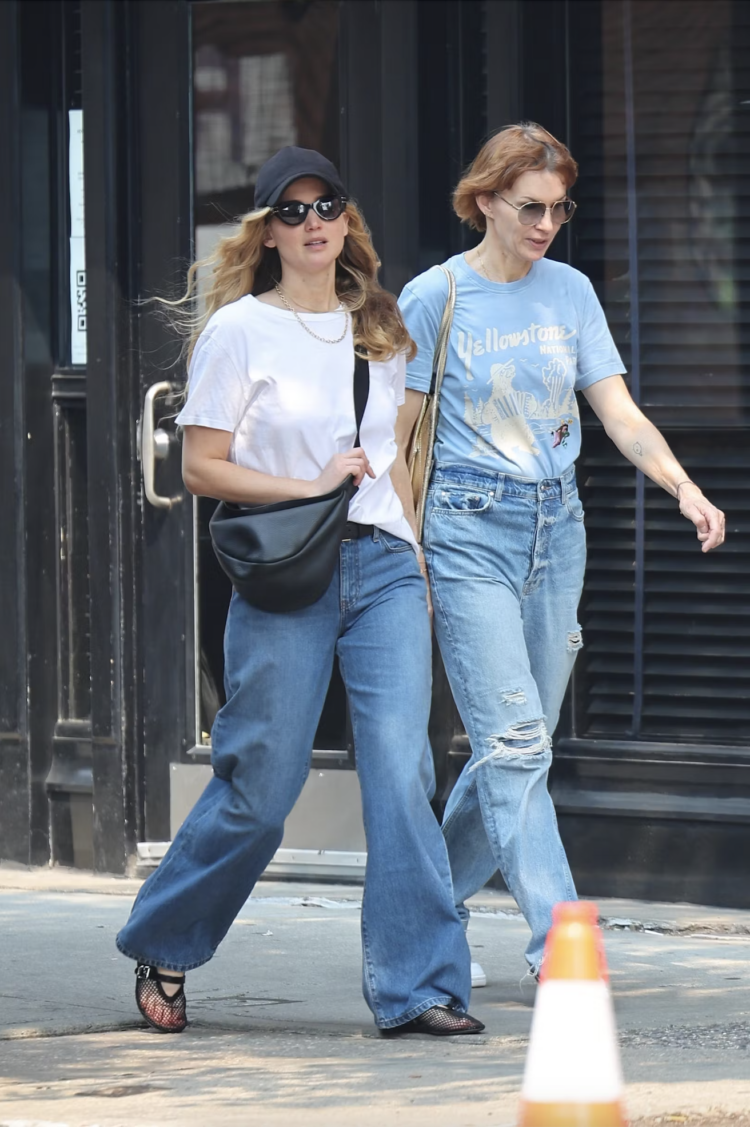 While Jennifer Lawrence has been acting since she was a teen, she didn't gain fame until 2010's Winter's Bone and became a household name by starring in 2012's The Hunger Games. In 2013 she became the second youngest woman to win the Oscar for Best Actress for her role in Silver Linings Playbook. Since then, Lawrence has been in many well-known films including the X-Men franchise.
As with most people, Lawrence's style has evolved over the past decade, transitioning from her 20's to her 30's, being a young star to an established actor, getting married and becoming a mother. It makes sense that Jennifer Lawrence is now leaning into style and employing a celebrity stylist to achieve a cohesive look.
Jennifer Lawrence's New Look of Quiet Luxury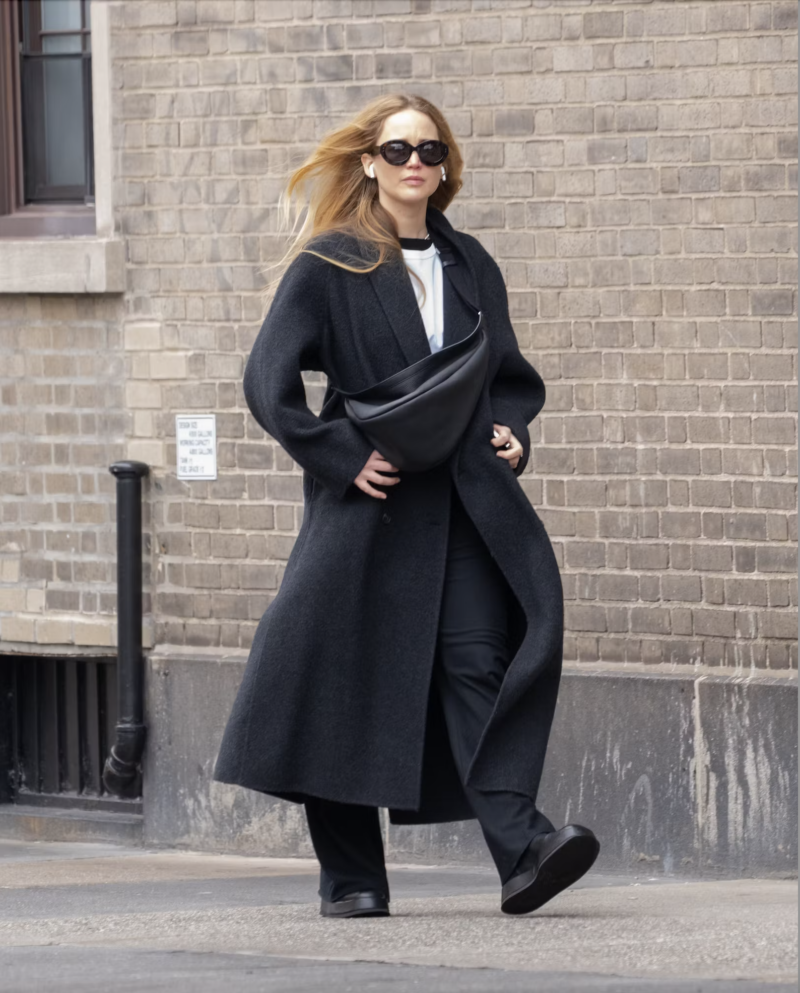 And that cohesive look fits the trendy style concept of Quiet Luxury. Often mentioned with the costuming of the HBO show Succession, Quiet Luxury is well-tailored, high quality pieces that are subtle, simple, elegant. No bright colors or bold patterns and no visible logos, Quiet Luxury is called that because only those "in the know" are aware that one's t-shirt cost $800 or their baseball cap is made from cashmere.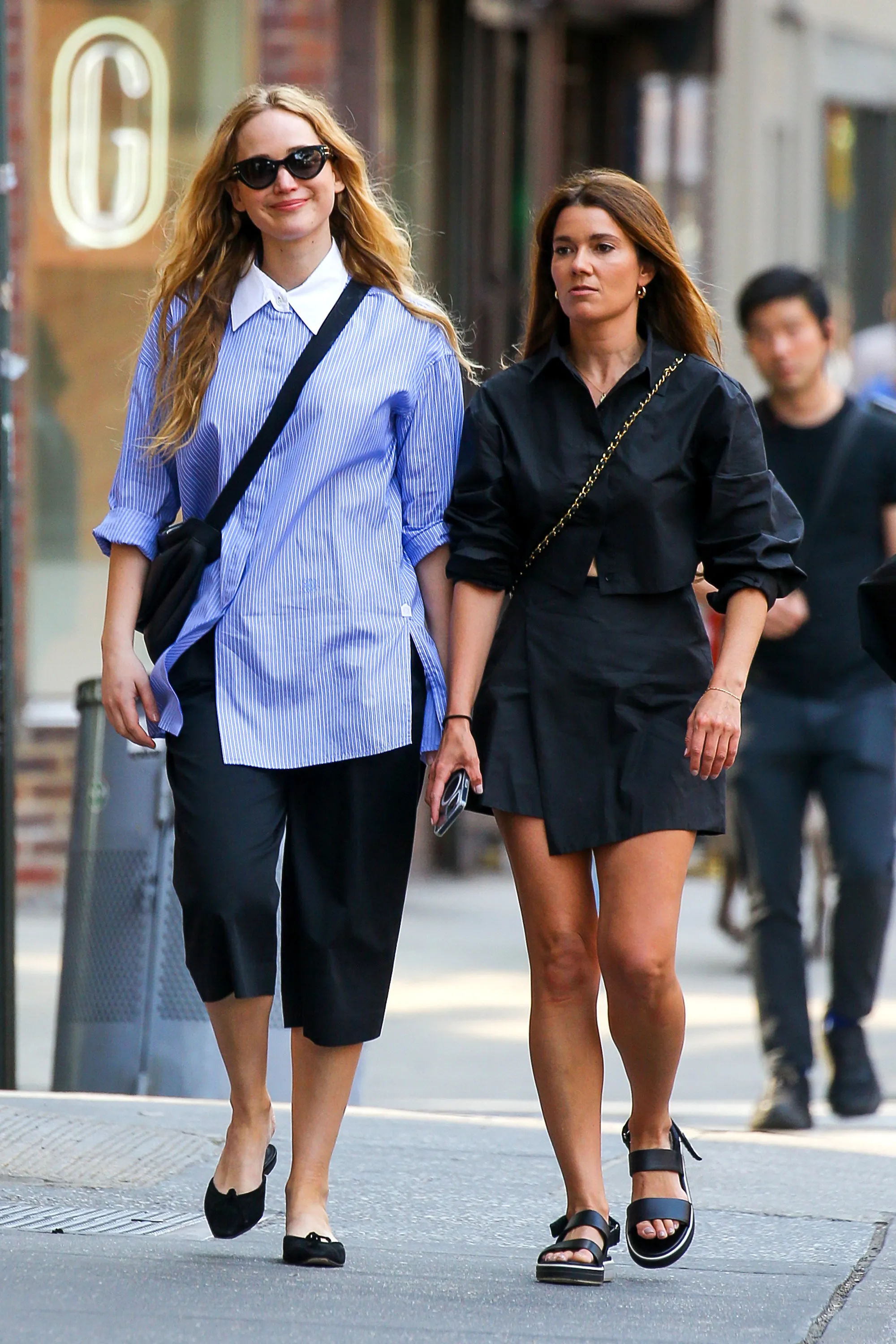 Jennifer Lawrence, who has been seen as America's Darling for the past decade, tripping on stairs and making relatable faces that turn into memes, is no longer a kid and no longer a fledgling actress. The choice of understated simple style focusing on architecture and fit is smart for a celebrity who is no longer at a point where she has to prove herself. She is established as an actress, an activist, a partner, a parent and she can afford multiple $800 t-shirts, tailored to fit her body perfectly.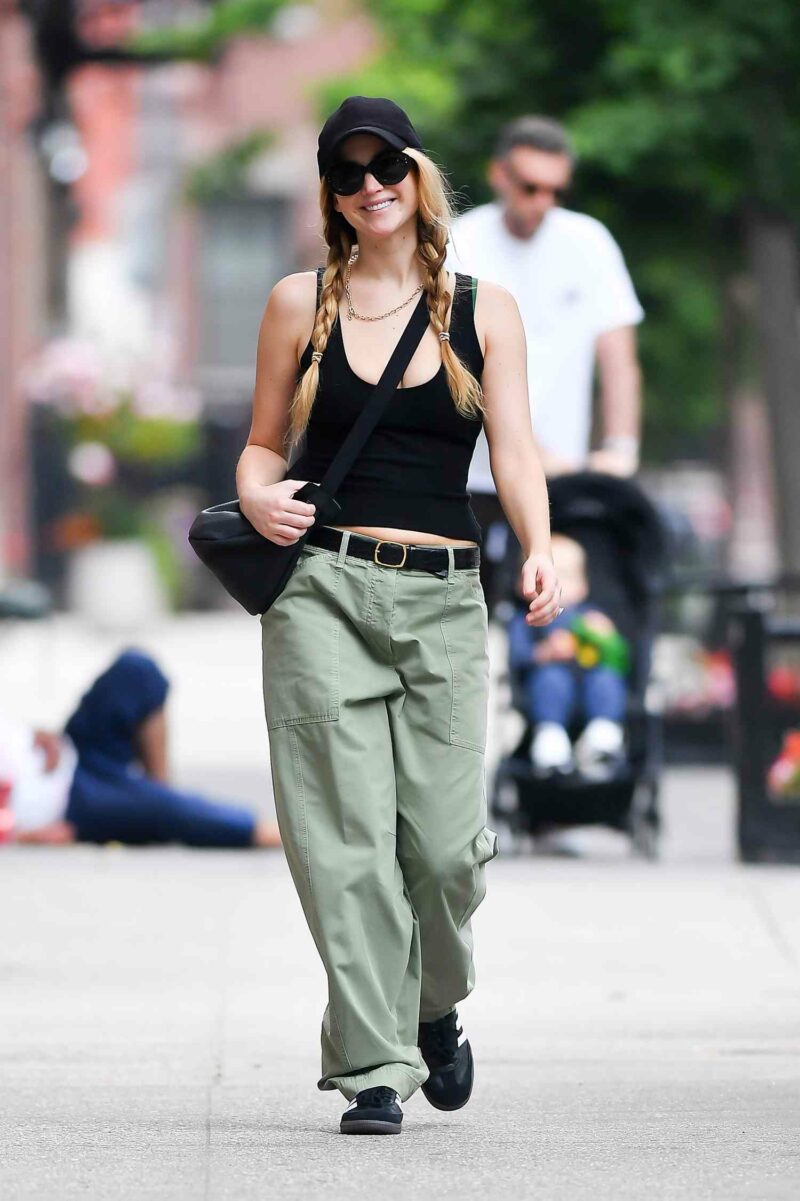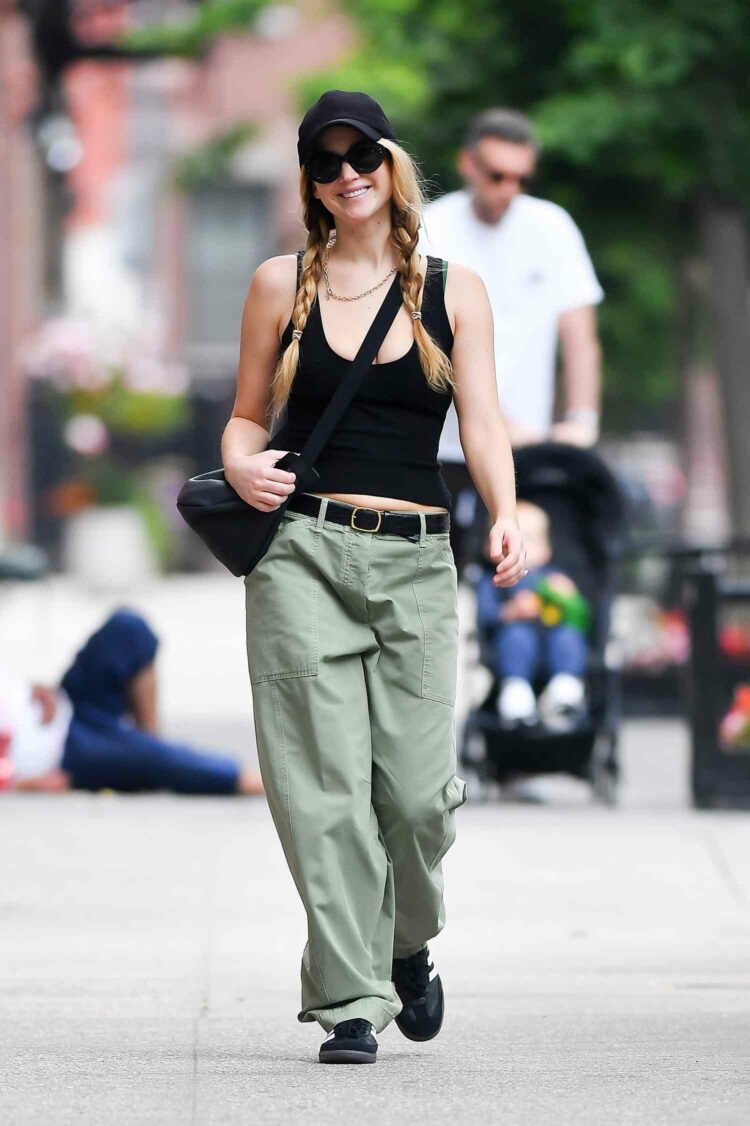 In the past couple of years, Lawrence has been seen in labels like The Row, known for quiet luxury. Free from labels and frills and founded by Quiet Luxury queens Mary Kate and Ashley Olsen, The Row offers simple, elegant, relatively timeless yet never boring style from luxury fabrics. A silk camisole is over $1K, a jersey turtleneck almost $700, and almost everything is in shades of white, black, cream, and camel.
Getting the Quiet Luxury Look for Less
I could go on all day about how problematic Quiet Luxury is as a concept, but that's not the point of this article. The point is, when you see a celebrity wear something that seems quite stylish and also practical, and also something relatively easy to replicate at a lower price, it's time to celebrate… and time for me to do some research. Because while we can't all afford $800 t-shirts and $1K camis, we can get get ideas from such looks and make them truly work in our wardrobes without dupes or "looks for less" that look a mess.
I've see many pieces where folks are sharing how to get the look for less for Jennifer Lawrence's black crossbody bag, but the choices are… not the same look. It's just a bunch of affiliate links to mediocre black bags that can be worn across the body, but don't achieve the perks of this specific bag. So you know me, I go the extra mile, I research the bag, and then I go to find items that will achieve the same results, even if you don't have a home mortgage to drop on a purse.
Why Is This Black Crossbody Bag Worth Checking Out?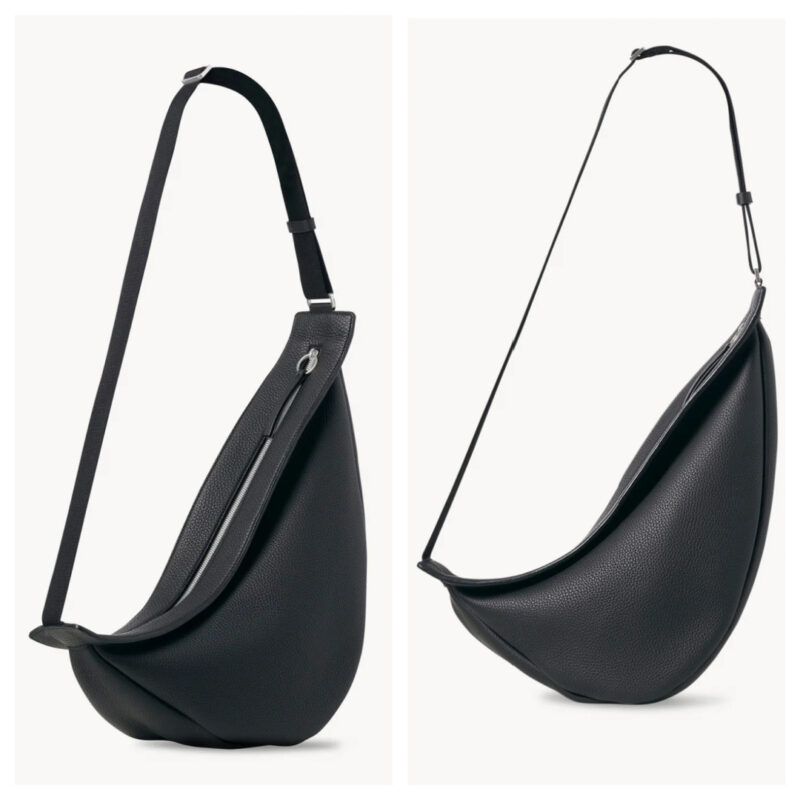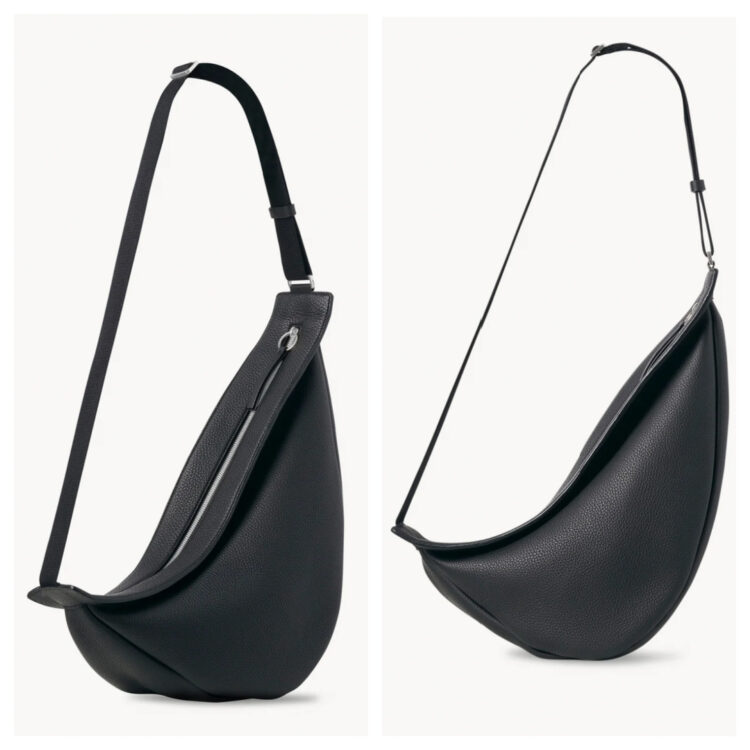 Jennifer Lawrence's black crossbody bag is the Large Slouchy Banana Bag in leather from The Row, and retails on their website for $2,550.00. Yeah, that ain't happening. However, let's break down why this bag is great.
Made from soft leather, the bag doesn't add bulk and fits the shape of the wearer. It also will be streamlined if you're carrying a lot or fill only where needed if you're carrying a lot.
The wide strap is not leather, but webbing, which makes it more durable, and more comfortable in the heat. It also is wide enough to handle weight, so you can throw in there your water bottle or your phone's battery bank, or your Kindle, or all three.
An adjustable strap means you can make it work whether it's over a ribbed cotton tank or a bulky puffer coat. It also means for those of us who may not be the same shape or height at Lawrence can also wear the style.
No logos, and no extreme hardware, so the bag doesn't scream Summer of 2023 or I AM DESIGNER or worse, I AM NOT DESIGNER BUT I WILL EMBELLISH ENOUGH IN HOPES SOMEONE WILL THINK I AM. Also it means you don't have to worry if your jewelry and any other metal in your ensemble coordinates.
The mix of leather and webbing means this bag isn't too fancy. Sure, it's leather and over $2K but this is a bag Lawrence can sling over a t-shirt and jeans and look cohesive. But because it is leather and not nylon or canvas, it can also be lung over a day dress or pantsuit and look appropriate.
Neither a belt bag nor a sling crossbody bag, this hybrid feels modern and new yet also timeless. Just as with the lack of extreme hardware and visible logos, having a bag that isn't too on the nose a trend means it will wear better over the years. Because we grown-ass women can still enjoy current trends but we also know it's wise to wear pieces that we can still be rocking in a decade (or two, or three or…).
So if like me, you can't and won't spend over $2K on a handbag, I've found some styles that can give you Jennifer Lawrence's black crossbody bag for less money but with a similar effect. Not all have the same exact details laid out above, but hopefully at least one will fit your lifestyle and your budget so you can get the look for less without resorting to a dupe or true copy.
Jennifer Lawrence's Black Crossbody Bag for Less: My Picks
I did a bit of digging. I went to the mainstay places where I find stylish minimalistic bags, checked the discount sites, the fancy department stores, and the companies known for carrying logo-free leather handbags. And these seven were what I found to be the best choices to achieve Jennifer Lawrence's black crossbody for less.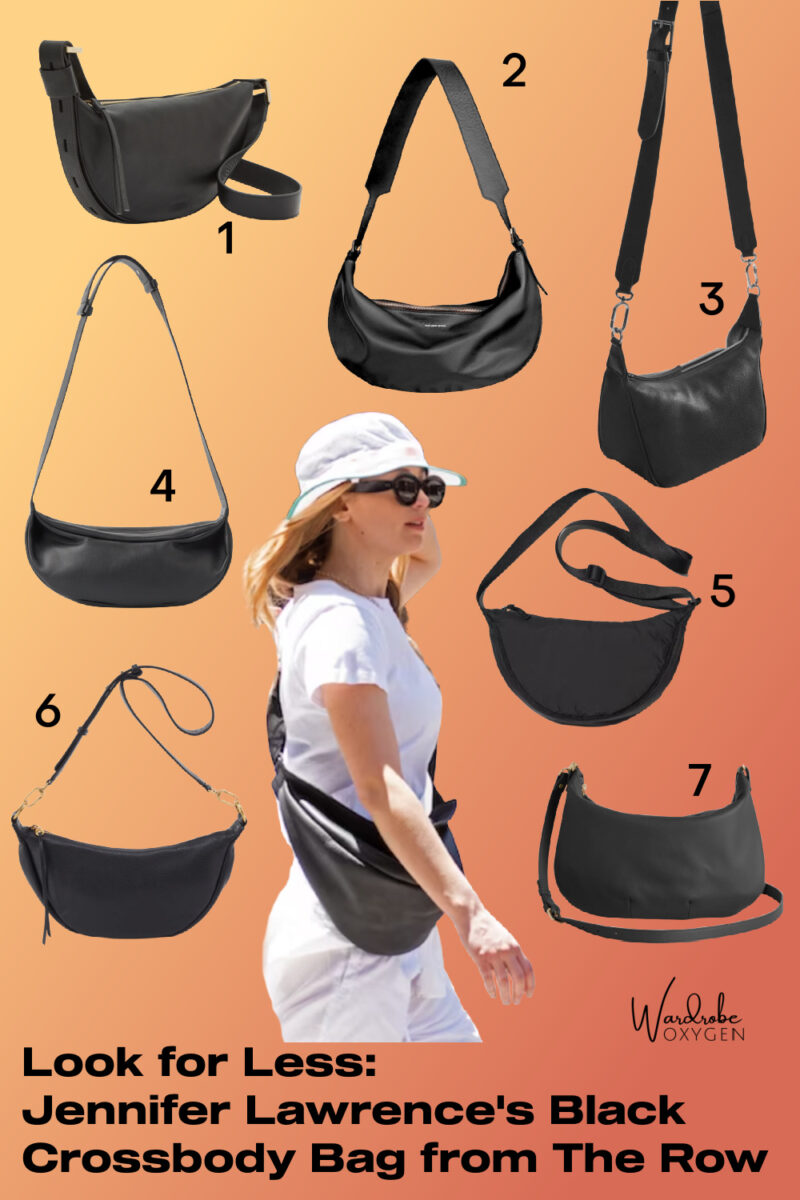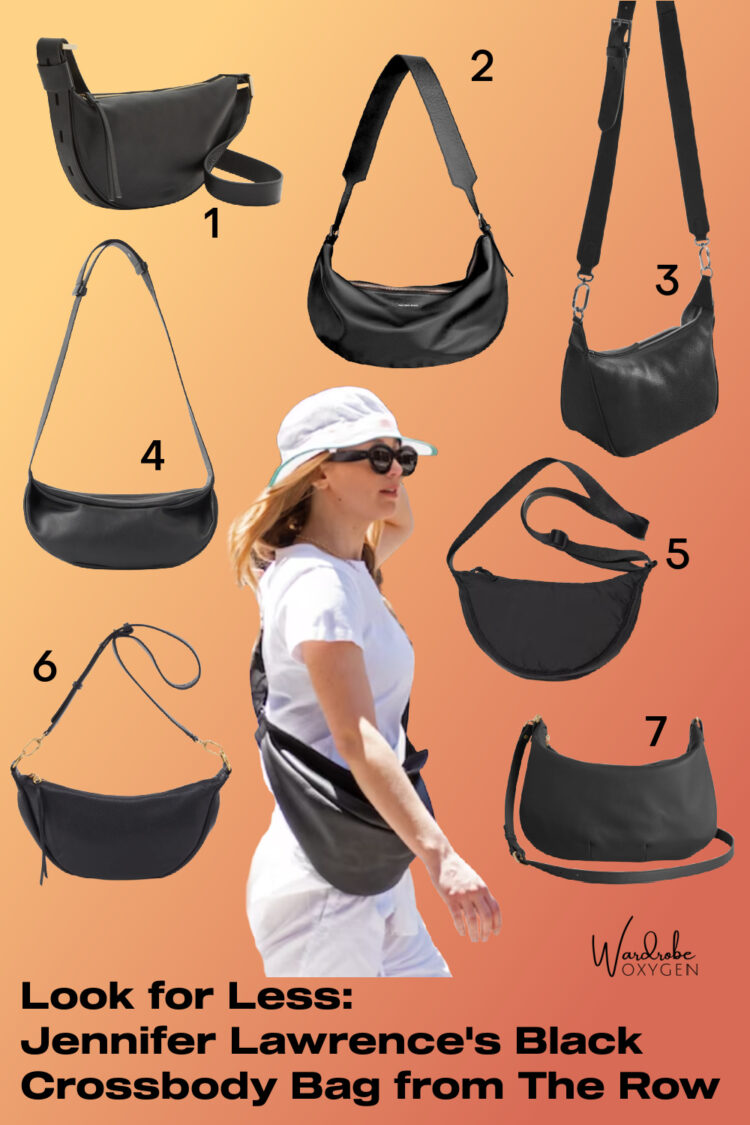 These are in no particular order, but I will share why I think each of these bags may be a good option if you want to achieve this look:
1. AllSaints Half Moon Leather Crossbody Bag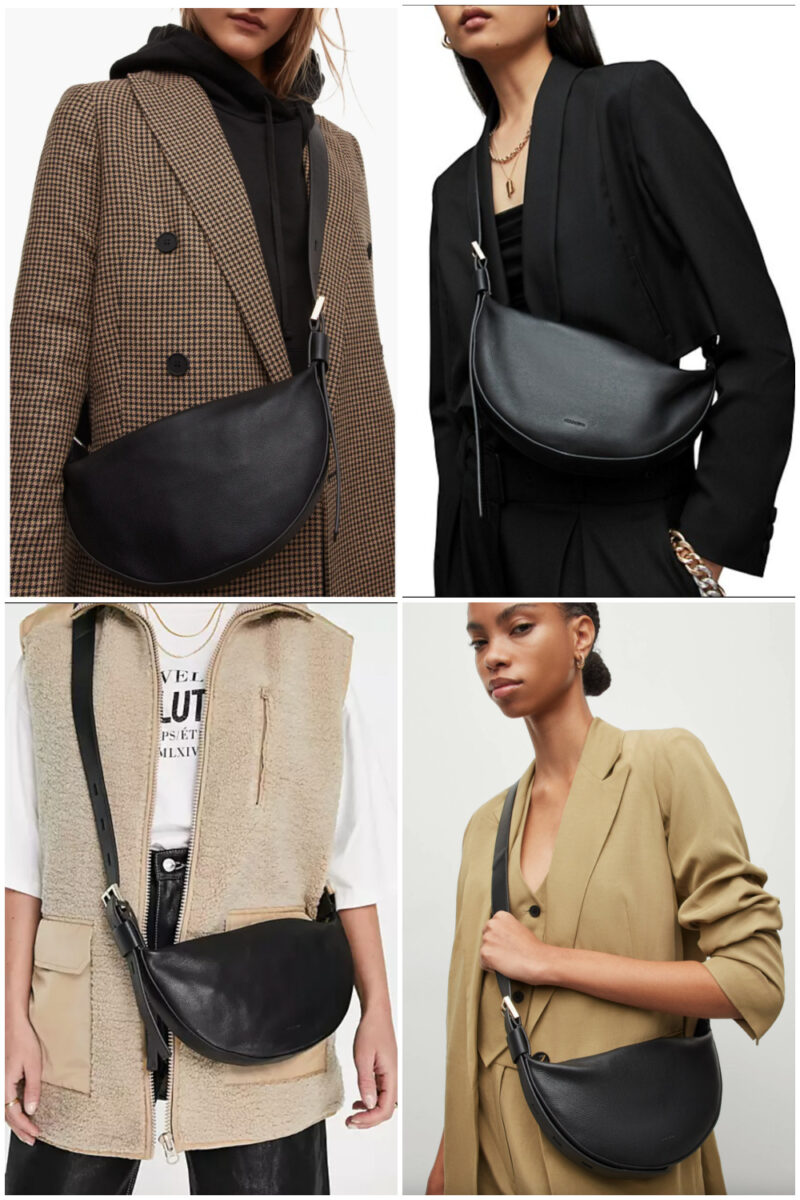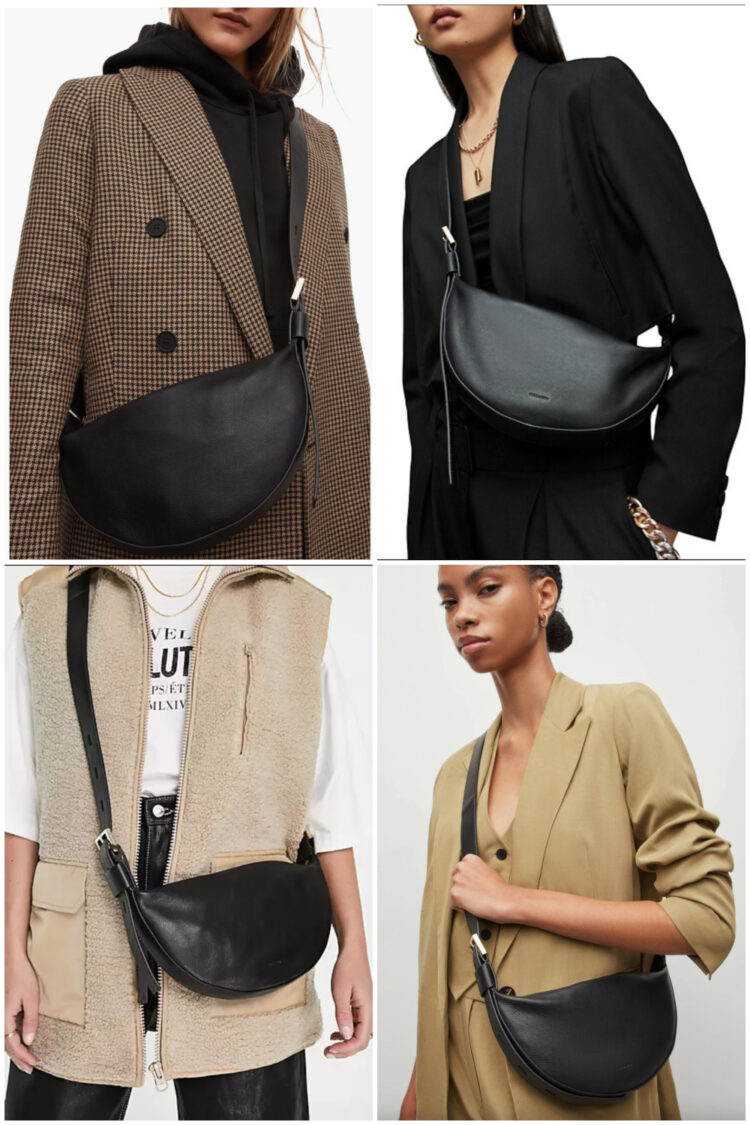 I have been admiring this crossbody bag from AllSaints for a while, though I have been eyeing the blue and green color options. I have owned bags before from AllSaints and found the quality good, the style modern, but the pieces not specific to a certain year or trend.
Also from a soft tumbled leather, the AllSaints bag has a leather strap instead of webbing, but the strap is wide, sturdy, and adjustable. The hardware is relatively minimal, and the half moon shape will curve with the body like Lawrence's bag from The Row. $219.00 at Nordstrom.
2. Amazing Song Large Sling Crossbody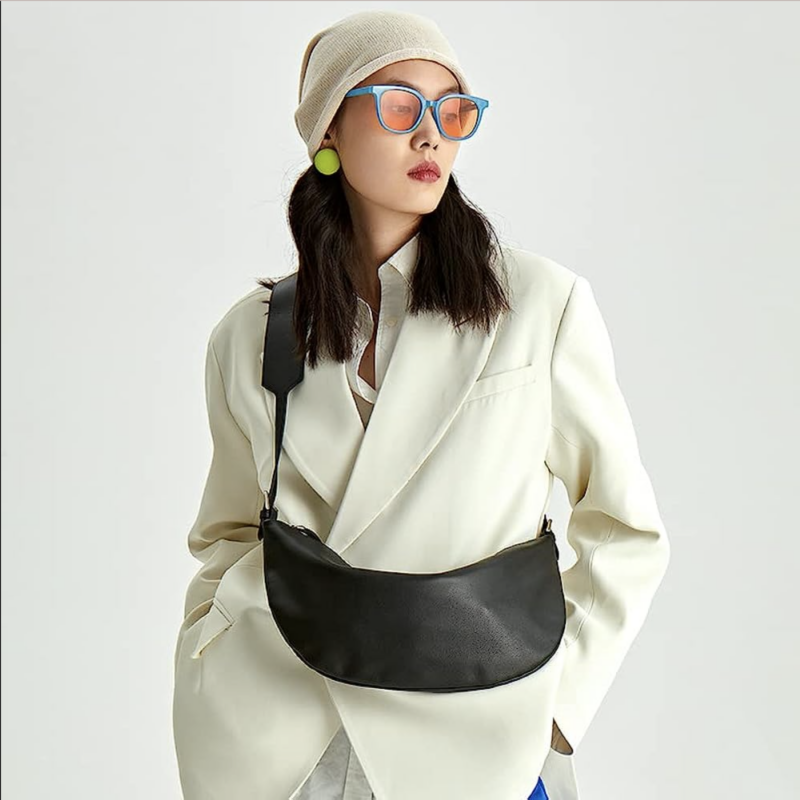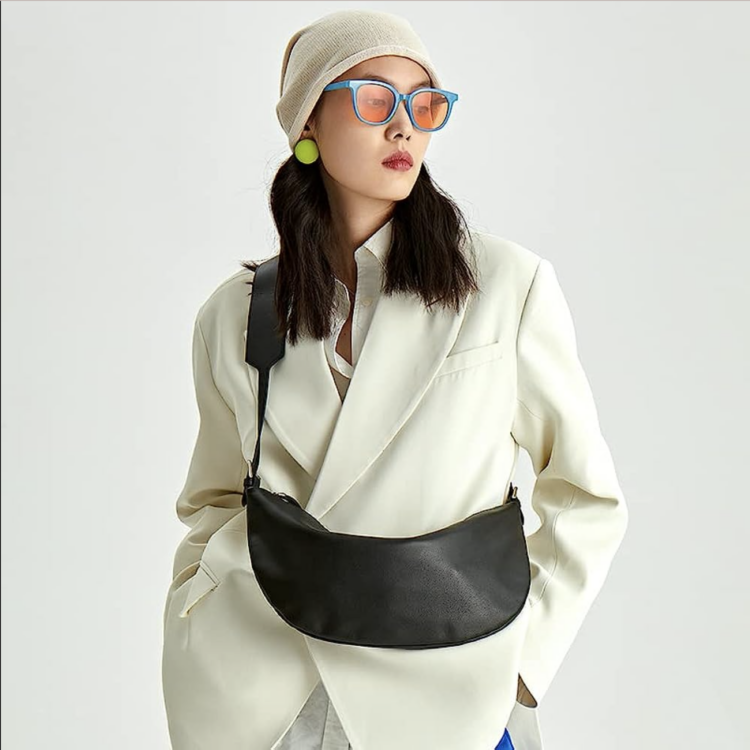 If you are looking for a budget-friendly option or prefer to not wear real leather, this bag from Amazing Song is a good price and gets good reviews for being a shoulder bag or a crossbody. With a shorter strap, it will achieve more of a belt bag effect, but the slouchy style resembles the bag from The Row.
The straps are adjustable, but from reviews and dimensions on the site, I do not think this will be the best option for larger bodies. There is also a logo on one side. However, the reviews are positive and the silhouette will help you achieve the effect of The Row Bag for less. Prices vary on Amazon, but this bag is always under $70.
3. MANGO Leather Cross Body Bag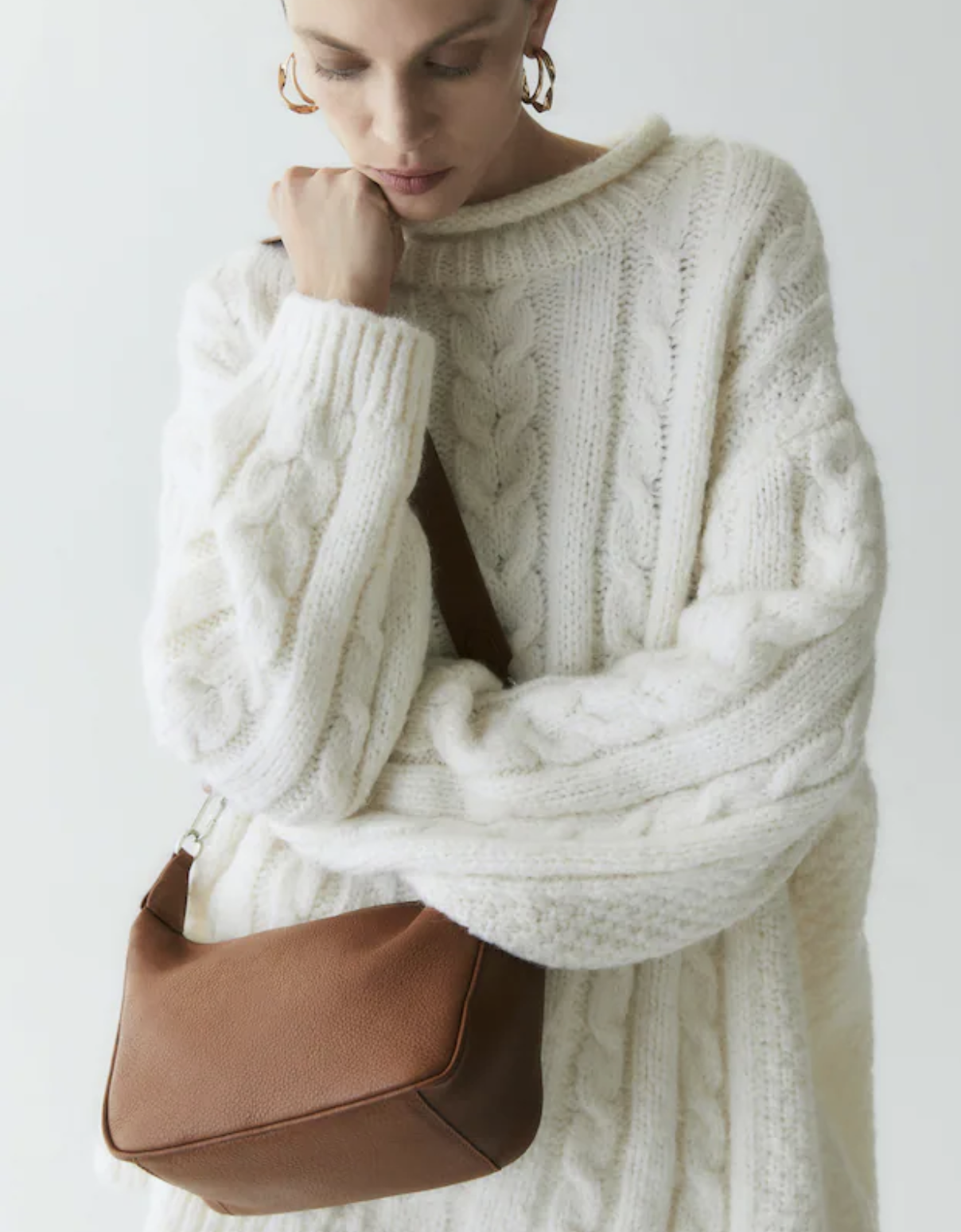 Mango is one of the retailers I go to when looking for a similar concept to what I see going down a runway, worn by a street style maven, or is simple yet designer. MANGO translates the trends well without creating actual copies of designer items, and this leather crossbody bag is a good example.
This is more like a traditional crossbody, but the adjustable wide strap, the curved design, and the soft tumbled real leather evoke the feeling of The Row's banana bag, but for a fraction of the price. And the strap is long so it is more likely to work on a range of bodies. On sale at MANGO for $69.99.
4. COS Leather Crossbody Bag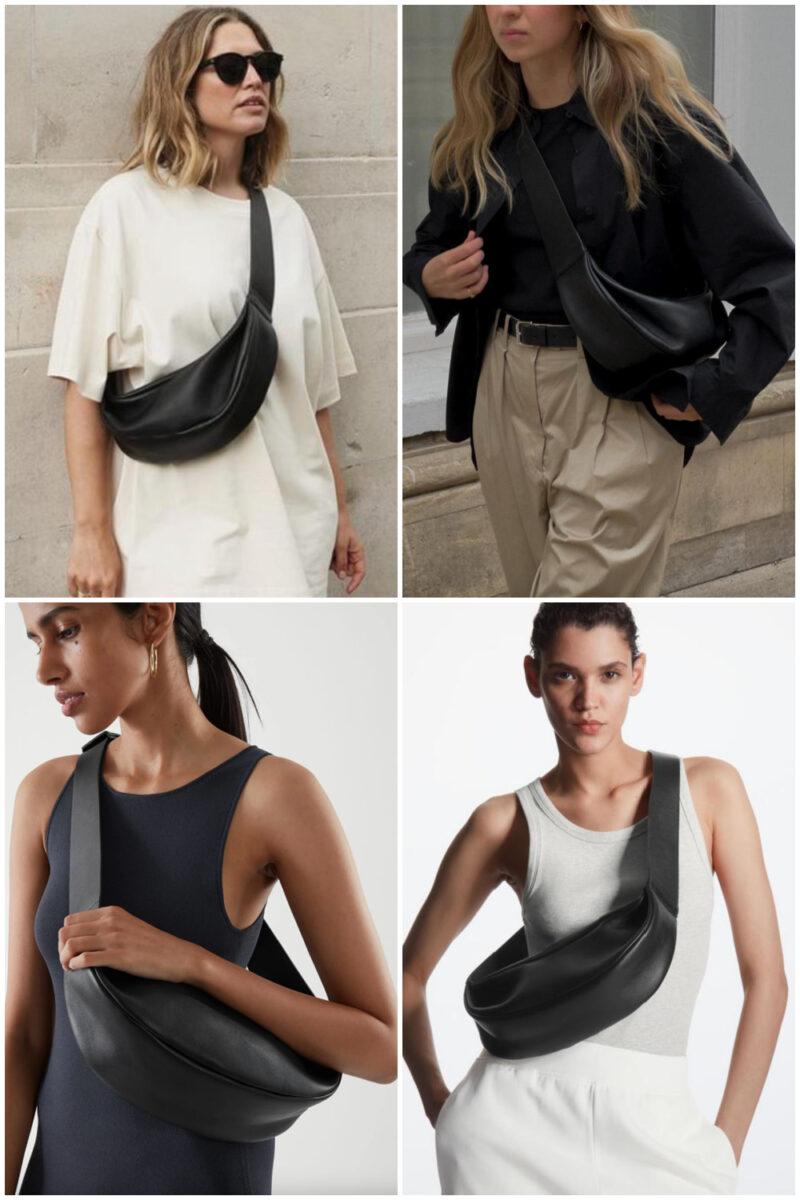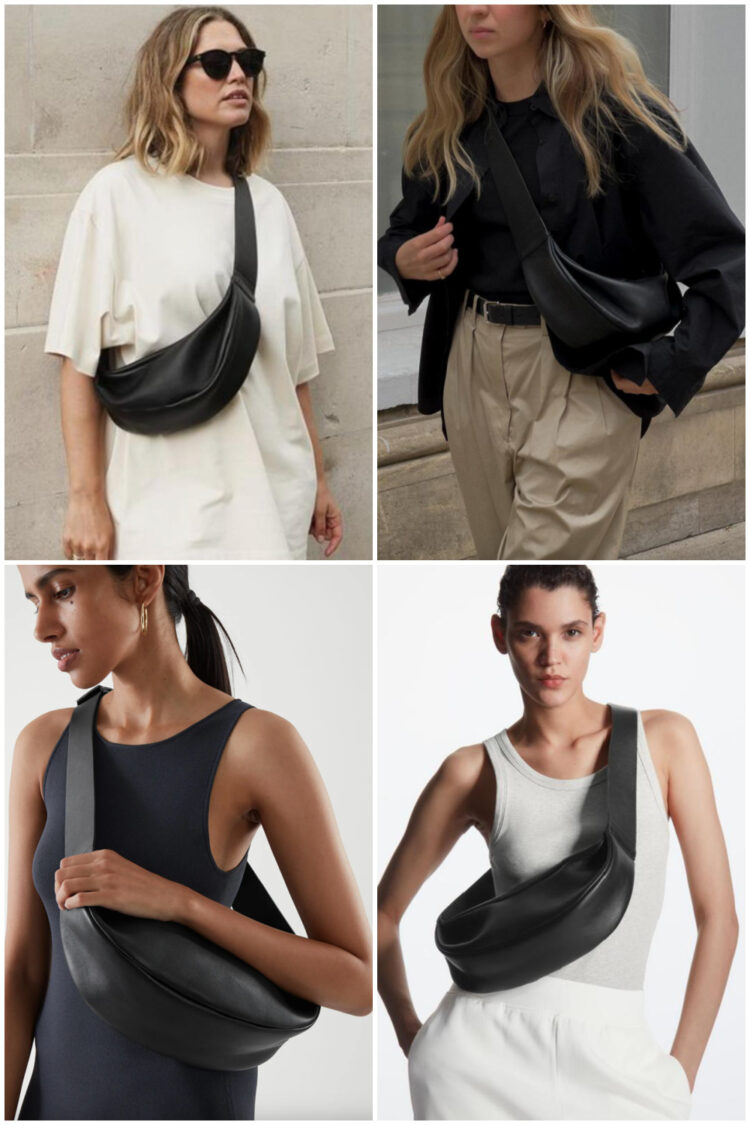 COS is another retailers that carries cool, minimalistic, but never boring apparel, bags, and accessories. The pricepoint is reasonable, the quality matches the pricetag, the only issue I find with COS is their limited size range. But when it comes to bags like this COS Leather Crossbody Bag, it's something that is more likely to fit a range of bodies.
Completely free of any hardware, no logos, and a wide strap, this genuine leather bag from COS has become one of the retailer's most popular bags and it's a great option for getting the look for less without buying an actual "dupe." $150 at COS.
5. Rungion Nylon Crossbody Bag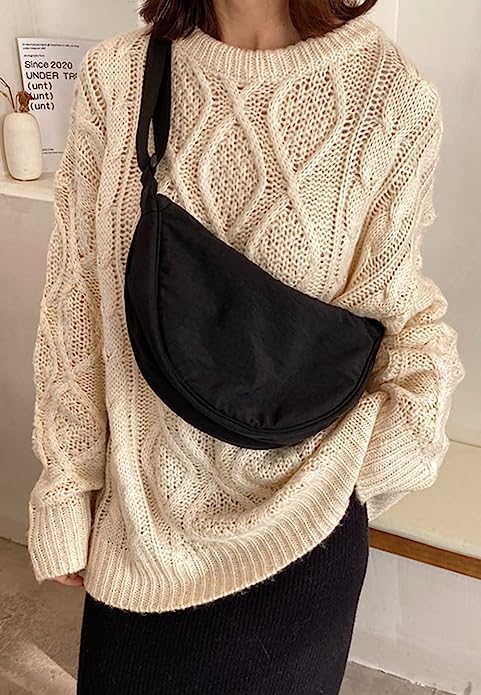 I know leather isn't for everyone, and especially if you are looking for a crossbody bag for travel or sightseeing, you may want a more durable, easy care fabric. Enter this nylon crossbody bag from Rungion. With a wide adjustable strap from webbing, you get the effect of Lawrence's The Row bag without the leather or the pricetag.
For a bag this low in price, I made sure to go through the reviews to be sure it was a bag worth your time. Reviewers say the bag is lightweight but durable, a great size for everyday, and the adjustable strap means you can wear it a multitude of ways, including as a short crossbody like a belt bag. Less than $18 at Amazon.
6. HOBO "Knox" Sling Bag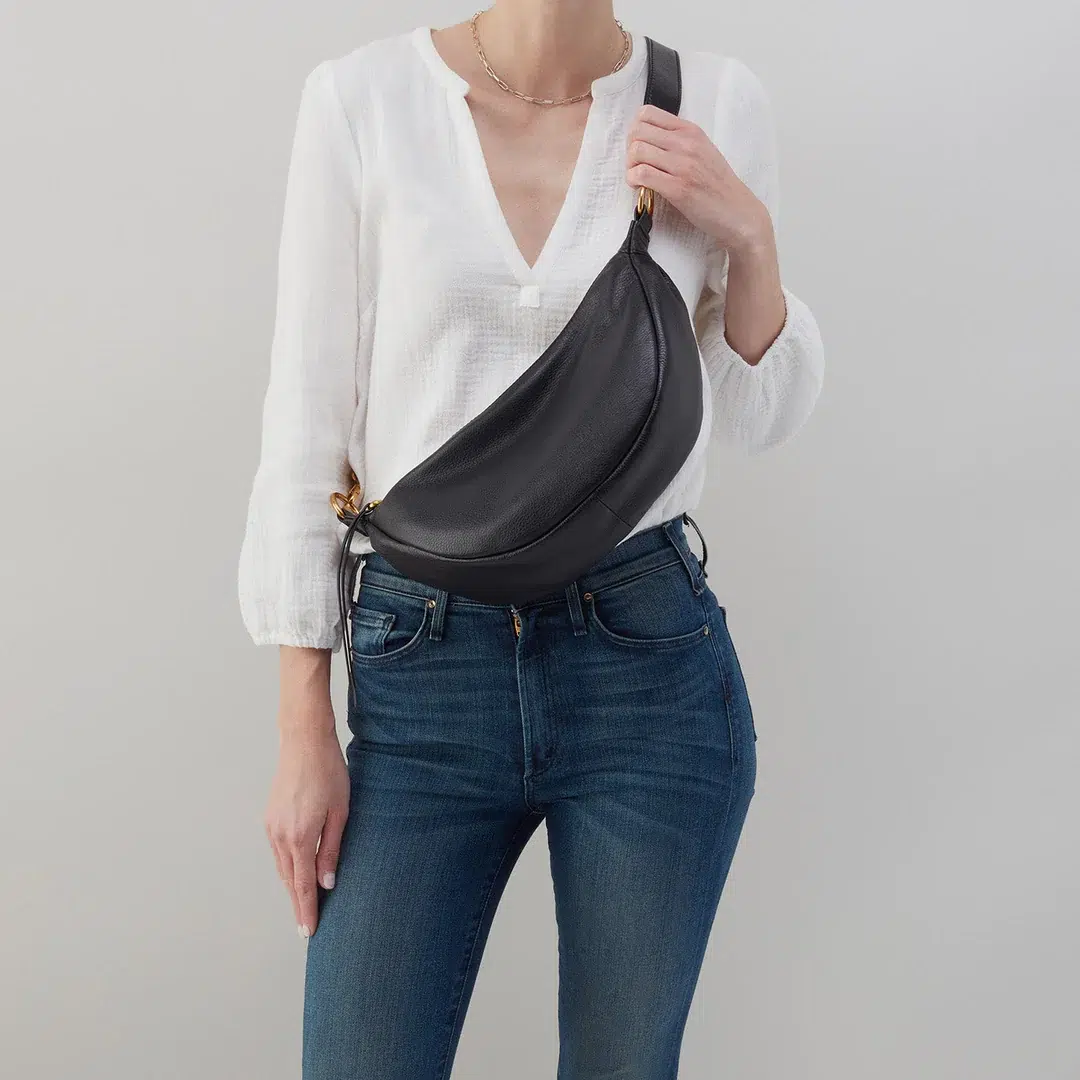 HOBO is a brand I have loved for years and years; the quality is stellar and the styles are usually timeless and always free of logos and a lot of hardware. I also think the prices are really reasonable for the quality. HOBO is also a Maryland company, and I love to support local businesses! So when looking for a bag that gives the effect of The Row banana bag, I went to HOBO and found their "Knox" Sling Bag!
While the Knox Sling Bag from HOBO does have gold hardware, the size and shape, along with the tumbled leather really fit the vibe of Jennifer Lawrence's bag. The strap is wide and adjustable, providing a better fit and security. $228 at HOBO.
7. Quince Italian Leather Convertible Crescent Shoulder Bag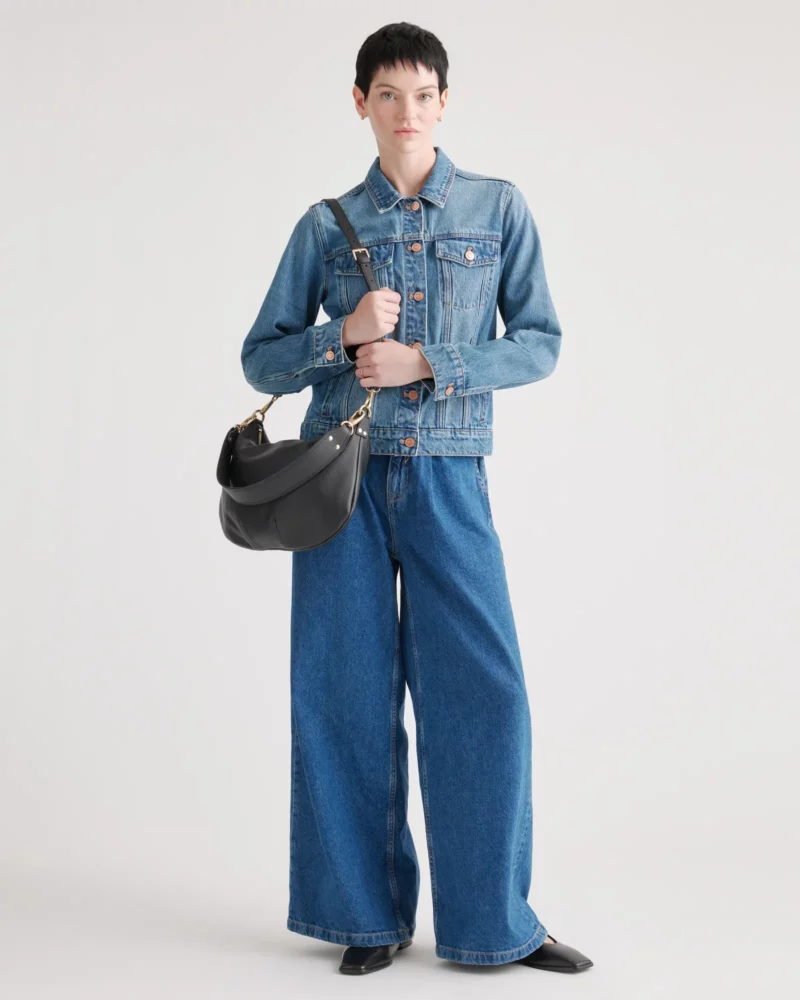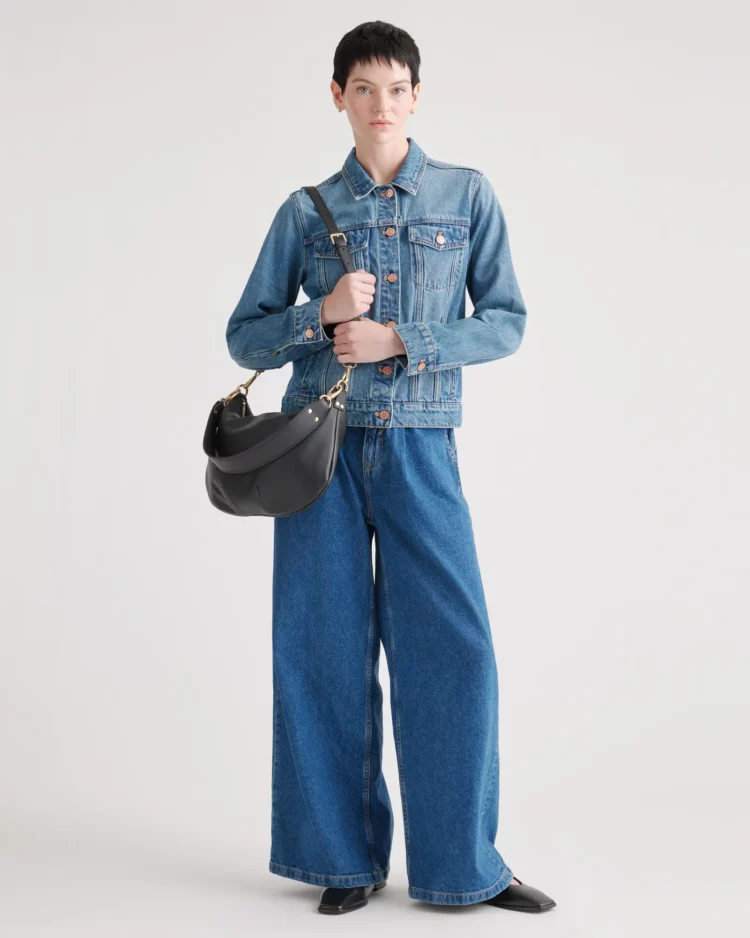 The Quince Italian Leather Convertible Crescent Shoulder Bag actually has two straps but I deleted one for this graphic because it is removable and looks more like The Row bag without it. However, this bag is super versatile since it does come with a shorter bag for under arm or hand carrying.
Made from top grain Italian leather, this bag from Quince is soft like The Row bag, but a much nicer price. The strap isn't as thick, but it is adjustable and since the straps are held on with clips, you can easily switch out the strap with a webbing one like this one from Amazon that's less than $15. And by purchasing this classic crossbody, you'll essentially get three looks for one reasonable price. $119.90 at Quince.
What Terms to Use to Search for Jennifer Lawrence's Black Crossbody For Less
How did I find these bags? I am not going to gatekeep my methods… I use Google. I first searched for "Black leather hobo crossbody" because the bag at first reminded me of the style of bags we all used to rock in the '80s. But I wasn't getting the silhouettes I desired. However, I saw one similar bag that was described as a "crossbody dumpling bag" so I searched that.
This got me closer, and through this search I saw similar bags called sling bags, and searched that term along with the keywords black, black leather, adjustable strap. I found far more belt bags this way, but also some bags that did achieve the same effect as Jennifer Lawrence's' black crossbody from The Row. I also found it helpful to search for "half moon crossbody" as this gives the "banana" shape of The Row's bag.
Because I found so many of these crescent/crossbody/sling bags gaining popularity, I even wrote a second blog post sharing my picks for the crescent bag trend with a range of prices, textiles, colors, and brands.
Point is, finding the look for less is much more than just having the same color and one similar detail. What makes that original item so successful is multi-faceted, and it can take a lot of searching to find something that is even remotely similar. And if it seems all that you can find are "dupes", counterfeit items, and items that are a blatant ripoff, I recommend moving on and finding another style. Because whether it whispers or screams, if it's a cheap copy of the original, it will never be stylish.