This article may contain affiliate links; if you click on a shopping link and make a purchase I may receive a commission. As an Amazon Associate, I earn from qualifying purchases. 
Every woman's pregnancy and body is different. however as I near the end of my own pregnancy, I thought I would offer to you a few items that made this life experience that more pleasant. Feel free to comment and provide your own pregnancy must-haves!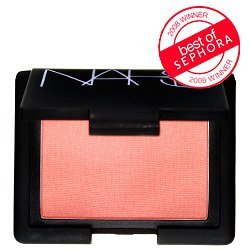 1. NARS Blush in Orgasm
. I know, I have worn this for almost four years but I never loved it more than I did during this pregnancy. Everyone says you get this pregnant "glow," but especially during the first trimester when you're trying to not toss your cookies on your keyboard, you are completely devoid of any glow or color (other than green).
Orgasm is a peachy-pink shade that works on so many different skin tones (pale wintry Allie, spent too much time at the beach Allie, fading tan Allie, tan in a bottle Allie, etc.) and has that perfect bit of shimmer – little enough to wear during the day, but enough to make your flaky dry and sallow skin look dewy and fresh.
The color lasts all day, one compact lasts for YEARS (I am JUST replacing my compact this month after purchasing it for my 30th birthday), and when I wear it people say I have "The Glow."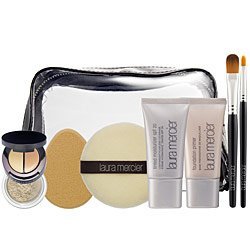 2. Laura Mercier's Flawless Face Kit
. Bought on a whim. This kit really works in making the face look natural yet finished. Great instructions, great bag to hold everything, all the size to be carry-on-luggage worthy, lasts all day. For my skin, I chose the kit in Sand. You can read a more detailed review by me here.
3. Ina May's Guide to Childbirth
. This book may seem too far-out, too hippie, too radical for many. So be warned. However for me, it was utterly empowering. When I found out I was pregnant, I didn't have a regular OB/GYN. I had changed insurances (for the better) and it was right around the time that I had to schedule my annual. I did what any intelligent pregnant woman would do – I asked friends, Googled reviews, read reviews in local papers and periodicals and then made an appointment with the best one who was associated with the best hospital that was a reasonable distance from my job and home.
This is a great route for many, and the doctors from this practice were very good and very knowledgeable. Something just didn't click with me. Lurking on a pregnancy message board, I heard about this book and bought it used on Amazon. I didn't know anything about The Farm, I knew little about natural childbirth (outside of trying to go at it in a hospital without an epidural), and had never heard of Ina May.
After only a few of the true stories in this book, I switched to a group of midwives who had a practice that was connected to a hospital (can go natural but if anything goes wrong, I am minutes from L&D). I went from fearing labor to seeing it as a rite of passage. I felt empowered, proud to be a woman, part of this sisterhood. I felt more connected to this pregnancy, this body and this little person growing inside of me. I started craving knowledge and gobbled up every book, documentary, article and message board I could find.
This route is not for all and I am not one to try to sway people or force people to see my side. Many people have also said they found this book to be very scary, weird, and mean if you are considering a hospital birth. However if you are curious about reading real-life experiences of women who have had natural births… you may get as much from this book that I did.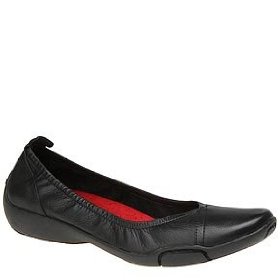 4. Naturalizer's Creston Flat
. I love heels, and feel uncomfortable in flats. However my husband is a photographer and I am often his assistant, running around weddings and events and standing on my feet for hours. I bought these flats over a year ago just for photo shoots. I thought they were dowdy and made me look shorter and heavier than I already am. They were worn only a handful of times before my pregnancy.
As my pregnancy went on, my feet started to change. At first, it was just a bit more pain than usual after a day in 3" heels. Next, I lost some of my stability and felt awkward in anything that wasn't a wedge, a chunk heel or a flat. By third trimester, my feet had grown a half a size. Now rounding out my pregnancy, my feet are a size an a half bigger and far wider than they were even a month ago. I pretty much fit a shoebox better than I do a shoe. I have tried dozens of shoes – online retailers who specialize in comfort and wide shoes, footwear boutiques and mall shops with very little success.
Today in my 37th week, I am sporting the heck out of those Naturalizer Creston flats. They are one of the only shoes I have found to be comfortable and fit all day. The soft leather grows with my feet as I swell, and retracts when I do. The look is simple and can work with dresses or pants. The sole is good and grippy – I feel safe even on slightly slippery days. The footbed is heavily padded so I feel relatively comfy even after many hours. These shoes were a chance purchase and now are worth their weight in gold. So much, I wish I had also purchased them in another color!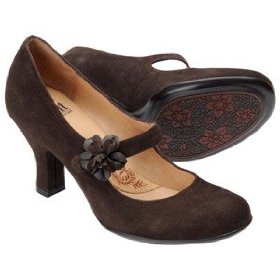 5. Sofft's "Veronica" Mary Jane
. Another chance purchase. I just couldn't let go of heels and had heard great reviews about Sofft so I bought these online in brown suede.
You would never think it, but these cuties are the only shoes, other than the Creston flats, that I can still fit into and wear comfortably. I wore them Saturday night when I went to DC for a friend's birthday dinner. I wore them Thanksgiving, to my baby shower, and at least once a week to work.
The heel is not very high and it's scalloped so the weight is well distributed. The footbed is super comfy, the sole is rubbery, flexible and grips nicely. The strap has elastic hidden under the cute flower so it grows when my foot swells later in the day. The style and height makes them cute with dresses or even with trousers.
I purchased them in brown suede; I found the suede to be more flexible and accommodating than the leather version. How amazing to find shoes that get regular compliments AND baby the heck out of your feet? I adore these shoes and post-pregnancy am considering purchasing another pair in a different color.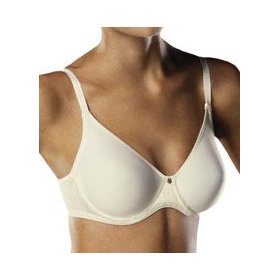 6. Chantelle Senso Seamless Bra
. I adored this bra pre-pregnancy for its ability to lift, separate, completely disappear under lightweight and light-colored knits and give enough padding for nip coverage without adding to my size. I usually despise molded cup bras, but this one always seemed tailor made for my figure. The nude color is very close to my skin tone, the straps are stretchy enough to not dig, but stiff enough to give good support. Same with the band (many people find this bra to seem too small at first – try it for a bit, it seems to mold to your shape instead of being super stretchy like most bras).
When my breasts started growing with pregnancy, I looked for cheap larger bras. I went from a 36D to a 38E and it wasn't in one fell swoop. To keep purchasing new bras each size would cost a small fortune. I bought bras on sale, bras from lower-end brands, and thought it was fine. They were comfortable, they got the job done…
Then I saw a picture of myself wearing one of these cheap, comfy bras (the Gap tee shirt bra that was on sale). The look was horrible. My breasts looked horrible – bit in an unflattering way, spread out, sort of pendulous (you can see the look here). I always loved my breasts, but this picture made me embarrassed.
So I bit the bullet and bought the Chantelle Senso in my new larger size. It hurt to drop so much money on a bra that wouldn't fit me for a long while but I just couldn't take looking giant and sloppy. For those who haven't been pregnant, even though you tell your pregnant friend she doesn't look fat, she will feel fat. Her face rounds out, her arms grow, her breasts grow (and for many of us, everything else in between will also grow and soften). If I could at least keep my bust looking perky, I could feel better about my appearance.
The bra was worth every penny – I suddenly looked slimmer, my breasts no longer ached at the end of the day, my clothes fit better. My décolleté looked as it did pre-pregnancy and I gained confidence. The bra hid under everything – semi-sheer sweaters, lightweight knits, white cotton shirts. It was one less thing to worry about during the maternity period.
I am currently wearing the Senso; this is my fourth Senso bra. I wash them by hand or in a lingerie bag on the gentle cycle of the washer. They hang to dry, but they get ten times more wear than any other bra in my collection and wear out. I hope they never discontinue it for they have a lifetime customer with me!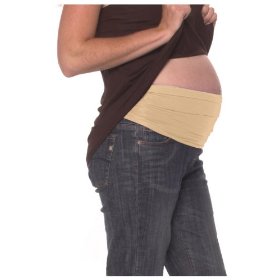 7. Ingrid & Isabel's BellaBand
. I didn't "get" this item for a long time. I hate the layered look and am not one to sport it on a regular basis. IT seemed to be a tee-shirt extender that would hide the fact that my non-maternity pants were unbuttoned. Why did I need an overpriced piece of lycra to do what a ponytail elastic (looped around button hole to extend the button hole) could do?
Then I tried it. No longer did my pants bunch, did the button show through my shirt. As I got larger, the BellaBand helped keep too large maternity pants up, and extended non-maternity ones through most of my second trimester. Crappy roll-waist maternity trousers stayed high on the belly, lowrise waistbands no longer showed off skin when I sat down, and I was able to wear it high enough that it never showed with outfits (preventing the teenage look of layered tees). I even wore the BellaBand over my bust under dresses as décolleté coverage/in place of a cami. Post-pregnancy, I know it will be worn to keep up pants, and to cover the tummy while breastfeeding.
I bought mine in black since the majority of my pants and wardrobe are that color. I know there are cheaper versions out there, but I loved knowing that this little piece of Lycra maintained its color, its shape, its durability through many washings. Having that reassurance made it worth the price.
8. Old Navy's Ponte Knit Maternity Trousers. Awww boo Old Navy for discontinuing this item. If it weren't for these trousers, I may have not left my home in the third trimester.
I have often wrote on this blog about my love of ponte knit – it's heavier than other knits, refined and has a dressier look than jersey fabrics. Since it is a knit, it has stretch. Since it has weight, it doesn't cling and glides over bumps and curves. It can be machine washed, usually matches ponte garments from other retailers, and works year-round. I have dresses, suiting, skirts and pants of this fabric and thought though most of my pregnancy, "Why doesn't someone make a maternity line from this fabric?"
My sister found these pants on the Old Navy Web site and I ordered a pair. They are a slightly wide leg that is comfortable even with swelling and hip growth. The waistband is like a yoga pant – wide and of the same fabric. There are two patch pockets on the front and two besom pockets on the back. They stay up even in the last few weeks, match my ponte garments from places like Ann Taylor and Banana Republic, go in the washer and dryer and are completely work-appropriate.
Many pregnant women get to a point where chino and denim are no longer comfortable. When you still have to look presentable for an office environment, items like these are a Godsend. I found a similar item from Liz Lange for Target
, but found the length too long for anyone under 5'5" and the fabric to be far thinner (looking more like yoga pants than proper trousers). Hello maternity fashion designers – this is a potential goldmine! Make some trousers in black, brown, charcoal, ivory and possibly navy… add lengths and an extended size range and you will have so many happy pregnant customers. Offer some coordinating jackets and we would be utterly ecstatic! Until then, I will still love Old Navy for offering such an item, even if it was only for a short time.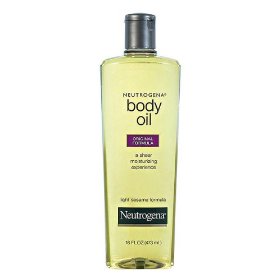 9. Neutrogena Body Oil
. When I was in my first trimester and many smells made me ill, this was one smell that seemed to calm me. When I got PUPPP in my third trimester, it was one of the only products that seemed to soothe the itchies. When stretch marks started to itch and hurt, nothing felt better than to rub them with Neutrogena Body Oil after a shower. I would pour it in a bath when I would have severe itching and insomnia – the smell and the soft feel would relax me and let me sleep a couple more hours.
This has been a product I return to every couple of years. I try out new products, covetable lines, but usually come back to Neutrogena Body Oil. It absorbs quickly, is gentle on my sensitive winter skin, the smell doesn't compete with my perfume, my husband likes the smell, I like the feel and look of my skin when using it, it is versatile, and I love how I can grab a bottle at my local Target. It's a product I could see being in my bathroom even 20 years from now.
10. My DayRunner
. When you are pregnant, your brain disappears… at least part of it does. It's very slow and very subtle; suddenly one day you forget where your friend's house is located, what time your doctor's appointment is, what is the date of your grandmother's birthday. I had Outlook, I had my cell phone's calendar, I had the calendar in the kitchen that my husband and I had used for years to reind one another of events we both had to attend. It worked very well and I never double booked or forgot an occasion.
Then my second trimester arrived and my brain left. I forgot passwords to Web sites and would take elevators to wrong floors. Next thing, I couldn't recall what day Halloween fell on. I bought an agenda book – one small enough to fit in my purse, but large enough that I could add pages and customize to my needs. I added all the addresses and phone numbers I needed in case I lost my cell (which happened once with this Baby Brain), added necessary passwords in code so if I forgot them, I could refresh my memory. I added the most basic of dates like my husband's birthday, the baby's due date, the days I worked from home. I added work appointments in case I got stuck somewhere without Internet. I made lists of what needed to be done and put dates on them so I knew what I was thinking when.
I think my DayRunner kept me from losing my job or a single friend.
An agenda book may not be what you need, but do prepare for the slow loss of brain cells while pregnant. Just as many women swear they are not acting crazy due to PMS (and then admit it was the hormones talking after the event took place), pregnant women will swear they are not becoming forgetful. Be good to yourself, your friends, your coworkers and figure out some sort of system that will keep your life in order when your mind has lost it. It will probably also come in handy post-baby to organize family events, play groups, day care, doctor appointments and more. If you get one that has the rings where you can add pages, you can add little clear sheets to show off pictures of your new bundle of joy too. 🙂