This article may contain affiliate links; if you click on a shopping link and make a purchase I may receive a commission. As an Amazon Associate, I earn from qualifying purchases.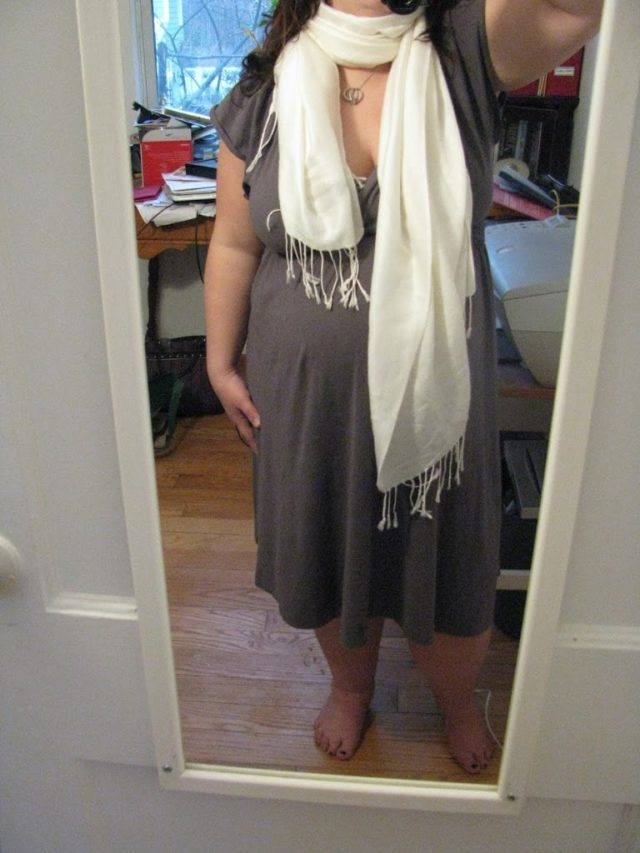 Ah the glamorous fashion of a woman who lounges in bed all day… (and you KNEW I just couldn't stay away!!!)
It really sucks to work from one's bed. Try to lie on your back, raise your feet, have a giant belly and type on a laptop. Yeah, not too successful. My mom is coming over today with a tray table so we can see if that may help a bit with the situation.
So wearing my gray jersey summer maternity dress from Old Navy and my oyster colored pashmina from Pashmina International.
Hair is wash and wear – I am hoping with this time I can train it to be curly again.
No makeup – my skin has really freaked out the past couple of days so I am also taking this time to let it breathe. As for shoes, to get around the construction I am sporting my sister's pair of Crocs (so glam).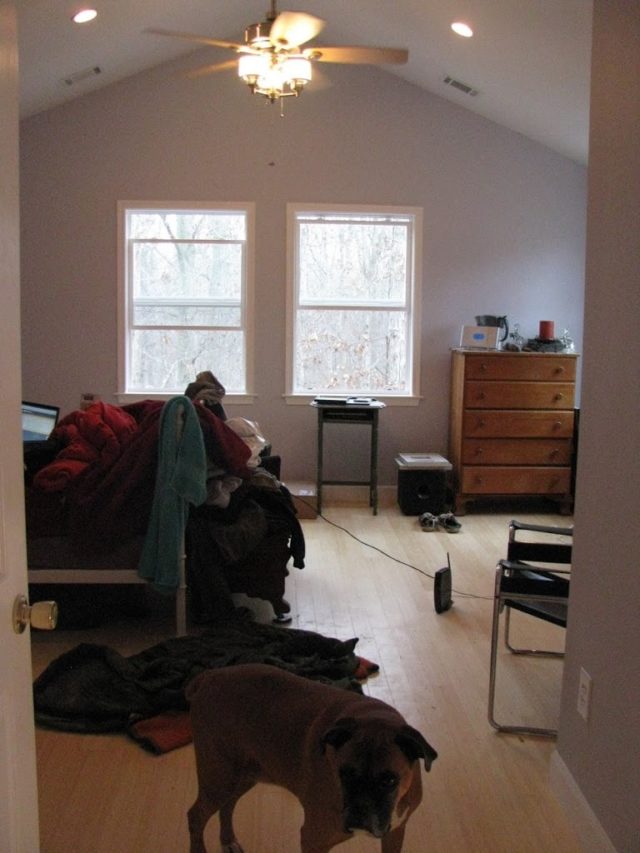 Here's a picture of where I am spending my time – my new bedroom. Obviously haven't had the time to properly decorate it (it was just finished Saturday), Ruckus and I hide out here all day (that's what the sleeping bag is for – he has multiple beds of sorts all over the house so he doesn't lie down in sawdust).
You can see how I am tied to my ethernet cable because I didn't expect to be working from home consistently at this point and my work laptop is not configured to use any wireless except that of my company. Today a good friend is coming to put a cable plug into the wall near the nightstand so I won't have a trip hazard in the middle of the room.
But it's a very nice room… will be even nicer when the closet is complete, it has curtains and a new duvet, and no construction workers coming through to finish the bathroom. 🙂
As for the rest of the remodel – it is going very well and should be finished before Christmas. My friend and her boyfriend came over last night to bring me food and hang out and she was amazed at the change. Living here each day I see change, but I forgot how tiny and off-kilter our old house used to be. One reader asked about the age of our house – it was built in 1948, but is part of a co-op so they have forced strict standards on these houses so no issues with lead paint, asbestos, that weird old insulation that looks like dust, etc. All been taken care of before we ended up being the homeowners.
Right now there is a guy in the new master bath grouting the tile he laid yesterday, another guy in what was our old bedroom (now office) painting the second coat of leaf green to the walls. Two guys downstairs laying the remainder of the bamboo flooring that will span from front door, through dining room to living room at end of house. They have the box for the half bath's sink out so that may be installed today as well.
What is left:
– Trim for the new living room
– Install the kitchen floor
– Install new kitchen cabinets and appliances (arriving Monday)
– Finish the half bath/laundry closet combo (can't wait to have a washer and dryer again!)
– Paint nursery, add trim, wall socket and put fan light in ceiling (room currently only has a wall light and only one electric socket in the whole room)
– Finish concrete steps to front door and install exterior lights
To do if time before Christmas, if not on hold until after baby is here and Spring comes:
– Reattach old deck
– New floor for original bathroom
Our house was purchased almost a decade ago at a time that was truly a buyer's market. This seems like a large remodel and it is… but it is cheaper than purchasing a new home and will be a far sounder investment for us. I am so happy to be able to continue our memories and life experiences in this house we already loved – now just having it large enough to fully enjoy it as a family!