This article may contain affiliate links; if you click on a shopping link and make a purchase I may receive a commission. As an Amazon Associate, I earn from qualifying purchases. 
Hi Allie, What do you think about pantyhose or opaque tights with peep toe heels? Are both absolute no-no's? I can't stand Sarah Palin, but thanks to her I've now discovered the world of Naughty Monkey shoes. I live in Baltimore and am considering going bare-legged while wearing peep toe shoes. Thoughts? (apologies if you're a Palin fan) 🙂 Amy
Hey Amy:
Well hope this doesn't offend any other readers, but I can't stand her either!  However Naughty Monkey DOES have some utterly adorable shoes!
As for your question:
Pantyhose with peeptoes – bad
Tights with peeptoes – doable
… as long as you keep a contrast – like black tights and red shoes, red tights and black shoes, texture tights and solid heels, etc. If you make it look purposeful, it works. It's hip, it's funky, it's fun.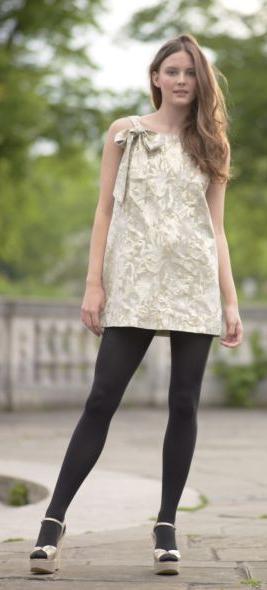 When I used to drive to work, I often wore peeptoes with trousers in the dead of Maryland winter. Now that I have to walk more than two aisles of a parking lot, I wouldn't dare. However all over the city I see women rocking peeptoes in winter. Those wearing them with bare legs look insane (unless it is dashing from car to evening gala), those with sheer hose look as though they haven't picked up a fashion mag in the past decade (sorry, it just looks dated – if you must wear hose keep them with more simple or period-style of shoes so you don't look like a Rockette), those who do it with good contrast and sense of humor look the most pulled together.  Hope that helps!
UPDATE: It seems that in the UK tights and pantyhose are synonymous; I believe this is causing some confusion. 🙂  When I state tights, I mean opaque legwear, as seen in the images in this post. When I mention pantyhose, I am writing about sheer legwear, sometimes that comes in a color but is most regularly seen as attempting to match the color of the wearer's skin.
The difference is in denier; most stockings are around a denier of 5; the higher the number the more opaque (up to around 80). Usually, retailers will note on the packaging if what you are purchasing is considered tights or pantyhose. Often you can find the denier on the back of the package.
Pantyhose used to be a given with most skirts and tights but have become quite dated in the past few years. Yes, you will occasionally see celebs and socialites wear them, but they run a fine line between looking stylish and tacky. I find they are best worn for conservative environments or by True Fashionistas.
A reinforced toes is NEVER acceptable in an open toe shoe, no matter the type of legwear.