This article may contain affiliate links; if you click on a shopping link and make a purchase I may receive a commission. As an Amazon Associate, I earn from qualifying purchases.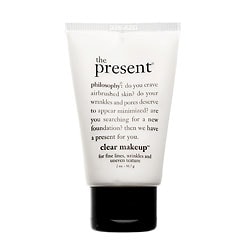 Philosophy's The Present Clear Makeup:
Wow, I thought I knew primers until I tried this stuff out! Most primers seem to do very little on my skin – make the foundation last a bit longer, give a more even finish to the skin, reduce the look of pores. Nice, but nothing shocking. Often I find my combination skin getting oilier in the T-zone and dryer on the cheeks when wearing one. I use them because they do help… but keep it for special occasions like long days, nights out where I may dance and sweat, or events where I will be getting my picture taken.
The Present is not sold as a primer, but is used by many as one. From the Sephora Web site:
The Present is a "clear makeup" for perfect, airbrushed skin. Formulated to be used as a last step prior to any makeup to form an invisible barrier that "seals in" moisture for chronically dry skin and active ingredients from treatment products while keeping out harmful environmental elements by acting like an invisible band-aid. It also contains lysozyme, a natural antimicrobial agent to keep skin radiantly "clear."

The directions tell you it can be used in place of a moisturizer, but you would have the have awfully oily skin to find it helpful in that role. You apply it to your skin and wait two minutes to start applying cosmetics. Unlike some primers that make your skin feel as though it is shrinking or coated with… well a primer, The Present feels like nothing.
That is, until you start to apply your makeup. Using fingers to apply concealer, I found my skin felt rubbery and slightly gummy. Instead of my concealer almost being absorbed by my skin, it sat on top and was harder to blend. I found less product went further when used over this primer and it really seemed to attach to the skin.
My skin didn't feel tight, heavy or greasy as the day progressed, and The Present seemed to prevent shine in the T-zone better than sans primer. I don't think it kept my skin looking freshly made up after 12 hours, but it did keep my makeup on longer than without a primer, and without the weird side effects of many other primers on the market. Though it claims to hold in moisture, I didn't feel that my skin was any happier or more hydrated with use – in fact I found my skin dried out in my sensitive areas such as around my nose. I also ended up with a bit of breakout around my mouth – something I haven't dealt with in months. I doubt it was due to The Present, more due to being a ball of stress – however it didn't keep my skin "in the clear" any more than my usual routine.
I am still not a primer addict after using The Present, but I do think this is one of the better ones I have tried. Philosophy has yet to let me down!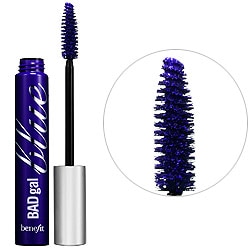 Benefit's Bad Gal Blue Mascara:
I adore Benefit – they make high-quality products and have the most clever packaging and marketing! When the Bad Gal line came out it seemed MADE for me! I love thick lashes and smoky eyes. I recently tried the traditional Bad Gal Lash and wasn't impressed. It doesn't flake, it doesn't irritate, it gives a lusher look than many drugstore brands, but the brush made clumping common and the final result wasn't any better (or even as good) as my current fave (and cheaper choice) Cover Girl LashBlast.
The Bad Gal Blue claims that the indigo hue will make your eyes look more white and intensify your eye color (for me, should make my brown eyes look more gold). Honestly, it just looked as though I was wearing purple mascara. The indigo color is just as bright as the packaging (and the picture here), people a couple feet away asked if I was wearing colored mascara. As a 33-year old woman in Corporate America, my goal is not to relive my middle-school years when I used green mascara on one eye and blue on the other to match my blue and green rugby-striped oversized tee from The Gap. My very dark brown eyes still looked dark brown, my eyes looked the same shade of white that they always look, and my lashes weren't any more wonderful than when I use other mascaras.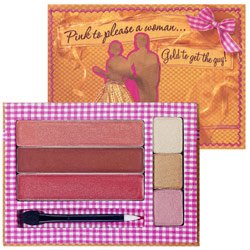 Benefit's Pink to Please a Woman… Gold to Get the Guy Palette:
Unlike the majority of makeup addicts, I don't get psyched over a palette of cosmetics. I like to take my lip gloss in my bag for touchups, I usually only like 50% of the colors in the kit and the ones I do love seem to run out too fast (and usually can't be reordered individually). I received this kit when I won the most awesome contest at Mythbuster Beauty, a most awesome blog. I almost considered re-gifting this compact without even opening it because of my dislike for palettes, but decided to open it and see if it was something I could play with.
Well this palette has changed my mind about palettes! The palette slides out of a stiff cardboard sleeve, which keeps it from accidently opening up in a bag. Inside is three lip glosses and three eye shadows, surrounded by the most adorable pink gingham packaging (love love love me some Benefit packaging!), a handy-dandy mirror plus an applicator that is lip brush on one end and shadow sponge on the other. The applicator is nothing to write home about – scratchy and small, but it makes it convenient to toss in the purse for mid-day touchups.
The colors are surprisingly suitable to my pale, "Winter" complexion. The light gold shadow works as a shimmery highlighter and goes on like a gold-tinted ivory. The medium gold has a bronze undertone; applied with a brush it gives a lovely daytime glow, with the sponge applicator or applied wet it is a very dramatic metallic look. The pink shadow is something I would not usually wear, but a light dusting on the lids is quite pretty and combined with the gold, it makes a lovely coral-bronze color that I found fun and flattering. The quality of the shadows is very nice – they layer well, last through the day and I had no issues with them creasing.
As for the glosses, they are pretty colors and sheer enough to look good on most anyone, but nothing to write home about. They do coordinate with the shadows nicely to give a beautiful look when worn together (I find the Nars Orgasm blush a nice compliment with its slight shimmer and pinky-peach hue). I like the fact that two of the three shades are colors in Benefit's regular line so if I got addicted to it, I could easily replace the product.
This is an adorable and very wearable palette – looking online I see it is $30; I find that to be quite a deal considering the quality and quantity of product inside. The girly colors are right in line with the spring trends, if you want a makeup pick-me-up, this wouldn't be a bad purchase!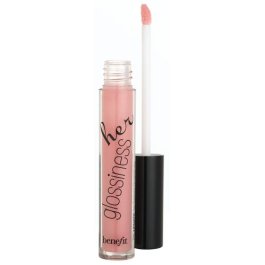 Benefit's Her Glossiness Lip Gloss in Next Question Please:
Another goodie I won from Mythbuster Beauty. This gloss is described as Golden Berry Shimmer, and it is a golden-flecked warm red color in the tube, more of a shimmery coral-berry color on the lips. The tube is bigger than many glosses out on the market (more like the size of a tube of mascara), with a sponge applicator. (picture not of the color I am reviewing)

I find the texture to be good – sticky enough to survive a cup of coffee, but not annoying. It smells like a combination of berry candy and plastic when first applied, but the smell soon dissipates. It is sheer; Sephora's Web site suggests to use this over lip gloss for strong color or alone just for shine. I like a lighter colored lip, and found the color on its own to be just as strong as my beloved Revlon Super Lustrous lip glosses (and found it to last a bit longer than Revlon as well). The gloss is formulated with jojoba oil – I usually find these natural ingredients to be more hype than significant to the product, but I do feel that my lips stay softer and happier through the day with Her Glossiness than my other lip glosses.
At $16, this gloss is not a rip-off and it comes in a variety of colors that would be flattering on most skin tones. I like this enough that I may actually buy another when this one runs out!