This article may contain affiliate links; if you click on a shopping link and make a purchase I may receive a commission. As an Amazon Associate, I earn from qualifying purchases.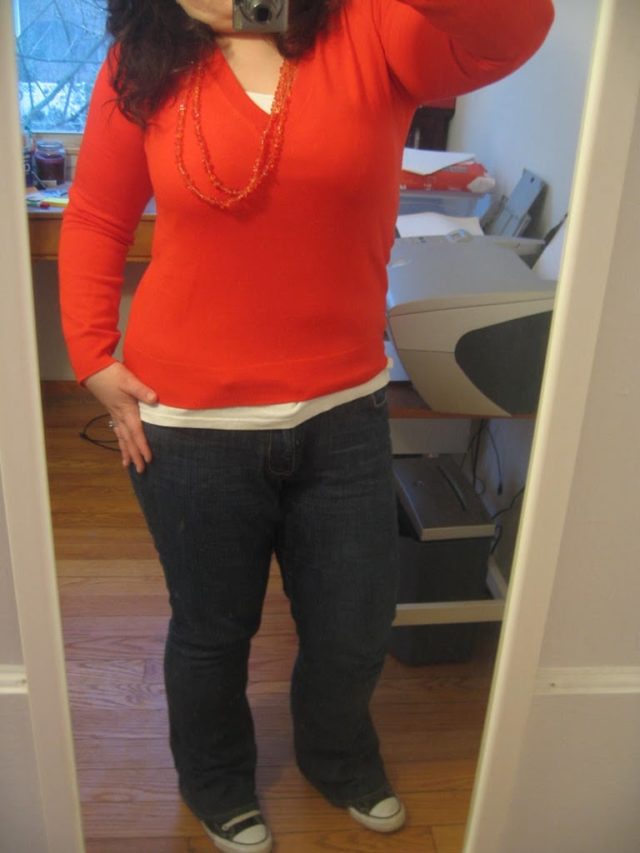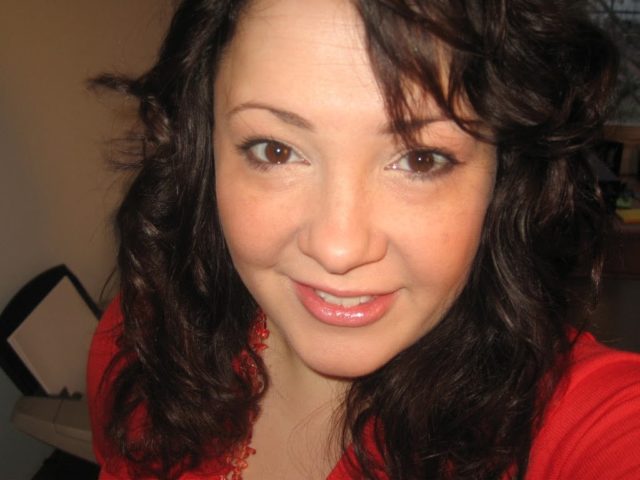 Orange-red merino v-neck from J. Crew, white ribbed tank from Old Navy, dark "The Flirt" bootcut jeans from Old Navy, black low-top Converse "Chucks", two coral glass-chip necklaces from a shop in Rehoboth Beach.
Hair is second day, a curling iron hit to the bedhead part, but otherwise left as-is.
Makeup is L'Oreal True Match concealer in W1-3, philosophy The Supernatural in Beige, Cargo Matte BeachBlush in Tenerife, Benefit's 'Pink to Please the Girl, Gold to Get the Guy" compact – light gold in inner corners, dark gold and pink mixed and on lid. Lashes curled and two coats of Cover Girl Lash Blast. On lips is Revlon Super Lustrous Lip Gloss in Glossy Rose.
So Blogger is working again, hooray! Glad to have everyone back!
When getting a job in the city, I did think about my high-heeled shoes not being so great for the walk, but I didn't think about how all this walking would put a strain on the shoes. I took my brown suede tall boots to be reheeled and the next day the heel on my booties lost their cap and need to be fixed. I wore high heels yesterday and like some variety of heights during the week to be nice to the feet and heels and with these two pairs out of commission, it ended up being Chucks for Casual Friday!
Last night my friend and I went to The Lodge for Happy Hour and dinner, and then went to Montgomery Mall where I showed amazing restraint and didn't purchase a thing. Talked purses with the salesperson in Banana (He said, "oooh love your bag, where'd you get it?" It's the new line from BR, so I said, "oh, some fabulous store!" and then we were buddies) and felt like a spokesmodel in Ann Taylor (I was in the ponte dress, my friend in the triacetate suiting) where my friend gave the nice salesperson my business card for these blogs. So if you're reading, hello Deborah! Tried on some stuff in The Limited but I have been very disappointed with the quality and style of their lines the past couple of seasons. My friend got a cami there, but I found everything to either look cheap or fit cheap. Oh well, I don't really need anything right now anyway.