This article may contain affiliate links; if you click on a shopping link and make a purchase I may receive a commission. As an Amazon Associate, I earn from qualifying purchases. 
Amazing how good one can feel with a full night's sleep!  Emerson went to bed around 8pm, I went to bed at 9:30, and E didn't wake until 4:30am!  She hasn't slept that long in a couple of months (since she started teething).  She spent yesterday with my mom and I think she had a very active day of trying to crawl, rolling and visiting with neighbors.  I think sleeping with the windows open is also helping – she is lulled to sleep by the sound of crickets.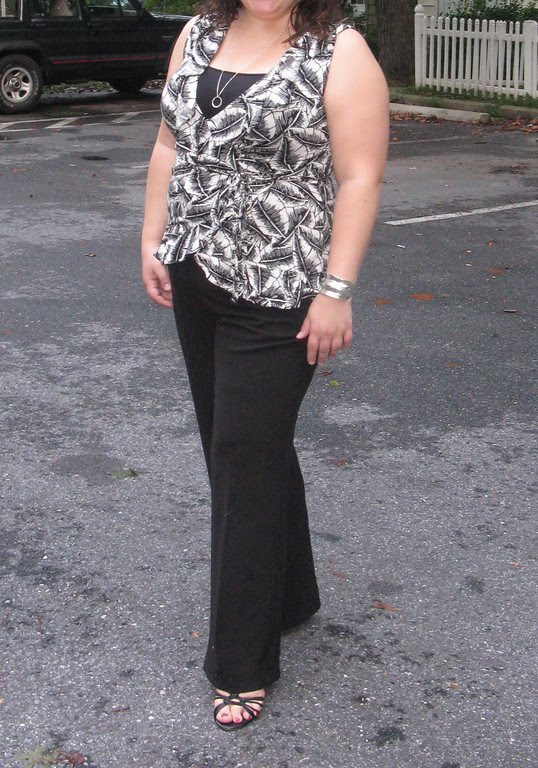 So this is me with a full night's sleep and enough time to Stitch Witchery my new pants!  I usually hem pants myself with needle and thread, but I didn't really have the time this AM and with these pants being the fabric that they are (nice weight, not silky, not too thin and not lined) I knew Stitch Witchery would do just fine.  In fact, I also used some Stitch Witchery on the slash pockets so they didn't gape open.
Ivory and black print jersey wrap top from Ann Taylor, black camisole from H&M, black trousers from New York & Company, black strappy slingbacks from Banana Republic, my standard silver jewelry.
For my hair, I washed and conditioned, and then mixed a combo of Bumble & bumble Styling Creme and Frederic Fekkai Glossing Curls together, put in wet hair and scrunched.  When it was 90% dry, I used my diffuser on it to get it fully dry.  This gave it some body since my new shampoo seems to be leaving my hair a bit limp when I air-dry.  Finally, I took the curling iron to the front to soften the curls in the bangs and give some shape.
Makeup is Estee Lauder Nutritious foundation in Intensity 3.0, Cargo Matte BeachBlush in Tenerife, Estee Lauder shadow in Tea Biscuit, Body Shop shadow in Soft Black, Avon Luxury liner in Black, Cover Girl LashBlast mascara in Rich Black and Bare Escentuals Buxom lip gloss in Dolly.
I haven't worn this top in quite a while and figure I need to give it some play before it is too cold to wear it.  The black version of this top will be a wardrobe staple through the winter as that it could be a cute Night on the Town sort of piece, but this print is too daytime for such a role.
I almost returned these trousers after finding the cheapo black pants at Marshall's.  However, these are longer (I bought the "Average" length and hemmed a touch more than the width of the current hem because Petite was too short) and I think they will look far better with boots this winter.  They have a nice drape and keep a crisp ironed seam down the front.  They have plenty of stretch which makes them comfortable and keeps them looking nice throughout the workday.  Right now trousers are Buy 1 Get 1 50% off at NY&Co.
By the way, when trying to find the name of the Estee Lauder shadow I am wearing today (which came from a Nordstrom GWP), I came across the blog, My Gift With Purchase.  A good picture of each GWP, full description and link to purchase.  How utterly brilliant!