This article may contain affiliate links; if you click on a shopping link and make a purchase I may receive a commission. As an Amazon Associate, I earn from qualifying purchases.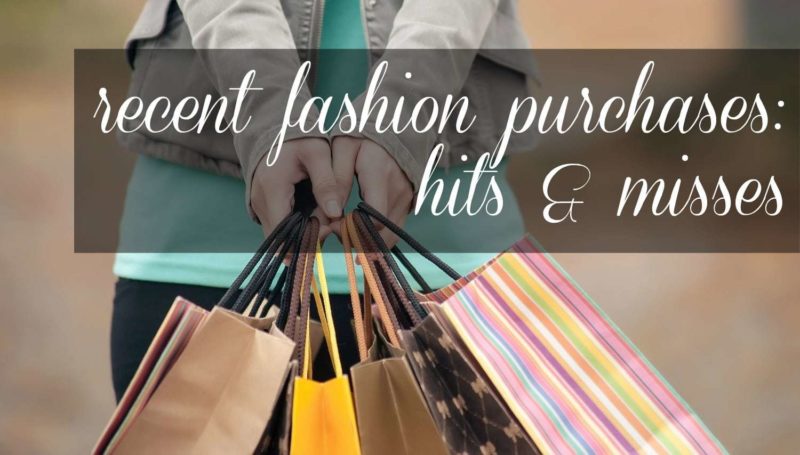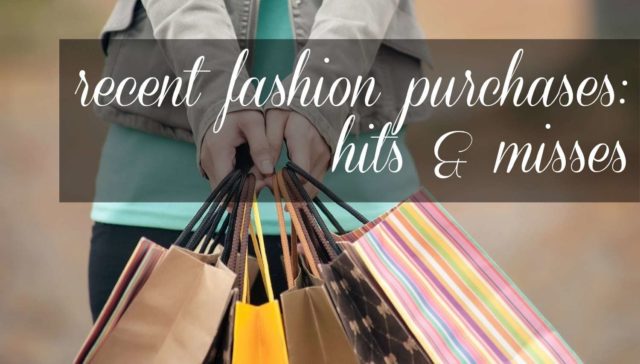 Welcome to the latest installment of tons of cardboard arriving at the Gary's front step requiring Karl to bike it to the recycling center in town because it's too much for our bin. Those on Instagram may have seen Karl's grown-ass blue trike he named Bluetiful; he rides that to the grocery store, to drop off recycling, to visit the community garden (and he had it before D.R.A.M.!). He's joked about starting a business in town called Tricycle Recycle where for a small fee he'd stop by your house, pick up all your cardboard from online shopping and recycle it for you. I think he'd make a killing. But anyway, back to the items I ordered and whether the cardboard boxes were recycled or taped up and sent back.  As an FYI, I started this post before Thanksgiving; I'm keeping what I wrote but inserting updates to let you know how things have worked since then.
LOFT
LOFT had one of their major sales with 40% off the kit and caboodle and I decided to try. I've been hit or miss with LOFT in the past couple of years. This time was more hit than miss.
The jury is still out on this one. The 14 regular fits well. The leather looks relatively real. There's pockets in front, but they don't add bulk and they don't bow out weirdly over my belly. Sure the back tents out a bit thanks to my juicy booty, but not enough to look like a lampshade in profile. My concern is it likes to ride up a bit, and when it does it's just too short for comfort. I bet with wearing the waistband will stretch out a bit, the hips will mold to mine and it will fit better but I don't know if it's worth the effort. If you don't have a super curvy lower bottom I bet this skirt would look amazing on you. If you're a pear, it may not be your best bet. Hit?
UPDATE: I wrote this post a couple days before this post, where I am wearing the skirt.  Yep, wearing the skirt stretches it out to fit better and not ride up.  It didn't take much effort, just about 20 minutes sitting in a car, 10 minutes walking in circles on an asphalt path, and about an hour sitting in a restaurant eating a meal.  And yes, the leather looks so real a woman at the restaurant asked where I got the skirt, was surprised it was faux, and even rubbed it (the HEM, get your minds out of the gutter!) to feel it.  Note: I cut the strings that kept the lining at the same place as the leather; it was causing it to bunch on the sides.  My booty makes most linings shorter than actual skirts!
I've gained weight and it seems to all be in my thighs and upper arms. My 14 Petite jackets fit everywhere except between my shoulders and elbows, where I worry wearing them will cause hand gangrene. My current job doesn't require a suit too often, but a black blazer can do a great job of making business casual meeting-appropriate. Also, there's nothing easier for a night out than a pair of jeans, band tee, fabulous boots and a black blazer. I saw this blazer came in a 16 petite and decided to get it while the sale was taking place.
While it's lined, it still has stretch. The fabric looks like twill, but is stretchy. The notched collar looks as though you popped the collar on a traditional blazer, but is more narrow so it's flattering. Working pockets and working buttons on the cuffs, it's a nice blazer especially if you're looking more for a fashion piece and not a boardroom suit.
I'm wearing it while I write this, so it is a hit. However, I wonder if I could have gotten away with a 14 petite because the arms are surprisingly roomy. So roomy, I think it looks a bit frumpy with the sleeves down. But I never wear my sleeves down; right now I have them pushed up and they're wide enough and stretchy enough to do that without having to unbutton the cuffs. But I'll stick with the 16 because it's comfortable and fits over my bust even the week before my period yet still is trim enough to not make me look like a box. Hit.
UPDATE: I wore it the evening I wrote this to a blogger event.  I left the sleeves pushed up, and I liked the comfort and ease of a 16 (FYI, wore with my Ramones tee, grey Gap stretchy jeans, and silver snakeskin booties).  I wore it to work that next week with my black and white striped tee and black faux leather front pants and black booties.
Well I wore it in this post so clearly I like the dress. If I were younger or had better legs I'd likely return it for a petite. But it's a good throw-on dress with a lot of versatility. Hit.
UPDATE: I wore this dress on Thanksgiving with black knee-high boots and this leather and tassel bolo/choker necklace.  The dress was awesome because it was so lightweight and loose; we hosted so I was dashing around in the kitchen, setting up, and it didn't bind, crease, or make me a sweaty mess.  The color was flattering and looked nice in photos.  The print was also awesome because it hid when I splattered gravy on me and spilled coffee in my lap. The necklace was a very bad choice as it fell into everything and I accidentally closed it in the dishwasher.  Yes to printed dresses on Thanksgiving, no to long necklaces.
I ordered this dress to wear for Thanksgiving. Like the faux leather skirt, the jury is out for this one. It is pretty. It does fit. However, there is zero shaping in the body so it looks weird at the waist. This dress needs bust darts, some nipping in the middle, a little something. The side view is nice, when I'm moving and sitting it looks nice, but it's just that place between the ribs and the curve of the hips that just looks wrong. So a… miss?
UPDATE: I looked at this dress on Thanksgiving morning and said, "Awww hellllllllllll nawwww."  My bra would be on display, it looked so stiff and uncomfortable and itchy.  In the light of Thanksgiving morning it also looked cheap, not dressy, more like upholstery fabric.  Returned.
I haven't worn these yet, but I was psyched to see they had fleece tights and that they were on sale. I'll keep you posted.
UPDATE: Still not worn…
Also haven't worn them yet but was excited to find dark grey textured tights. I imagined wearing them with the faux leather skirt and a black turtleneck sweater or my cream cableknit sweater. We'll see how they turn out!
UPDATE: Same…
Nordstrom
I've wanted a bomber jacket for months. Finally I found one that not only fits but looks cute too! With all the embroidered, sequined, bedazzled, and otherwise fancy bombers I found I kept gravitating towards a classic olive one. This one is pretty classic, but with gold zippers to make it a bit more luxe. The sides have zippers which are a bit odd, they enlarge the torso from rib cage down. I get the idea of enlarging a jacket to accommodate thick sweaters, but it's not like the top part or the sleeves also grow. Guess it's helpful if you're pregnant and want to wear it through your second trimester? Nevertheless, it's still a great jacket and I've been wearing it a lot this fall! Hit!
UPDATE: See me wear it in this post, and if you know me IRL you've likely seen me wearing it around town.
Tahari pants fit me nicely. Velvet pants would be a great idea for the holidays – style with a sweater I already own, black pumps, and a sparkly necklace and I'm ready for winter socials! They're ankle pants with a 30" inseam so I figured they'd be the right height for me to wear with flats or heels.  I saw this as investment wear – a piece I could style in so many different ways year after year.
Man, I tried styling these for over an hour. I tried with a black turtleneck, my cream cableknit, my ivory blouse, a band tee and blazer, a sparkly tee, a crepe swingy camisole and nothing looked right. The fabric and the cut just looked dumpy on me. It clung to my calves, had too much fabric in the crotch, made my butt look saggy, and the waist was a weird rise – too high, but not high enough. If you're taller, firmer, and less curvy these may look like they do on the model. If you're soft and round like me, these aren't the best choice. Miss.
Those who saw this post may think I'm going to say this is a hit. Unfortunately after two wears it is clear this sweater is a big miss. The cashmere feels great, nice and soft and very thick. The color is even prettier in person. The fit is nice. It's just the details that destroy it.
The cuffs and hem are not finished, they're rolled. And as you wear it, they roll more and more and more until you have these weird tubes around your upper wrists and waist. Don't try tucking in this sweater, you will look as though you have a very pronounced tapeworm. After one wear, I had some pilling under the arms and sides which is normal. After two wears, and the second one was just at the office where I did little more than using the scanner and typing at my desk, I had worn a bare spot under one arm and had pills the size of small blueberries all over and there were pills in the exact shape as my seatbelt across my bust and stomach. I'm sorry, but that is utterly ridiculous and unacceptable so I am taking advantage of Nordstrom's generous return policy and sending back this crap. Fail.
Omigoodness this was so itchy I tore it off before I even saw my reflection. I have no idea how it looks, I just know it made me want to tear off my skin. Fail.
Talbots sent me this ruana and I've worn the heck out of it… but not as part of a proper outfit. I've worn it over a striped tee, thrown over a dress, just used as a coverup. But that doesn't make for good blogging so I wanted to get something good to style with it. I don't normally wear camel but I knew there was camel in the ruana so I bought this sweater.
Let's compare this sweater to the J. Crew one above. This one was $89 while the J. Crew one is $198. This one is far thinner. For an example, the J.Crew one could be worn with a lacy bra in any color while the Halogen one should be worn with a tee shirt bra and in a light color like this, should be a color close to your skintone. The J. Crew one has unfinished edges, the Halogen one has standard finished cuffs and the hem has slits and is finished. I don't like the slits, they go all the way up to my waist making it hard to tuck this in or blouse it and it's a length where it isn't a tunic and it isn't short enough to wear as-is with looser bottoms or skirts. The J. Crew one pilled so much it wore a hole in one wearing. The Halogen one has also pilled, but far less and in the expected locations (under the arms, a bit on the sides of the breasts) and they have been easy to shave off.
And shocker of all shockers, I like this camel sweater! I've worn it with gold jewelry, with a scarf that has a bit of camel in it, with grey jeans, with dark jeans, with a faux leather skirt. However due to the stupid slits, it looks frumpy with work trousers which really limits it. And then on top of it, my pictures with the ruana were in such bright light that the pictures without the ruana or with it open made me look as though I was wearing a breastplate so I deleted them. I could have done the shoot with no sweater and likely no one would have noticed and would have gone all winter likely just fine without this sweater. So I'm not sure whether to call this a hit or a miss but I think I may wear it tomorrow with my grey jeans…
UPDATE: I didn't wear them that next day with grey jeans, but instead with my faux leather skirt seen in this post.  Then the following Monday I dragged myself to work, sick as a dog and I threw it on with my black Banana ankle pants and black pumps.  I came home and Karl said, "It's time to burn that sweater."  I told him it was only a month old and cashmere. "It looks like you got it 50 years ago from a bargain bin at the thrift store."  I went and looked at myself in the mirror, past the softness, past the versatile color that on others I think is so chic and saw what he saw.  It has no shape.  It had pills EVERYWHERE.  The shoulder seams are at places to make my shoulders look even larger and round.  The slits on the sides are a bit too deep, if I raise my arms you see my stomach and if I don't tuck and blouse just so they show.  And yes, it looked 50 years old even though I had only worn it a half dozen times.  I don't care the price, it's not worth it if it looks like it was run over by a car after a month of ownership.  FAIL.
Blogger confessional – I have some footwear posts coming soon and wanted to get something that looked festive yet was comfortable for you lovely folk.  These Chelsea booties looked like a perfect choice and I was also happy they weren't super pricey.  Topshop is usually a fail for me but I have never tried their shoes.  I ordered my usual size (8).
They fit, which surprised me because my feet run wide and cheaper shoe brands are often narrow.  There's no arch support or cushioning, but I didn't expect much for $60. The glitter is strong – hardly a flake fell off from the box to my feet to my tromping around on my bedroom carpet.  Rub your finger across them, still no shedding.  Impressive for the pricepoint!
However, they look mega goofy on my body.  Emerson said my feel looked like elf feet.  Karl said I looked deformed.  They're super lean and pointy and low profile and will make your feet look longer than they actually are.  I didn't think I'd mind that with my short puffy feet, but it just looked weird.  Also, I couldn't find anything in my wardrobe that looked right with them.  Wide leg, work trouser, legging, skinny jean, straight jean, tights and a skirt… they all looked wonky.  I think if I were slim and leggy I could throw these on with anything and look adorable, but I am neither so they are being returned.
I don't currently own a suit. I was thinking this would be the kind of suit I could wear to work, but also glam up for the holidays with a silky camisole and strappy heels. It looked classic enough that it would be stylish for a couple years.  I ordered both pieces in black.
The jacket was a bit too big and I needed a petite to have the button land in the right place and the sleeves not swallow my hands.  The pants fit comfortably and with my height were the perfect length for flats or heels.  The style is classic, and could dress up and down nicely.  Both pieces are of the same fabric and make a matched set.  However, I didn't really like either piece.  It was… fine.  My butt looked a bit saggy, the pant leg was in between slim and not and looked a bit awkward (likely due to my thicker legs), and the jacket was the wrong size.  May be great for another (and hey, a complete suit for under $200 is awesome for those of you who need work clothes like this!), but for me it was a fail.
ASOS
Oh Allie, when will you learn to not buy crazy sparkly frothy items on ASOS?  It never goes well.  Or does it?  As an FYI, even though I was so uber tempted by the ASOS discount over Thanksgiving weekend I held back and didn't order anything – nothing simple, nothing sequined, nothing sparkly.  Maybe it was because of this order…?
Alison, do you NEED a blush colored sequin shirt?  Heck no, but it looks pretty awesome!  And I got it and still loved it.  While I usually find the sequins that you can brush in different ways to look hokey, it works for this matte-sequin top and with the raw edges.  The ruffle adds a super cool detail.  FYI this is not a sweatshirt, it's just a heavy sequined top, but it's not itchy at all.  I wore this to a friend's bachelorette party with my grey Gap stretchy skinny jeans and silver snakeskin booties.  Smoky eye, nudish-pink lip with a bit of gloss, I felt badass.  Karl said the top looked like female anatomy but I didn't care.  I felt even more badass wearing a fashionable sequined lady bit!
Oh, I forgot to mention that the sleeves were far too long, and this isn't a piece where I can push them up.  So I figured since the top has raw edges, I can shorten the sleeves with a sharp pair of cuticle scissors!  The sequins weren't spiral stitched, so it looked like I could lop off an inch on each sleeve and be good for the night.  And I was… I brought the party AND the confetti with me!  The sleeves started unraveling.  Sequins dropped at every place we went and by time I came home I had a 1″ string of sequins hanging off my left wrist.  So chic, so stylish, so glad you're taking fashion advice from me!  But it's easy to fix with some blush-colored thread and a needle.  Since it is a raw edge, it never looked too visible.  Now I just need to get around to fixing it…
This sweatshirt looked fun.  A bit of sparkle to wear with jeans and sneakers on the weekend, or maybe with leather-front leggings and heels for a blogger event.  This is no bit of sparkle, this is a full-out Mylar emergency blanket.  It's super shiny, like burn an ant with the sun shiny, and a bit of a rubbery finish (though the inside is soft terry like a normal sweatshirt).  It's very roomy, hits at a nice point, sleeves not too long.  But it looks like part of a robot costume.
UPDATE: I haven't returned this yet.  I'm not sure why.  I keep looking at it, thinking maybe if I cut out the neck so it's off the shoulder but then I put it on and I look like a robot and swear I'll return it but then a week later… I have more time because ASOS has an extended return policy this time of year but yeah, I just need to bag it up and send it on its way.