This article may contain affiliate links; if you click on a shopping link and make a purchase I may receive a commission. As an Amazon Associate, I earn from qualifying purchases.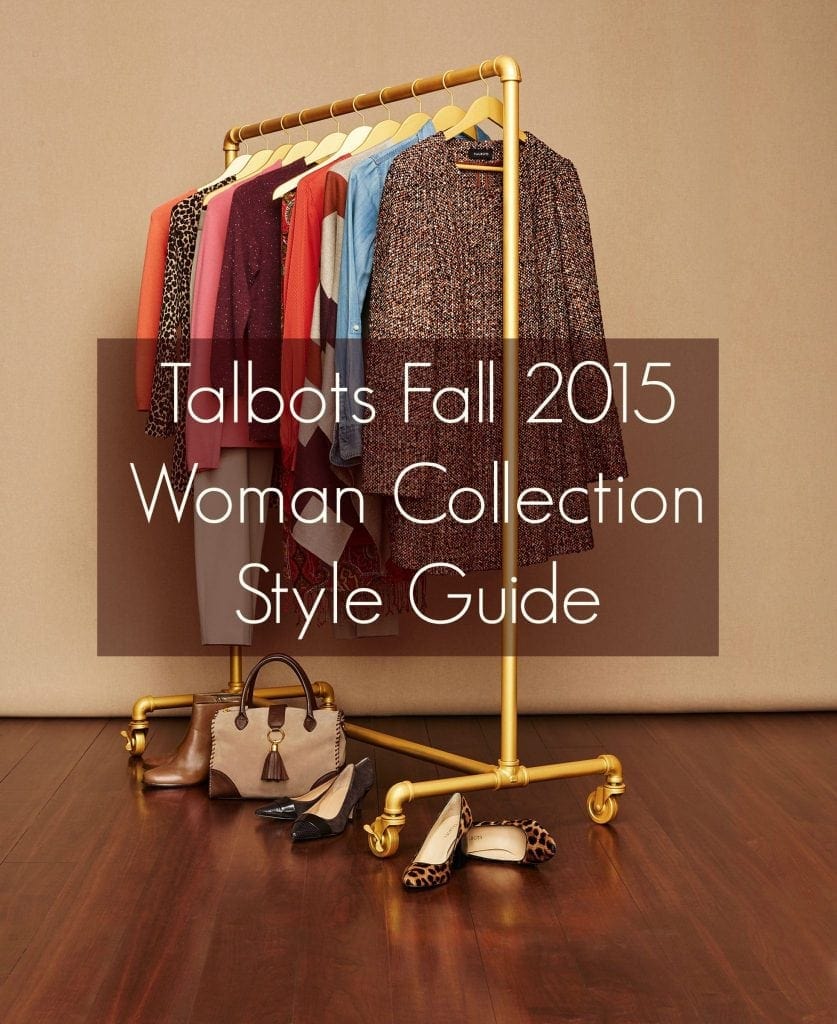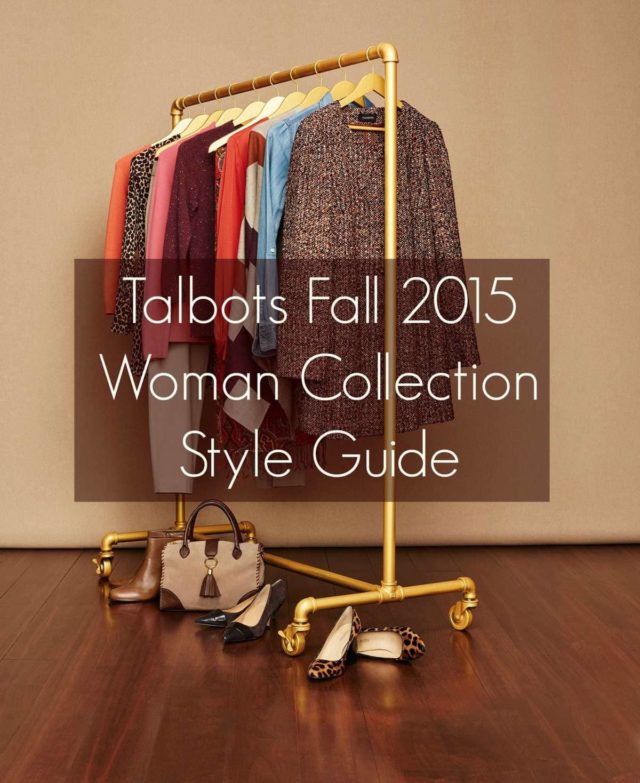 I know I just shared Talbots last week, but I was pretty psyched to see that they're recognizing their plus size/Woman collection with its very own style guide.  Talbots invited the stylish Tanesha Awasthi from the blog Girl With Curves to share her insights and style tips. While I see style guides on a pretty regular basis in my inbox, it's rare to see one so polished and featuring nothing but plus size fashion and models. I've recommended Talbots for years as a destination for extended sizes (and hello to the rare to find Woman Petite sizing!) but this is the first time I've seen them really embrace this line and put so much effort into styling and promoting it.
Talbots' Woman Collection isn't just the same pieces as their regular line but made bigger; thought is put into the shape, the location of pockets, the length of sleeves.  As a 5'3″ woman I find it thrilling to be able to find larger sizes that aren't also made for a taller person.  I mean, the average American woman IS 5'3 and a size 12!  Anyway, I think I am preaching to the choir because so many of you love this brand already; below are some of my faves from the style guide and collection (they sent me a few hi-res images of pieces not shown in the PDF). BTW, they're all in stock on the Talbots site AND they're having 25% off regularly-priced items through September 7, 2015 (discount in shopping cart).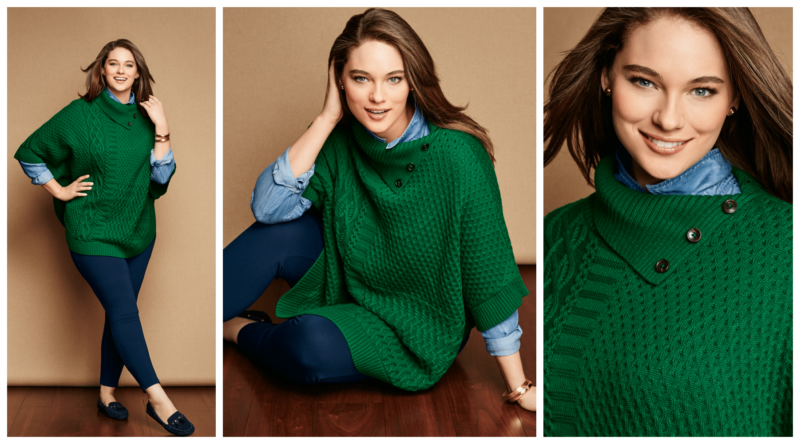 I shared the Mixed Stitch Poncho in Forest in my last Talbots post and am thrilled to not only see it in plus size, but see it modeled in this size and in a very similar fashion to the straight size model.  It's styled with the Denim Shirt in Marina Wash,  Ponte Zip Ankle Legging in Indigo, and Easton Driving Mocs. Gosh that green is gorgeous!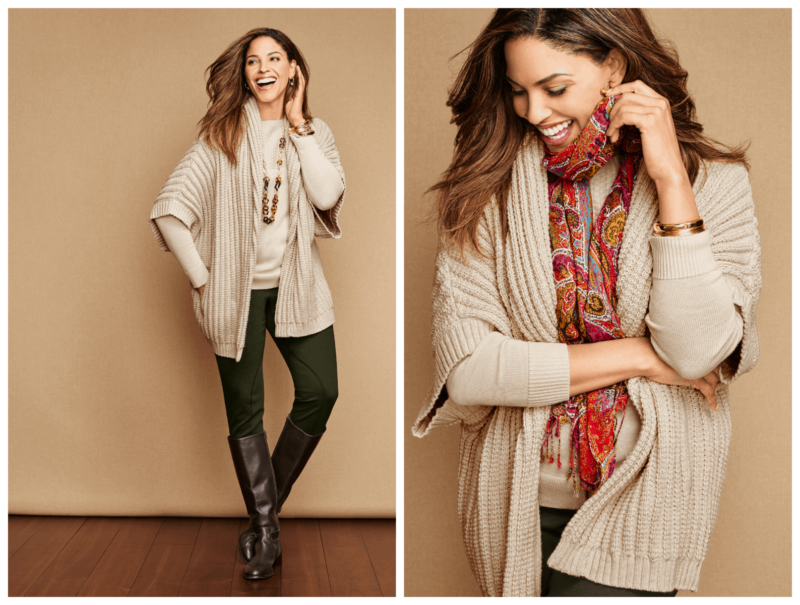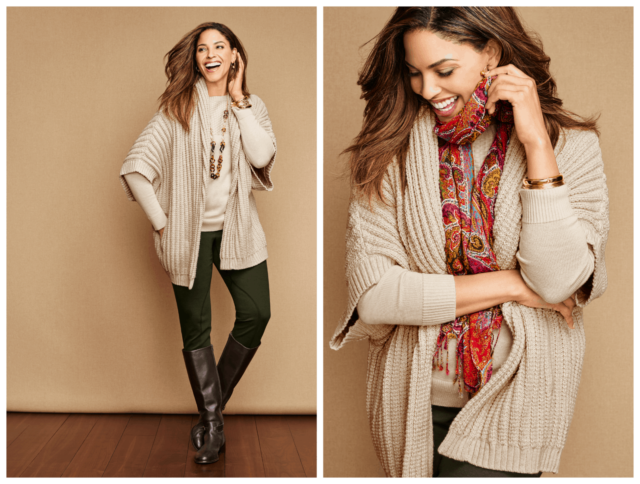 I live in sweaters like this Ribbed Poncho Cardigan all winter long.  I usually style them over striped tees but love how it's layered over the Basket Weave Yoke Sweater in the same oatmeal color – warmer and more elegant.  It's styled here with the Dalton Riding Pant, Geometric Link Necklace, and Tonie Bit Trim Boots.  On the right, the Paisley Scarf that is utterly delicious and will brighten every winter neutral in a closet.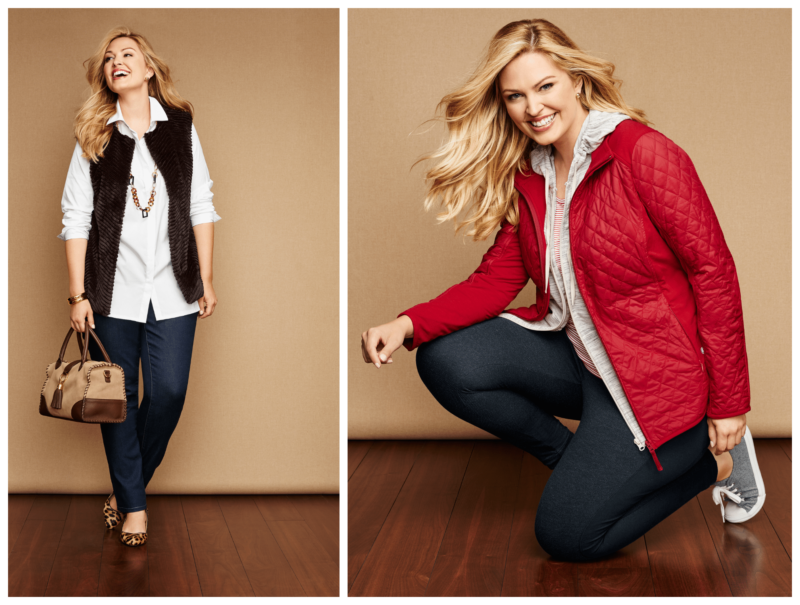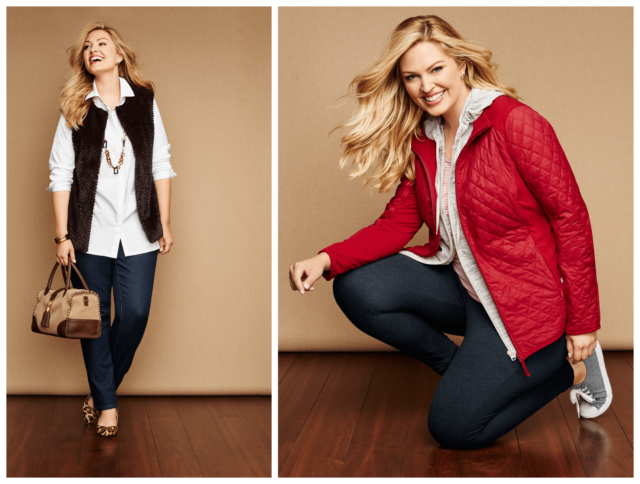 I remember when I shared Talbots' Fall 2014 Look Book some of you asked in email and comments about their quilted jackets and flattering vests.  Not to fear, Talbots has kept them this year as well.  I love the look on the left because it truly shows the power of accessories.  Very simple look (their Poplin Shirt with their Flawless Five Pocket Straight Leg Jeans), but elevated with the Faux Fur Vest, the Geo Link Necklace, Kelsey Doctor's Bag (which looks better on their site and in person), and those yummy Porsha Wedges in Leopard Haircalf (which come in medium and wide widths).  I'd love to see that vest with a turtleneck sweater, or even belted over a long-sleeve ponte dress.  On the right, a very realistic weekend or workout look featuring the Quilted Brush Back Jacket, Liberty Hoodie, Fresh Jersey Stripe Tee, Athletic Ponte Leggings, and Preston Sneakers (not so good for working out but would be adorable with boyfriend or cuffed jeans!).  Can I also just take a moment to say Hallelujah to a brand featuring plus size athletic gear?!? Yes, all sizes of women like to work out and look good while doing it!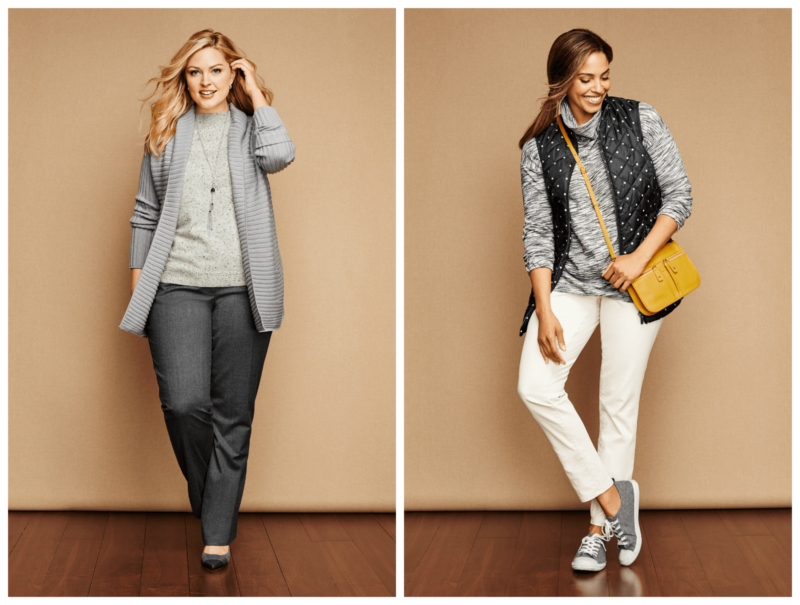 Some more realistic casual looks, hooray! I love the mixing of grays in this first look – the Ribbed Shawl Cardigan is another piece I could see myself wearing all winter long (jeans on the weekends but with trousers for the office when I don't meet with clients). While the gray is nice, the Black Current option they have online is calling my name. While I like the Audrey Donegal Cashmere Sweater, I don't love it with this look and would likely switch for a soft knit in steel or maybe even a stripe (you know I love stripes!). The Talbots Windsor Pants comes in five colors and is a perfect wardrobe staple for fall and winter and comes in classic and curvy cuts and long lengths in a few sizes.
For the weekend, I love this look. It's super wearable and like Tanesha says in the style guide, thinner layers give you warmth without adding bulk. The mix of subtle patterns and neutrals and the pop of color with the bag is awesome and again, realistic style for real lives. Featured is the Quilted Dot Vest, Space Dyed Pullover, Flawless Five Pocket Ankle Jean in Vanilla, Double Pocket Crossbody (which comes in eight different colors and is perfect for travel), and again the Preston Sneaker.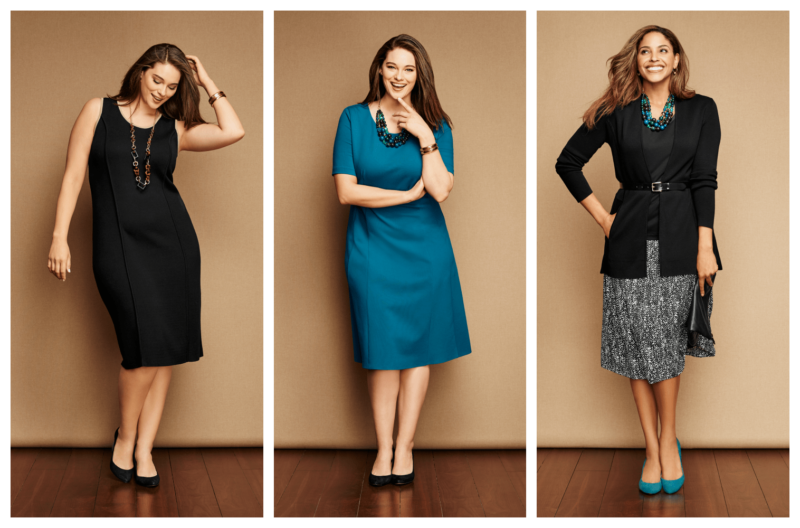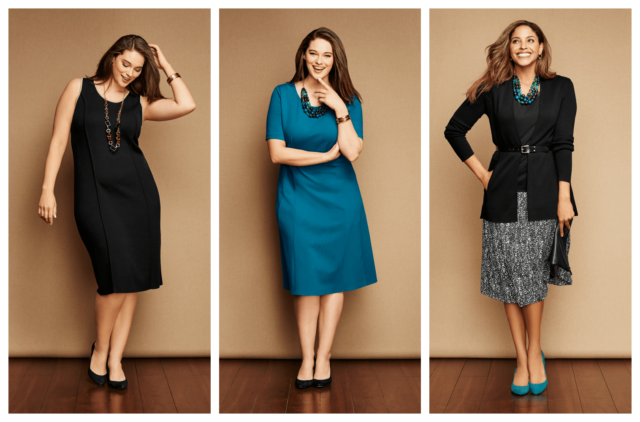 Some great dresses and career wear, Talbots is always a great place for that not-so little black (or blue or plum or red or…) dress that goes from desk to drinks with the switch of accessories.  The Double Knit Sweater Dress has a touch of camel piping that keeps it from looking too ho-hum and also makes a gorgeous ensemble when paired with the coordinating Topper.  The Ponte Fit and Flare Dress in the middle comes in four delicious colors and is that perfect go-to dress for most any occasion.  Wear as seen for the office, style with a cardigan or soft blazer, pair with a sparkly necklace and nude shoes for a day wedding, come winter pair with tights and tall boots or wedge ankle booties.  The last look is great together, but each separate is so perfect and versatile.  The Milano Sweater Jacket comes in six colors and has the weight and weave to skim, not cling and would look great unbelted with everything from jeans to work trousers or a sheath dress.  The black and white pattern of the Pleated Crepe Skirt works so great with most any color and won't look odd come winter when paired with tights and/or boots.  Also, this is an extremely flattering skirt that would look adorable with a tucked in top.  The Eve Pumps (which have a nice sturdy thick heel in a good height) and Mixed Bead Necklace give necessary personality and color to this look but are both versatile pieces that will get a lot of wear all fall and winter long.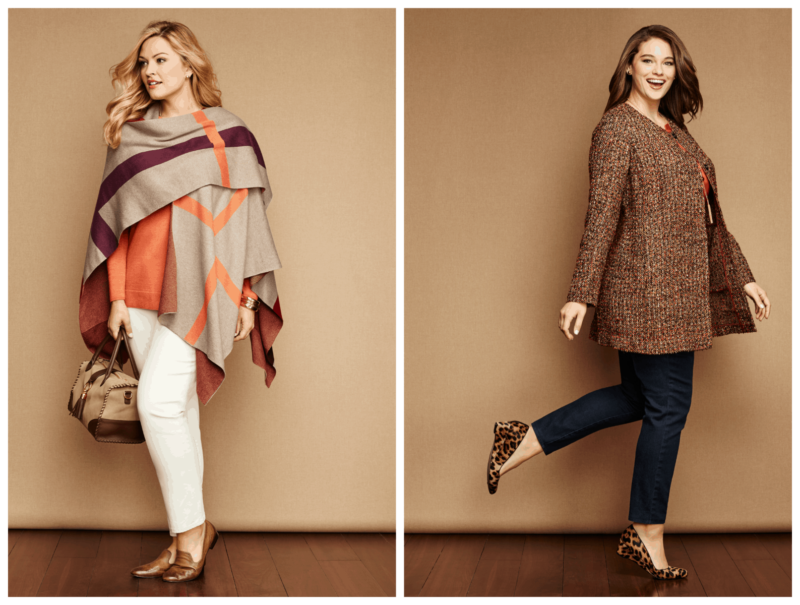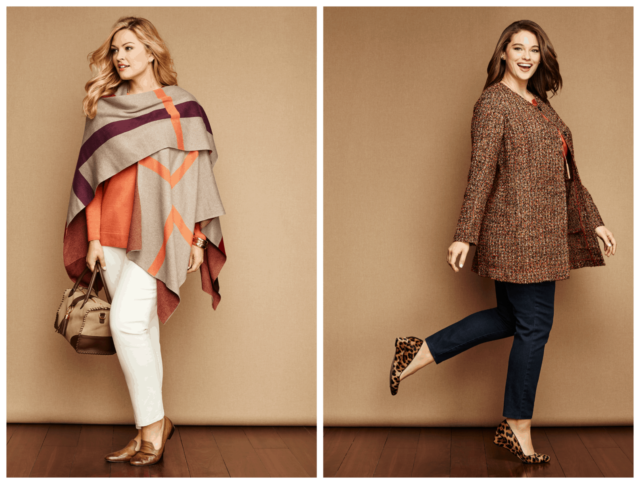 These looks would be great for a casual office or a stylish weekend.  Like the Leopard coat I have from Talbots, these are toppers that can be for warmth or for fashion.  On the left we have the Bold Plaid Wrap, Merino Ballet Sweater, and Vanilla-colored Ankle Jeans styled with the Frannie Spectator Slip Ons and Kelsey Doctor Bag.  On the right, I would wear this entire look in an instant: the Fancy Tweed Jacket, Flawless Five Pocket Jegging, the Porsha Wedges in Leopard Haircalf, and the Double Tassel Necklace.