This article may contain affiliate links; if you click on a shopping link and make a purchase I may receive a commission. As an Amazon Associate, I earn from qualifying purchases.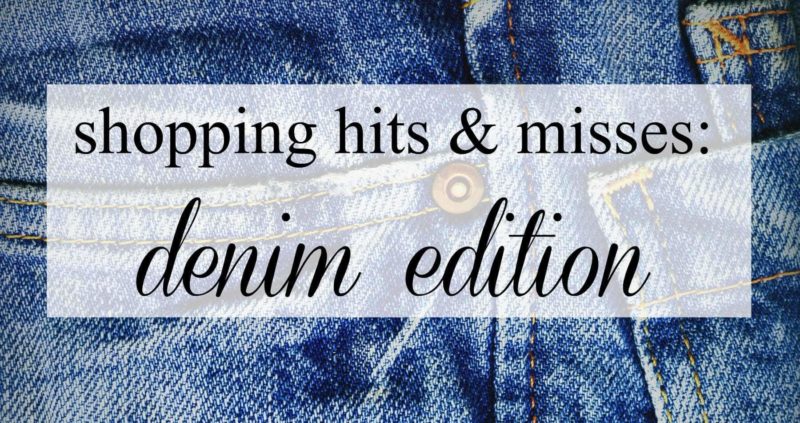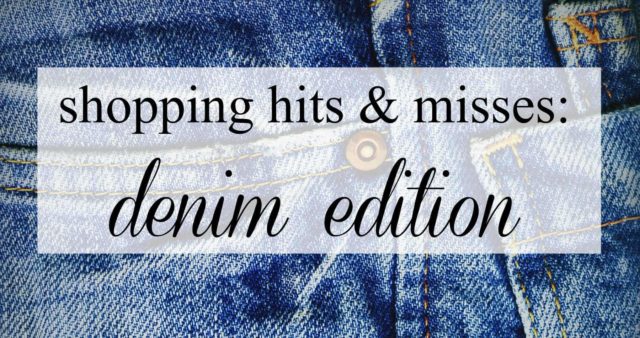 Fall is back to school… and back to jeans! I have a few pairs that still work from last year, but you curvy girls know the most beloved denim often ends up being the most worn out and eventually unwearable denim. I was looking for some replacements, and some styles to update my wardrobe for fall. And to be honest, a few I ordered just so I could try them out and see if all the hype was worth it. For reference, I am 5'3″, curvy, usually wear a 14, 14W, or 16P in jeans. Below what I've tried, and whether they are a hit or miss.
Good American is the denim brand by Khloe Kardashian that is getting rave reviews for fitting and flattering a variety of body sizes and types. Reviews say the jeans run long, so I decided to try a crop style so they wouldn't be dragging on the ground and hopefully normal length on me. These are very skinny below the knee, so skinny I could hardly get them up. Reviews said they ran large so I went with a 14 while I usually order 16 petite or 14 W in jeans.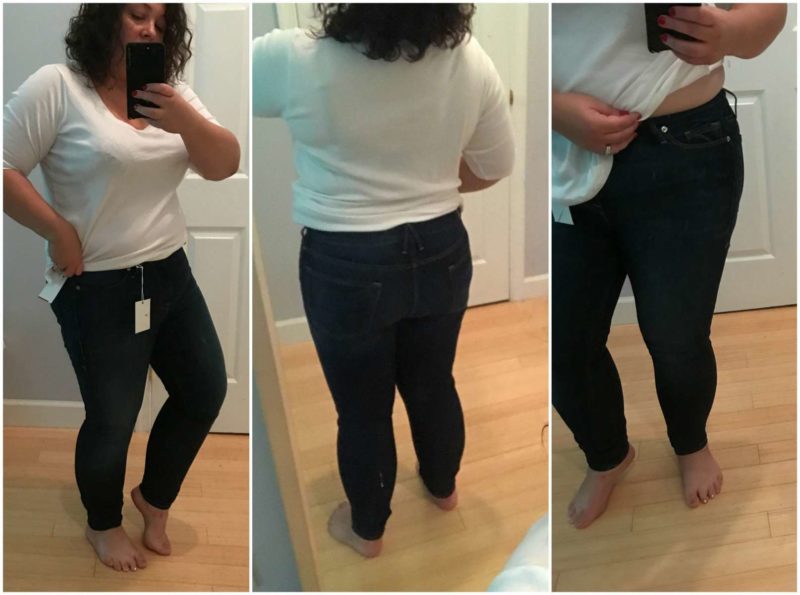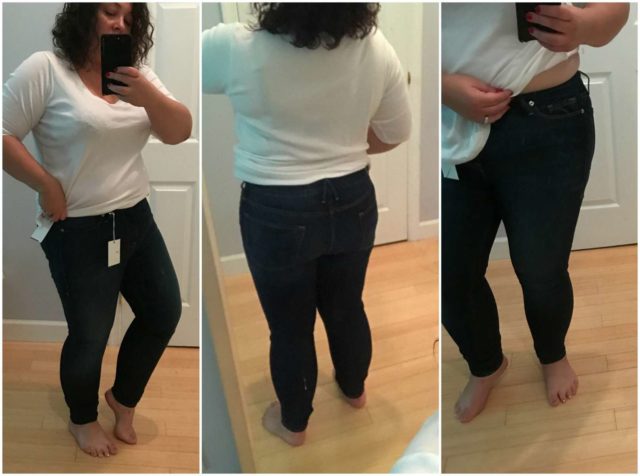 I could zip them up but I felt like I was wearing a corset and I had some serious muffin top. Like a corset, these jeans really sucked me in. I had a flat stomach and a flatter bum. The denim is very tightly woven, stiff yet stretchy if that makes sense. They really hold you in, and if I was able to wear them comfortably, I'd bet they'd keep their shape and not sag mid-day. I liked the wash, they looked expensive. If I were taller and had slimmer calves and ankles and went up a size these jeans may have been a hit.
The reviews said these jeans ran mega big and stretchy so I went with a 12. And I could actually zip up the 12 so they're right they're big… but even though I could zip them up I'm no 12. A 14 would have been far more comfortable and not caused such extreme spillover. Like the other pair from this brand, the denim was a tight weave that had a hint of stretch but really sucked in and kept its shape. It was also a really good looking wash of denim, not cheap looking.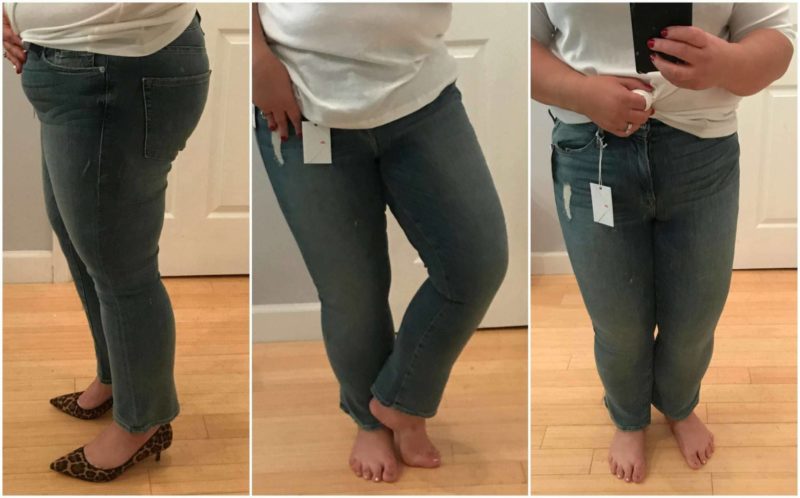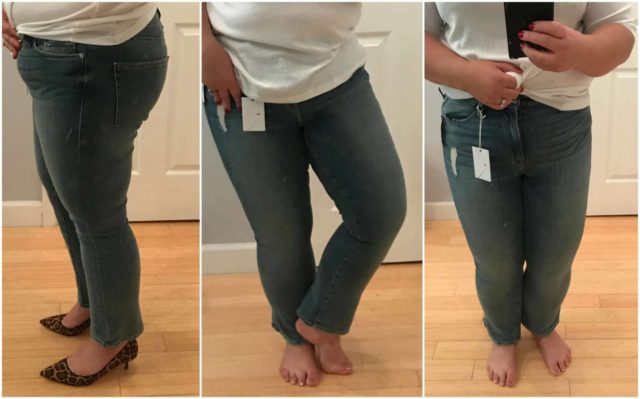 These fit like kick flares on me; they hit just below the calf and flared out. I didn't try rolling them because they were so snug all the way to the last 2″ I knew it wasn't going to be a good look. The high rise waist wasn't too high on me, If they were the right size I think they would have hit right at the belly button. If I had slim legs and went up a size I think these would have been a hit.
I have heard such good things about UNIVERSAL STANDARD jeans and when I saw they arrived at Nordstrom, I decided to use my Nordstrom points and get a pair. This was another jean where if I were taller, they'd likely be a hit. The denim is heavyweight but has stretch. It looks like resin jeans, but isn't rough. And note these are black jeans, not resin colored (UNIVERSAL STANDARD has more colors and options on their site). Really nice quality. They are a high rise, they went above my belly button. They were a bit loose in the hips and thigh, truly fitting like a plus and not standard or junior's fit. The legs were comfortable, and the zipper detail at the ankles was chic, not at all cheesy or too trendy to be worn for multiple seasons. However they were just made for a woman much taller and curvier than I. I needed another inch in my torso and two inches on my legs and a tad more hip to make these work on my frame. The US site has more options and lengths; this experience has inspired me to try more denim from this brand. But these jeans for me were a miss
I'll be honest, the idea of wearing anything with the name Wedgie is extremely unappealing to me. But I kept seeing bloggers with curve wear and rave about these jeans so I figured I'd give them a try. On no no no no no these are terrible. They do give you a wedgie – front and back. The rise is high in a mom jean way (I know that rise is trendy, but if you're an actual mom with a mom belly, it's so not chic). All that and the faded wash, stiff denim, and quickly shorn off hem… big giant wedgie-filled MISS.
While I'm a blogger, I'm also a blog reader. And like you, I read reviews and based on who wrote it I may click and buy. When Nicolette Mason reviewed Levi's 711 skinny jeans, I clicked and bought. And when I tried on the jeans it reminded me that Nicolette and I have very different bodies. While we wear similar sized dresses, she has longer and slimmer legs. And these jeans, which looked nice on her, looked utterly dreadful on me. They were too high rise, too long, too tight, too weird. There was nothing flattering about them. Miss.
When checking out the 711 jeans on Amazon, I had a feeling from the reviews that they wouldn't work for me and the 311 jeans may be a better choice. A slimming front panel, wider leg opening, and a style made for curves sounded like a good choice. Not sure of my size, I ordered every version of 16 they had – regular, short, and plus short. And none of them worked on me. The Plus Short was made for Nicki Minaj – the waist fit but the rear bagged, the hips were loose, and the legs were too tight. The 16 R was a good foot too long and too high in the rise to fit properly. The 16 Short fit me best – they were still a hair too long and too high in the rise, but fit well in the hips, thighs, and legs. But I realized these are essentially the same as the JAG Penelope Jeans in how they are supposed to look. I already had the JAG Penelopes at the time of ordering these and the Penelopes (see below) fit better straight out of the bag so I returned all the Levi's. However, these jeans aren't bad if you're looking for a stretchy skinny jean. Just not for me. So a miss.
JAG Jeans in general fit me well, and I find their denim holds up nicely too. They reached out and asked if I'd like to try any of their new styles for fall and this is one I requested. I've found JAG Jeans' boyfriend jeans to run larger than their other styles so if between sizes, size down. These are exactly what I wanted – jeans that are slouchy but not messy, that sit on my hips but don't slide down when I sit down, legs not too loose and not too tight. These aren't petite so they're long on me. For now I have just rolled them up one extra time, but I think I'll get them shortened by my tailor so the cuff isn't as thick. But I've worn them two days without laundering and they haven't stretched out. Also the color is a good one – light, but not too light that they look weird with fall and winter colors. Hit!
These were gifted to me by JAG; I asked for a few styles but they added these to the box. So glad they did, I likely wouldn't have tried otherwise! The pull-on waistband is a brilliant concept, but I don't always love because I don't like it showing, and sometimes it fits weird if the denim is too heavy. I also don't like corduroy. First these jeans have no wale so they look like velvet. Second, they're super stretchy and soft so the pull-on waistband is actually awesome, comfortable, and helps give these a smooth line under knits. These are so fitted and lightweight I wouldn't be wearing a tucked-in top anyway. The color is perfect for fall – it looks great with navy, denim, black, grey, and other neutrals. On a chilly day I wore them with my tan suede booties, a Breton tee, and my denim jacket. I can't wait to pair them this fall with my navy chunky turtleneck sweater. Hit!
These are discontinued which SUCKS because I LOVE them. I got the faded pair (seen in this blog post) and loved them so much I also got them in a darker color. They didn't have the darker color in 16, so I got 14W and was pleased to find out they fit essentially the same.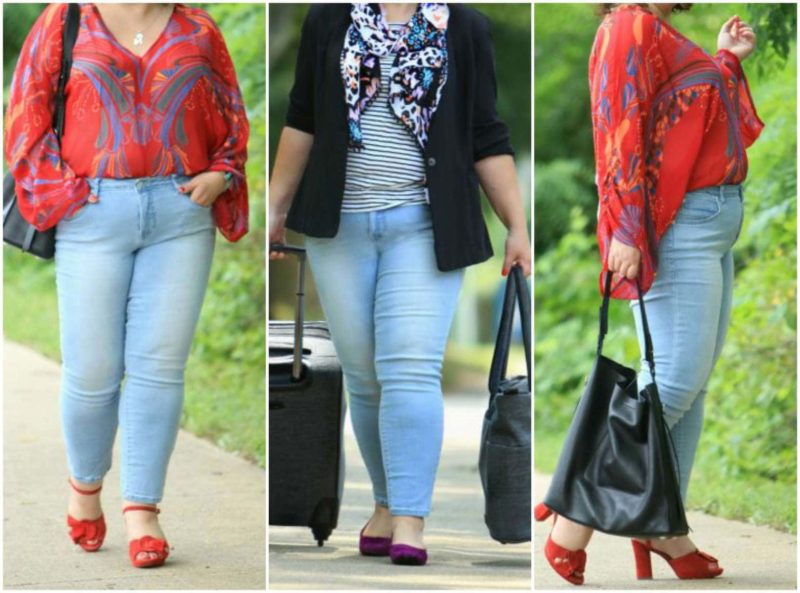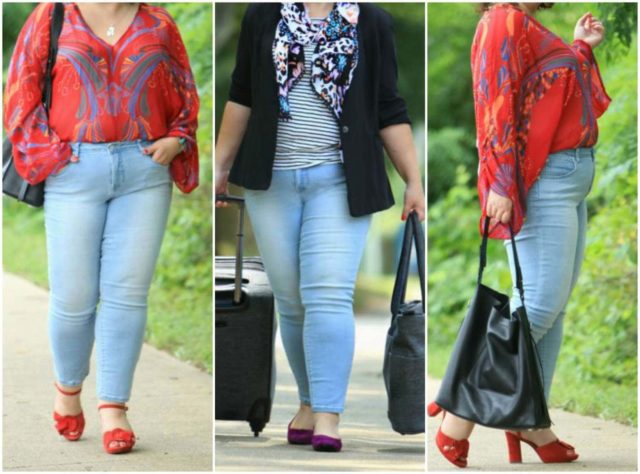 These are stretchy, like skinny jeans on me, hold their shape, and make my butt look great. They still have some on places like 6pm and Amazon, so if you can find, stock up. Hit!
J.Jill contacted me and asked if I'd like to try a few pieces from an upcoming line and sent me images, as the items were yet to be placed on the website. I chose these jeans and asked for 14 petite and 16 petite. They were kind enough to send both for me to try. The 14 petite is a great fit; it's a perfect rise that stays in place when sitting and walking. It's a slim leg on me – not tight but slim straight down. The length is perfect for wearing with anything from a low-rise ankle bootie to sneakers or even my Birkenstocks. However, I didn't realize I would be getting the faded option that embroidered flowers on them. Both the wash and the embroidery are not my style. I wish they sent me the French Blue Wash option, if so I may have worn them on the blog. So fit is a hit, but color and trim is a miss.
I love the look of high-waisted flare jeans this fall. With everything from a black cashmere turtleneck and Chelsea boots to my Freepeople blouse, I could see these in my closet. Too bad they are so freaking long to hem them they would lose all the flare. These were NOT 32″ length, more like 35″. In fact I know they are 35″ because Karl tried them on and they were almost the right length (he wears a 36″). Why did Karl try them on? Besides us both having the same waistband size, I ended up keeping these damn jeans. I ordered from Amazon and missed the fact that they weren't free returns. I contacted the seller, no response. I applied for a return, received a PDF of a mailing label, no shipping, no packing slip. I reached out to ask what should I put in the box so he knows the return was from me. No response. I tried leaving a negative review, Amazon declined it. I revised it to focus on the misleading length of the jeans and again it was declined. So I'll rant here. The seller sucks, the description was misleading, and now Karl has a pair of highwater flare jeans he can wear for a costume or when he goes through a certain style phase. Grrrr. MISS MISS MISS.
Now it's your turn! tried any jeans lately that are utterly awesome… or utterly abysmal? Share in the comments!