This article may contain affiliate links; if you click on a shopping link and make a purchase I may receive a commission. As an Amazon Associate, I earn from qualifying purchases.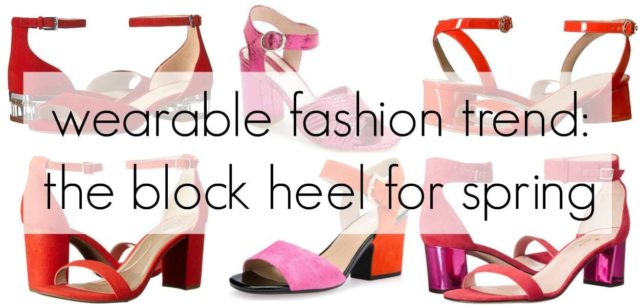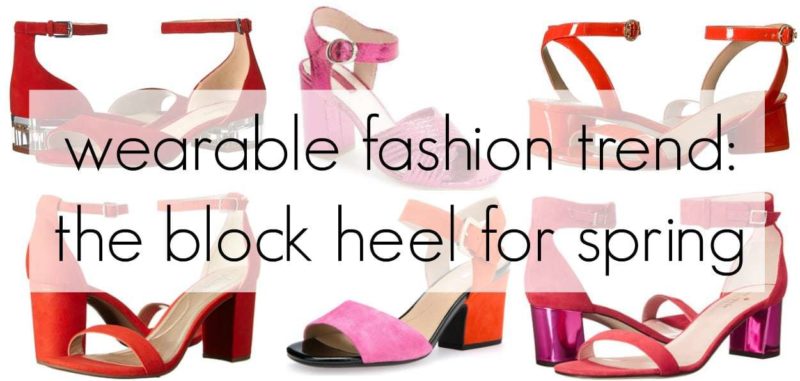 I love when trends end up being practical! After many seasons of stilettos, the block heel is back. And not only that, a lower block heel is just as chic as a higher one! Rejoice, the wider heel better distributes weight and pressure, keeping you comfortable longer. This sort of heel looks fantastic with trousers as well as dresses in skirts in a variety of lengths and silhouettes. A block heel is also a great way to glam up your favorite denim. Below I share some of my favorite block heels and ways to style them:
Block Heel Mules and Slides
Not only are block heels back, but so are mules and slides! I must admit, when this trend came back I felt it was too '90s, and not the good memories. Am I the only one who wore a pair of black Steve Madden platform slides to DEATH back then? However, as the trend has continued, I've seen more that I find fresh, modern, and appealing. A mule usually has a closed toe while a slide is open; I think the slide is more versatile (and a great way to show off a contrast color pedicure) but both are on trend and easy to wear. Instead of sticking to basic black (which I feel is a bit too literal '90s), consider the amazing colors, textures, and patterned styles that are out this season. This is the kind of shoe that can be the pop of color or the little bit of quirkiness that an outfit needs to feel more you, and more fresh. I'm loving the suede trend, and think a pair of slides in a candy color will soon be added to my wardrobe. Mules and slides with block heels of any height are a comfortable and easy way to update denim; they look great peeking out of trousers, and slides well with tea and midi length skirts and cropped fuller trousers.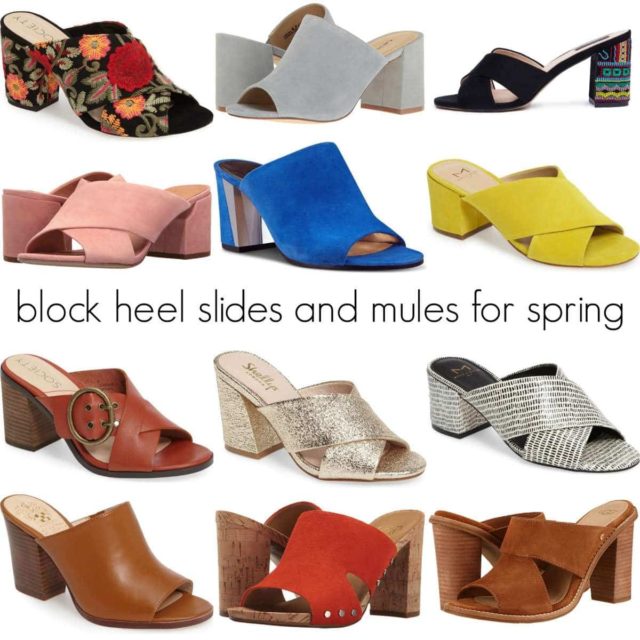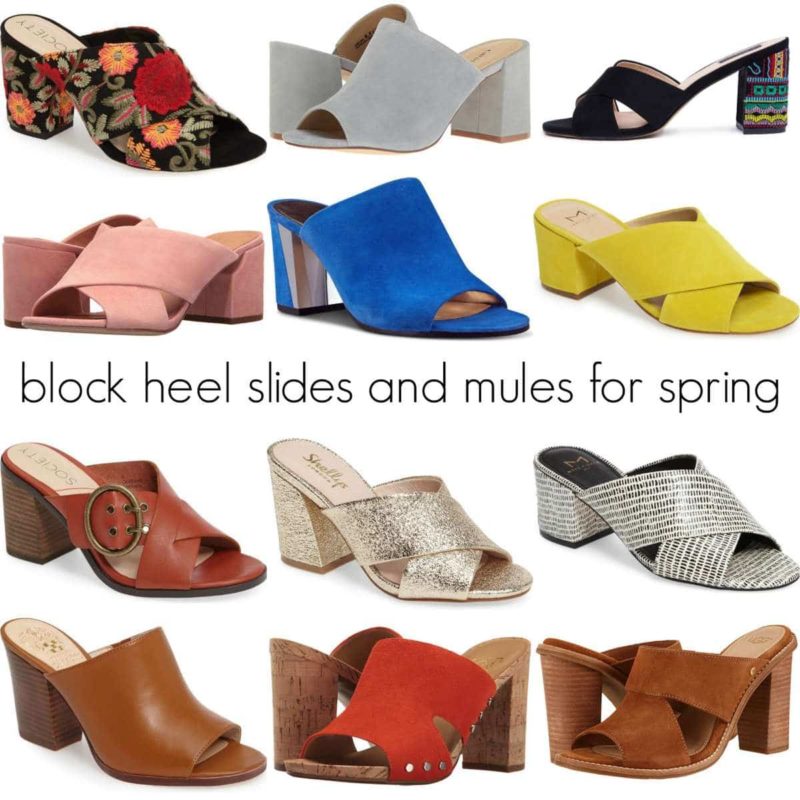 Top Row: Sole Society 'Luella' | Chinese Laundry 'Sammy' | ELOQUII
Second Row: Sigerson Morrison 'Rhoda' | Nine West 'Gemily' | Marc Fisher 'Rinna'
Third Row: Sole Society 'Corrine' | Shellys London 'Dani' | 'Rinna' in a different option
Bottom Row: Vince Camuto 'Anabi' | Franco Sarto 'Jeanette' | UGG 'Celia'
The shoe top left is the Sole Society 'Luella'; top right is from ELOQUII (wide width!) and I love both for the pattern.  With this season's denim on denim trend, these shoes would be a great way to add some color and personality to the blue.  But envision either with a black off the shoulder sundress and beaded bracelets, or even dashing around town with jeans and a band tee or Breton top.  Speaking of denim, it didn't make the collage but I like Matisse's 'Misty' which comes in denim as well as tan suede and even snakeskin.
The colored suede versions can work in the same manner, but can also dress up for the office.  A blush pink like the Sigerson Morrison 'Rhoda' in the second row would look so chic with a grey or ivory suit, and for some may be low enough contrast to be a great pairing with skirts and dresses to elongate the leg and not take focus from the outfit. Cerulean blue and yellow are the two hot contrast colors this spring; the Marc Fisher 'Rinna' (second row right) is not only available in yellow, but navy, the black and white pattern (third row right), and several neutrals. Nine West's 'Gemily' is shown in blue suede, but it also comes in yellow and black. Chinese Laundry's 'Sammy' (top center) is shown in a chic color of grey but is also available in four other neutrals as well as silver. Speaking of silver, that shiny shoe in the middle is from Shellys London and it comes in pink sparkle, gold, and silver.
A slide or mule in tan, brown, or cognac leather is a classic.  It's a great partner to denim of all washes, floral dresses, white and neutrals, olive green (another hot color this season), and boho styles.  I like the buckle detail (and the price) of Sole Society's 'Corrinne' (third row left), the Vince Camuto 'Anabi' (bottom left) is sleek and perennially chic, UGG 'Celia' is shown in chestnut suede but also comes in three other fab color, and Franco Sarto's 'Jeanette' is shown bottom center in orange suede, but it also comes in camel, pink, and a badass black leather.
Shop Block Heel Mules and Slides: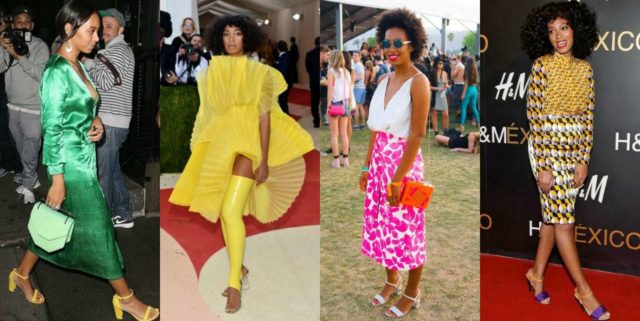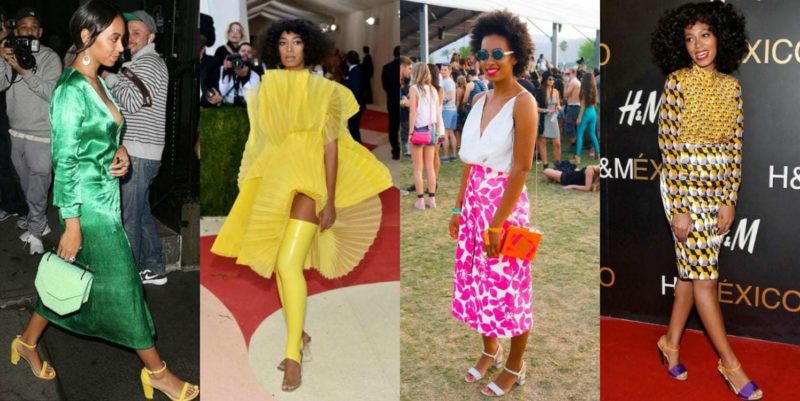 the block heel shoe trend as seen on Solange
The Versatile Ankle Strap with a Block Heel
The 'nude' style of heeled sandal has been on trend for many seasons, and won't be going out of vogue any time soon. Allowing the focus to be on the clothing, this kind of shoe with an ankle strap and thin strap at the bottom of the foot works with all styles of dresses, skirts, pants, and even jeans. Depending on the fabric, it can literally go from desk to drinks, from Sunday brunch to a black tie gala. Finding a comfortable one with a block heel in a metallic or a nude to you shade is a smart wardrobe investment as it will work with everything and also be comfortable. However, don't discount such a shoe in a statement color or fun print. This is what can update your simple shifts and sheaths, give new life to your ankle pants, and update your boyfriend and girlfriend jeans. With the options featured, please know almost every one comes in different colors and often different fabrics!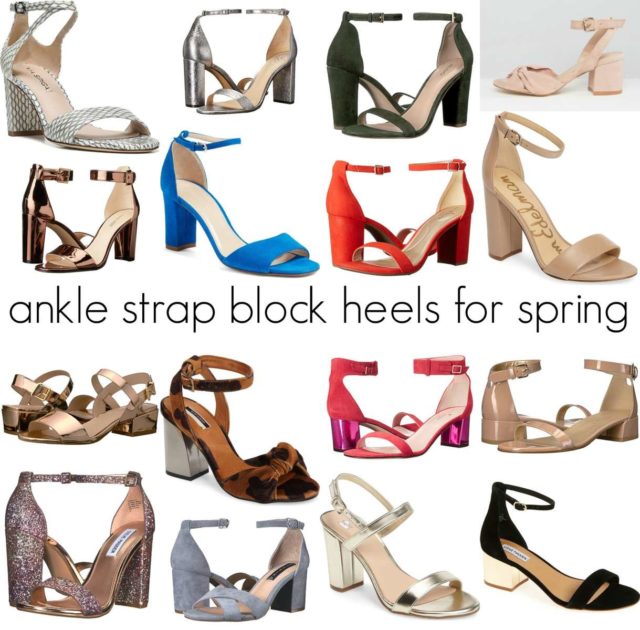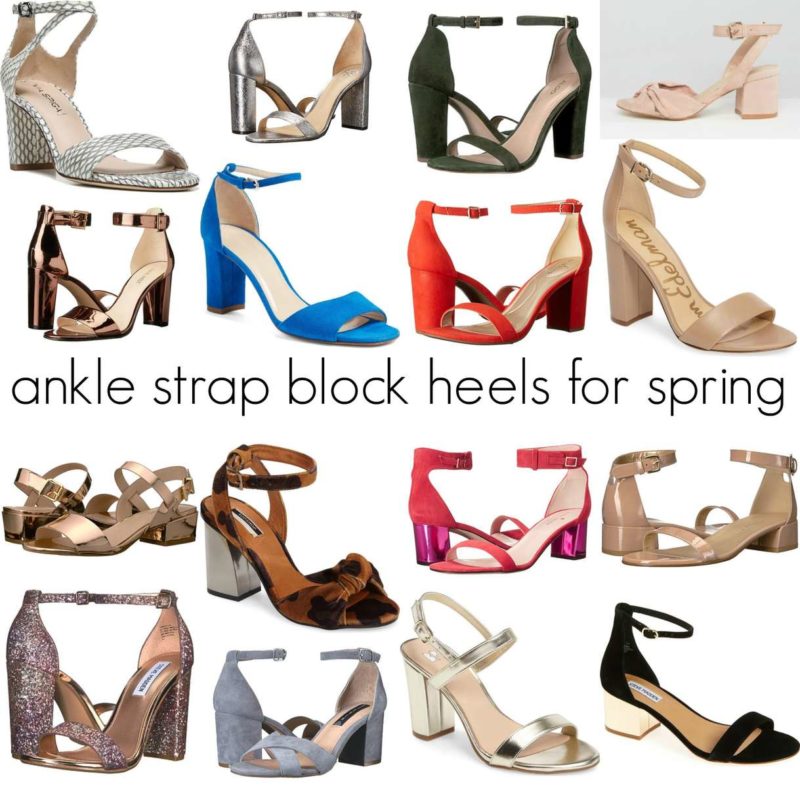 Top Row: Via Spiga 'Wendi' | Vince Camuto 'Mairana' | ALDO 'Myly' | New Look Knot Front
Second Row: Nine West 'Nora' | LK Bennett 'Helena' |  | Sam Edelman 'Yaro' | Bandolino 'Armory |
Third Row: Shellys London 'Dacey' | Topshop 'Rocksy' | Kate Spade 'Menorca' | Stuart Weitzman 'Nudistjune'
Bottom row: Steve Madden 'Carrison' | Nine West 'Voomme' | BP. 'Lula' | Steve Madden 'Irenee-G'
The 'Wendi' from Via Spiga (top left) is a really pretty silhouette, and like so many of the shoes in this post it comes in far more colors and fabrics than what is shown in the collage. In blush suede, it's a shoe that will go with most everything and that heel will be perfect for a spring garden wedding.  I also like the 'Voomme' from Nine West (second on the bottom row).  While I show it in powder blue, it also comes in red, black, and pink suede as well as silver and nude patent. And the Bandolino 'Armory' (second row, second from right) is similar, but comes in a bunch more colors – metallic cork, floral print satin, a light patent that will be a nude for fair-skinned folk, and plenty of suede shades.
While silver and gold are safe neutrals to dress up nicely, don't be afraid to try other metallics like rose gold or the Nine West 'Nora' in bronze (second row left).  The rule of all metals matching has gone out the window; mixing metals is modern and fresh.  The Nora comes in other metallics too as well as plenty of choices in suede.  Speaking of metallics, I have NO IDEA why I left the 'Jayce' from Blue by Betsy Johnson out of my collages.  This shoe is so much fun – silver, glitter, and a nice low heel to keep you on the dancefloor all night long!
Shop Ankle Strap Block Heels: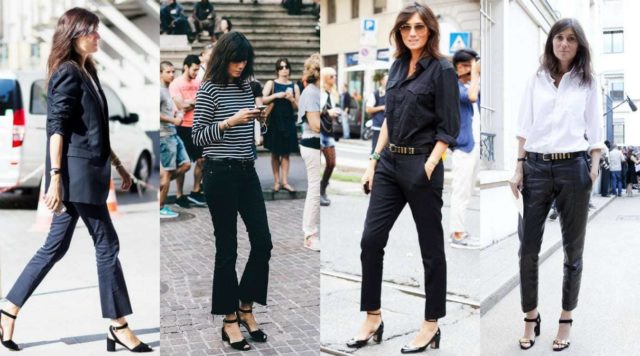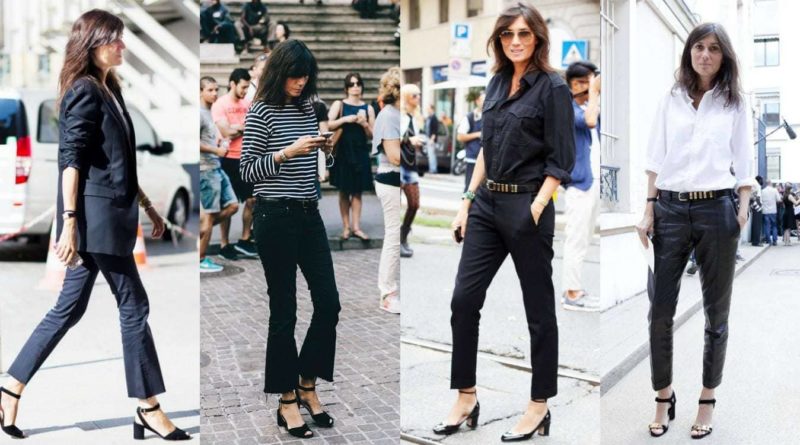 the block heel shoe trend as seen on Emmanuelle Alt
The Statement Shoe
Sure, a delicate ankle strap heeled sandal is versatile and fabulous, but so is a statement heel. Big fabric flower on the front? Multiple straps? Crystals? Bows? This is the kind of shoe that MAKES an outfit, and even better when you can stand comfortably in them all night long!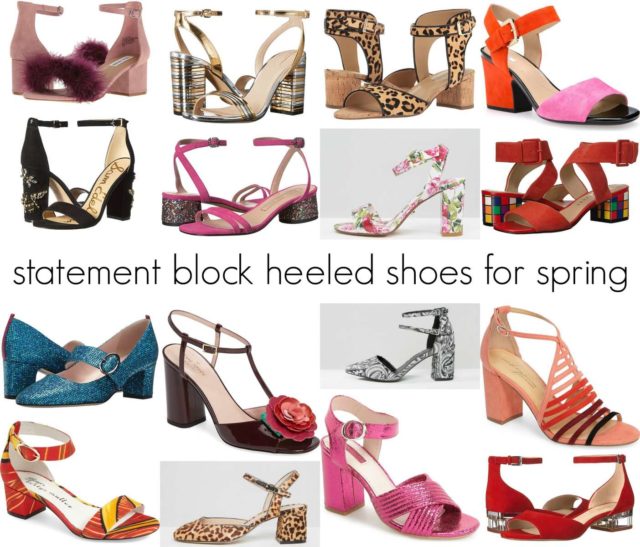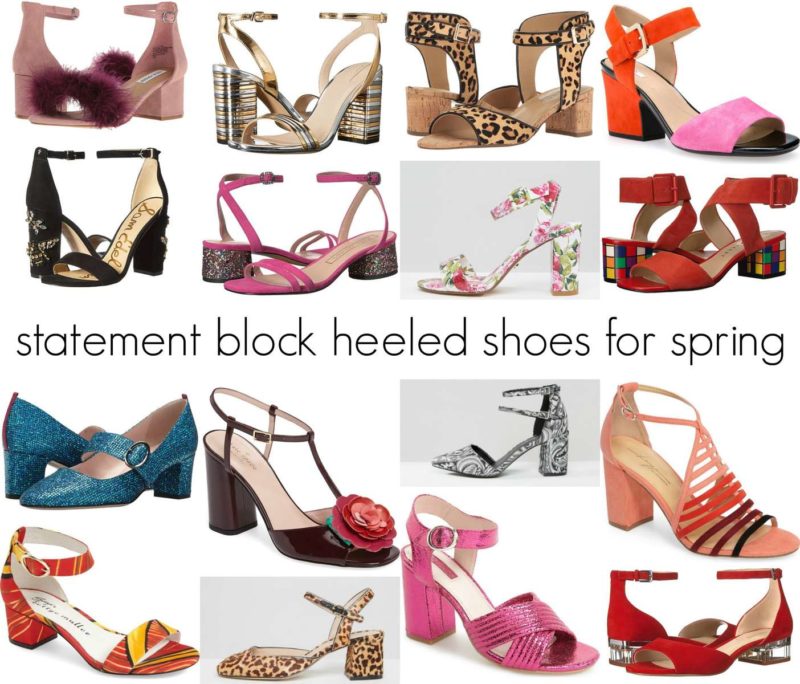 Top Row: Steve Madden 'Imelda' | ALDO 'Izabella' | VANELi 'Oasis' | Geox 'Marilyse'
Second Row: Sam Edelman 'Yaro 2' | Marc Jacobs 'Olivia' | Dune 'Marygold' | Katy Perry 'The Margot'
Third Row: SJP by Sarah Jessica Parker 'Tartt' | Kate Spade 'Charlton' | New Look 'Baroque' (wide width) | By Zendaya 'Daya'
Bottom Row: Bettye by Bettye Muller 'Buzz' | Mango 'Animal' | Topshop 'Radiant' | Nine West 'Volor'
Who says a statement shoe has to be a high heel? I must say I'm obsessed with the 'Buzz' by Bettye for Bettye Muller (bottom left).  It also comes in a green print, but orange is my favorite color.  These would look awesome even with cropped jeans and a striped tee, a denim shirtdress, with ankle pants and a sweater for the office, and styled with a fit and flare dress in a solid NOT in the shoe (blue, green, turquoise). I ordered the 'Marilyse' from Geox (top right), but my chubby footsies were just too wide for them.  Buy them and let me live vicariously through you as you pair them with jeans, have them peek out from tan and navy work trousers, style with a not-so little black dress, wear with denim, and add some turquoise statement earrings for a fun spring look.
The 'Tartt' from SJP (third row left) is uh-may-zing.  Low heel, plenty of support, wearable almost all year long, and a statement that will be chic on women of so many ages and personal styles.  I've seen Parker wear them around town with jeans and a boyfriend cardigan, and they'd look adorable with a simple black, purple, pink, navy, or green dress. The style is pretty timeless, this isn't a cheap shoe but it's the kind you can own and wear and rock the heck out of for many many years.
The Kate Spade 'Charlton' (second shoe in the third row) reminds me of a T-strap shoe from Sofft I wore the heck out of right after Emerson was born.  It's the kind of shoe you think goes with nothing until you own it and you're styling it with skinny jeans and a tunic, every sheath and shift in your closet, kick flare or drop hem jeans and a striped top, retro-inspired dresses and skirts or even adding whimsy to a much more modern and simplistic ensemble.
Not featured because they didn't stand out as well in the collage is the 'Jocelyn' from Boden.  It's a shoe that in a collage looks fine, but in person will make quite a statement with all the interesting details.
Shop Statement Shoes with Block Heels: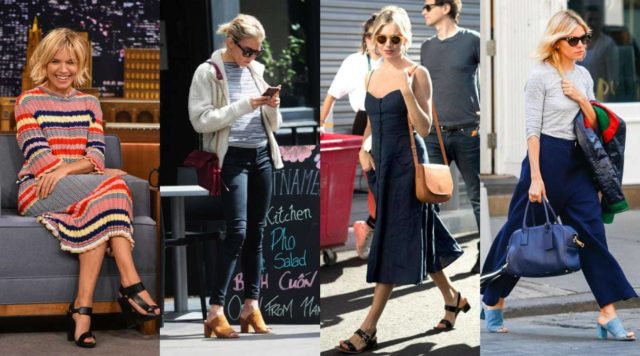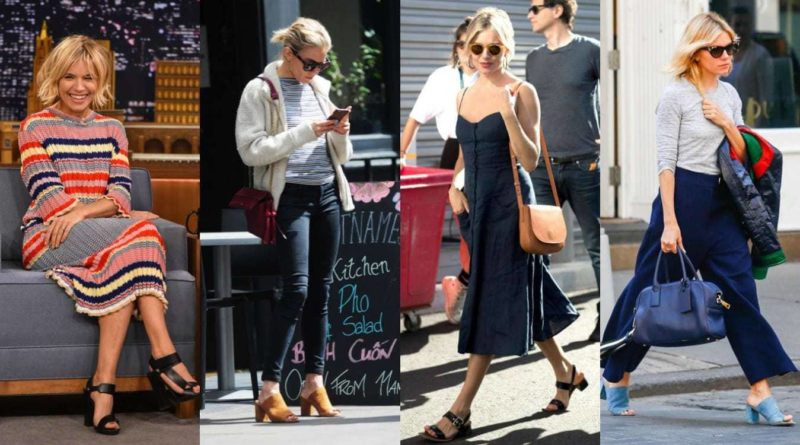 the block heel trend as seen on Sienna Miller
The Low-Heel Sandal
I know every spring and summer I desire a low heel sandal – something that I can throw on with pants, with jeans, with sundresses and go. Maybe to wear to work, maybe to wear to the mall, maybe for a daytime wedding. This is the year to find that sandal that bridges the gap between Tevas and heels, that shoe you'll find yourself wearing all season long. Again, a nude to you color may be your first choice, but you may be surprised that a statement color may be just as versatile!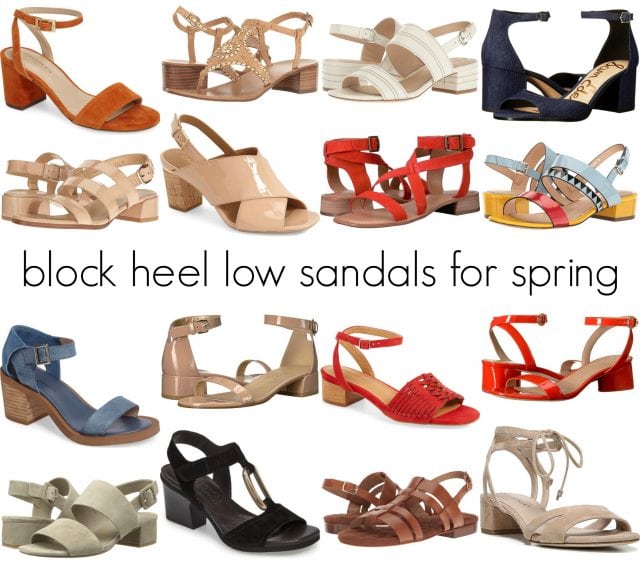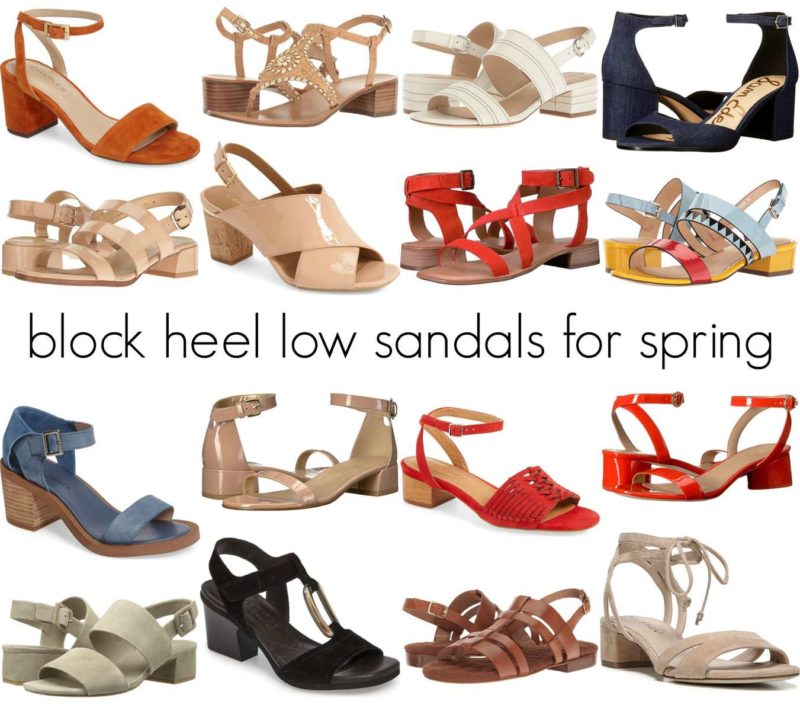 Top Row: Charles by Charles David 'Keenan' | Jack Rogers 'Elise' | Via Spiga 'Gem2' | Sam Edelman 'Susie'
Second Row: Stuart Weitzman 'Barrio' | Charles David 'Cindya' | Franco Sarto 'Alora' | Spring Step 'Tresna'
Third Row: Kelsi Dagger 'Linden' |  | Corso Como 'Bahamas' | Tory Burch 'Elizabeth'
Bottom Row: Vince 'Taye' | Hispanitas 'Ursula' | Walking Cradles 'Frisky' (comes in widths) | Via Spiga 'Taryn'
While I featured the Sam Edelman 'Susie' (top right) in denim (which would be as versatile as jeans in going with colors, prints, and other denim), this is a great shoe that comes nine options including a soft metallic, print, neutrals and statement colors in suede AND it comes in wide widths!  The Via Spiga 'Taryn' (bottom right) comes in this color, black, and a camel color and is one I've been eyeing for a while as it's low, comfy, but has the bow detail to keep it from being boring.  I think the bow detail will make it look great with fuller legged pants and kick flares as well as more traditional silhouettes.  If you don't like the ankle strap of the Charles by Charles David 'Keenan' check out the 'Stella' by Matisse which is very similar in style and color options but no actual ankle strap.
One not in the collage but caught my eye is the Pour La Victorie 'Amada.' Subtle metallic threads through raffia make this dress up or down with ease and the tie front gives them a custom fit.  Also not in the collage but worthy of a mention is the Born 'Medan' sandal. This could be the perfect summer sandal.  Four soft colors in suede, black leather, and gold metallic available with a low wood heel – dresses, shorts, pants, and jeans will all look great with these.
Shop Low Heel Sandals: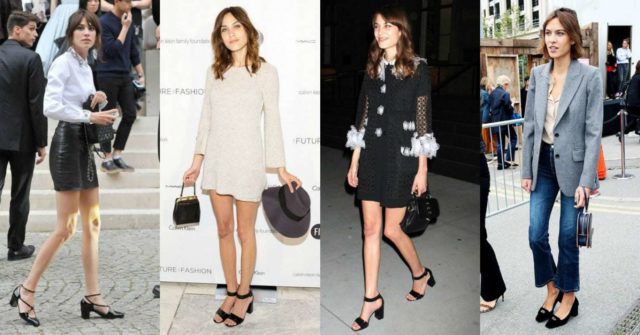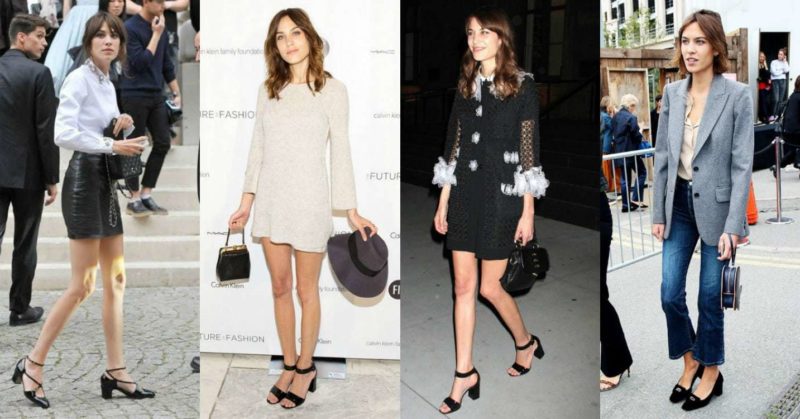 the block heel shoe trend as seen on Alexa Chung
The Block Heel Pump
Ah, the pump. A wardrobe classic. This season, anything goes when it comes to the pump. Heels of all heights, toeboxes that point, curve, and even snub. Made of leather, suede, snakeskin, tapestry, or a fabulous printed fabric, this shoe will be a wardrobe workhorse. Don't be afraid to pair it with jeans and consider a low block heel pump to replace your favorite flats with ankle pants. Again, most of these shoes featured come in a variety of colors and textiles so don't discount it just because the one I chose doesn't go with your wardrobe.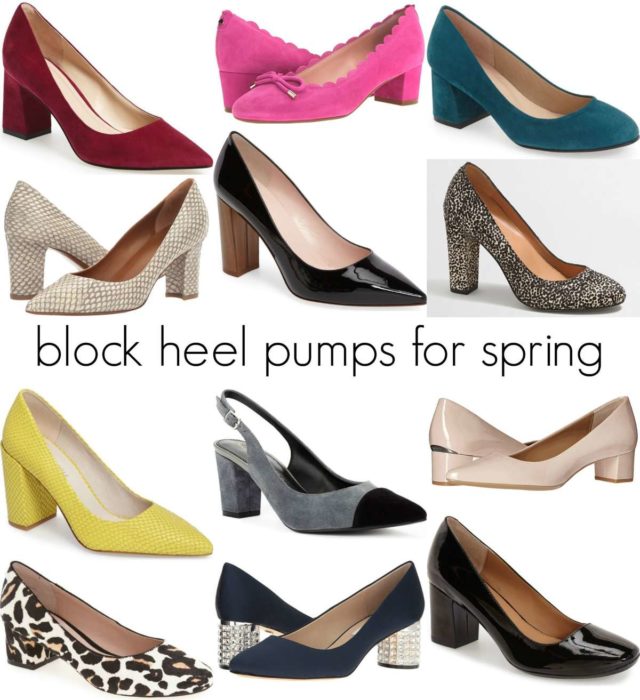 Top Row: Marc Fisher 'Zala' | Kate Spade 'Yasmin' | French Sole 'Trance'
Second Row: Kenneth Cole New York 'Margeaux' | Kate Spade 'Pixanne' | J. Crew Factory 'Olive'
Third Row: Kenneth Cole New York 'Margeaux' | Shoes of Prey x Eleanor Pendleton | Calvin Klein 'Geoveva'Bottom Row:
Topshop 'Juliette' | Nina 'Barbe' | Calvin Klein 'Cirilla'
Topshop 'Juliette'
The 'Zala' from Marc Fisher (top left) is such a perfect silhouette with the comfy block heel and a pointed toe.  Like any pump, this will go with pants, skirts, and dresses of many lengths and silhouettes.  While I featured it in berry suede, it comes in 13 different colors and prints.  Similar in some more colors, patterns, and neutrals for pale skin is the 'Margeaux' from Kenneth Cole; the 'Michaela' from Aquatalia is also similar but in patent options. For those who desire a lower heel and a roomier toebox, the 'Trance' by French Sole (top right) is a great alternative.  I didn't see it when making the collages but since I found the Nine West 'Schelia' which comes in some of the most beautiful colors.
Somehow I forgot to put the Kate Spade 'Milan Too' in the collage and it's a shame because it's so perfect for work and beyond.  I love the statement heel on the black patent option, but all are chic and sophisticated.
Not featured, but great for dress up (or glamming up a pair of cuffed jeans) is the Hispanitas 'Dorothy.' Roomy rounded toe, low heel, but with a glitter heel, blush pink body and sweet gold bow these will become your favorite shoes in your closet.  I can attest to the fact that the J. Renee 'Bambalina' is a sparkly fun, yet uber comfy dress shoe (see me wear them here, but it comes in other sparkly options).
Shop Block Heel Pumps:


<