This article may contain affiliate links; if you click on a shopping link and make a purchase I may receive a commission. As an Amazon Associate, I earn from qualifying purchases. 
When summer arrives, I don't just switch out my sweaters and long-sleeved shirts for tanks and shorts, but I also switch out my lingerie drawer. Sweat, heat, and lightweight fabrics just NEED different underpinnings. My lingerie drawer must-haves for when the temperature rises: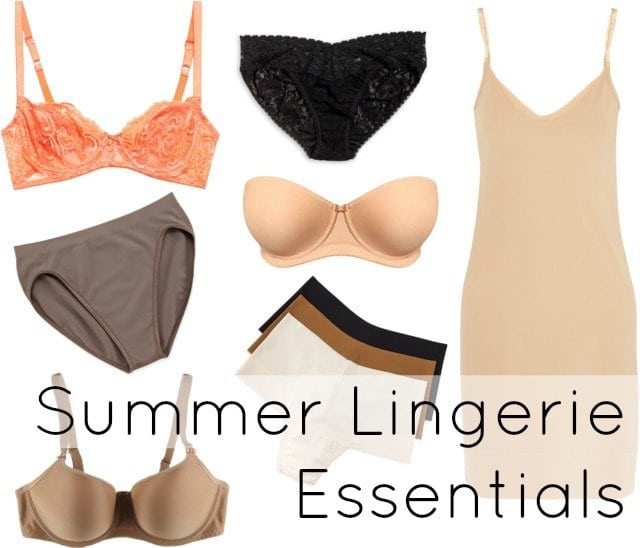 Tee Shirt Bras
Slub knits, linen and linen blends, and cotton voile are brilliant in the heat and humidity, but are prone to transparency. Tee shirt bras are a must with such fabrics as they are slightly padded, molded in shape, and free of adornments to virtually disappear while providing modesty. I always have a couple in a color close to my skintone for white and light shades, and a black one to wear under dark colors. My personal favorite is the Fantasie 4510 Smoothing Balcony T-Shirt Bra.
Nude Slip
Warmer weather is far more comfortable with lighter weight fabrics, but these fabrics (even in darker colors) can be quite transparent, especially on a bright sunny day. Having a nude slip can prevent embarrassing exposure, and if you choose wisely it won't add too much weight or heat. I love this slip from Calvin Klein, which skims the body without adding bulk under slim dresses and doesn't cling even in high humidity. Free of adornments, it won't ruin the look or line of your summer frocks. Adjustable straps and plenty of stretch make the slip comfortable and well-fitting.
A little tip: For years, my favorite summer slip was the cotton lining of a dress I thrifted but didn't like. It came with a beige cotton slip only stitched in at the shoulders, so it was easy to snip it out. It was breathable, the right length, and virtually invisible under my dresses and cost about $4.
Another tip: Check eBay for traditional slips. I find gently used, vintage, and never worn half and full slips of all colors and styles for pennies on the dollar.
Nude Thongs
I know some of you despise thongs, but I find nothing better to prevent visible panty lines (VPL) with white or lightweight pants. The Godiva Thong from Hanky Panky is a new favorite; the nude color is a perfect match for my skin and the fabric seems to mold to my body, preventing shifting, wedgies, or cutting into my waist without feeling grody on a sweltering summer day.
Black Briefs
If I'm not wearing a pair of bike shorts or slip shorts under my sundress, you can bet I'm wearing a pair of black briefs. Also my undies of choice with denim shorts. My favorite is Hanro, they really are worth the hype and the money. They hold up great and last eons longer than cheaper versions from Target meaning it's a better value in the long run, also they fit like a dream.  Another favorite is Knock Out! Panties, which have a moisture-wicking cotton gusset to keep you dry and comfy even if the rest of you is a sweaty mess.
Nude Briefs
Same deal, for white and light colored shorts and sundresses.  I forgot to mention Hanky Panky's Retro Vikini Briefs, some of the most comfortable undies I have worn, and pretty lace that doesn't dig or chafe even on the hottest summer day.
Black Bike Shorts
Bike shorts are brilliant under dresses and skirts for preventing chub rub and offering modesty. I recently reviewed Jockey's Skimmies Slipshorts which are great for this, but you can also use most any bike shorts. Check out the comments on this post for a ton of great options.
A little tip: Pettipants are a pretty alternative and easily found at online lingerie shops. I have found many on eBay; there are sellers who offer overstock and sellers who make brand new product.
Bra with Pretty Straps
I don't think it's stylish to purposely show your underpinnings, but summer clothes often cause bra straps to show no matter how careful you are. I'm not talking about wearing a straight bra with a racerback tank (PLEASE don't do this, wear a racerback bra or buy one of these gadgets), but traditional tanks and camisoles sometimes slip and you get a peek. Instead of showcasing your nude tee shirt bra, having a bra in a pretty color and with attractive straps can make it less awful. This spring and summer I picked up this bra, but love the leopard straps on this one.
Strapless Bra
Comfortable and supportive strapless bras DO exist, check out my post on a bra fitting to see proof! Since realizing this, my summer wardrobe has grown exponentially. I recommend getting one similar to a tee shirt bra – very simple, smooth, one that will disappear under your clothing. As for color, it depends on your wardrobe. I choose one in nude (the Fantasie 4530) since I wear more light colors in the summer, but if your wardrobe is mostly dark colors a black one would be wiser.
What are your warm-weather lingerie must-haves?