This article may contain affiliate links; if you click on a shopping link and make a purchase I may receive a commission. As an Amazon Associate, I earn from qualifying purchases. 
Since I'm in my 60's now, I am uncomfortable in dresses without hosiery. Is it ok to wear them now? Or is bare legged still the trend?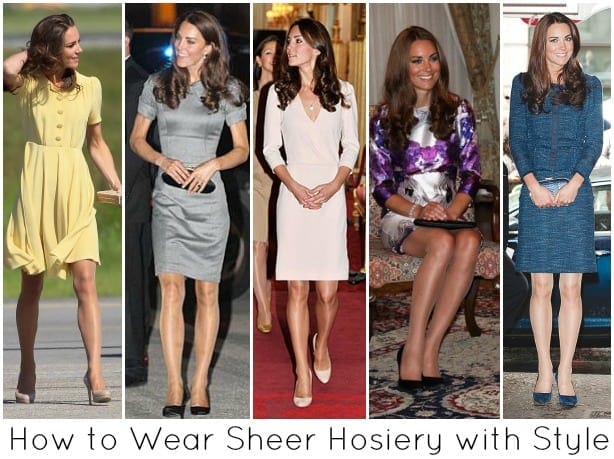 Three cheers for Catherine, Duchess of Cambridge who brought nude hose back en vogue. While the bare legged trend isn't going anywhere, because of Kate there's far more stylish sheer hosiery options available in stores and no one will wrinkle their nose at your choice to don hose (sorry, I just had to!). Below are my tips for wearing hosiery, and my favorite brands of pantyhose and tights:
Nude Pantyhose
If you're wanting to wear sheer natural-looking stockings, you won't find them at your neighborhood CVS. Quality is key for finding sheer, well-fitting, and natural looking pantyhose. The hose should be as close to your natural skintone (no matter how pale you are); tan legs with fair arms and face is NOT stylish. Donna Karan's 'The Nudes' comes in seven different colors so you're more likely to find a natural looking shade for your skintone; the quality is excellent, they're sheer and not too shiny making them like BB cream for your gams. 'The Nudes' come in toeless, high waist, control top, sheer to waist and even plus size so you can find a style that is most comfortable for you. I've also had luck with Nordstrom's in-house brand. It's a little bit cheaper and I think is a bit more visible when wearing, but still elegant. Nordstrom's Sheer Control Top Pantyhose come in nine different "nude" colors, and are available in plus size. If you're a fan of thigh high stockings (also known as stay ups), you can't beat Wolford; while they're pricey, they're well-made, natural looking, and one of the few brands I've found that stays up without putting dents in your thighs. I prefer their Individual 10 which come in six shades, aren't shiny, are sheer, and cover imperfections nicely.
Sheer Black Pantyhose
Black sheers came back in style a few seasons ago and have again become a classic. While black stockings were popular for daywear before, this time it's best to keep them for evening events. As with nude pantyhose, choose a pair that is not too shiny, high quality, and as sheer as you can go while covering that which you wish to cover. Since black sheers are for evening, it's more acceptable for them to have a bit of sheen or have a higher denier (are thicker/more opaque). I'm a fan of SPANX's black sheer stockings, which are pretty durable while still looking elegant. Their In-Power Shaping Sheers blends a control garment with pantyhose reducing the layers under your cocktail dress; their All The Way line is an elegant alternative to support hose, offering not just tummy control but ankle and leg compression to improve circulation.
Opaque Tights
Opaque tights are still a style mainstay this fall and winter. While I'm partial to very opaque non-shiny black tights with black shoes to create a long line and not compete with my dress, these days most any level of opacity and any color is acceptable and available in popular retailers. Shiny tights can look cheap and more like dancewear, a matte finish will look more expensive and be more versatile. For a traditional level of opacity, I'm a big fan of Nordstrom's Everyday Opaque Tights. These are durable enough to last more than one season, and have enough transparency that they can work for less formal evening affairs.  Not only that, they come in regular and plus sizes!
For truly opaque tights, I again recommend SPANX. I adore their reversible Tight End Tights, which have extra thickness not just for opacity but warmth and no shiny finish. I've accidentally had these go through the dryer and come out still wearable which shows how durable and well-fitting these tights are! While their reversible tights have a higher waist that some may not like, their 'Blackout' version has a lower waist and the same thickness and opacity and the original Tight End Tights have a classic waist height and are still a bit more opaque than Nordstrom.
If you'd like a blend between sheer hose and opaque tights, DKNY's Semi-Sheer Tights are a great choice. Durable like their traditional tights and with a subtle shaping top that doesn't dig into your waist, these come in neutral colors that would look great peeking out from a feminine floral midi skirt or a pair of tall leather boots.
Patterned and Fishnet Stockings
This may not be advice you desire, but if you're looking for advice on how to wear patterned, fishnet, or novelty hosiery you probably shouldn't wear them. These are very tricky to wear; one misstep in regard to hem length or shoe choice and the whole look can go from classy to trashy. If you wish to dip your foot into creative hosiery, I recommend starting with something subtle like a nude fishnet, and pair with a longer skirt or tall boots. See how you feel, see what honest friends think, and then go from there.
Alternatives to Pantyhose
These days, there's a plethora of products that will do for your legs what foundation and concealer do you're your face. I like Sally Hansen's Airbrush Legs (I've had better luck with the lotion than the spray), which blends seamlessly, looks natural, and is water and sweat resistant. You can read my review of Sally Hansen Airbrushed Legs here. Self-tanners have improved greatly over the past couple of years but I still am klutzy enough to end up with streaks; I'm a fan of Jergens Natural Glow Daily Moisturizer, which offers a subtle tint to legs after several days of use. The gradual color means less chance for orange fingers or streaky ankles.