This article may contain affiliate links; if you click on a shopping link and make a purchase I may receive a commission. As an Amazon Associate, I earn from qualifying purchases. 
Folks, I have such exciting news I'm crafting this post at midnight (okay morning me is finishing it) to share I have this cool deal for y'all during the Universal Standard Customer Celebration Event. Universal Standard invited me to send a list of my favorite pieces from the brand and is offering you, the Wardrobe Oxygen Community, 30% off them now through Monday, June 26, 2023.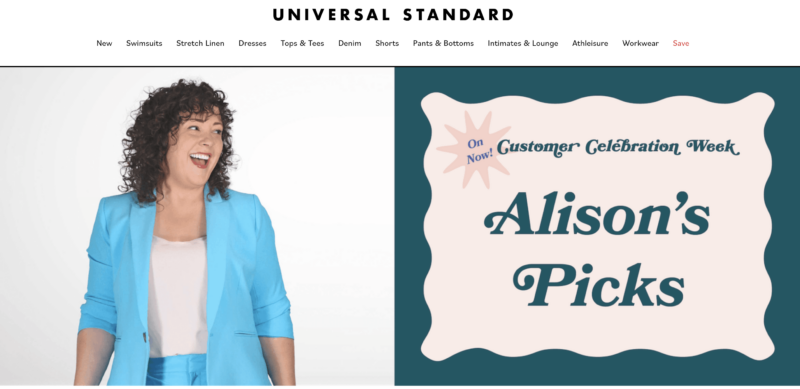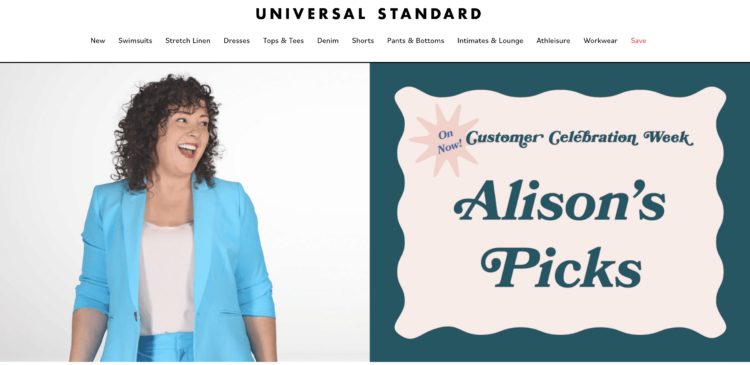 How cool is this? Universal Standard created a landing page on their site for my curated list of favorite pieces! I was so excited to see this in my inbox last night I had to write about it here on the blog. Apologies if I am a bit discombobulated, this was written in haste and with a lot of adrenaline. Y'all know I am a big fan of this size-inclusive apparel brand!
My Curated Collection at Universal Standard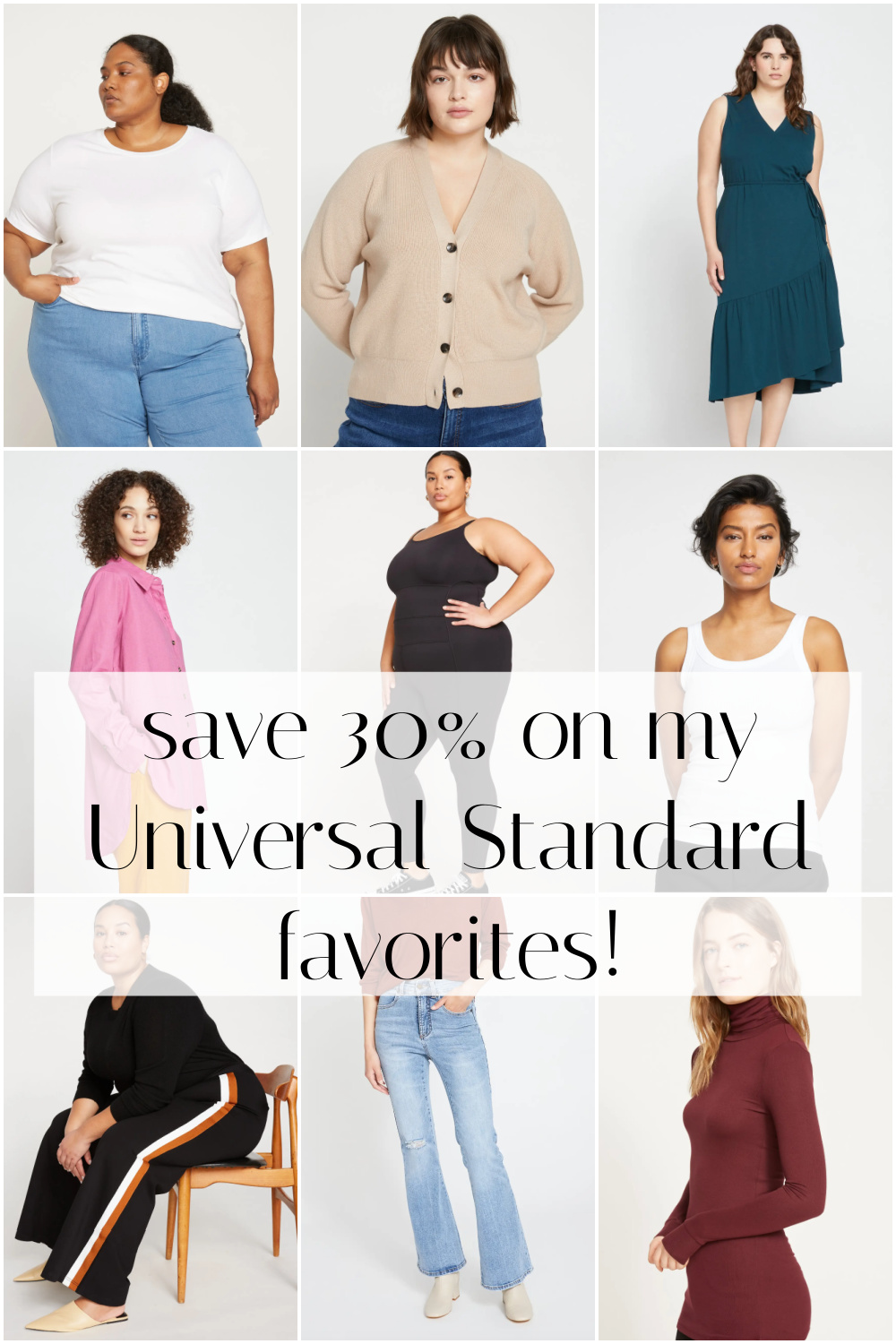 Here is the link to my curated collection. I sent a list of 15 items and they approved nine of them. If you buy any of these items and use promo code INFS-ALISON30 you will get 30% off of them! The items in my curated collection are:
IMO, the best white t-shirt out there, but it also comes in other fantastic colors and some great stripes. I have six of these shirts in my closet, and my white Tee Rex is years old and still looks fantastic. Opaque, great drape, refined cotton that can be worn with sweats or under a blazer. For a tailored fit I wear XS, for a casual relaxed fit I go with an S.
I have raved about this bodysuit many times before (read my next to naked bodysuit review here). I just wore my black NTN this week with the same duster I wore over my swimsuit in this post. I love it for loungewear, feeling confident enough to go sans bra. I wear it for yoga and other classes with a visible sports bra, and as streetwear with this bra which essentially hides under it, layered under a denim jacket, duster, or oversized button-front shirt. I wear an XS in US for stretchy items and all my NTNs are XS and fit great.
Speaking of an oversized shirt, I have this in the Bright Melon (which is like a highlighter yellow) and black and am thinking of getting another in the 70s summer stripe. This is the Jane of All Trades shirt in my closet. I wear it tied with the sleeves rolled with shorts, pants, and over dresses. I wear it open over a tank with the matching shorts, pants, or joggers. I use it like a jacket over sundresses. And I wear it as a swim coverup. It doesn't wrinkle as bad as a lot of linen and is genius for travel.
I own two of these tanks in white, one XS and one in S. The XS fits more like a bodysuit, the S is looser in the torso but both cover bra straps, bra under the arms, and don't show too much cleavage while having a really nice scoop neck. Instead of the classic mini rib, this is a wider rib that IMO looks expensive. They wash great and are opaque.
I hate cardigans. I am short with big boobs and broad shoulders and cardigans always make me look like a schoolmarm linebacker. But for some reason, this one does not. I have it in S, I wear it as a cardigan and often button it up and wear as a sweater. Super soft dense knit but it holds up to multiple washings without pilling or getting fuzzy and sad looking. I know sweaters in summer, but buy now at 30% off, thank me come fall (and those breezy summer nights; this looks cute tied around shoulders and shoves nicely into a tote).
I'm 5'3″ and figured flared jeans weren't in the cards for me. They are always too long, or not cut to work with my curves. But these are amazing. I love them so much, they are by far the most worn jeans in my closet. Stretchy but luxe looking, deep pockets, high but not too high of a rise, and no plumber's crack when I squat. I have the Distressed Vintage Blue in 12 and the Vintage True Blue in 14. For reference, I am usually a 14/32 at Talbots, Madewell, and Old Navy.
I own three pairs of these ponte wide-leg pants with the stripes down the sides. The stripe Stephanies fit differently than the solids and are my preferred version. The black with black tux stripe is elevated enough for the office, the contrast stripes look cool with a Breton top, a chambray shirt, a tank and Birks, and I even wear with the Dawn tunic tied at the waist. I wear an XS in these and have my local drycleaner shorten them to be the right length for sneakers and flats.
I adore this dress and have written a whole post about my love for it. It doesn't need a safety pin to stay closed over my bust, it has pockets, and is a style and length I can dress up for a day wedding or be casual with flip flops. I took this on all my summer trips last year and loved it for wearing after a day at the beach lounging on the porch or to wear for a nice dinner in town. It washes well too; I have it in XS.
When you're curvy, turtlenecks can be tough. The neck is too long or too narrow, if you size up for your bust and shoulders it's baggy elsewhere, they're too sheer, too bulky, too stiff, too whatever. This one is perfection, I have three. It's stretchy, soft, thin but not sheer, comfortable as a base layer or chic on its own. I hate turtlenecks, but I love the Foundation turtleneck. I have them in XS.
If you are on the Universal Standard email list, you've likely received a bunch of promotions this week for Customer Appreciation Week. This is an exclusive promotion just for the Wardrobe Oxygen Community just on these specific items. I chose them because I think they're wardrobe workhorses, pieces you can wear year after year, that are stylish but not too trendy, versatile without being boring. And I own and wear the heck out of all of them so I can attest to the quality and wearability.
Universal Standard Promo Code for 30% off
Again, to get 30% off these nine items, use promo code INFS-ALISON30 at checkout. This promotion is only through Monday, so shop soon. I apologize in advance for sizes being out of stock, this Customer Appreciation Event has been extremely popular and sizes are moving fast for a lot of items. But I hope this promotion helps you pad your closet with items I think are worth it at a price that is very nice.
Do you own any of these nine items? Share your opinions on them along with a general idea of your size or shape to assist others in the Wardrobe Oxygen Community with being savvy shoppers!