This article may contain affiliate links; if you click on a shopping link and make a purchase I may receive a commission. As an Amazon Associate, I earn from qualifying purchases. 
Now that my sister lives a half a mile away from me, we walk together many weekday mornings.  We meet at a halfway point in the neighborhood around 6am and this morning was so cold we thought our ears were going to fall off!  Autumn has officially arrived, and with it come the closed-toe shoes!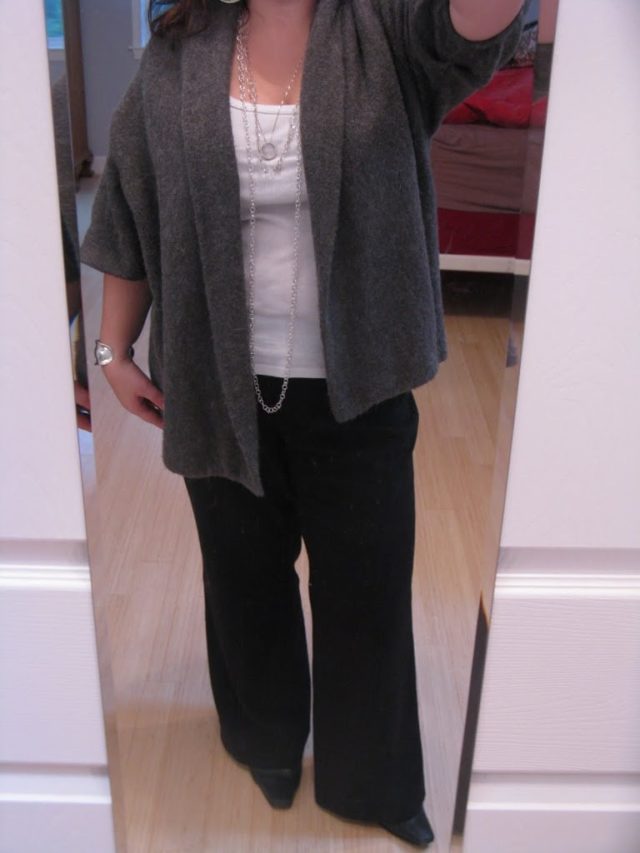 White ribbed tank from Gap, my black New York & Company trousers, gray fuzzy cardigan from Kenzie (which I bought last winter to fit over my pregnant belly and still love as a slouchy cozy coverup), black city boots from David Tate, silver necklaces from Ann Taylor and Ralph Lauren, silver cuff and silver earrings from Treehouse.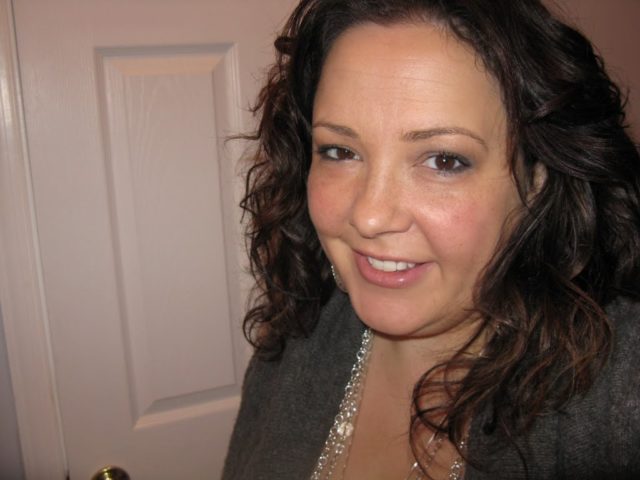 Hair was washed and conditioned last night and let air dry.  This morning when we went walking I put into a loose ponytail without brushing or combing.  When I got home I let it out and let it dry and then hit a few of the raggedy pieces with a curling iron.  I really want to let my hair grow long and let it get back to being curly – a very casual/beachy sort of look.  Then if I want some polish I can use a curling iron to make it into softer waves or straighten it with a round brush.  I hope to have a couple more inches in time for next summer.  With my next cut I plan to have the bangs angled a bit more so that they blend better into the hair when curly – right now they are sort of blunt (and too long) so that they have to be straightened or else they part in the middle and act weird.
My makeup is the classic look for me, but I did a smokey eye with Slate and Soft black shadows from The Body Shop and Avon Glimmersticks in Midnight along the lower lash line.
I will probably be buying a new mascara this weekend when I hit up Target – any suggestions on something that gives even more bang and intensity than Cover Girl's LashBlast?