This article may contain affiliate links; if you click on a shopping link and make a purchase I may receive a commission. As an Amazon Associate, I earn from qualifying purchases. 
There's a part of me who wants to be preppy. To be that fresh faced, girly, outdoorsy, classic. To be that gal with the breezy highlighted hair, crisp chino shorts, who knows her way around a boat and a horse. As I was growing up, I tried to embrace this trend a few times (college friends can recall my blonde bob/sweater tied around my neck phase), but I realized it just wasn't my true personal style. But that doesn't mean I don't still love it, and get very inspired by those who wear this look so naturally. Women like Beth, whose blog shows her effortless classic, preppy, and nautical personal style. Beth continues to inspire me with her clear vision, passion for fashion, and understanding of both fit and personal style and that is why I asked her to be part of my True Fashionista series.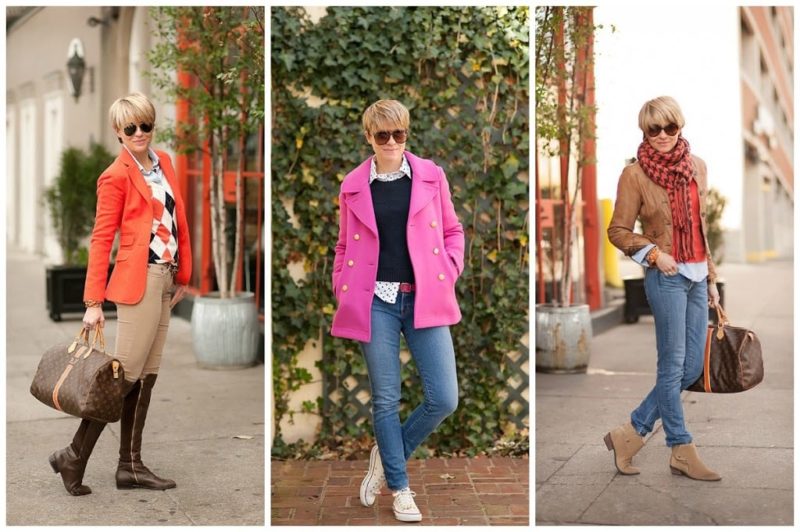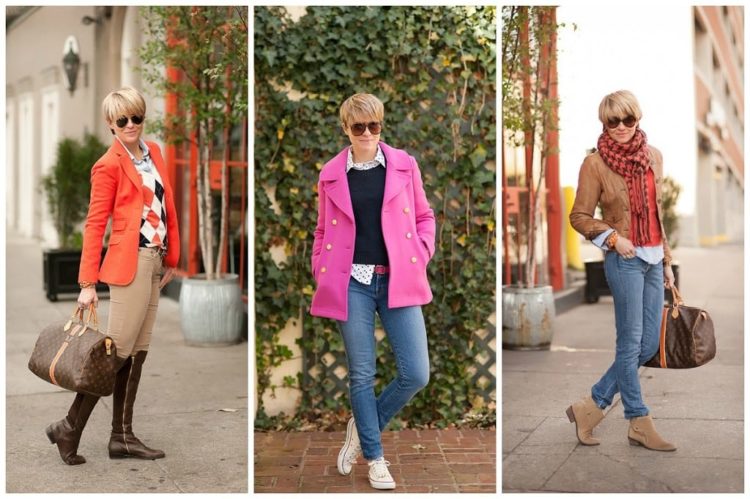 Every outfit Beth features on her blog is consistent to her classic style, yet exudes fun and nods to current trends. Be it pairing leather leggings with a plaid flannel, a neon satchel with a cargo jacket and distressed denim, or a trendy shoe with otherwise classic pieces, Beth adds edge to a colorful, clean, and sporty wardrobe.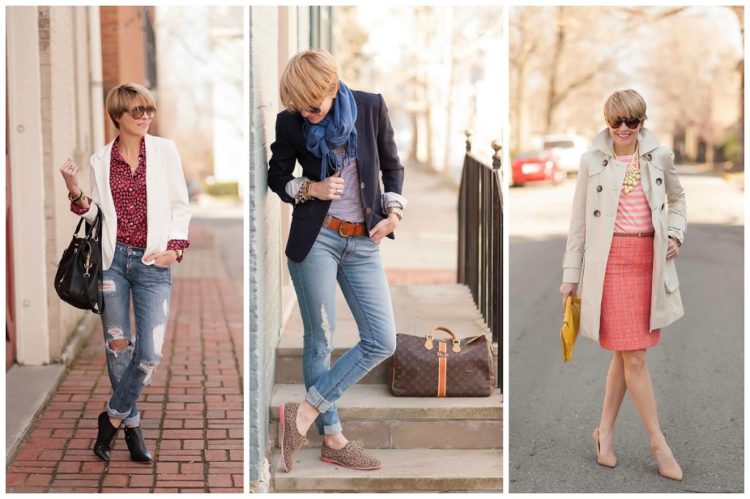 Beth's blog is a great resource for the woman who doesn't have the lifestyle for flatforms and fishnets; Beth regularly gives me inspiration for my weekend and Casual Friday ensembles. She mixes sequins with denim, plaid with polka-dots, canvas with silk in a way that makes sense and looks fabulous. Beth is proof that that flats are quite chic and dress up nicely, and how a closet of well-chosen separates can give you far more options and style than a closet overflowing with current trends.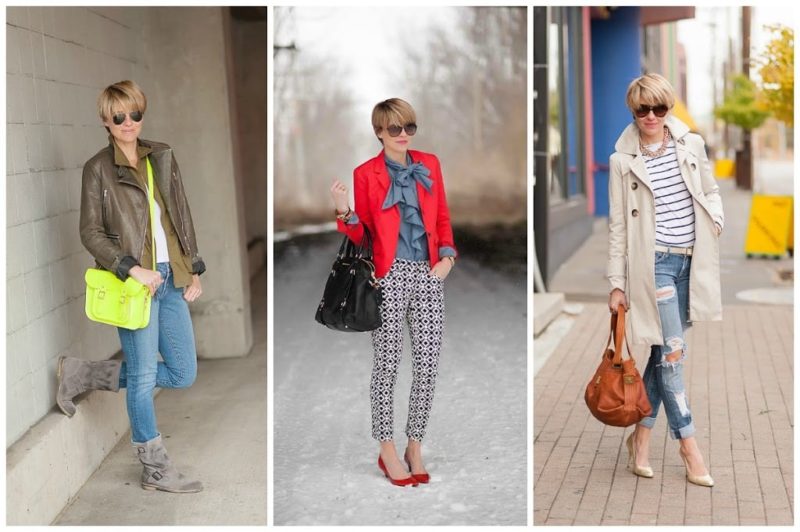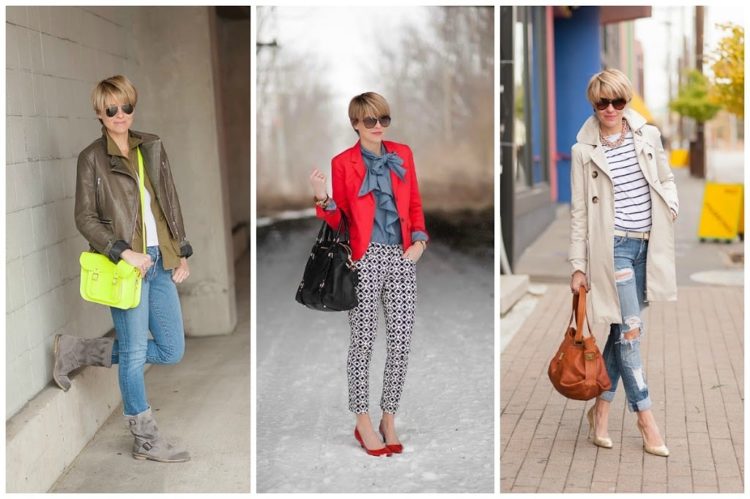 Like me, Beth finds leopard to be a neutral and I am always excited to see how she incorporates it into an ensemble, be it a skinny belt or a pair of brogues. She mixes colors like a pro, never looking like Rainbow Brite. As a working mother of two, she is proof that you can be stylish and still lead a very full life. One of the most interesting things I learned about Beth through this series, is as you'll see in her answers, she too envisions herself at times with a different personal style!  As with every other True Fashionista, I asked Beth to answer the same five questions; here are her answers:
How would you describe your personal style?
I would say my style is a mixture of classic & girly with a bit of quirk.
Where did you get your passion for fashion?
I think I was born with this innate passion for fashion. There are pictures of me when I was 3 dressed up in my mother's clothing, all accessorized from top to bottom, handbags, baubles, heels—you name it! It has truly always been my creative outlet.

Where do you find sartorial inspiration?
I think I'm just like all of us gals when I say I gather my inspiration from the mags, Pinterest, other bloggers, street style—I'm always looking for it everywhere I am!

What is the difference between fashion and style?
Sometimes I believe fashion to be unattainable for us everyday folk. Say for instance, if you don't have an endless budget where you can drop a ton of cash at a time and have to be conscious of your spending. Or, if you're like me, and don't live in a bustling city with high end boutiques and designers on every other corner…that's where Style comes into play. It's about taking a play on the high end fashion and making it your own. Investing in the key pieces like handbags but playing with the of-the-moment pieces that you can find at your Targets, Gaps, J.Crews, etc. Style is defined by YOU!
Any advice for a woman who is starting to find her personal style?
I still struggle with not jumping on every trend bandwagon. I would totally love to do the urban, boho chic thing, but I would look & feel unnatural. Not to mention I'm no longer in my 20s, have two children, and live in the South–basically that aesthetic doesn't gel with my lifestyle. So there it is, I think the process of finding your personal style is one that is ever evolving, but ultimately comes down to finding what YOU look & feel best in. I also think you need to be willing to push yourself out of your comfort zone. Whether it's with color, a print, or a new cut of pant–just TRY it. It will help you get a better sense of what works for you.
The purpose of the Friday True Fashionista series is to show women who use clothing to express their personal style. Each woman has a different, unique look and opinion on clothing and fashion. These women inspire me in my clothing choices, and possibly their bold sartorial statements will inspire you. Stay tuned, there will be a featured True Fashionista every Friday. And if you know of a True Fashionista in your life, tell us about her in the comments… you never know she may end up being featured!