This article may contain affiliate links; if you click on a shopping link and make a purchase I may receive a commission. As an Amazon Associate, I earn from qualifying purchases. 
Hi Allie, I'm wondering if you have good resources for bigger undergarments? Thank you.
Thank you for asking this. I don't think many lingerie companies realize that when you are plus sized you can't just rock the same thong or bikini in a larger size. Flattering and comfortable undergarments for women with curves are hard to find… but they do exist. Here's some retailers that are known for understanding a woman with curves. 
What do you wear under your thin or knit (and possibly casual) dresses during warmer weather? I don't feel comfy in just a pair of undies, but any kind of control garment seems like overkill and too hot!
Bike shorts. Yep folks, I wear a lot of bike shorts come summer. They are silky so knits don't cling, I don't have to worry about panty lines, they prevent chafing, and the waistband comes up high enough that I don't have to worry about muffin top or roll-down when I sit. The ones I have are from Kmart circa 2007 – they aren't very tight, have a cotton crotch, and are free of any details so if the wind decides to have me do a Marilyn, I don't look as though I am wearing gym clothes under my frock.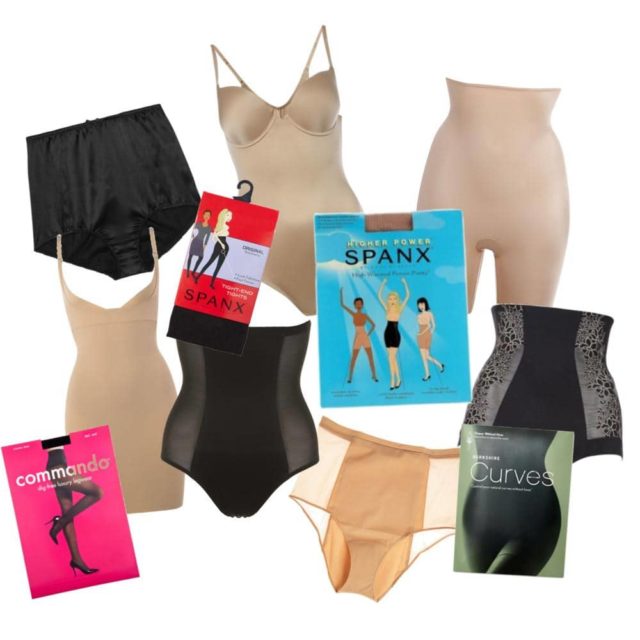 I've noticed that you always look very smooth and "defined" in your photos even when wearing fitted garments. You've mentioned in previous posts that you have some tummy since having your daughter, but you never look like you have the typical pooch! Do you wear shapewear? I saw that an old post circa 2006 mentioned a Spanx product and a closet/drawer inventory also listed a few pieces, but I'm really interested in what pieces you've been wearing (if any!) lately that have given you such a smooth and defined look.
I used to wear shapewear almost daily. These days, I am often just wearing "granny panties" under my dresses – high enough waist to not worry about rolling or muffin top, a hem that doesn't cause VPL, a smooth fabric that doesn't cling to knits. However, I do have some control garments I adore and wear often:
I have a question about shape wear. What should I look for when I buy shape wear? I have bought shape wear before but I find that it never seems to stay put. It will ride up or down, smash the twins, or just be visible. What do you recommend?
Different shapewear works for different women – the control garment that your best friend adores may be completely the wrong type for your figure and lifestyle. Different styles of shapewear target different parts of a woman's body. You'll see at online boutiques that they often organize shapewear by body part you wish to target (hips, thighs, rear, belly, etc.).
When it comes to shapewear, I love to read online reviews. Sites like Nordstrom and Amazon are known for having tons of customer reviews and such honest feedback from real people can assist in helping you find the style that is best for your body.
For me, I find high waist shapewear to stay in place better than those that end at the natural waist – they don't roll when I sit, and I can usually stretch them to tuck under my bra strap (for special occasions like weddings I have been known to pin my shapewear to my bra to prevent it from sliding). I never purchase control camisoles or shapewear with a built-in bra because I don't think they do a good enouh job of supporting and flattering my breasts. Brands like Spanx sell slips and control panties that either have straps to connect to your bra, or are cut to expose the front of your bra, still providing slimming control along your back and torso.
If there's a seam, it will be seen. Heavier duty shapewear has to have visible seams so they are better worn under heavier fabrics. Again, I will mention Spanx who makes relatively seamless control garments that are still good at compressing and slimming – I usually find they only have one seam down the center, which is pretty easy to hide with pleats, belts, and blousing of a top. As for VPL, I usually go with a bike short style to prevent it – I find control thongs to be uncomfortable, and usually if a control garment has a no-VPL backside, it doesn't control well, or it rides up.
Finally, one should never purchase white shapewear. While black is important to wear under dark fabrics (hello flash photography), finding shapewear as close to your skintone as possible will prevent it from showing through your clothing.
Allie, what do you think of maternity shapewear? It boggles my mind, but I was wondering if you tried it?
I wore Spanx and Assets maternity tights and loved them. When you get into the last trimester, it actually feels good to have something help support all that weight. Maternity shapewear isn't trying to shrink the belly, it is more for support and control. I liked having something prevent the jiggling and sloshing. That being said, I was in my third trimester in the winter – I couldn't even imagine wearing such things if pregnant in the summer.
Follow Me | Twitter | Facebook