This article may contain affiliate links; if you click on a shopping link and make a purchase I may receive a commission. As an Amazon Associate, I earn from qualifying purchases.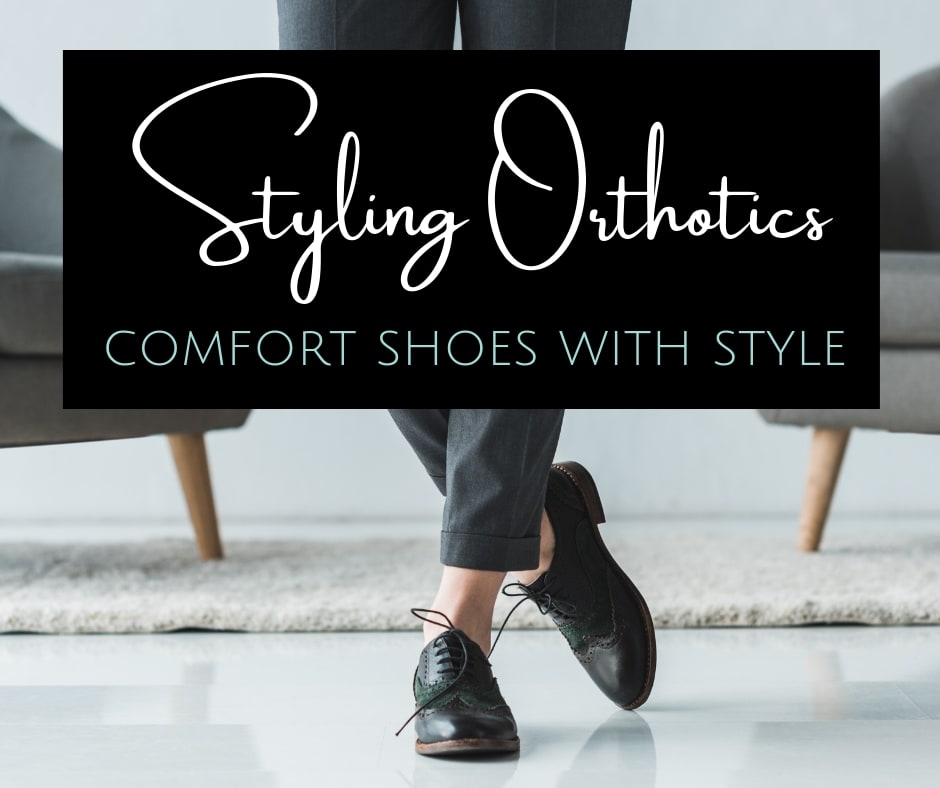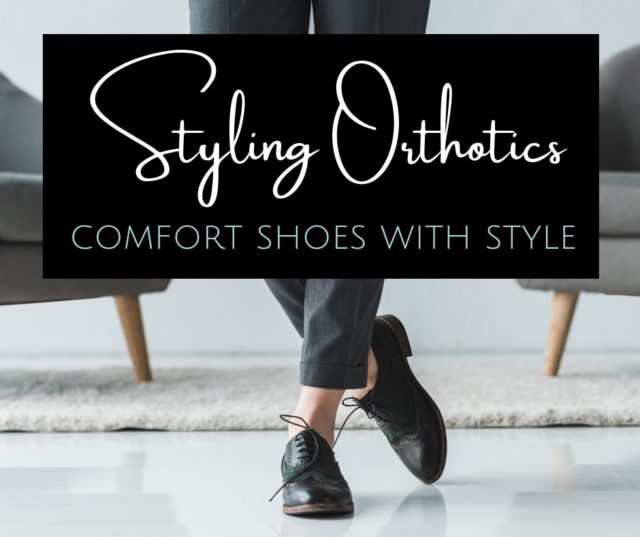 How to Style Shoes with Orthotics (AKA styling brogues, loafers, and comfort shoes in a cool manner)
A reader recently emailed me asking how to maintain her personal style while also maintaining her health. She needs to wear orthotics and her podiatrist recommended flat lace-up shoes.  She desired tips on how to style shoes with orthotics without having to resort to a menswear-inspired wardrobe. Style these days isn't so black and white and the past few seasons have shown a blending of masculine with feminine, fancy with casual, flamboyant with minimalistic. We're in a time when it's easier than ever to take care of your health without sacrificing your style.  Below I share some examples on how to style shoes with orthotics without sacrificing your style.
To answer this amazing email, I didn't just write out my thoughts, I made a video.  Seriously, this woman's email is AMAZING and deserved to be read/heard completely. I also think as we get older, it's an issue more and more of us deal with.  This is my first video of this type and you can tell I didn't get too fancy.  In fact, I was so inspired I filmed it right from my desk in my home office after reading it, propping my phone up with a crazy mix of contraptions, sharing my tips off the cuff.  If you like it, let me know and I'll continue doing videos like this from time to time (and next time I'll angle the camera better!).

(if you can't see the video in your browser, click here to see the same video on YouTube)
Specific Examples of Styling Brogues, Loafers, and Lace-Up Shoes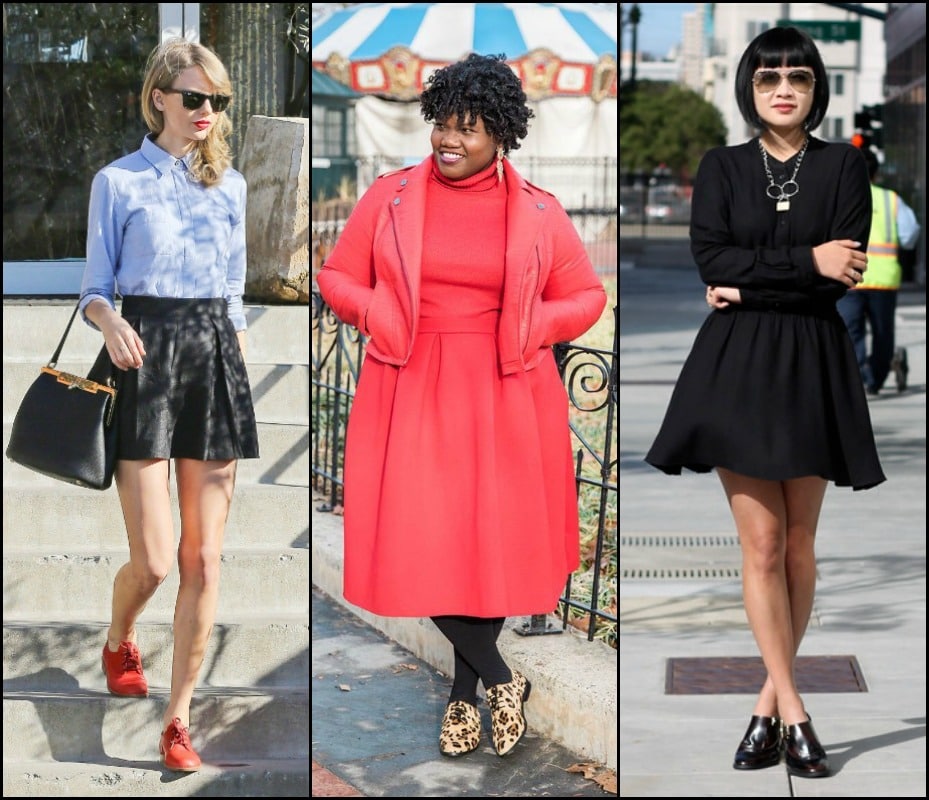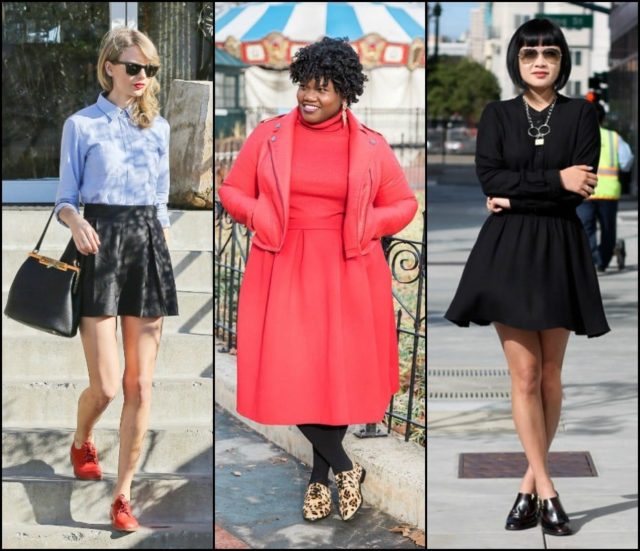 Lace-up shoes can give a retro edge to modern clothing.  Amp up that vibe with full skirts that nip in at the waist.  In the first look, Taylor Swift balances a more masculine shirt and shoes with a girly bag, skirt, and classic red lip.  In the second look, Georgette makes a retro silhouette modern with a monochromatic ensemble.  In the third look, by balancing the short flippy skirt with touch jewelry, menswear-inspired shoes, and an all-black outfit the result is super chic and sophisticated.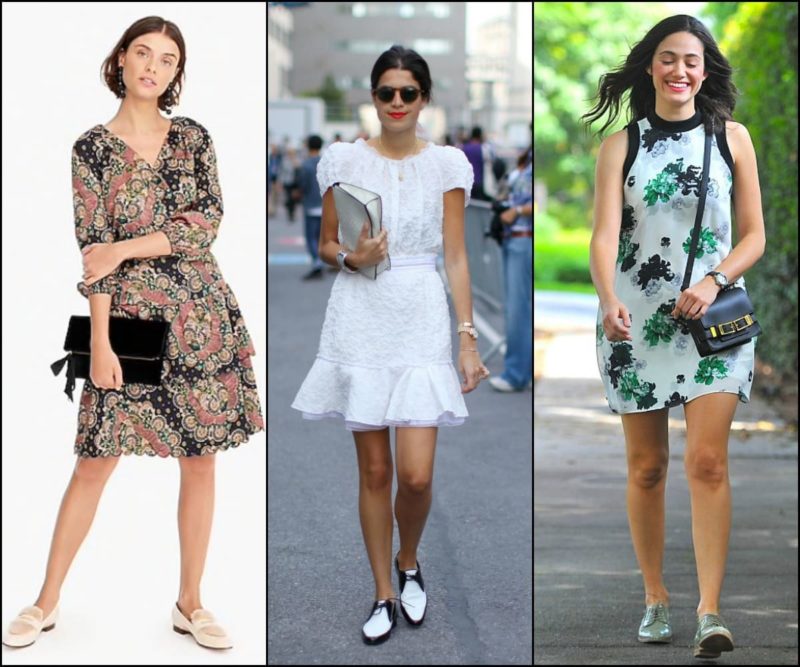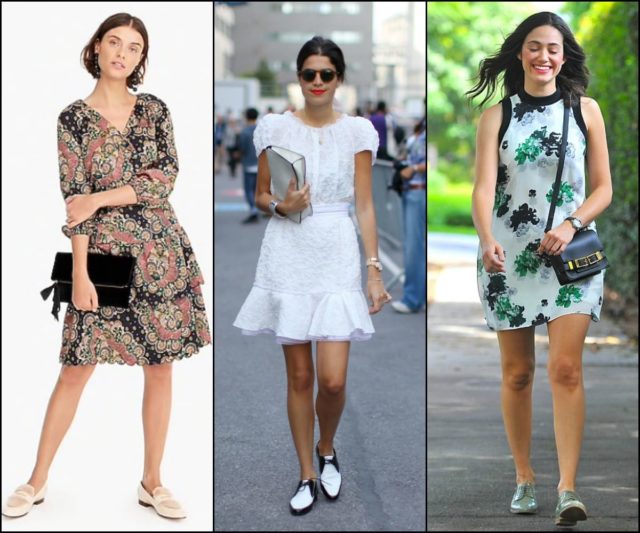 This season is all about juxtaposition and you will be likely to see plenty of girly frocks paired with loafers and brogues this spring.  The sturdy shoe grounds a frothy flippy dress, and the juxtaposition of feminine with masculine is what makes the look so fresh and modern.  Take a color from the dress to choose your shoe to make the look cohesive or choose a low-contrast neutral like tan, beige, cream, or camel to elongate the leg.  The first look from J. Crew balances a "borrowed from the boys" classic loafer with a clutch purse and floral dress.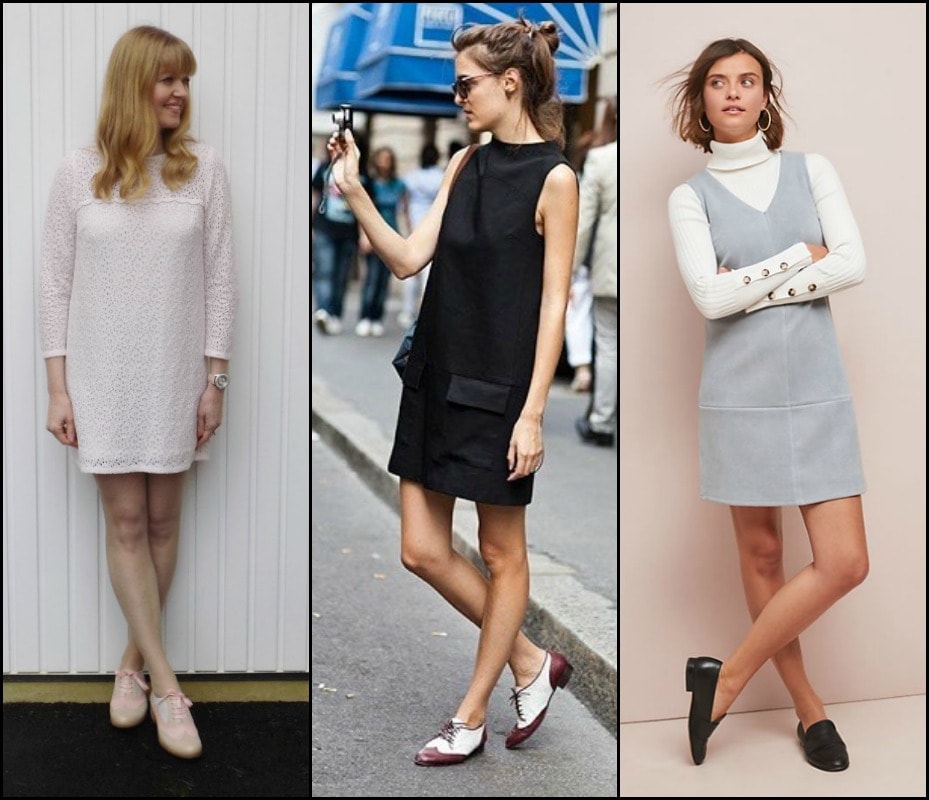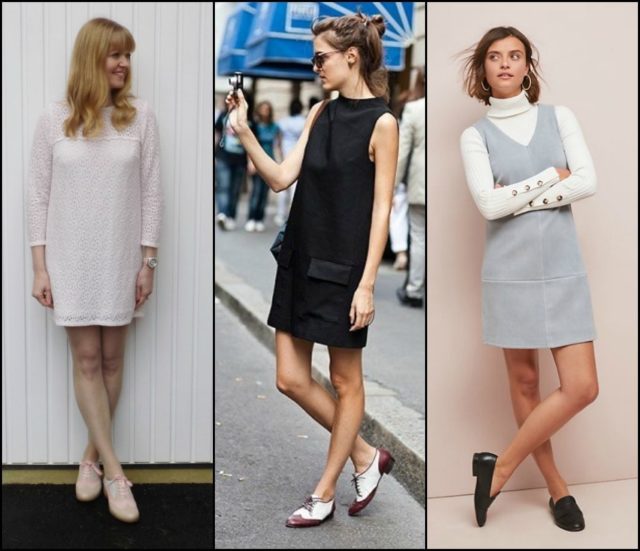 Brogues, loafers, and lace-up shoes look great with a short shift dress.  In the first example, Lizzy pairs a pale pink dress with pale pink brogues.  The low-contrast color elongates her legs and makes the lace-up shoe look more dressy.  The second look is a great example of how to highlight a statement shoe.  With a simple black shift and minimal accessories, the shoes purposefully take the spotlight.  The third look as seen at Anthropologie is a great way to style flat shoes for fall, winter, and spring.  With lower temps, add thick tights in the same color as the shoe to elongate the leg and let the dress shine.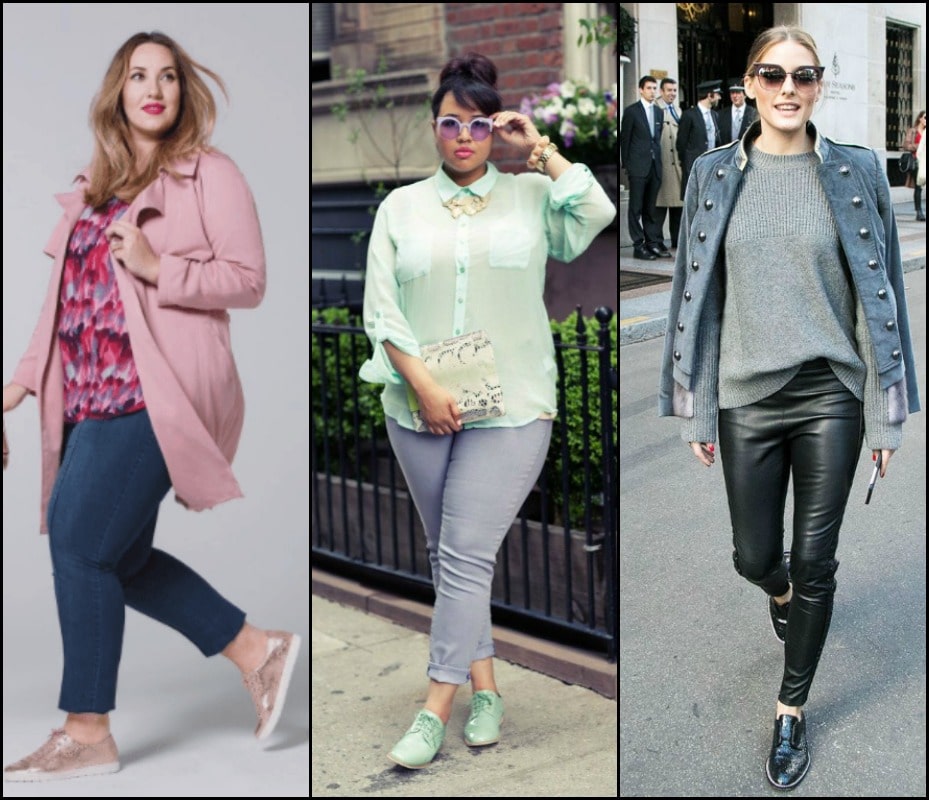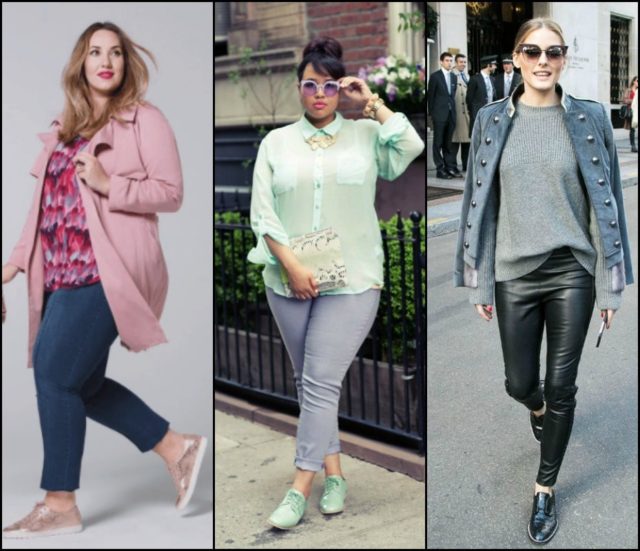 Brogues, loafers, and other shoes that accommodate orthotics look great with jeans and casual pants.  While these three looks are very different, the consistent theme is that the pant is very narrow and slightly cropped to show the slimmest part of the ankle. On top, wear what feels right to you.  In the first look, a long cardigan with blouse is a Casual Friday staple.  In the second look, Gabi continues the mint green theme with a sheer blouse and statement jewelry.  In the third look, Olivia styles a winter classic of leather leggings and a chunky sweater but adds her spin with a denim "band jacket" and red nails.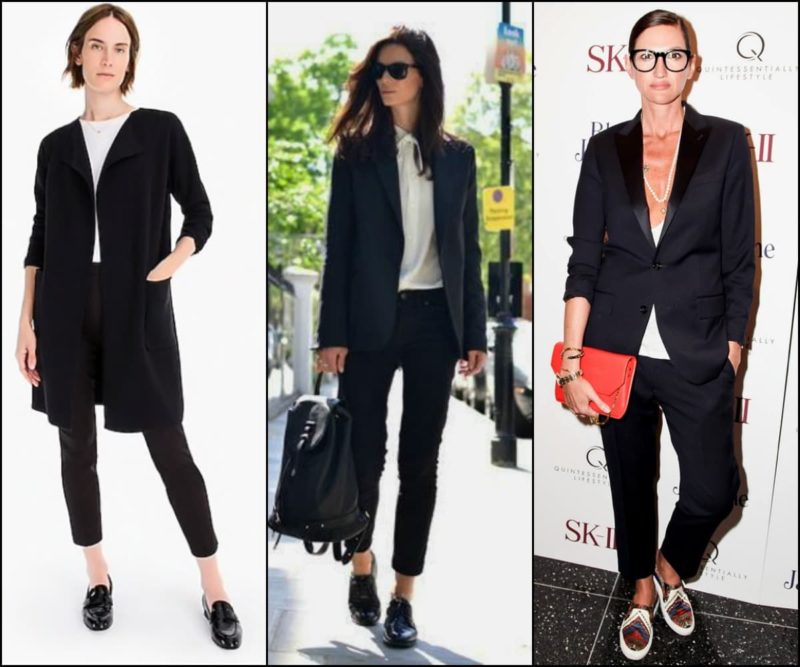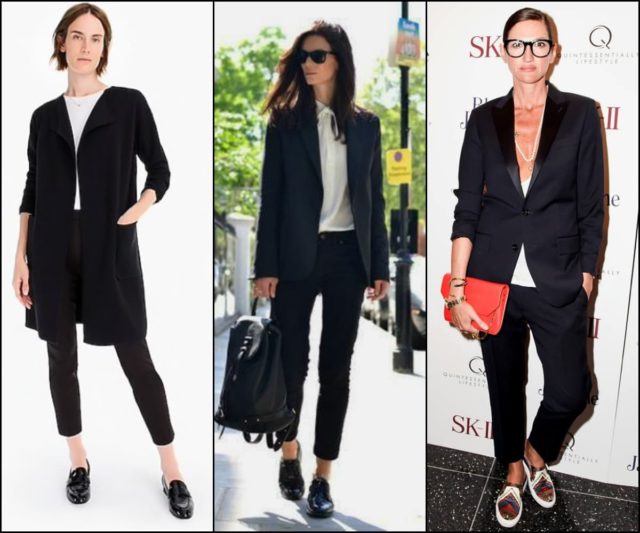 This is the most classic way to style brogues and other shoes that fit orthotics.  It's a bit borrowed from the boys but with a feminine edge.  Note the pants are sleek and slim and cut to show the slimmest part of the ankle.  No sock hiding that skin, that peek of skin (which we have if we wear pumps or low-vamp flats) is what adds a feminine touch.  Going with long over lean is also a way to prevent the look from being too masculine.  Whether it's a sweater coat like the first example taken from J. Crew or a blazer as seen in the other two photos, the topper is a bit longer and a trim fit.  Depending on your personal style you can add your own touch to the look.  While the first example is quite minimalistic, she has a delicate necklace to keep it from being too severe.  The second two looks incorporate classic feminine details – a bow at the throat, a pearl necklace, a clutch purse.

Basic Tips for Styling Shoes with Orthotics
Match your shoe with your hosiery or pant.  By having the two match, it creates a continuous line.  This will elongate your legs, highlight the top or dress, and minimize the shoe.  This is a great trick for, especially bulky shoes.
When possible, choose a slimmer sole.  A lug or chunky sole makes a shoe appear casual, no matter the outfit.  A slimmer sole (especially one the same or similar color to the shoe) will look dressy and more professional.
Consider an almond-shaped toe.  Pointed toes rarely have enough room for feet let alone orthotics.  However, an almond toe (a tad bit elongated and slimmer than a round toe) will have both the room and the style.  This is a more elegant shoe style and the extra length will balance any bulk necessary to accommodate your orthotic.
When the weather allows, show a hint of ankle. While old style rules state that one shouldn't show ankle because it shortens the leg, it actually makes the look more modern and fresh. Long pants with lace-up shoes are dated, even for menswear.  A hint of ankle (and a hidden sock) will make your shoes look purposeful.
Make friends with a tailor.  When it comes to styling such shoes, it's important that your pants are the right length and have the right width of leg opening.  A tailor can make such alterations quite easily, and your looks will feel more cohesive. Be sure to wear the shoes and the proper undergarments when visiting your tailor.  If it's hard to explain what exactly you want, bring photos as examples.  Treat a tailor like a hair stylist; the more often you go the better rapport, the more she will understand you and your vision.
Don't sacrifice your health for style.  I'll be honest, I'm glad you sent this email to me because it's a big reminder to myself to not sacrifice my health and comfort.  Last year I was diagnosed with a fallen arch and told by my doctor to stop wearing flip-flops, flats without support, and super high heels.  Yet I still do on occasion. To quote myself from 2015, "Style doesn't come from being able to wear a certain silhouette, brand, or garment. Style comes from creating a look that works with your lifestyle and your personality."