This article may contain affiliate links; if you click on a shopping link and make a purchase I may receive a commission. As an Amazon Associate, I earn from qualifying purchases. 
I rarely write about fashion I desire on here. However, this coming fall has some really awesome trends and trends that fit my personal style and I know I will enjoy for years to come and think if you like my personal style, you may also like these items. I find that when I make a list early, I am less likely to go over budget or off track. By thinking out my upcoming season before it arrives, I can visualize my look and really think what new pieces I need, and how they would work with what I already own. Here's some things on my radar and wish list:
1. A leather jacket. I would really like a soft, lightweight black leather biker jacket but haven't found one in a style I like. I don't want a belt at the waist, I don't want padded shoulders, I don't want it really heavy and stiff leather, I don't want it quilted or glazed or wrinkled.
In high school I got a biker jacket from Express while all my friends had classic styled ones from shops in Georgetown or Wilson Leather. I loved mine because it nipped at the waist, and was of lambskin. I still have that jacket and was thinking it would be perfect now, but realized when putting it on that it has heavily padded shoulders and dolman sleeves – not too flattering on my 36-year old body.
2. Brightly-colored wool coat. I haven't purchased a new winter coat in a while – last year Lands End was lovely enough to send me a hooded parka which is awesome for snow and really frigid temperatures. My Lands End Commuter Coat is a hair too big this year, and I have really missed having a well-fitting wool coat.  I love that this fall there are so many options for great coats, and such rich colors!
One that is mid-thigh to knee length would work with dresses as well as pants, can dress up or down. There's so many great saturated colors this fall, I can continue the color impact with my bright purple leather gloves and a pashmina in a cheery hue as my scarf. I'd like one with a very clean silhouette, curves with the body, few details. Emerald green, cobalt blue, shocking pink, berry, or a rich teal thank you.
3. White button-down shirt. Last spring, I got one from Ann Taylor with ruffles down the front and like it very much, except that it's now too big in the shoulders and arm length. I think I'll get it tailored, but would like a very simple one as well. Tailored but not skin-tight, opaque, wrinkle-resistant, crisp collar, no details. Something I can wear with pencil skirts and denim trousers for work, and even a taffeta skirt and heels for an evening event.
4. Leather skirt. Oh how I miss my LOFT leather skirt, it was perfection! Not a pencil skirt, but not too voluminous, a non-leather waistband that looked great on its own or played nice with a belt over it, soft buttery lambskin, and pockets!
If I could find the same skirt in a 10 Petite I would be a happy gal. But if not, I would like something similar, maybe even with a few more pleats for a softer, fuller look a la Diane von Furstenberg.
5. Colorful blazer. Red-orange, dark pink, peacock blue – a tailored blazer where I can roll or push up the sleeves and pair with a white tank and jeans, or with a pencil skirt and silk shell. Tonal button/s, clean lines.  Could be cotton, velvet, or wool… or even leather!
6. Jeans. None of my jeans look right any more. I want a pair of dark, heavyweight rigid jeans with a straight leg that is straight on me. This means it doesn't fit like leggings on my large calves. Probably a subtle bootcut would give the illusion of a straight leg. Slightly wider than usual waistband, yellow stitching, no embellishments at all. I want quality denim, but a style where no one can tell what brand they are from.
7. Black pants. I kind of want black pants like I want my jeans – heavyweight, and the illusion of a straight leg on my curvy self. However, I don't want jeans-styled pants. No patch pockets, no grommets, no obvious stitching. Something more refined, a proper trouser but in a heavier fabric (could be wool, could be a heavy twill that doesn't look like chinos, probably a blend) and a refined/professional look.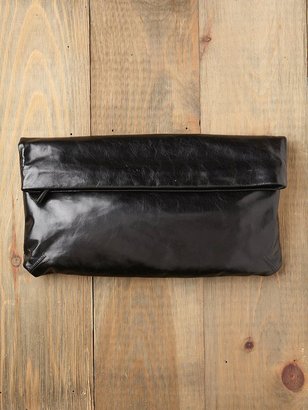 8. Black envelope clutch. I used to have a vintage one, it was smooth buttery lambskin, no frills, hidden snap closure. Tucked under my arm or felt comfortable in my grip. Enough room to hold my phone, my small camera, a lip gloss and my cash. After one night at The Black Cat, it ended up getting torn at the snap and had a drink spilled in it. I have never been able to find something similar. Everything seemed to be so done up – obvious closures, fancy glazes, a wrist strap you can't hide completely, too big, too structured, too unstructured. So my journey continues… (by the way this type of bag is so elusive I couldn't even find a picture online of what exactly I want – this was the closest)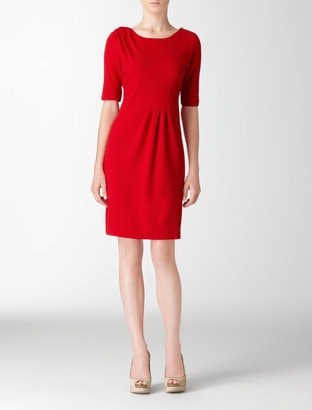 9. A long-sleeved (or 3/4 sleeve) sheath dress. I have my black one from Target that I wore all winter, but would like something in a wool knit or Ponte… and hopefully something in a color. Teal, rich purple, berry… a deep jewel tone. Wouldn't mind it to have one unique detail such as ruched sleeves, strong shoulders, leather accents. Something that skims the body, not too tight and not a shapeless shift. Something I can wear to work, but also after hours. Something that looks great with black tights and booties, or with a funkier shoe and bare legs. Something that can look edgy on its own, or show off a really awesome necklace. Something so very simple in nature I probably won't be able to find it under $800.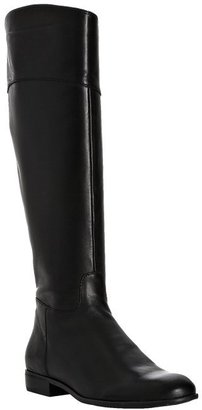 10. Boots. Gosh how I would like a pair of knee-high boots! My Duo "Bern" boots are really beat up, and too casual and low for my liking. A classic riding boot in dark brown or black would be lovely, something with a sturdy heel that isn't too high, made of real leather, not covered with tons of hardware and details, and can fit over my large calves, shins, and ankles.
11. Obi-inspired belt. I have one in black, but would like one in a softer leather or heavyweight fabric that is in a bright fall color. Teal, or purple would be lovely. Wear with my shirts and pencil skirts, slip over dresses, make a simple outfit of a tee and wide-leg trousers look glamorous.
12. Underwear. I know, not very glamorous, but weight loss does bad things to a woman's lingerie drawer. I took care of the bras (I now have one black, one nude, one purple, and one strapless. I feel like a new woman!), now I need to care for their counterparts.
The only undies I have that I like are some Hanky Panky Retro Thongs (high enough of a waist that they don't roll down under my mama pooch yet still pretty), and a couple cotton ones from Target's Gillian & O'Malley (briefs with lace insets and lace along the leg openings to minimize VPL). In summer, cotton hipsters and briefs are great to wear with sundresses, but come winter it ends up being too much bulk for me under tights and lined trousers. Just a few pairs of thongs and standard undies that don't bunch up under fitted clothes, don't slip under my pooch by lunchtime, and don't give me VPL.
What is on your radar for fall?
Follow Me | Twitter | Facebook