This article may contain affiliate links; if you click on a shopping link and make a purchase I may receive a commission. As an Amazon Associate, I earn from qualifying purchases. 
Each season I try to give you a few pieces that can be added to your wardrobe to give it a fresh look. Many seasons it's pretty cut and dry – a chunky heel, a metallic sandal, a white sundress. This spring is not so specific. There are a few trends that seem big for this spring, but that does not mean you have to subscribe to them.
High waists are in style, but unless you have six-pack abs, you shouldn't go anywhere NEAR this trend. Recently on Go Fug Yourself they featured a post about the lovely Jessica Simpson in this style and even SHE looked dumpy.
Leggings are still trendy under short baby-doll style dresses and tunics. The problem is that unless you are a hipster, you will look as though you are dressed for an 80s costume party. I recently went to a wedding where a woman with a slim, tall frame was wearing a black boatneck a-line mini dress with black leggings and pewter metallic flats. This is a look that could be seen on Sienna Miller, but on this 30-something woman, she looked a bit ridiculous. She had the body type, but when an outfit like this is put into regular society, unless you have the personality to be a bit quirky and artsy, it will look like a costume, not fashion. If you haven't tried leggings since the 80s, I say there is no point in trying them now.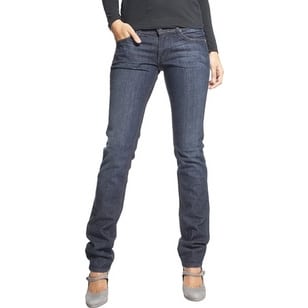 Skinny jeans are still all the rage. Tight, dark, stretchy and bunching at the ankles, they are seen with heels and flats on all types of celebrities. Unless you are built like these celebrities and again, have the personality to be quirky and trendsetting, don't buy into this style. Like leggings, these can easily look like a costume. Also like leggings, this style of jean will only accentuate the negative. Tight jeans like this will make your legs look shorter, your hips wider, your thighs fuller, your bum rounder. Unlike straight, slightly slim or bootcut jeans, these stovepipes can only go with certain tops without you looking like a streetwalker or a lollypop.
Jeans from Saks Fifth Avenue
Babydoll dresses and tops can seem like great camouflage for a belly, but if you have curves elsewhere (especially the bust) you can end up looking larger, instead of smaller. These full tops often end just where your hip widens, hiding not just your belly but any feminine shape at all. Babydoll dresses also disguise any feminine shape and often look more muumuu than modern. A sleeveless babydoll can make the most waifish of arms and shoulders look as though they belong to a linebacker.
With all this negativity, you may throw your hands up and hide in your husband's sweats. Not to fear, there are some really cute trends for the warmer months that look good on a multitude of shapes!
Dress from Nordstrom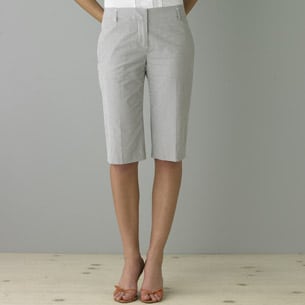 Bermuda Shorts. The designers have modified this trend from last year so that it works for more body types. Last year they all seemed to be stiff, slim and hitting right at the worst part of the leg, this season there are more variety to the cut. I who despise shorts, found some very cute flattering styles at Old Navy – washed linen, lightweight cotton, straight cuts with a bit of give, a shorter hem and a lower waist were found to be awfully flattering on my petite curvy frame. A crease down the front slims just the way it does in longer trousers, and lighter weight fabrics don't add bulk to the parts to the body that already have enough shape. Keep in mind that with longer trousers, a cuff will shorten and thicken a leg; if you have this problem look for a simpler style. As with skirts, do not have the short end at the widest part of your leg. Just above to mid of knee covers hips and thighs but shows that you have nice gams below. Stay away from heavy twills and denim; a lighter fabric like cotton denim, cotton blends and linen are more forgiving to the body. Also, as with skirts a heel on your shoe will add length and a slimming look to your leg. Many styles are appropriate for business casual; a pair of Bermudas with a blazer, shell and wedge slingbacks can be quite sassy. For a night out, consider Bermudas with a silky camisole, long necklace and some strappy heels. For the weekend, Bermudas can be cute with a polo shirt or scoopneck tee and wedge sandals. However if you have tried many styles and still feel as though they aren't flattering, do not buy into this trend. Capris and skirts are still hot for this season, stick with what makes you comfortable.
Shorts from J. Crew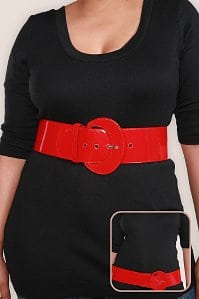 Contrast Brights. I am so excited for this trend, I think there is nothing more fun than a Crayola-pop of color in an outfit. A simple white shirt and black capris are transformed with a bright red belt. A simple khaki sheath dress is taken to a new level with Kelly green patent-leather heels. A gray suit gets a makeover with a yellow bead necklace or an orange silk-knit shell. The color I am happiest to see come back to stores is cobalt blue. This bright color is a fun accent to many neutrals and a real change to the basic red. A bright blue purse is an expected yet attractive compliment for gray, khaki, brown, black, white, cream and even navy. Consider switching out the belt on a dress or jacket with a blue patent leather one, or find a blue silk scarf to use as a belt, neck accessory or headband (a very popular hair accessory this season; use bobby pins to keep in place).
Belt from Torrid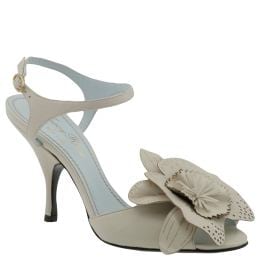 Girly Touches. After many minimalistic seasons, the girly frills are back. Eyelet dresses and jackets in white, black and candy hues; rosettes on everything from dresses to purses to shoes, cabbage roses and other traditional floral patterns adorning dresses and even slingback heels. If you have a weakness for Laura Ashley, this is your season! If not, same-fabric rosettes can be a nice touch on the waistband a solid-colored silk dress and the floral-printed shoes are a funky accessory to pair with jeans and a simple white shirt. Eyelet can be surprisingly modern if in the shape of a solid white tailored blazer or black sheath dress with apple green lining. These feminine pieces are a great way to jazz up your wardrobe basics!
Shoes from Zappos, Jacket from Nordstrom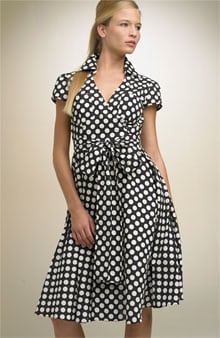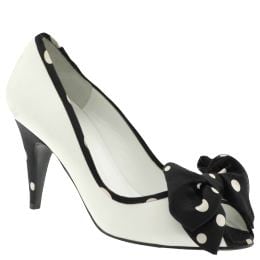 Polkadots. Polkadots are like animal prints, they never seem to go out of style if done in a subtle manner. However this season, there is no need to keep your polkadots reserved to accessories. They are seen everywhere from shirt dresses to heels to headbands. Polkadots look best when used with retro fashions – a dotted full skirt with a twinset looks fresh, dotted baggy cropped pants with a tunic does not. This season's dots are small, feminine and mainly kept with traditional shades such as black, navy, red and white. A navy polkadot blazer can look hip with white jeans and tank, a black dotted skirt looks darling with a white short-sleeved sweater and black belt. Red polkadots look great on shoes and other accessories (and combine with the contrast brights trend). As with animal prints and other patterns, keep your dots to one piece only. Dotted shoes do not call for dotted scarf and purse. Too many dots can look costumey, keep it minimal and you will keep it stylish.
Dress from Nordstrom, shoes from Piperlime
In general, this season seems to be The Beautifying of the Basic. Fun and feminine touches to the classic dress, jeans, white shirt and trousers. Accessories such as belts, bags and fabulous shoes add interest and color. Feminine fabrics and patterns add a fresh spin to classic pieces and the amount of variety allows every woman to look attractive, stylish and most of all, HERSELF. So enjoy shopping, for this season there is a trend out there made just for you!