This article may contain affiliate links; if you click on a shopping link and make a purchase I may receive a commission. As an Amazon Associate, I earn from qualifying purchases. 
So as you know from many previous posts on here, I have wide calves and have dealt with many companies trying to find tall boots that fit and flatter my larger-than-average legs. Many of you have suggested having a cobbler stretch traditionally-sized boots, but to give you some perspective, the last boots I ordered that fit had a 45 cm calf… that's around an 18″ shaft for Americans. Most regular boots are 14-15″ and a wide calf boot in stores like J. Crew and Ann Taylor is usually around a 16-17″ shaft. I know many many of you readers have the same issue – the "wide calf" boots available aren't wide enough or the selection plentiful enough.
Well since my last review of specialty bootmaker Duo and plus size retailer Silhouettes, I have been doing some more boot shopping, searching for the Holy Grail of Wide-Calf Boots, and I wanted to share my experiences with you.

Silhouettes
After the great experience with my brown suede boots from Silhouettes, I decided to try a few more styles. End of the season sales made their average selection suddenly look delicious. I ordered a classic camel tall leather boot with wood heel, and a slouchy black leather tall boot (see below left). As that I usually wear a 7.5, I ordered an 8 and WW for both pairs. Boots are often better fitting if a half-size larger than usual, and my brown suede boots from there were 8WW.
The camel ones were HUGE, I mean HUGE! I didn't even have to unzip them to get them on. The foot was also far too large, as that these boots were not just wide in the calf but in the foot too. Very confusing as that they were the same brand as the brown suede ones I already owned. The leather was very stiff and if it was stamped with the "Real Leather" logo, I would wonder if these were a synthetic fabric. The toe was rounder than expected – not as classic of a look as I would have desired. I wished that Silhouettes offered the size of the boot shaft like Wide-Widths and Duo.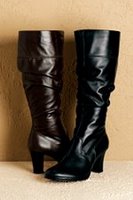 As for the black ones, well I almost kept them. The leather was buttery soft and had a rocker look to them with the cuff, the slouchiness and the glossy finish. The toe was a bit snub and round (a longer, pointier, squarer or platform toe would have enhanced the rocker look and made them look more expensive), but in general an attractive boot that looked more expensive than its pricetag.
However yet again, they didn't fit correctly. The left leg was a teensy bit big – nothing I couldn't deal with. however the right leg – I was SWIMMING in it. I really fought over whether to keep and see if a cobbler could alter to fit, or return. After factoring in the slouchy/gathered leather of the style, I decided it would probably be too expensive to alter and returned them as well.
I must say, the return policy for Silhouettes is pretty good- 30 days and you can try them out before you return them – no need to pussy-foot around your carpeted rooms not really getting a feel for the footwear. My card was credited the amount in less than a month, no hassles at all. Silhouettes also offers a toll-free assistance line and email address – something I will take advantage of this fall when I return to my quest to find tall boots. Possibly they would have been able to advise me on which size to choose to get a custom fit.
eBay/Silhouettes
Loved my brown slouchy suede boots from Silhouettes, I headed to eBay to see if I could find the same boots in a different color. As I have mentioned before, there are many sellers offering new and gently used wide-calf boots. I found one who had my brown boots in purple. Purple, how fun! Nice splash of color with my predominately black winter wardrobe, and one of my favorite hues. Ordered the same size and width as my brown boots…
They arrived quickly, pristine in the original box. Same quality of suede, same exact style number.
They didn't fit. First, they were way too snug on my feet. Second, I couldn't zip them over my ankle bone. What the heck? I put them up against my brown boots to compare. Same stamps inside, same shape, same cut but the purple boots were shorter, slimmer, all over a smaller boot. Honestly, they looked like a size 7 regular-width calf. My lesson? Ask the seller where they got the merchandise. Maybe these were irregulars that Silhouettes discarded…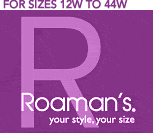 Roaman's
A fellow blogger tipped me off that Roaman's offers a decent selection of wide-calf boots, and their descriptions of sizes and circumferences pretty detailed. I decided to order the Plus-calf Leather Boot by Step Up Comfort (see below left). I desired a taller heel and more modern style, but the price was great (sale) and I found an awesome coupon online that made these boots a DEAL with free shipping. Again, I ordered 8, but this time went with M as that the description said these boots would really stretch to fit.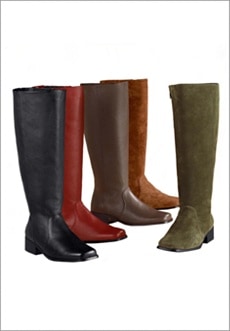 The shoes arrived quickly… and didn't look at all like the picture. No where in the description, or in the zoomed image of the boots did the site explain that the black leather had a weird glaze on it to make them look old, gray and as though someone spilled milk on them and let it dry. Dull, crackle finish, and the boot was slightly taller in the front than in the back. This may be for comfort, but I felt as though it made it look more like a pirate, than a work boot.
Went to put them on… and these were too small! Yet again, couldn't zip them up over the ankle bone. However my friend ordered the same boots and they did fit her perfectly. Hers also had the weird milky glaze, but she also got the coupon and sale price and felt they would be fine enough and the low heel perfect for tromping around the city.
Roaman's also has a great exchange/return policy – 90 days, satisfaction guaranteed. They had a UPS pre-paid label enclosed so I was able to easily drop off the box at my nearby UPS Store. They too credited my card very quickly and there were no hassles.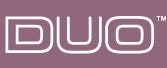 Duo
I had had great success with Duo before, but was trying to find a cheaper alternative. After all my return and shipping costs from these previous vendors, I realize I should have stuck with a company I knew and trusted. On top of that, Duo was also having a sale on a large portion of their selection, and many sale boots were exactly what I was looking for!
I chose the "Toledo" in black (below left), which had a mid-height heel and a classic look. I went back to my previous order's email confirmation and typed in my shoe and calf widths and processed my order. The boots arrived two weeks later from across the pond, and they didn't fit. Like TOTALLY didn't fit, couldn't even get my foot in the boot! I look at the order form and realize that stupid me mixed up the sizes – I ordered my foot size (39) for the calf and calf size for the foot! Lesson learned? Double and triple check your order if you are purchasing from an overseas company or one who doesn't provide size numbers you are familiar with!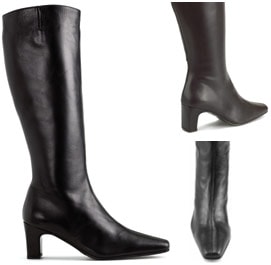 I contacted Duo and told them my issue. Less than 24 hours, I received an email from them and we began an email dialog on which boot would be the best choice for my shape. The customer service representative informed me that the "Toledo" would probably be a bad choice for my shape as that I have large ankles and shins as well as calves, and that style is for "more delicate of legs" (the site did mention this style was best for petite legs and I though that meant short legs and though it was a perfect choice). She asked me which other styles in my size I liked and I sent her the names. From them, she described the boots in more detail, and how they would fit and look on my body. She reminded me that Duo is always available by email or phone to offer advice on the proper boot for any person's body. Lesson learned? Ask before ordering!
With all this information, I have decided to suspend my quest for the Holy Grail of Wide Calf Boots until late Summer/early Fall when all shops will be full of their new selections. Right now sizes and styles are slim, and I don't want to be forced into purchasing that which is okay, and not awesome. However now I know to ask questions, ask questions, ask questions and double-check my order before hitting "Submit!" And of course, when I resume this journey I will be sure to keep you all updated!
Other posts on Wardrobe Oxygen about Wide-Calf Boots:
– It's All About the Boots – Silhouettes and eBay
– Vendor Review – Duo Boots
– From Allie's Mailbag – Where to Find Extended Calf Boots
– Tall Boots for Wide Calves