This article may contain affiliate links; if you click on a shopping link and make a purchase I may receive a commission. As an Amazon Associate, I earn from qualifying purchases.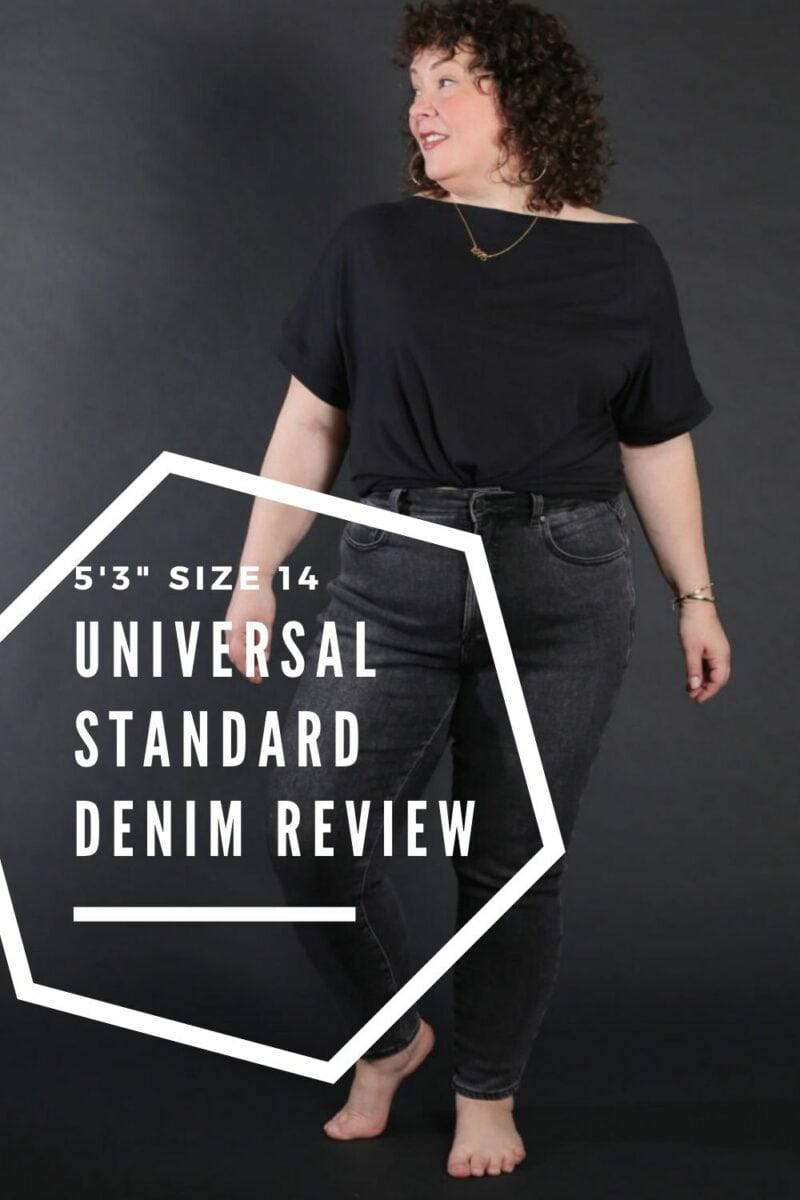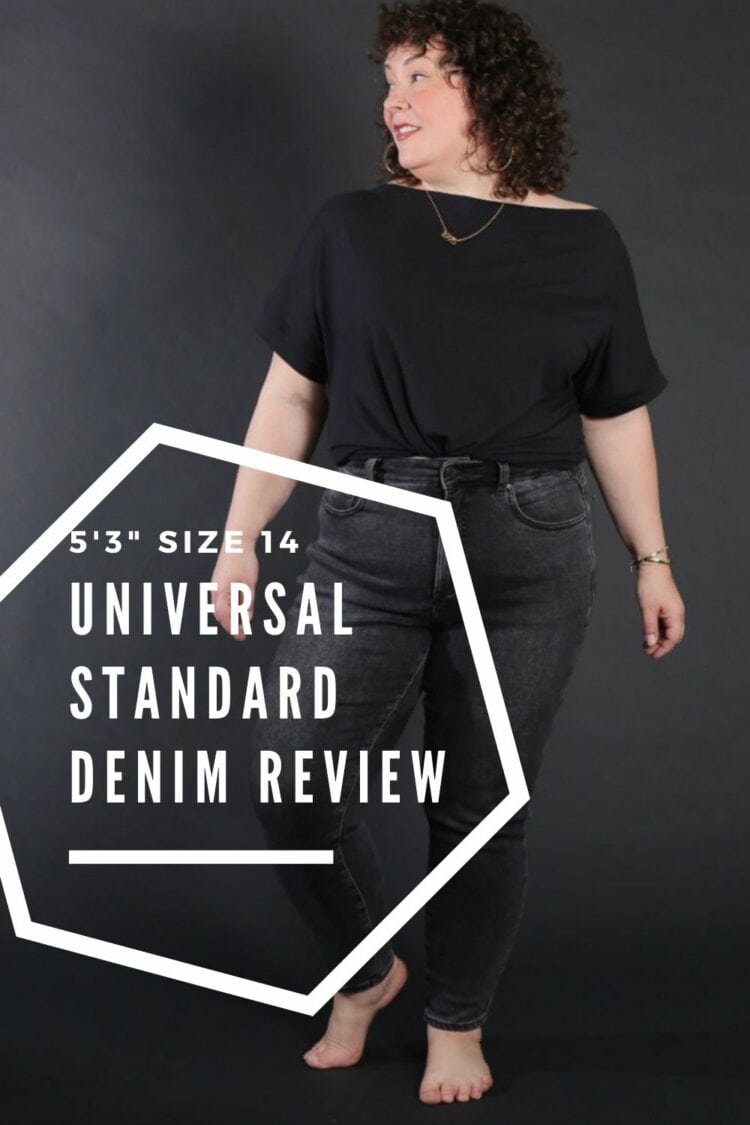 Universal Standard launched four new styles of jeans this month, and I had the opportunity to try three of them. You know I am a Universal Standard fan, but have mixed experiences with their denim. The
are comfy and fit me relatively well, but every other style has been off for me, likely due to my height. I was curious to experience the new Universal Standard denim and spoiler alert, I was pleasantly surprised!
Universal Standard sent me three pairs of jeans and two tops to style at least one look for Instagram to promote their new denim collection. Any share or review of these jeans beyond that campaign is my choice, unpaid, and my own thoughts. While I am being transparent I want to remind you there are affiliate links in this review for Universal Standard as well as other online retailers; if you click them and make a purchase, I may make a commission.
What is Universal Standard?
Universal Standard was founded by two friends who were heading to a networking event and one had nothing to wear. Being plus-sized, she knew she couldn't just head to a store and find something to wear. She took her straight-sized friend with her to Fifth Avenue in NYC to see the dismal offerings available in her size.
The two agreed there needed to be universal wardrobe staples of great quality and fit available to the 67% of the female population that wears a size 14 or larger. And with that idea, Universal Standard was born.
Since its start, Universal Standard has expanded their size range to sizes 00-40 with some styles in petite. Because the brand began with size 10/12 the smallest, that is why Universal Standard's size range may seem unusual.
Universal Standard is not only unique in being so size-inclusive and offering high-quality wearable fashion, but because they are fit on every size body. No size 8 fit model's measurements being graded up and down for other sizes, a size 32 is fit on a size 32 body, a size 2 is fit on a size 2 body.
Universal Standard offers free shipping, free returns, an awesome program called Fit Liberty (details at the bottom of the post), but the organization also gives back to organizations that support those who identify as women, recycles denim, gives to organizations like Dress for Success, and more.
What Size I Wear in Universal Standard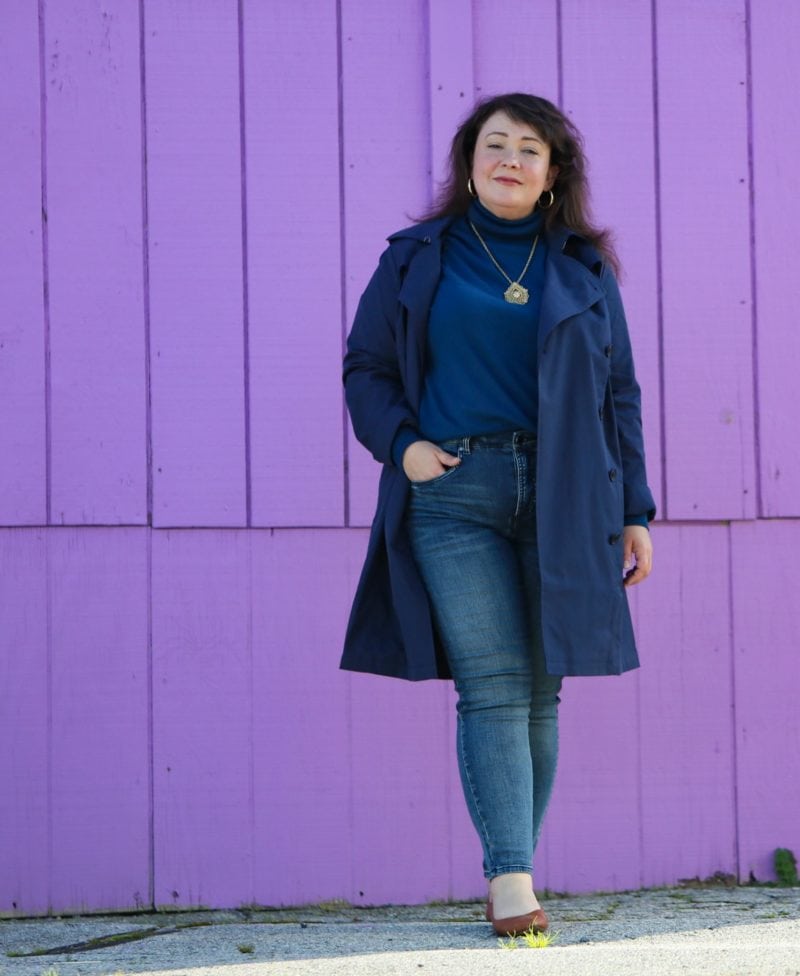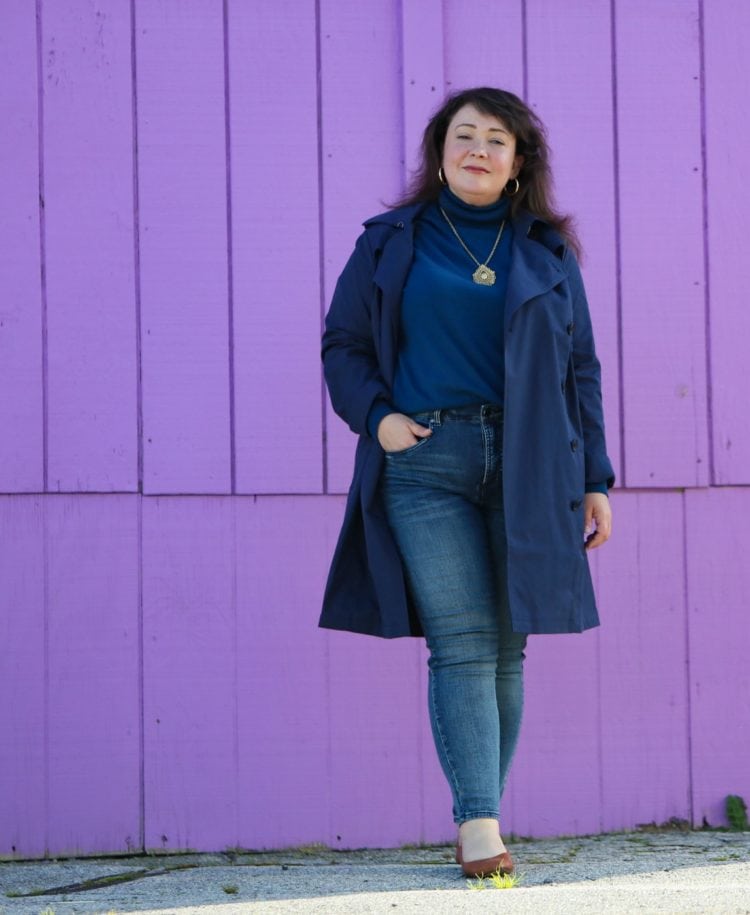 For reference, I am 5'3″ tall. I usually wear a size 14 or 33 jean, and petite usually fits me better in the rise, while is sometimes too short in the leg. For Universal Standard Seine jeans, I do best with the 27″ non-petite in size 10 as the petite fits great above the knee but is a capri length on my legs. For other Universal Standard jeans and pants, I am usually a size 12 or XS.
Universal Standard Promo Code
Universal Standard is offering Wardrobe Oxygen readers 10% off their order with promo code wardrobe_oxygen10, This code works not just for the new Universal Standard denim, but your entire order.
Universal Standard Joni Jeans Review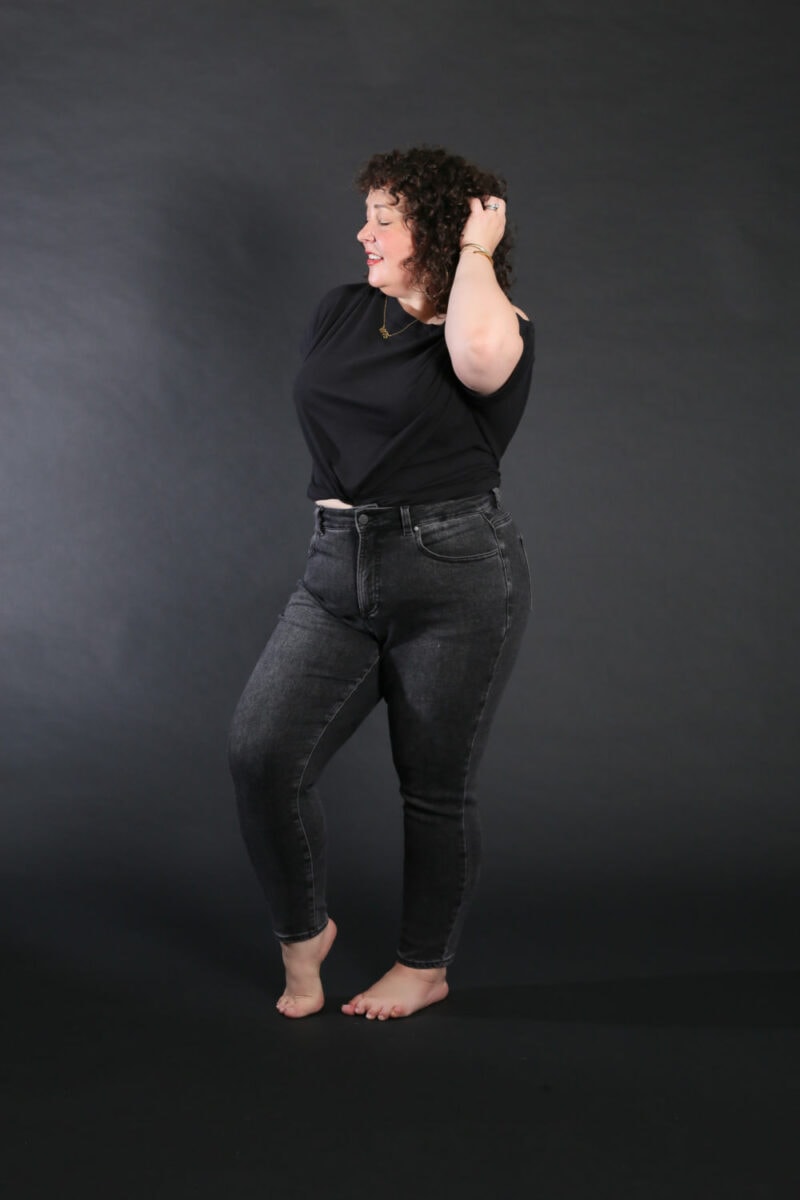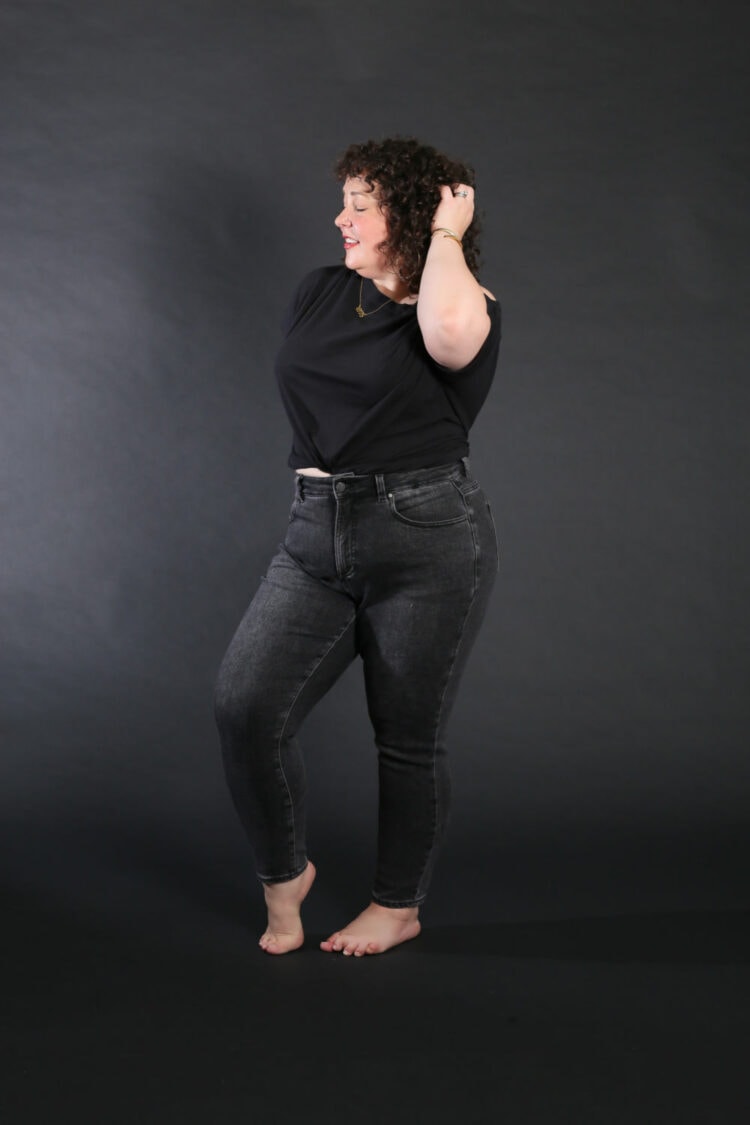 The Joni Jean from Universal Standard is a skinny jean designed for curvy figures that have over a 10″ waist to hip difference. With hidden stretch in the premium denim, these are jeans that will move with you without shimmying down or bagging out by the end of the day.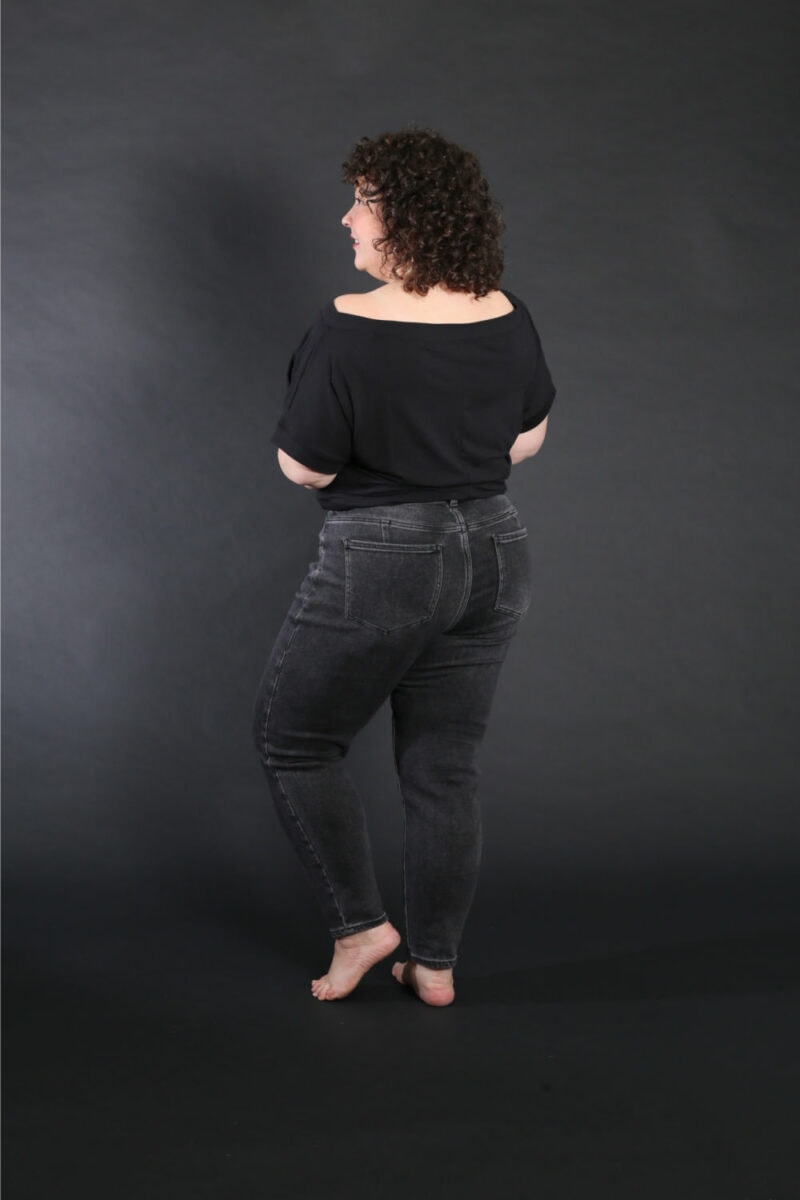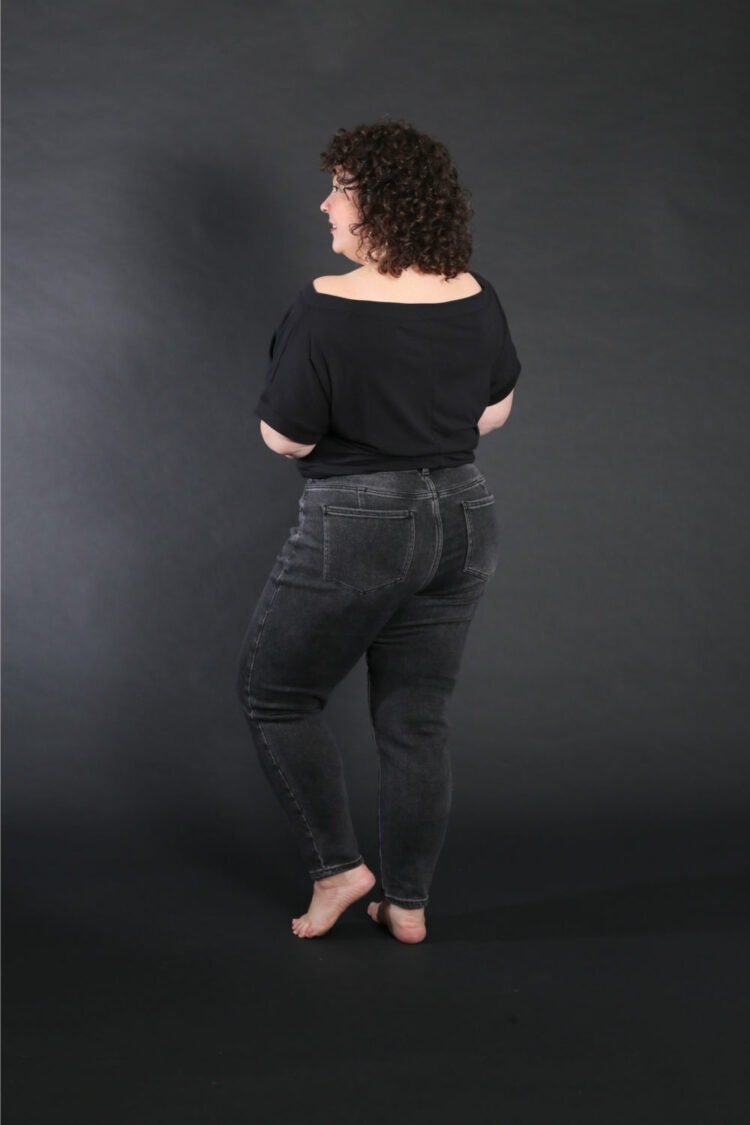 The Universal Standard Joni jeans are available in two colors – Midnight Blue and Soft Black, and two inseam lengths of 27″ and 32″. I received my pair from Universal Standard in size 12, with the 27″ inseam.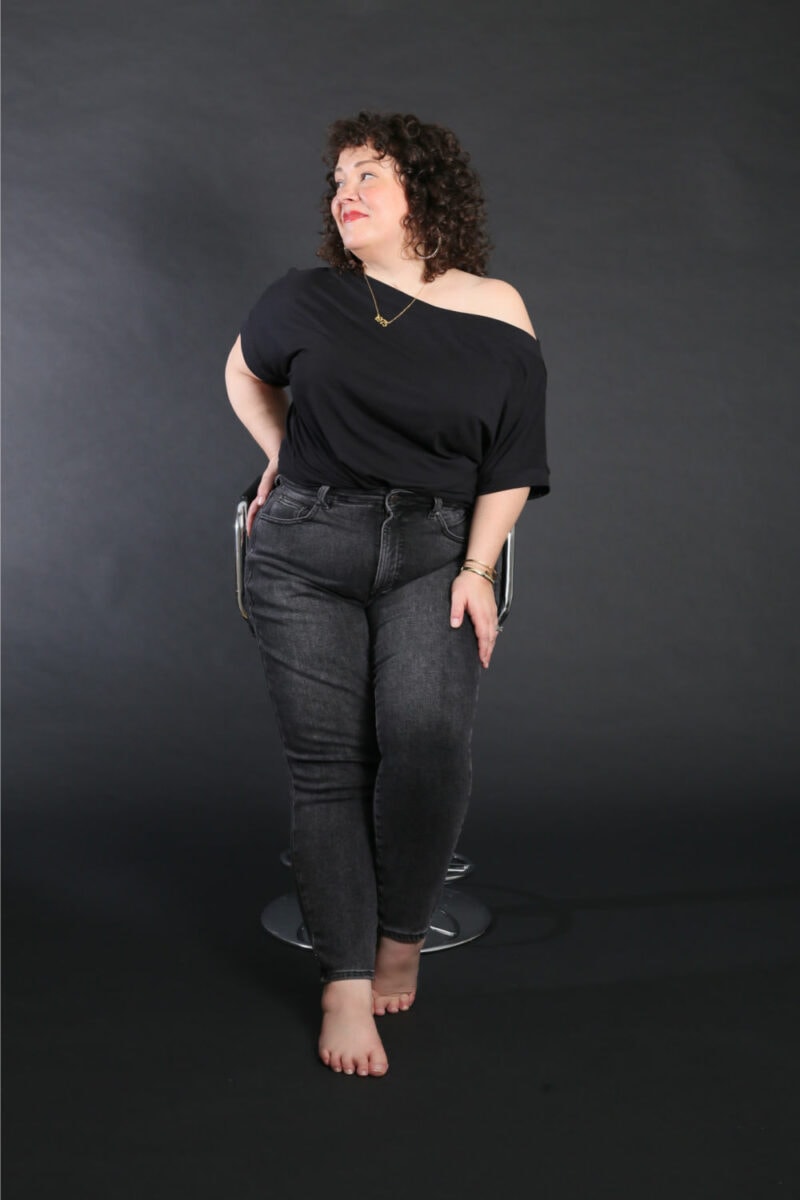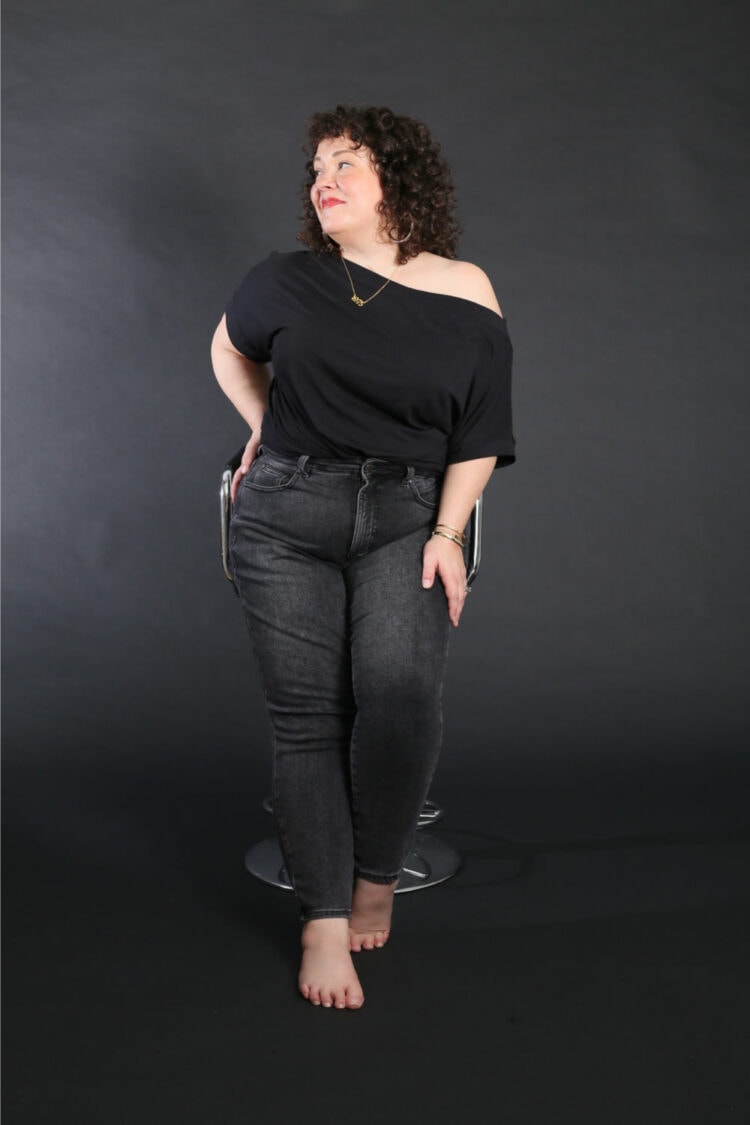 If you read my Madewell Denim Haul, you know I am looking for a not-skinny jean this spring that has a high rise, and a bit of a vintage fit. I would prefer such jeans to be a faded wash with a bit of distressing. The Universal Standard Joni jean is exactly the jean I have been looking for, just in a different color.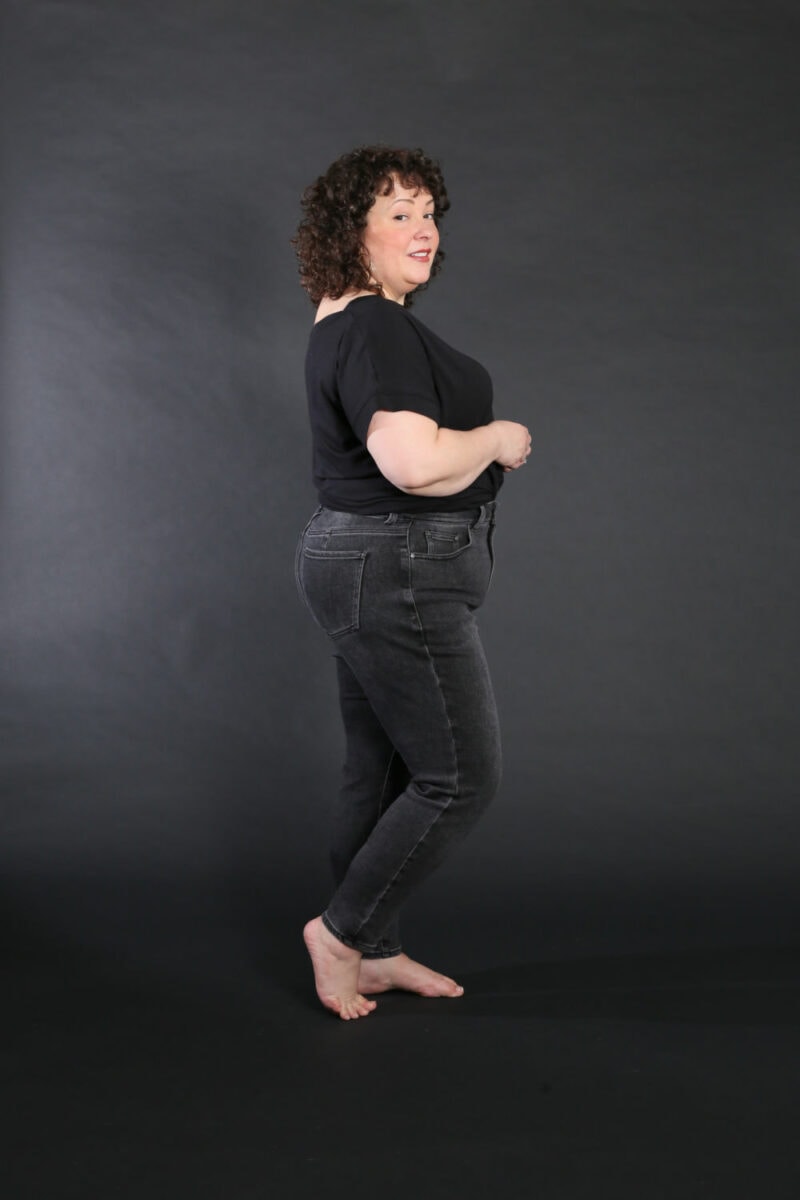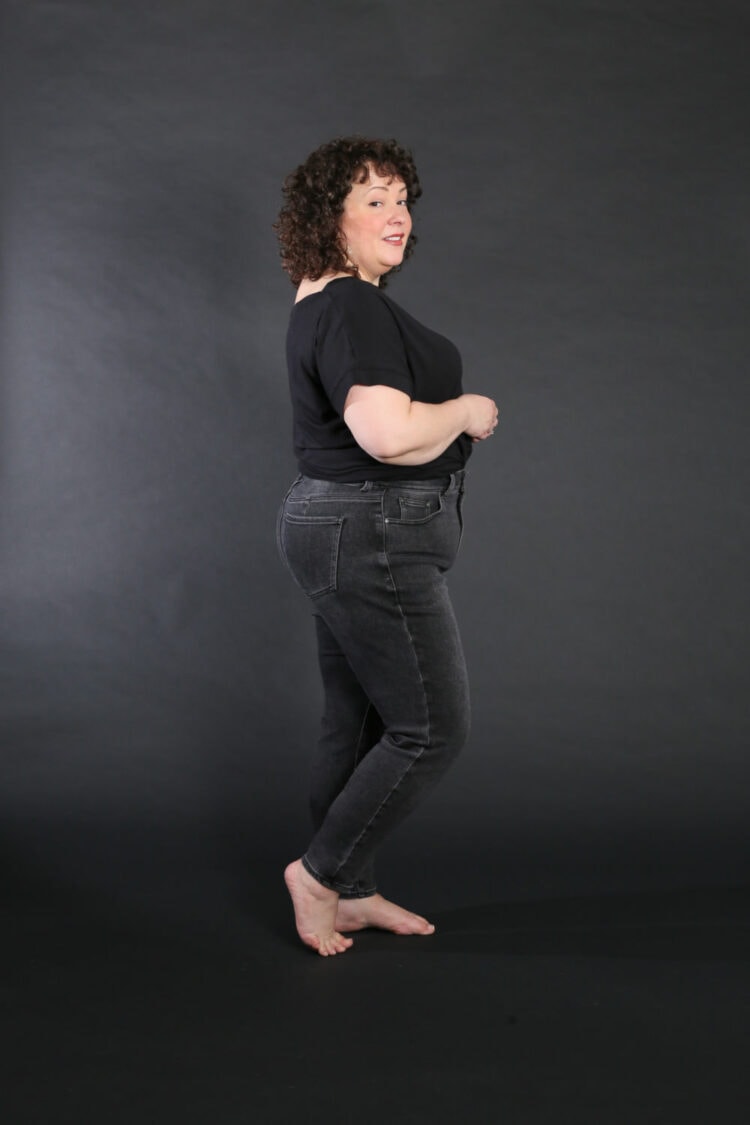 I have a pair of Everlane jeans in a similar wash, but they are getting old and worn out. The denim of the Universal Standard Joni jeans is thicker than Everlane, softer, and more consistent all-direction stretch. Also, they are a zip fly, not button, which works better with a soft belly.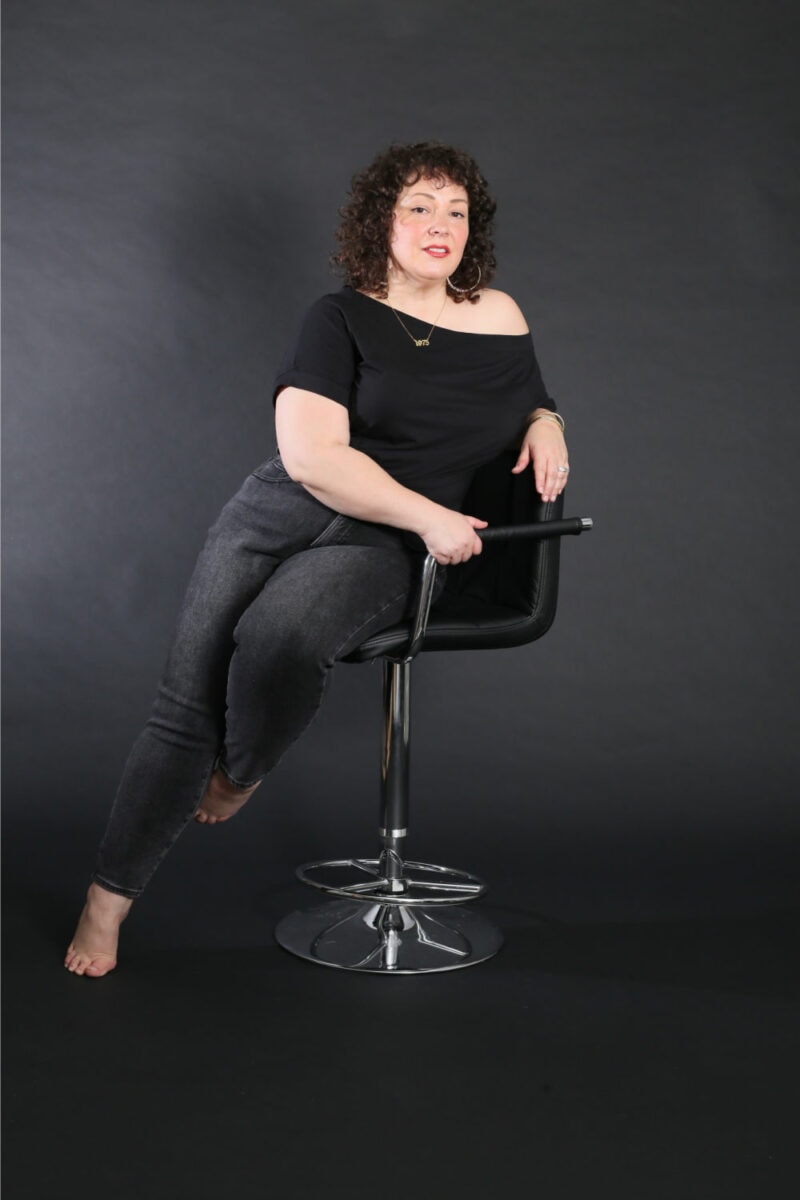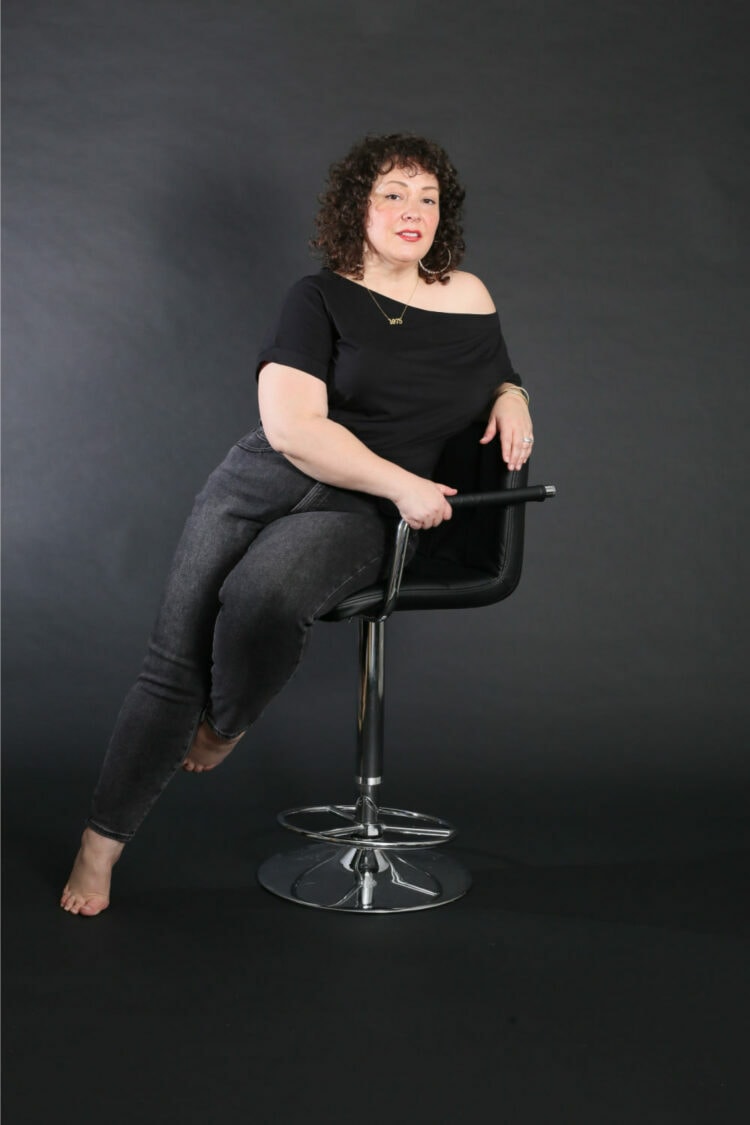 I think if I sized down to a 10 the Joni Jean would fit more like a true skinny jean. At 12, they are comfortable without being too big, and they hold their shape all day, even with sitting, squatting, and moving. I am a big fan and asked Universal Standard to consider creating these jeans in a faded wash which is so on trend for Spring/Summer 2021. We'll see if that actually happens!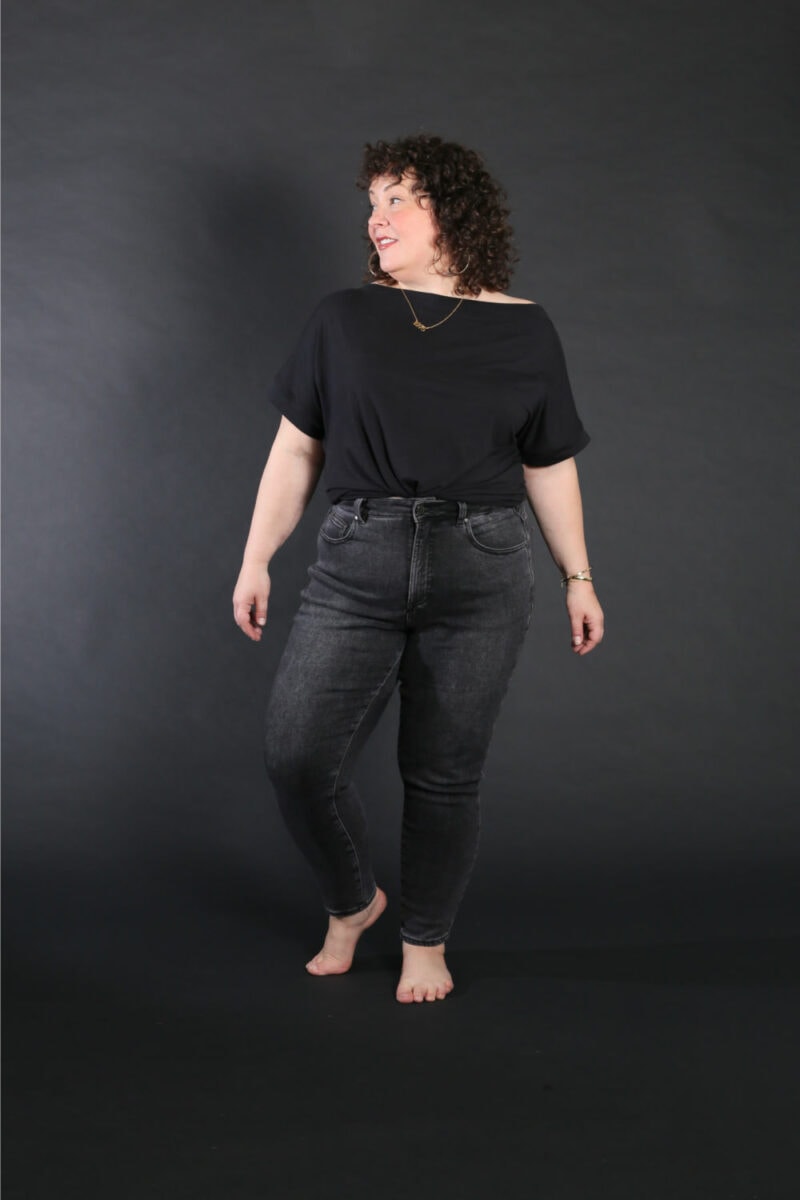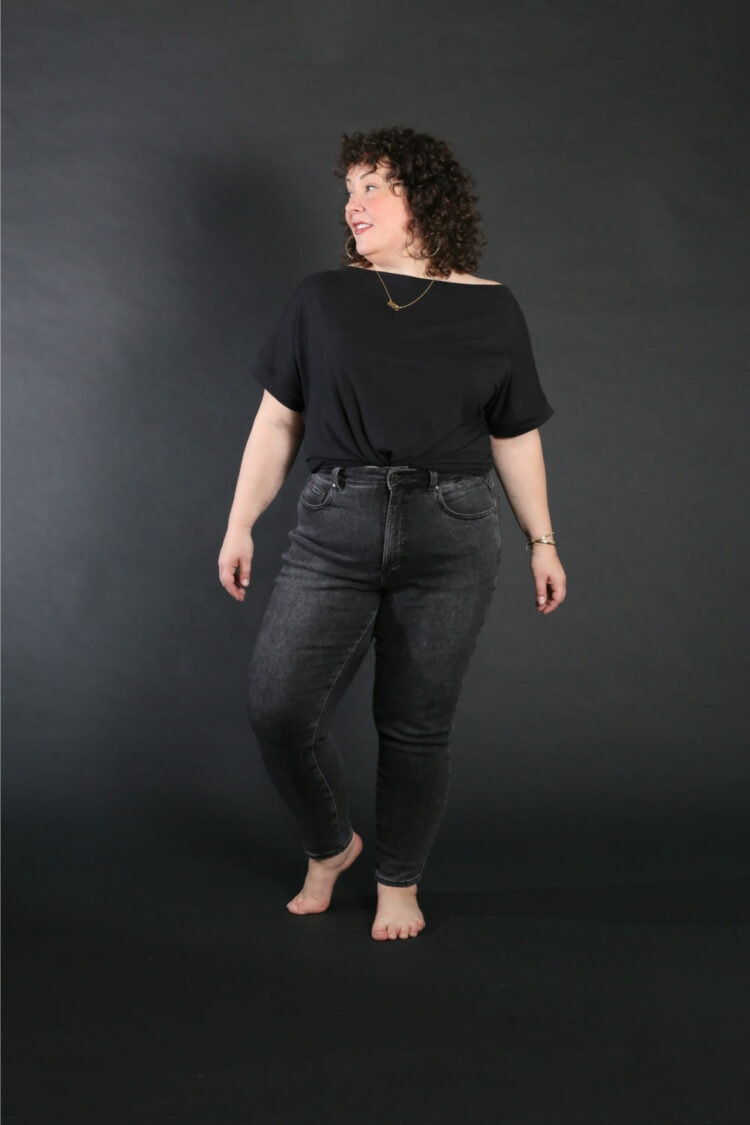 With the jeans, I am wearing the Universal Standard Dolci Short Sleeved top in black, size XS. My earrings are from Woodnote Jewelry on Etsy; my necklace is also from Etsy via CaitlinMinimalist. One bracelet is from REALM and says, "Reign Thoughtfully;" the other is from Metal Marvels and says, "Keep F*cking Going."
I think this jean is the kind that will work with most everything in your closet. In colder months, style with your favorite short boot over or under the hem. Come spring and summer, style with everything from chunky Nike Air Force Ones to low-profile Vans slip-ons and your favorite sandals, flats, and loafers.
Universal Standard Etta Jeans Review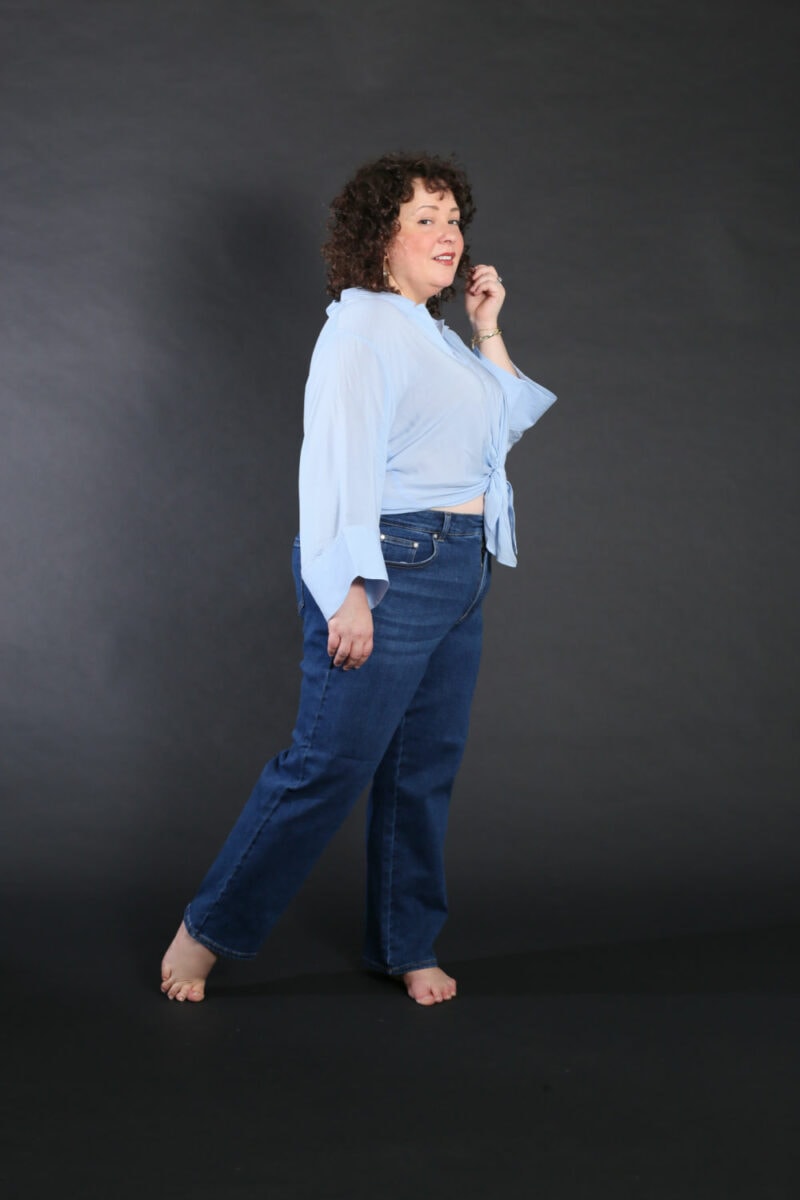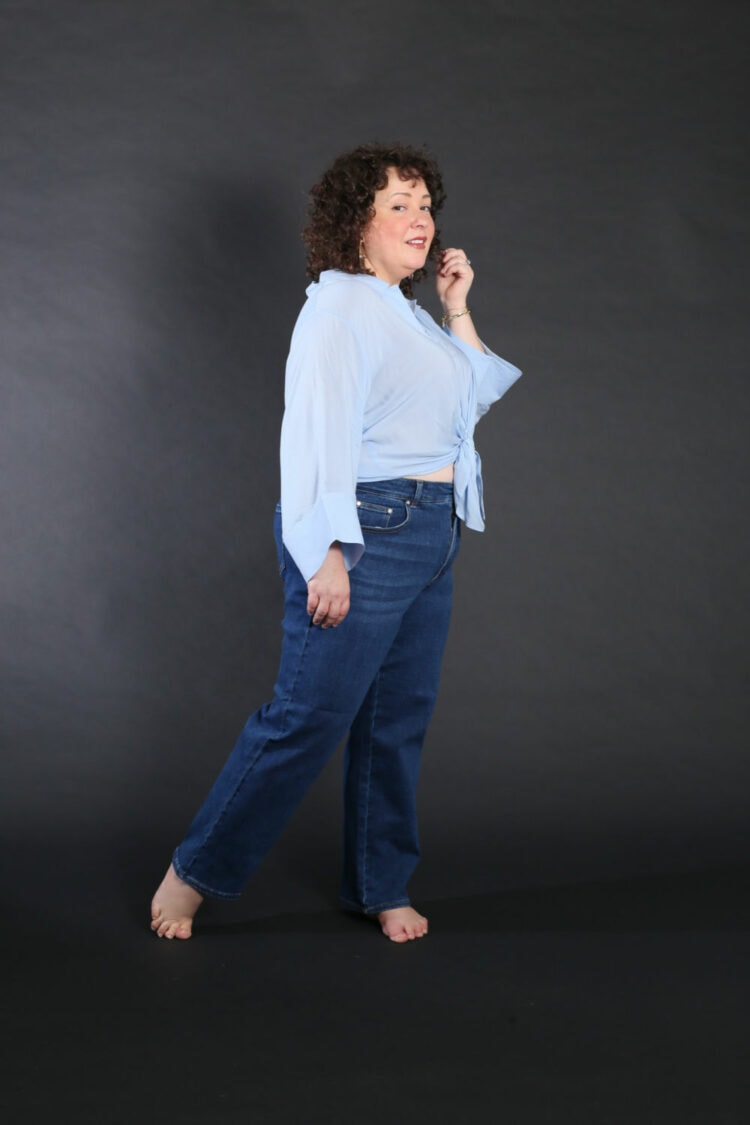 The Universal Standard Etta Jean is a high-waisted straight leg that is deceptively stretchy in all directions while looking like premium denim. Also available in Washed Black and Aged Indigo, the Etta jean is available in a 28″ inseam as well as a 31″ inseam.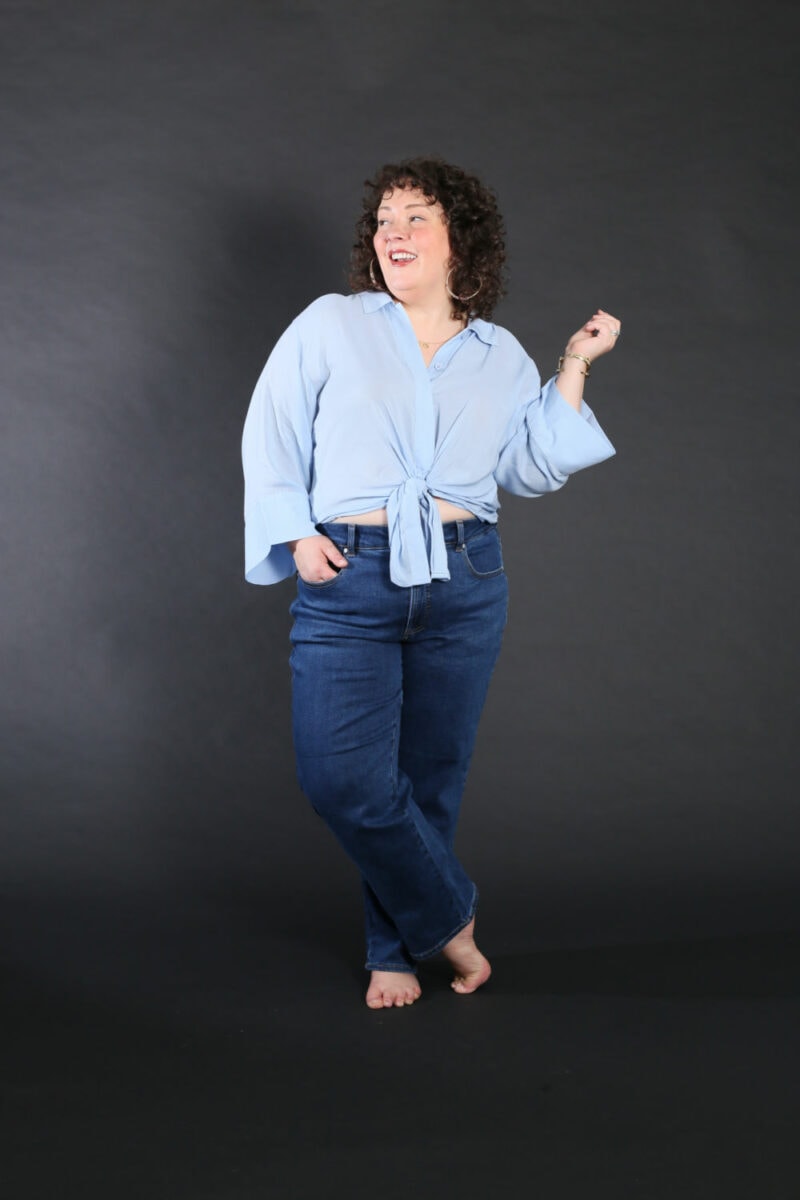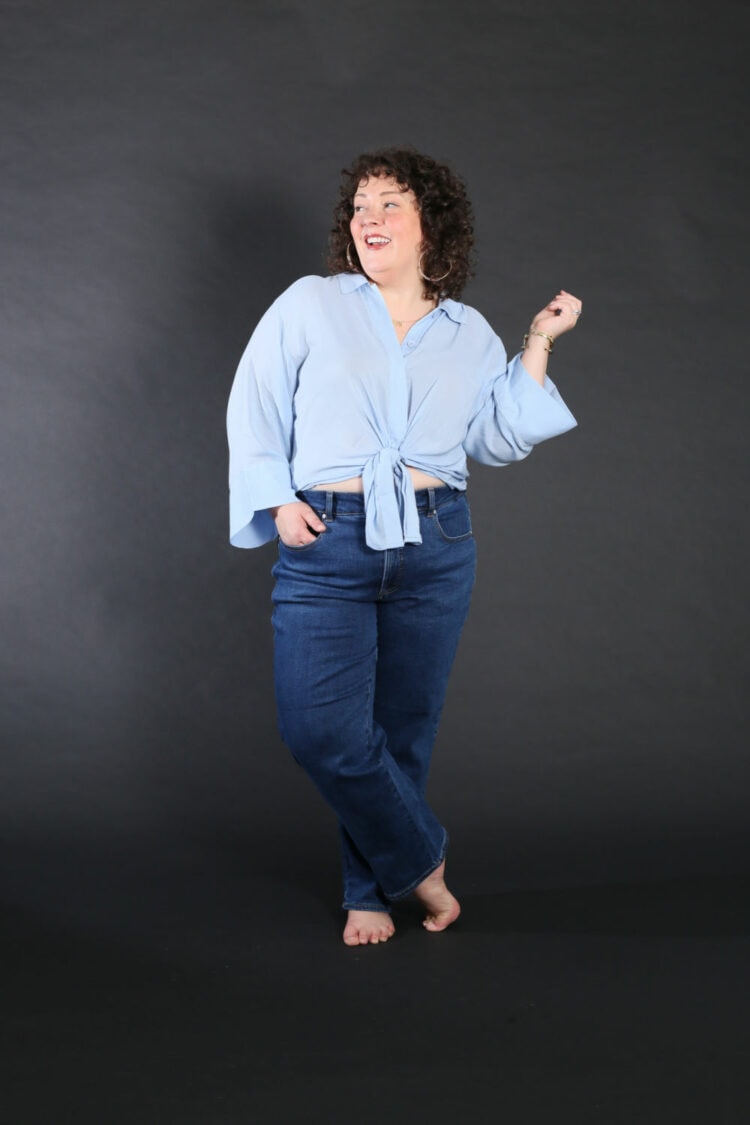 I received the Etta jean in size 12, 28″ inseam, in Aged Indigo. This is a comfortable, relaxed fit that feels very on trend this season. However, I think a size smaller would still fit but provide a more polished and tailored effect. Again, I wish these came in a faded wash; this style of jean would look so good and so modern faded with some strategic distressing.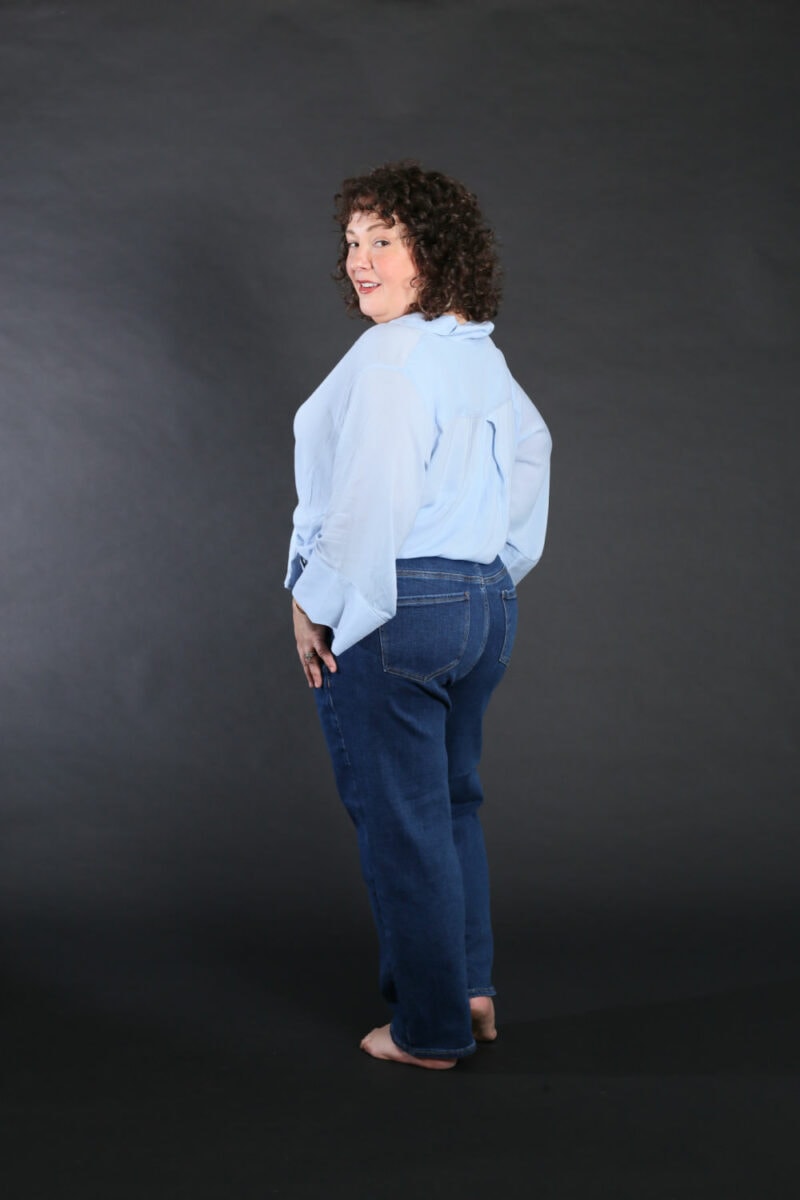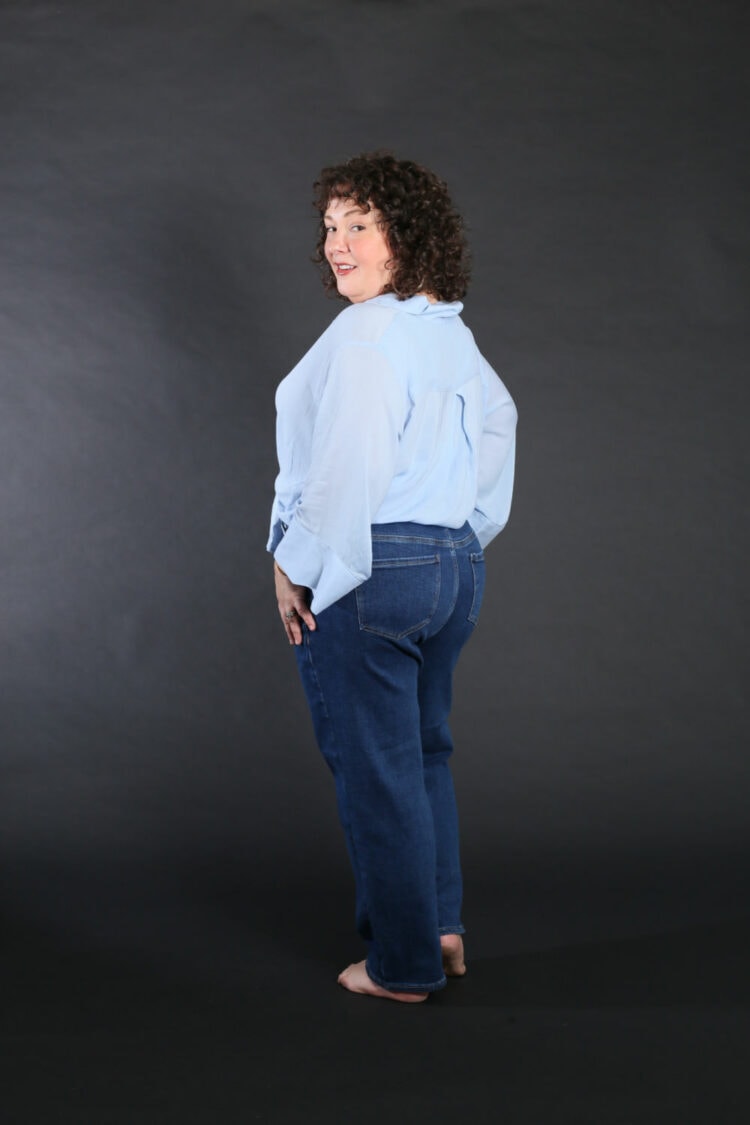 In size 12, the Etta Jean is a casual style that would look great with a more fitted top or tank to balance the volume. Even though they are a relaxed fit, they don't stretch out or bag out with wear, and they also laundered for me beautifully (don't expect these jeans to shrink up in the dryer).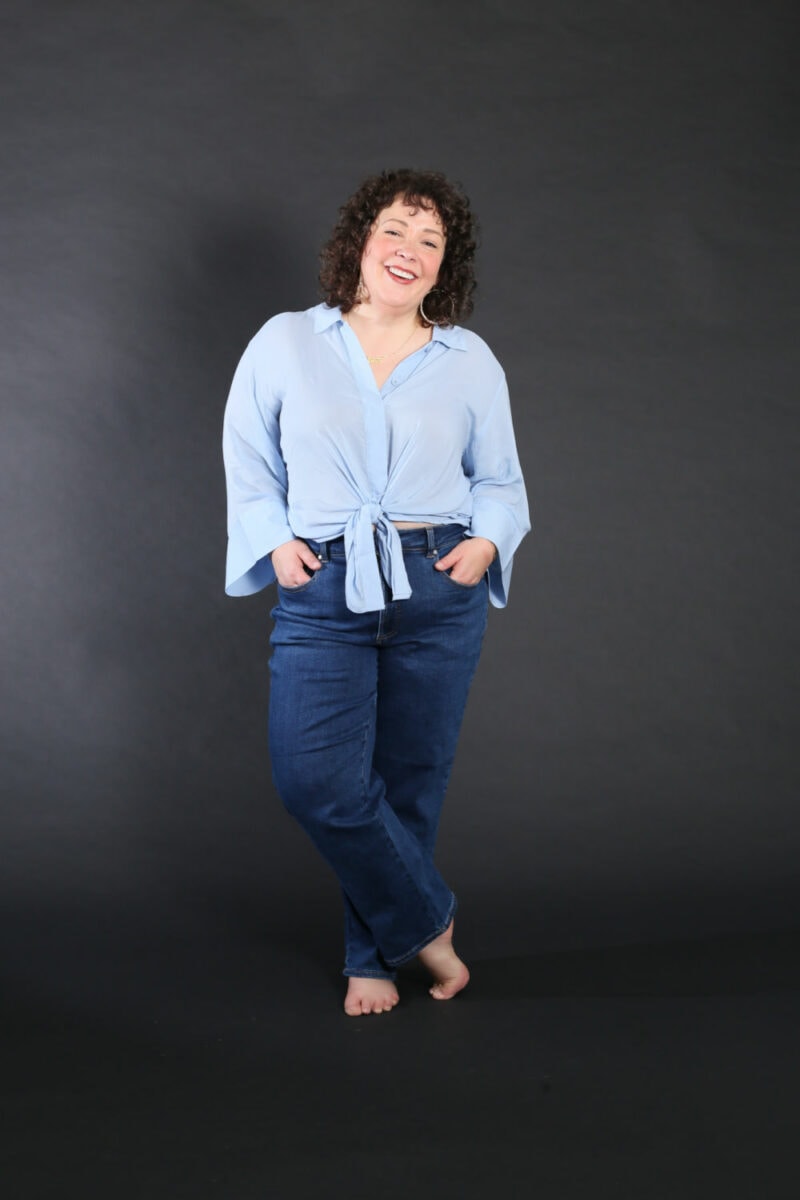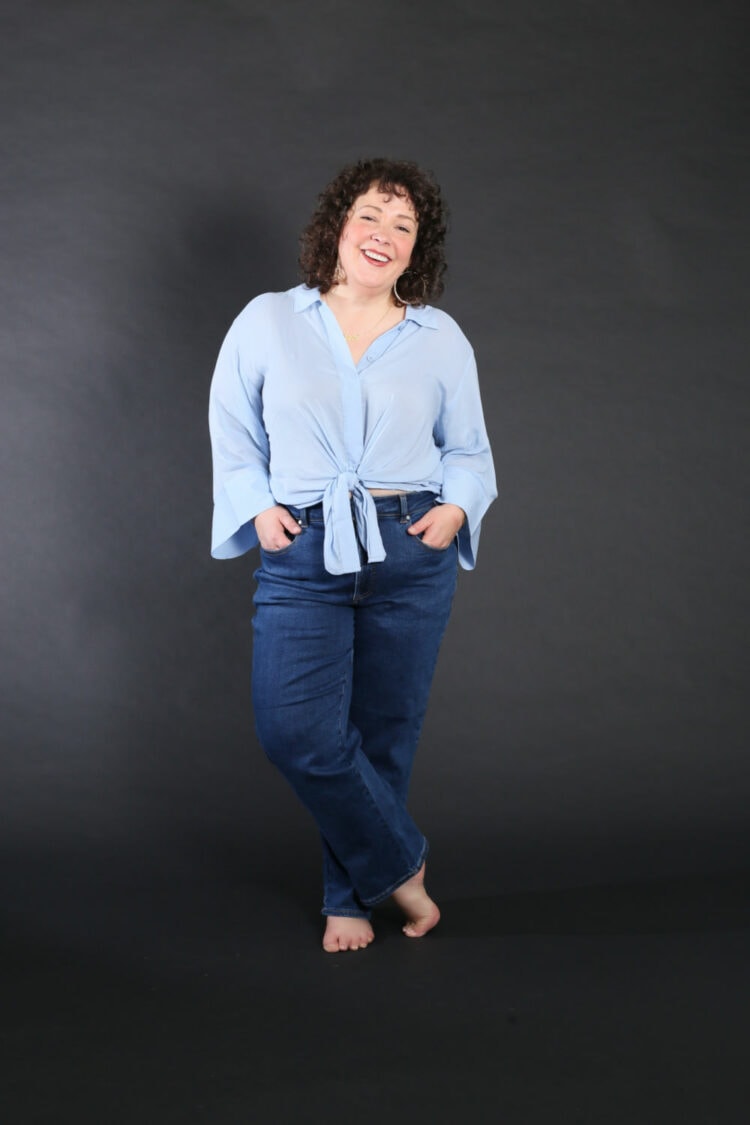 With the jeans, I am wearing the Toni Hi Low Tunic in Chambray Blue, size XS. Again, My earrings are from Woodnote Jewelry on Etsy; my necklace is also from Etsy via CaitlinMinimalist. One bracelet is from REALM and says, "Reign Thoughtfully;" the other is from Metal Marvels and says, "Keep F*cking Going."
I think this jean is the perfect leg width and length to work with sneakers, Birkenstocks, and other flat shoes with a bit of bulk.
Universal Standard Donna Jeans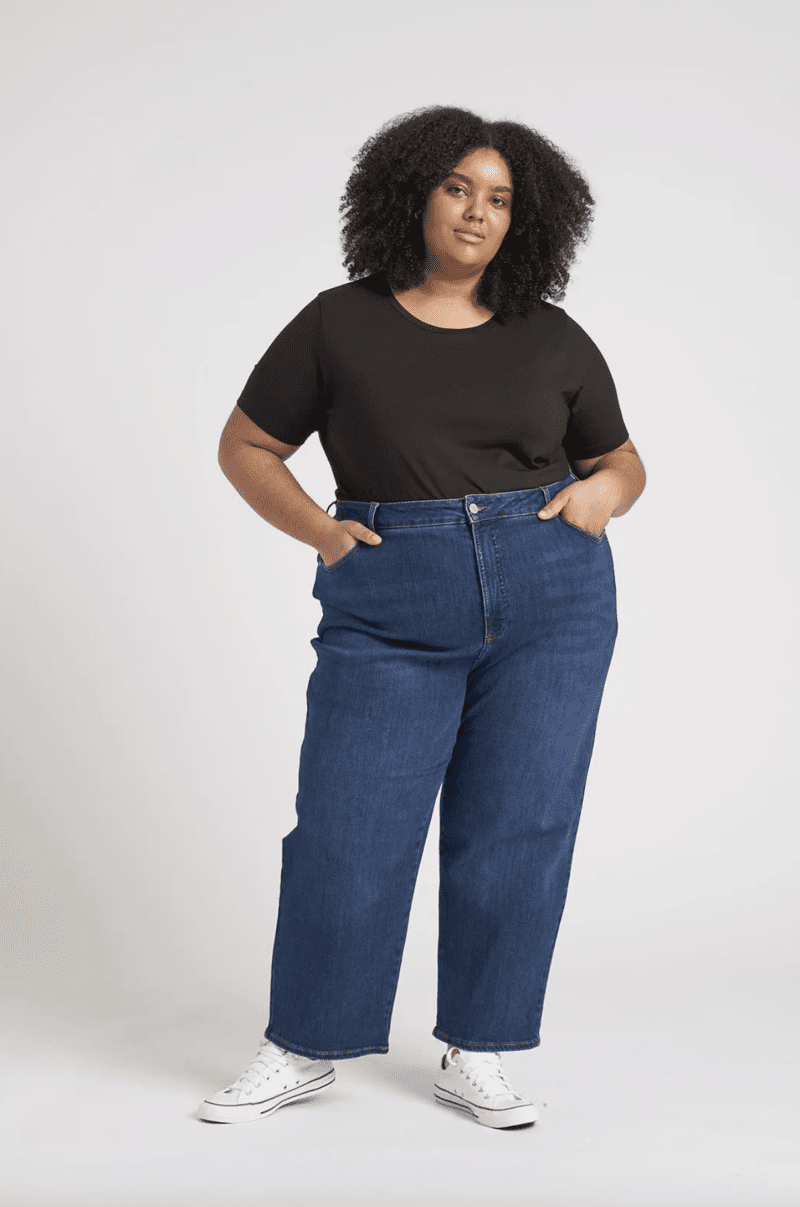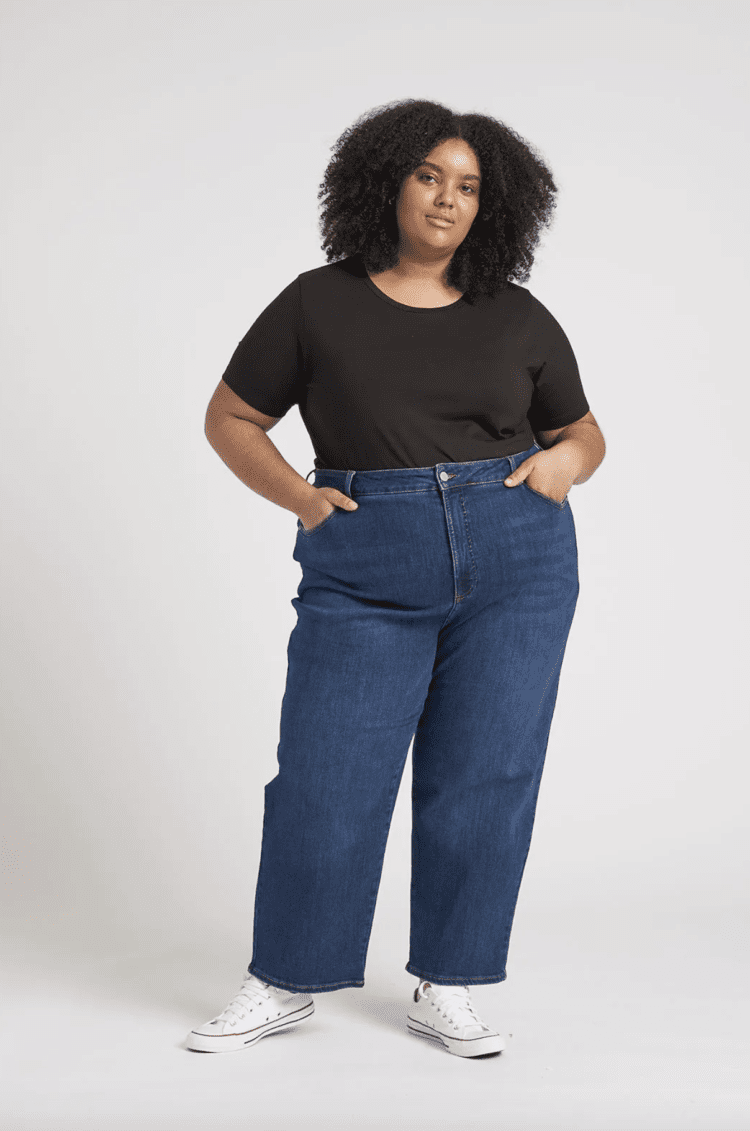 While they are one of the four new Universal Standard denim styles, I did not receive the Donna jeans because they are essentially the same as the Etta jeans, but created for those who have a 10″ or more difference between their waist and hips. If you look at my shape in the Etta jeans and think you would require more of a curved shape for your frame; the Donna jeans may be a better option.
Universal Standard Stevie Jeans Review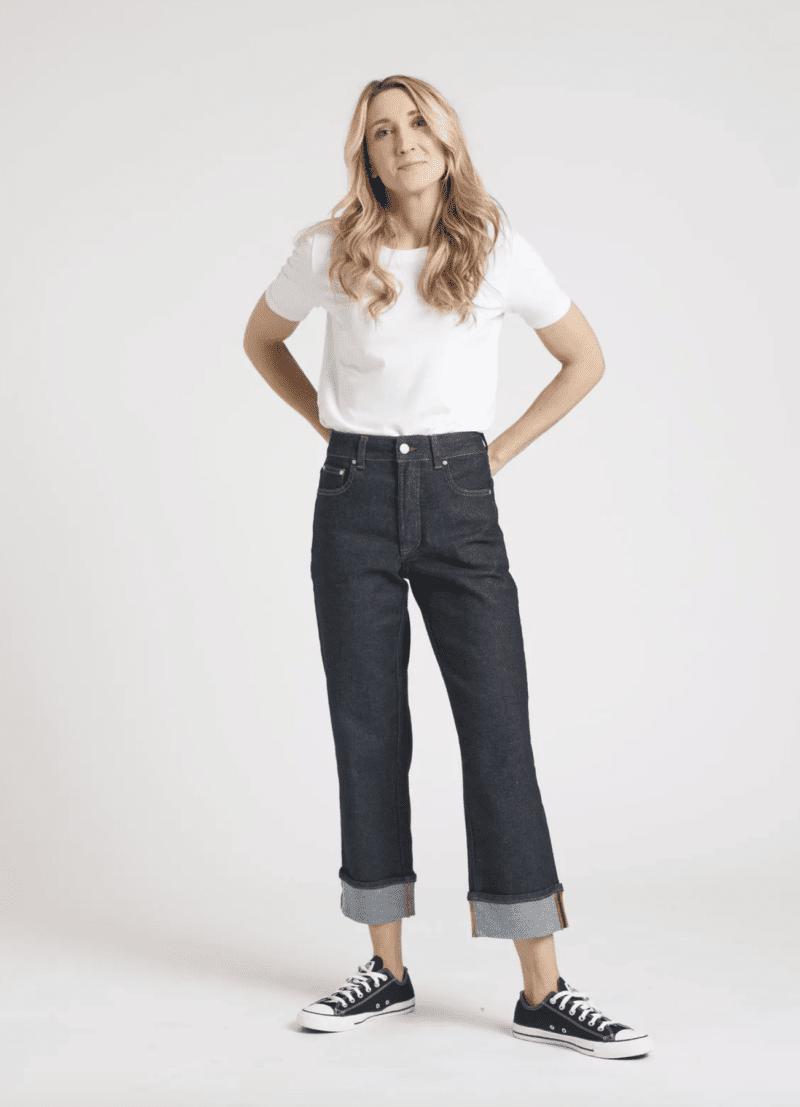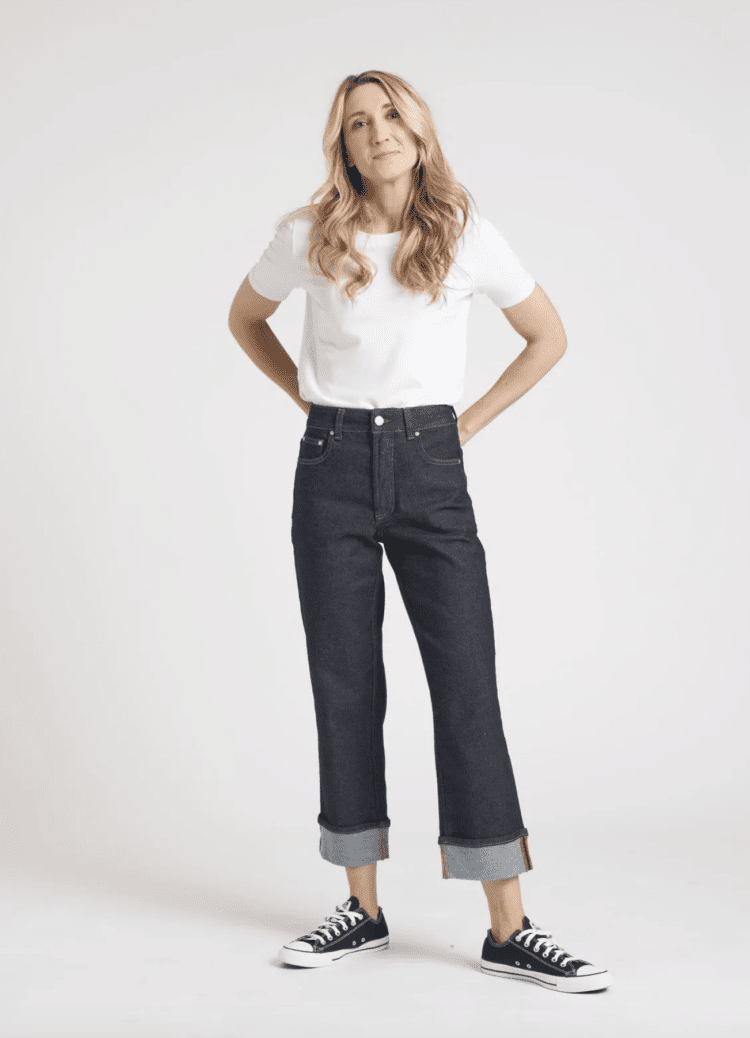 The Universal Standard Stevie High Rise Cuffed Straight Leg Jeans are some of the most anticipated new denim from Universal Standard and I was excited to try them. However, there are no photos because these jeans did not fit me.
Universal Standard sent me the Stevie jeans in size 12, and they were just too big. I should have sized down to a 10, but even a 10 would still be too long for my 5'3″ self. The wide cuff was comical on my short self, and it is stitched in place on the side seams and pressed, so it's not easy to adjust. And with the cuff, the jeans were still so long they brushed the top of my foot.
Universal Standard has limited petite offerings; in 2018 Universal Standard did a big launch of petite sizes and I was invited up to NYC to try the new collection and share my thoughts. However, since then, the petite offerings have been reduced, not expanded. And the Stevie jeans are one style that truly needs to be cut petite to work on shorter frames.
That being said… these are also some seriously nice-looking jeans. Selvedge is often a type of denim that isn't kind to curves. However, Universal Standard's selvedge denim looks crisp and raw, but has secret stretch so it is comfortable, soft, and wearable right out of the box.
The denim looks really expensive, and if you are taller, I think the whole silhouette and cuff and wash would be uber chic and work with so much. The Stevie would look super cool with a pair of your favorite trendy sneakers or a flat slip-on mule or loafer.
Universal Standard's Return Policy and "Buy Later" Program
For those interested in these jeans or anything else from Universal Standard, the company's return policy makes it even more appealing to shop. Universal Standard processes returns and exchanges free of charge. They accept returns and exchange for all unworn and unwashed items within 30 days of purchase, unless the item is listed as "final sale" at the time of purchase.
Universal Standard uses Happy Returns, which means you can return for free by mail, or drop off the items to a Happy Returns bar without having to deal with a mailing label.
Many styles from Universal Standard have the option to "Add to Cart" for the purchase price, or 'Try at Home" for no money down. Try at Home means you can pick up to eight eligible items that will be shipped to your home. You will enter your credit card before checking out, but nothing at this time will be charged to your card. You have 14 days to try what you ordered, and then go through the same return process to return what you don't want. What you keep you will have charged to your credit card.
I have used the "Buy Later" program and find it very easy to do. I think 14 days is more than enough time, and it was very easy to mail back the items I didn't want.
Universal Standard Fit Liberty Program
Any products purchased from Universal Standard's Fit Liberty Collection at this link may be exchanged up to one time for size or color within 365 days of purchase. I have taken advantage of Universal Standard's Fit Liberty program and find it very easy; I followed the instructions, received a free mailing label and before US even received my returned jeans, I received my new pair in the same style, just the size that is better for me now.
Shop the Post:

Have You Tried The New Universal Standard Denim?
I heard from many of you in the Wardrobe Oxygen community that you received some of the Universal Standard's new denim in your Mystery Box deliveries. Did you get any of these four new styles? What do you think of the fit and fabric? I love hearing the thoughts of those who are a different shape or size, as what is perfect for one may not be for another and vice versa!