This article may contain affiliate links; if you click on a shopping link and make a purchase I may receive a commission. As an Amazon Associate, I earn from qualifying purchases.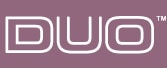 I am always on the look for a pair of boots that fit my large calves, yet still have great style. Like plus-sized clothing, this combination is hard to find. Seems that all boots for larger calves are boring styles or totally tacky and/or dated.
A reader told me about Duo, a UK-based company that prides themselves on having an extensive selection of boots for almost every size calf. I headed over to their site and was utterly amazed at the selection. Yes, like other companies they have the standard tall boot in black and brown and a few selections I wouldn't get caught dead wearing, but so many choices that were current and stylish, I had a hard time choosing which style to try.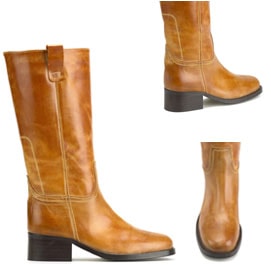 I ended up choosing the Bern in caramel brown (photo from site), which I felt most closely replicated the classic Frye Harness boot that I covet but can't pull up over my ankle. With the ability to size the boot shaft in centimeters, I was able to get a more custom fit than with inches. Converted into American fundage, the boots ended up being $238 with shipping – not cheap but equivalent to high-quality brands in the states that do not cater to my leg shape (and cheaper than Frye!). If these boots were as great as I had read, the price will be nothing for years and years of happy wear.
The boots arrived in less than two weeks, but were sent registered post and required a signature from me (not the husband) to pick up. Since the post office is open only when I am at work, it took a bit longer to get my purchase. No worries, better than leaving them out in the rain on my front porch.
Do note – the return policy is only ten days from receiving and the shoes need to be in mint condition if you do plan to send back. Be sure to wear them on carpeting to try them out at first.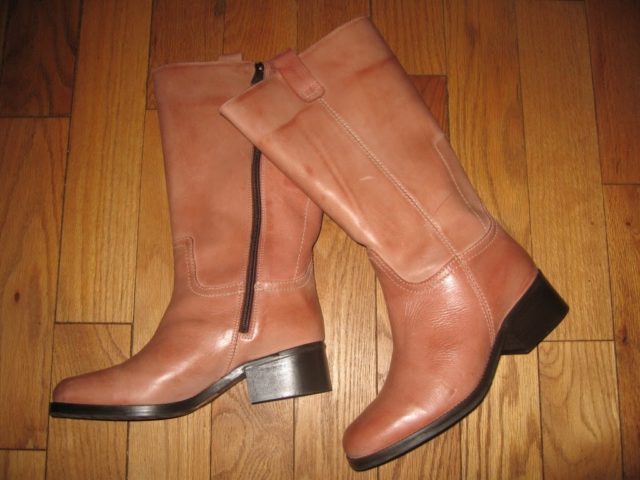 The packaging is excellent – heavy plastic shipping bag that can easily be reused for returns. The box was sturdy and the boots carefully wrapped and protected. And the leather… these are GORGEOUS boots. The color was called Caramel Brown, but the shade is more of a tan – almost the same color as my legs (photo taken by moi). At first I feared this color would look strange and not match anything, but I think the lighter color was actually more flattering with large calves – not drawing attention to the size of the leg but the style of the boot. Like the Frye Harness boot, these boots look cool out of the box, and will look awesome in a couple years after some wear and tear.
The shaft is fleece-lined, and the footbed is leather. The stitching is well-done and high quality. The zipper is sturdy and has an elegant zipper pull. There are elasticized gussets at the back of the shaft for flexibility – if I had recalled this feature, I could have gone a centimeter or two smaller (one should already go a centimeter or two smaller than your measurement as that leather does stretch over time). However, I wanted a casual look and the looser fit seems to work.
Friday night I wore the boots around the house for movies and pizza and unlike previous "wide-calf" boots, these didn't dig into my legs, leaving track marks from the zippers cutting into flesh. Not only that, they were comfy on the feet – good support and decent cushioning. I gave the boots the true test the rest of the weekend – wore them to tailgate for my college homecoming football game (five hours on my feet on concrete) and then Sunday at a luncheon and then a general-admission concert (five more hours standing on concrete). After all that, my feet felt great, my calves were happy and the boots still looked beautiful. The only problem was that the insole/footbed had pulled up a bit and the adhesive stuck to itself, making it lump under my heel. I was planning on replacing the insoles with more supportive ones anyway, so I just unstuck, put back in place and was fine. This happens often with me and boots – I will not judge the quality on this one teeny snafu.
Final verdict? I am a Duo fan and plan on shopping from them again in the future. The international shopping, high ticket price and the strict return policy may seem daunting but the quality and fit make it all worthwhile!