This article may contain affiliate links; if you click on a shopping link and make a purchase I may receive a commission. As an Amazon Associate, I earn from qualifying purchases. 
Hey everyone! Sorry I have been MIA, I had training at work yesterday and no computer time.
So this weekend was pretty great – fun events and gorgeous weather. Saturday started with yoga as usual (no pic, black knit herum pants from C.enne C. Couture, white scoop tee from Gap), then ran a few errands to get ready for the evening (grocery store, liquor store, sports attire store, etc.).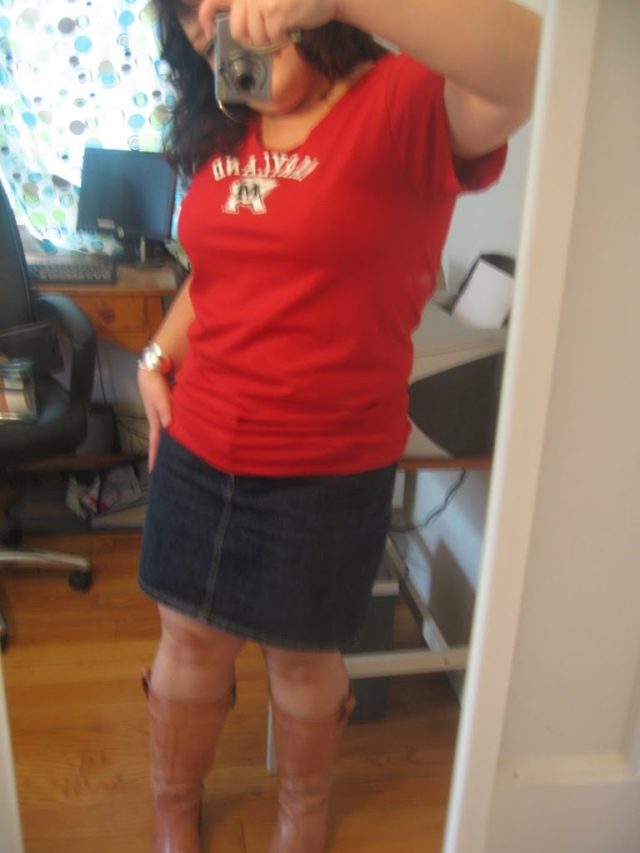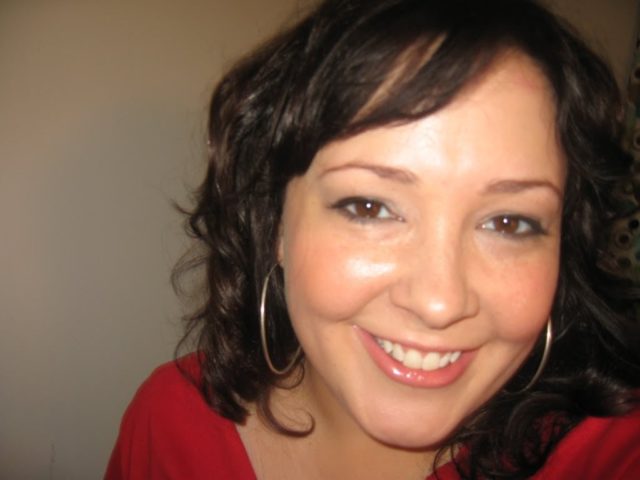 Saturday was the University of Maryland's homecoming and my 10-year reunion of sorts (I graduated from my sorority in 1997 but took a couple classes after that date). I got a Terps shirt from Modell's and of course had to do a bit of DIY to make it look Allie. The plan was to pair it with my dark Flirt jeans from Old Navy and then my Chucks, but even though the jeans shrunk with washing, they were still far too long to wear with flat shoes. My Joe's jeans were too light and my old Curvy bootcut from Gap is just a weird dated color and I didn't like the look. Friends were downstairs waiting so I just slapped on my dark denim skirt from Gap and my new boots from Duo and raced out.
Hair was washed and conditioned in the morning, a bit of Jonathan Silky Dirt applied while damp, and then allowed to air dry during sun salutations. I used a curling iron to straighten the bangs and to smooth out a few frizzy spots, then a bit more Jonathan Silky Dirt twirled around locks for separation.
Makeup was L'Oreal True Match concealer in W4-5, philosophy's The Supernatural in Beige, Cargo Matte BeachBlush in Tenerife, Revlon Super Lustrous Lip Gloss in Glossy Rose, Revlon ColorStay shadow quad in Neutral Khakis – the ivory in inner corners, bit of khaki on lid. Lashes curled, coat of DiorShow with coat of Maybelline Great Lash waterproof over it. Maybelline UltraLiner in black on top lash line, and a bit of Body Shop Eye Definer in black around both lash lines of a smoky look.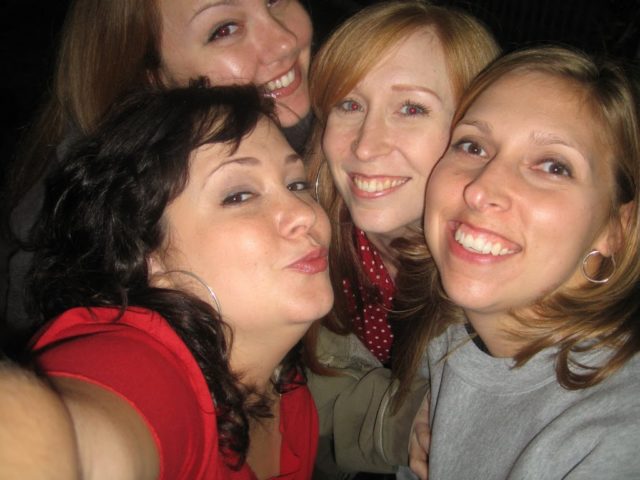 The boots were so comfortable! I tromped all over the lots near the stadium, saw good friends and did a TON of People Watching. You know you're old when you roam the lots with your sister and friend to see what's going on and end up having the longest conversation with two cops reminiscing about the 90s and comparing what high schools we attended. But it was a ton of fun, here's a pic with my sister and two of my best friends.
Unfortunately, coming home I had the camera on to take a picture of my husband making a silly face and I entered the door and tripped over the welcome mat and landed camera-first in my entryway, smashing in the zoom and making the camera inoperable. I almost cried.
So Sunday, no pictures. Probably a good thing. I drank an energy drink at tailgate to stay awake and ended up waking with a start at 4am and couldn't get back to sleep. My plan was to go to my friend's baby shower but we had some miscommunication in the family and found out that it was my father in law's birthday party that day (yeah, no one told me about it and the husband thought I knew). So unfortunately I couldn't go to Sarah's shower, but instead hung out with the fam at a luncheon (which was not bad at all, I just felt awful that I double-booked).
Hair was washed and conditioned, bit of Jonathan Silky Dirt and the plan was to do a repeat of Saturday's hair but with the schedule change, I didn't have the time to let it air dry so I dried it fast with the dryer and paddle brush, and then straightened it with the clothing iron.
Black merino shift dress from Banana Republic, the same boots from Duo, my silver cuff and hoops.
Makeup was L'Oreal True Match concealer in W4-5, philosophy's The Supernautral in Beige, Cargo Matte BeachBlush in Tenerife, Revlon Super Lustrous lip gloss in Glossy Rose, a bit of ivory shadow from the Revlon ColorStay shadow quad in Neutral Khakis, several coats of DiorShow mascara and Maybelline UltraLiner in black on top lash line. Really wish I had my camera because I thought it was a cute total look.
After the luncheon, we had dinner at an Irish pub with friends and then saw Rodrigo y Gabriela in concert at the 9:30 Club. Oh my GOODNESS, if you have not heard Rodrigo y Gabriela I highly recommend you check them out (this last link is thier MySpace page where you can hear a few songs). They are two guitarists, no singing but the things they can do with a guitar! They were at Bonnaroo but I missed their performance. A friend asked if I wanted to see this show and I jumped at the chance. One of the best shows I have seen in a long time. Too bad I was running on empty by this time with only about four hours of fitful sleep…
On a good note, figured out the issue with my hands. Body Shop's Moisture White face cleanser. I don't use it every time I clean my face, but I finally figured out this weekend that when I do use it, my skin gets itchy and if I use it two days in a row, I end up with the welts. Sort of scary, huh?