This article may contain affiliate links; if you click on a shopping link and make a purchase I may receive a commission. As an Amazon Associate, I earn from qualifying purchases.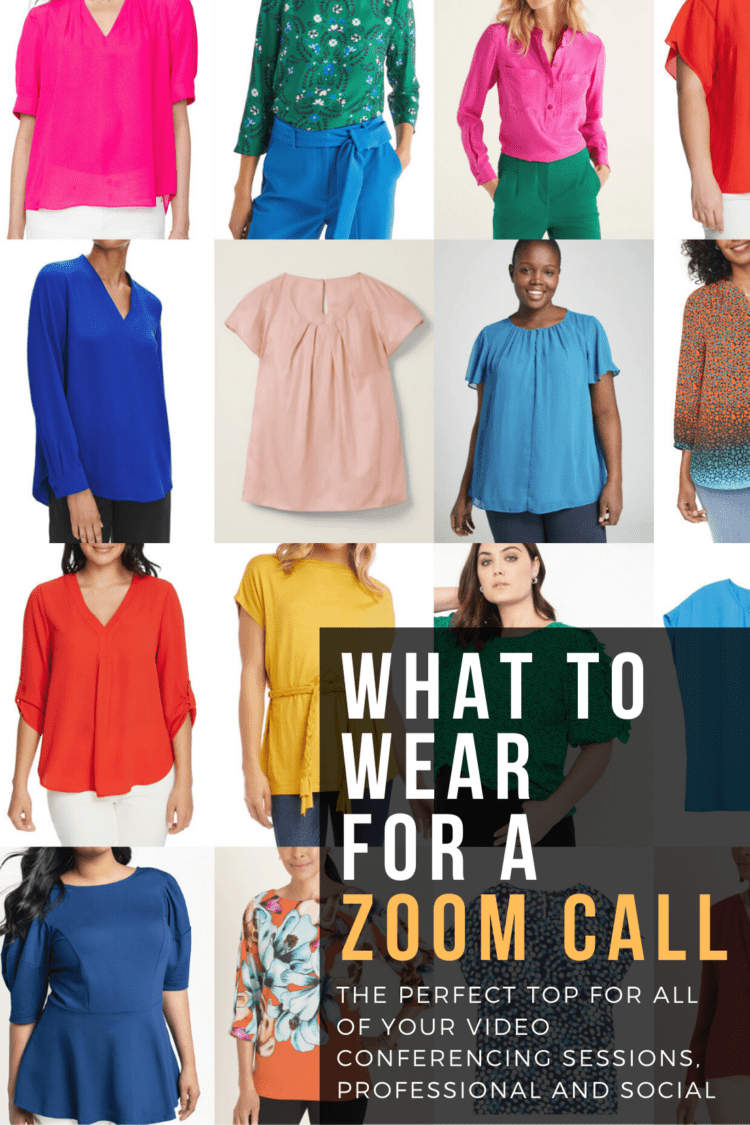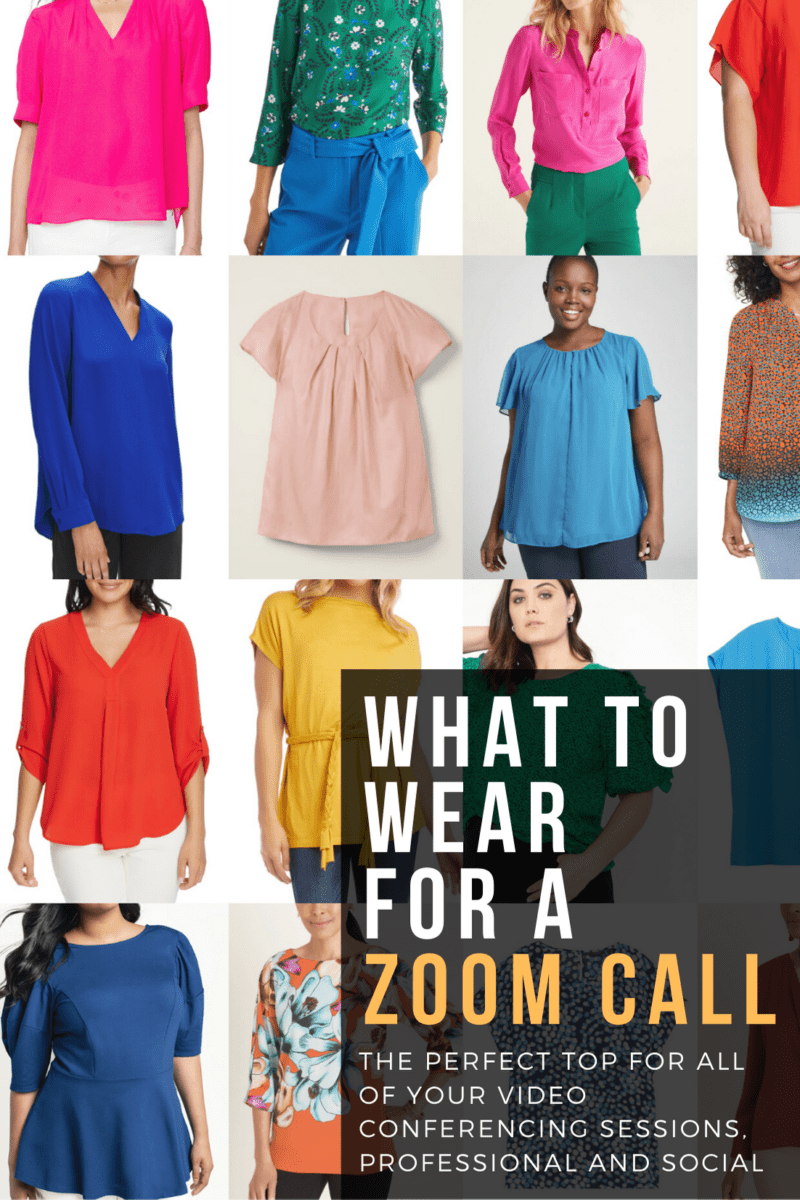 Zoom and other video conferencing tools are a must right now. Whether it's keeping up with your coworkers, pitching to clients, celebrating a relative's birthday, or joining in a happy hour with friends or others in your community, video conferencing is the new way to stay connected. Several sites will discuss the best angle for your camera, the best way to set up your background, or the best downloadable backgrounds for a Zoom meeting. But Wardrobe Oxygen is about style, so this post will focus on how you look during a Zoom meeting. What you wear on a Zoom meeting is different from what you would wear on TV, in a board meeting, or when meeting friends for drinks at the bar. You need a Zoom blouse.
What to Wear for a Zoom Meeting
I didn't come to this realization until after completing over a dozen different video conference calls, Facebook Lives, Instagram Lives, and YouTube livestreams in a month. I analyzed what I wore and what others wore and the effect and determined that certain fabrics and silhouettes have the best result on video calls. What I find makes a perfect Zoom blouse:
A neckline that isn't too low, but is wide and low enough to have plenty of neck between chin and blouse. Forego buttoned-up collared shirts, turtlenecks, mock necks, bow-neck blouses, and anything else that hides your neck. When on a video call you don't want to look like a floating head, which can happen if your neck disappears. On the other hand, a Zoom call is not the time for cleavage, slipping necklines to showcase bra straps, or a neckline so wide or low that the blouse begins below the camera line.
A blouse with a sleeve. A blouse with at least a cap sleeve will reduce the focus on your body and bring it back to your face. Sleeves of the same color and print as the body of your blouse will be an accent instead of the star of the call.
A not too shiny yet professional fabric. Webcams can be sensitive and will pick up all the shine of a satiny blouse, the transparency of a slightly sheer top, the casual feel of a t-shirt or a pique golf shirt. Crepe, matte jersey, and polyester knits not only will look good on camera, but they are also usually machine washable and resistant to wrinkles. Also a perk: such blouses can be found at most any pricepoint from most any fashion retailer!
Nothing too fitted or structured. You will be wearing this top while sitting, and depending on your setup of lighting, chair, and desk a fitted and/or non-stretchy top may not hold up well. Nothing that will have buttons gape or shoulders pull while sitting at your desk.
A happy color or print. Articles may say that bright solid colors and prints can be dizzying on TV, but you're not under bright lights with an HD camera; you're in your home office or at your dining table with your mediocre-resolution laptop camera. Color and print can actually be a happy distraction and will brighten your face, especially if you are taking your calls in front of a blank wall in your home.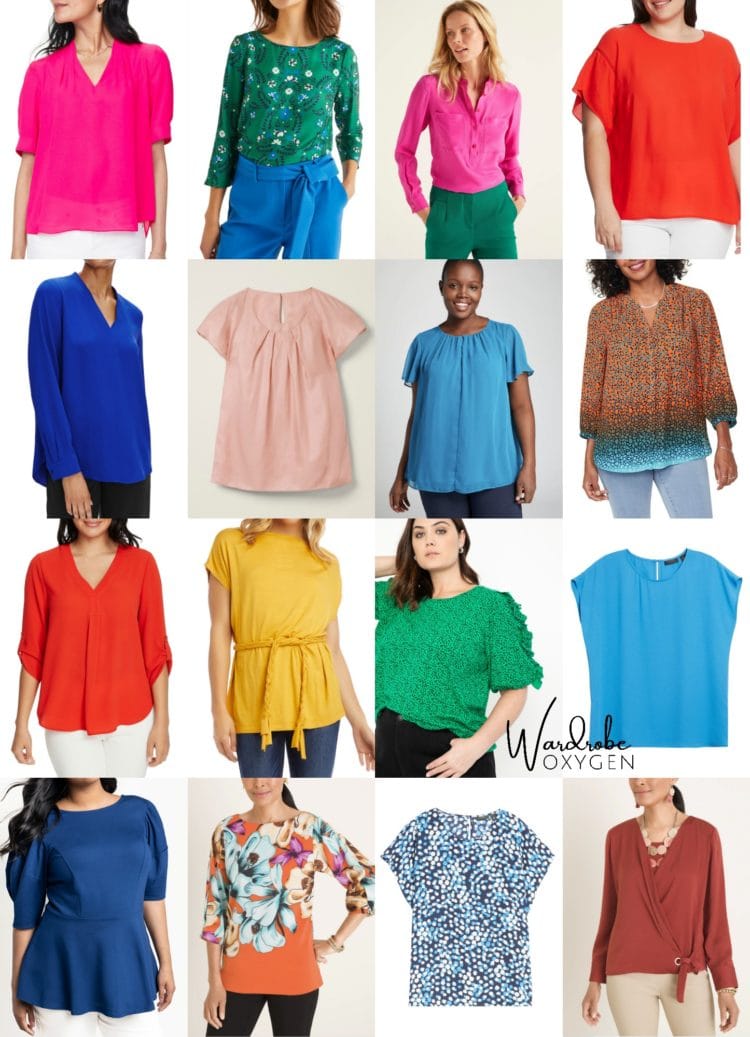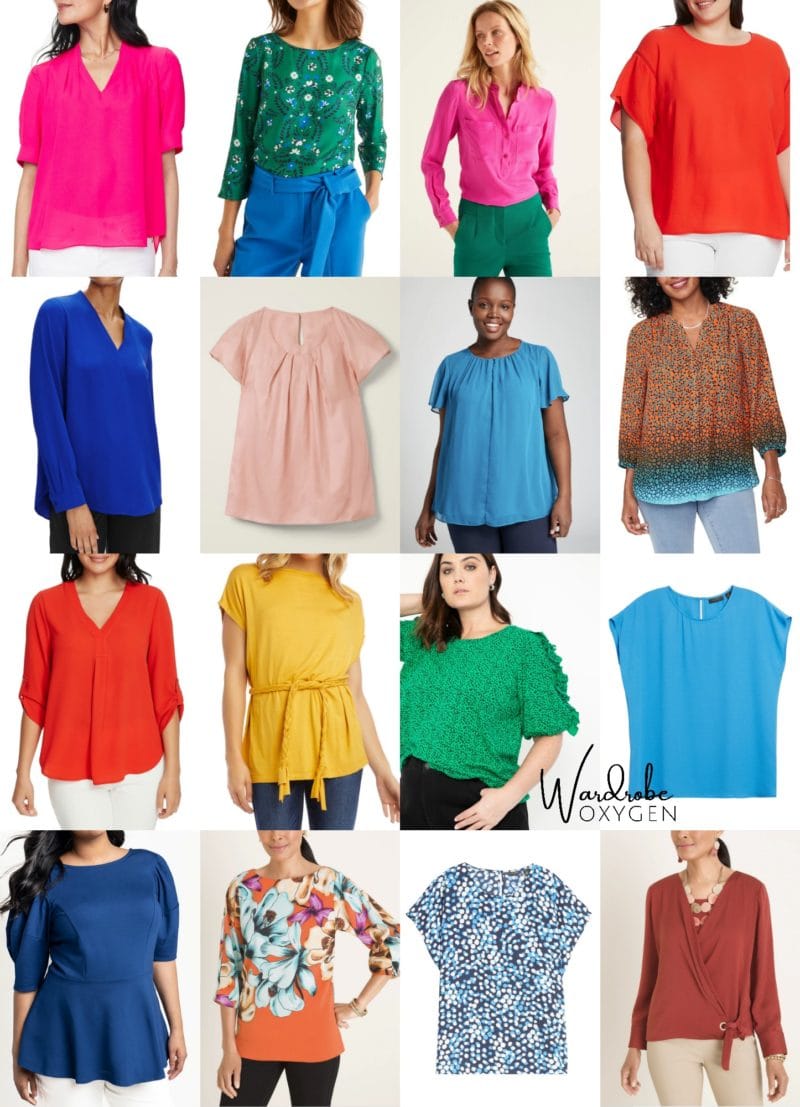 pink v-neck blouse (sold out; similar) | green printed blouse | pink button-front blouse | coral blouse
long-sleeved blue blouse | pale pink blouse | cerulean blue blouse | orange print blouse
coral blouse (sold out; same color and similar neckline) | yellow top | green print blouse | cerulean top
blue peplum blouse | orange floral top | blue printed top | rust wrap-style blouse
If your job is requiring regular video conferencing, very likely Zoom dress code is more relaxed or you're already relying on what you wore in the office. For everyone else, you likely only need two to four Zoom blouses, pieces you can put on with your joggers or leggings to look polished from the waist up without a lot of rigamarole. Fill in your brows, maybe add some earrings or a necklace, and you'll achieve a polished, professional effect that isn't boring or sad. Don't live by the out of the home rules, it's okay to wear the same things more than once, but be sure they are clean and if they're a wrinkled mess, iron them or at least hang them in the bathroom during your next steamy shower. Having one or two Zoom blouses at the ready reduces the stress of being on camera, knowing you have a top that will look good, feel good, and give the effect you desire during your next video conference!
Shop My Picks for What to Wear for a Zoom Meeting:

How to Improve Your Image During a Zoom Meeting
Backgrounds shouldn't be cluttered, but otherwise, it's personal preference and based upon your field. But everyone looks better during a Zoom meeting with the proper lighting. I can't recommend a ring light enough for any sort of video session, including Zoom meetings. Ring lights were created to offer even light for a photographer or videographer where the camera could be inside the ring and focus on the subject. However, ring lights are still incredibly beneficial even if they're sitting on the desk behind your laptop during a Zoom meeting. With a ring light, the light isn't focused on your nose and forehead and shadows are reduced, providing a more even look to the face, fewer wrinkles and recesses, and in general a bright, even, and flattering effect.
Ring lights come in a variety of sizes, wattage, and purpose. If you are looking for a light just for Zoom meetings and the such, there is no need to spend a lot of money. Below I share a few levels of selfie lights and how they may work for your situation:
Under $10: Selfie Ring Light. This clip-on selfie ring light is created for SmartPhones, but it clips on to laptops quite nicely to illuminate the face for Zoom meetings, webinars, and Skype sessions. The downsides are that it will need to be charged after about 30 minutes and since it claps onto your laptop, it will hide part of your screen. Some of these selfie ring lights only have one level of brightness which may be too harsh for a Zoom meeting or your room's lighting; the one I link to has three settings.
Under $40: Desktop Ring Light. While this ring light has a tripod that will extend 42″, reviews share that it is flimsy and best for desktop use. The smaller 6″ ring makes it easy to fit on the desk behind your laptop facing you directly. If you are taking a Zoom or other session by phone, this ring light has a holder for your SmartPhone in the center of the ring.
Under $70: Intensity and Color Adjustable Ring Light. If you need to be on video regularly, it's worth it to spend a bit more for something that will make you look great, regardless of location, time of day, or situation. This ring light has manual temperature settings that change from 2700K (amber LEDs) to 5500K (white LEDs) that can be adjusted through a remote on the cord, meaning you can even do it while on camera! With a 12″ ring, you will get more even and therefore more flattering lighting and less likely to get the obvious ring look on your glasses or in your eyes. With a clip for a SmartPhone, a tripod that extends to 67″, and a design created for easy transportation, this is a ring light you will use beyond your Zoom meetings to light up selfies, family portraits, photoshoots, and much more.
Shop Ring Lights:

What Makeup is Necessary for a Zoom Meeting
Honestly, no makeup is necessary. However, if you are using a ring light or other lighting to provide a crisp visual, you may find that your face is a bit washed out. I recommend defining your brows, adding a bit of blush and/or tinted lip balm, and if you feel comfortable with it, some mascara. There is no need for a full face if you are not comfortable or wanting to do that, but you'll find a bit of definition of your features will go a long way.
For more tips on how to look your best during a Zoom meeting, DC Style Factory created a short yet extremely informative video on IGTV on this topic. If you have any suggestions from your experiences with Zoom meetings and other web conferencing tools, please share them in the comments!
Since many of the tops above are now sold out, I have found a few more blouses perfect for your next Zoom meeting in the carousel below:
Shop Great Blouses for Video Conferences: