This article may contain affiliate links; if you click on a shopping link and make a purchase I may receive a commission. As an Amazon Associate, I earn from qualifying purchases. 
Leaves are starting to turn, it's cool enough to sleep with the windows open, and everyone is guzzling Pumpkin Spice lattes from Starbucks… Fall is officially here! Pack up those cotton voile sundresses and straw fedoras, this is the weather for pashminas looped at the throat and tall boots pulled over your skinny jeans.
If you have wide calves, you can still rock tall boots. I have extremely large calves and thick shins and ankles from walking on my toes as a kid and have four pairs of stylish and comfortable boots in my closet. Below are some of my favorite resources for finding fashionable wide calf boots.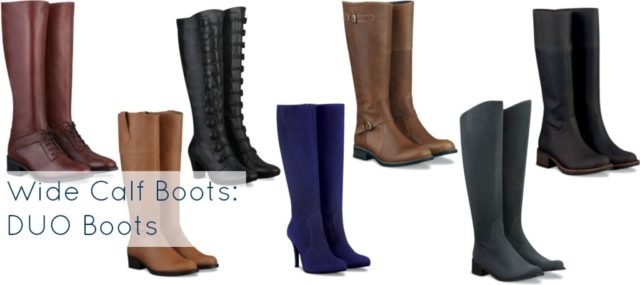 Duo Boots
This brand will forever be my favorite for wide calf boots. DUO is based in the UK, which can be a bit concerning for my fellow US-based folk, but I think they are worth the trouble. Current trends and classic styles, high quality leather, well-crafted boots, and a repair shop.  You can read about my experiences shopping with DUO here:
DUO carries boots and shoes in a variety of widths, so it is also a great resource for those with very slim calves, and wide or narrow feet. They have a ton of customer reviews which have helped me in the past make a boot decision.
I highly recommend contacting DUO before placing an order – their customer service is stellar. They reply to emails quickly, know their product, and if you provide measurements and additional details they can help you find the right pair for you, eliminating the need for returns and exchanges.
Note: DUO is currently offering free shipping to the states!
Wide Widths
Wide Widths carries some of the most popular brands of boots for those of us with wide calves. You can find anything from uber-trendy styles to classic silhouettes, and they organize their collection by heel height, style, brand, and width of calf. They even have rain boots!
I have the Ros Hommeson "Maryland" from Wide Widths and find them sleek, stylish, and classic. Again, this is a company with stellar customer service who looks forward to helping you find the perfect boot.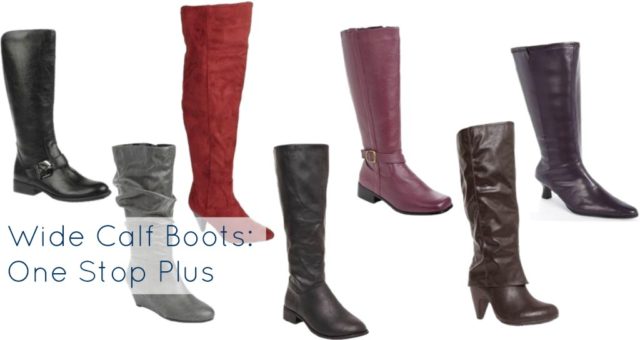 One Stop Plus
Most plus-size online retailers have a selection of wide-calf boots, but One Stop Plus has one of the largest. At the time of this post, One Stop Plus had 169 different styles of wide calf boots available.
The selection is extremely varied – you can find uber trendy styles, budget-friendly styles, as well as very expensive boots that will give you years of wear. Read the descriptions – not all the boots are wide calf, some are just available with wide foot width.  Also check out the customer reviews which can help you narrow down to the styles best for you.
***
Other retailers carry wide calf boots and I have shopped from them, but the three above I have found to have the largest selection and are brands I have purchased from in the past.
Keep in mind, many brands carry what they call a wide-calf boot, but that doesn't mean it will fit your calves. A standard-size tall boot is usually 14-16" in circumference, sometimes a wide calf boot is only an inch bigger. Some brands even consider 16″ to be wide calf.  Before shopping, measure your calf at its widest point while your foot is flexed. A boot will stretch with wear, but I don't recommend purchasing smaller than your calf for it may not stretch enough and can cause serious pain when trying to stretch them out (been there, done that, have the zipper-shaped bruises to prove it).
Cobbler can stretch boots, but depending on the style and fabric, may only be able to stretch the shaft an inch. Cobblers can also alter boots for a better fit, shortening the shaft, tapering the top of the boot, and even inserting stretchy panels. If you find a boot that is near perfect, it may be worth it to have them adjusted by a cobbler to make them perfect.
Once you have the boots of your dreams, care for them so they look great and last a long time. A well-maintained pair of classic tall boots can give you a lifetime of style. Polish regularly and after each time they are worn in snow, rain, or slush. Use boot trees (or even a rolled-up old magazine) to keep them upright, preventing creases in the leather. If they get wet, stuff with newspaper and give them a lot of ventilation and indirect heat so they dry without cracking or losing their shape. Take them to the cobbler at the beginning of each season to be reheeled and resoled.
And finally… one does not need a pair of tall boots to be stylish. The past seasons have had boots of all heights come in vogue; a bootie or slouchy ankle boot can be just as chic and may be more flattering to your figure. We don't all look good in every trend, so if you keep trying and they just don't look right… that's okay. Make your own trend, one that works with your body and personal style!
Follow Me | Twitter | Facebook