This article may contain affiliate links; if you click on a shopping link and make a purchase I may receive a commission. As an Amazon Associate, I earn from qualifying purchases. 
Last spring, I purchased a navy and white stripe bateau-neck tee from J. Crew (you can see me wearing it here). I bought it on a whim; it was on sale with an additional percentage off. I needed another striped shirt like I needed a hole in my head but I bought it anyway. A month later, I bought another in gray and white, and considered, but stopped myself from buying another navy one.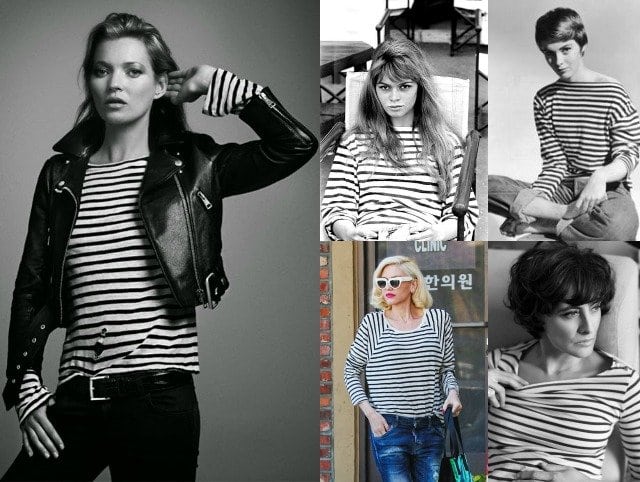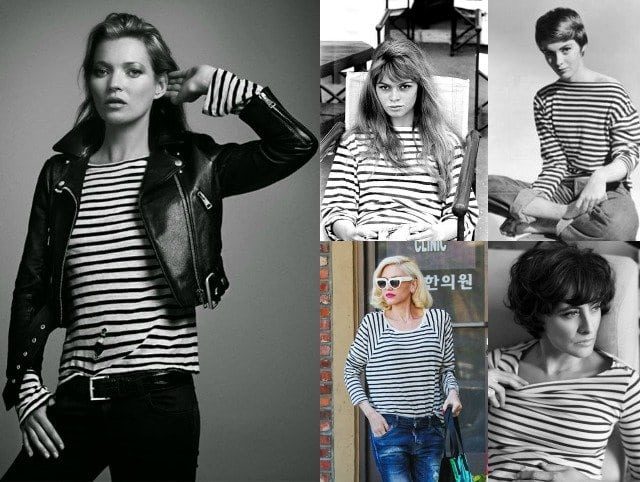 And now I am so emotionally and sartorially attached to that navy and white striped impulse buy I can't imagine life without it. And it's starting to give signs that the end is near. Under the arms, the navy stripes have bled so there's a light blue halo in each pit. There's tiny holes in the fabric right at my belly button, and the fabric is wearing into a cool vintage feel, but the type that one wrong move and the shirt may tear at a seam. But gosh I love this shirt. Unlike a classic Breton who has its white stripes twice as wide as the blue, I love that the stripes are equal in width. I love the weight – not linen thin, but not heavy and boxy. It has a hint of stretch, but not too stretchy or spongey. It's square, but the fabric drapes nice so it doesn't tent out from the boobs and hits at that perfect length on my hip where it's cute to leave it untucked with shorts or jeans. I put it on with my beloved self-distressed denim shorts or a pair of dark slim jeans, muss up my hair and put on some kohl liner or red lipstick and pretend I am Kate Moss, or a chic French woman, and not a short chubby working mom in the suburbs. I envision my daughter opening a steamer trunk decades from now, pulling out this shirt, holding it up and still smelling a hint of me and my perfume on it, and remembering all the times I wore it, the adventures we shared while I was in the navy and white striped shirt.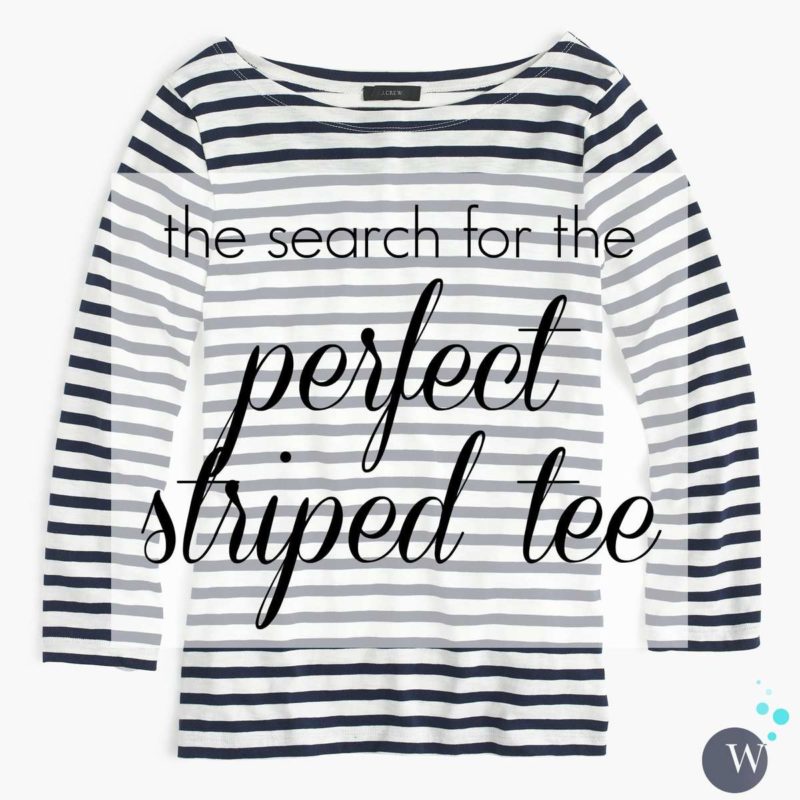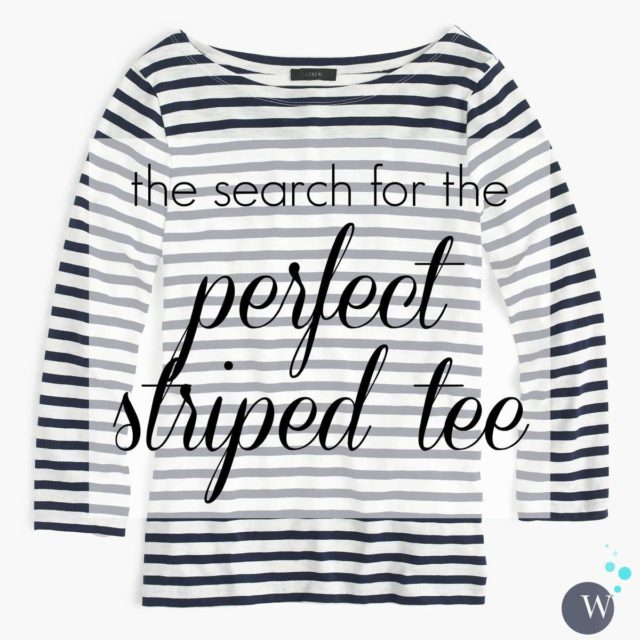 But really, I'm 40 and short and pudgy and wearing a tee shirt with holes and blue-stained armpits is not a Kate Moss moment. It's a hot mess. So after wearing the shirt Labor Day weekend and coming to the non-Kate realization, I decided my mission was to find a worthy replacement. I don't need okay – I already have dozens of okays. I need The One, and I was going to take the advice I'd give any of you to make it happen.
1. Go Back to the Retailer and See if they Have It or Similar
J. Crew Factory did not have this exact striped boatneck in stock, but they did have two striped boatneck tees available, one was on sale, and as usual, they were having an additional percentage off all their merchandise. Shall I find The One for less than $20? Should I purchase multiples just in case?
This tee was white with slimmer darker stripes, but online it didn't look like that drastic of a difference so I took a chance. I ordered it in Deep Orchid and Ivory in Large and Oxbow and Ivory in XL.
This is not a worthy equivalent. While these are perfectly fine striped tees, they're too stretchy, the sleeves too fitted, the neck too high and wide, and the light ground too prominent. This is also a thin tee; you'd need to wear a nude seamless bra underneath. However, if you don't have a striped shirt and want one to throw on with jeans on the weekend, it's a nice choice for a nice price. The Deep Orchid is pretty fab in that it's a dark purple but still gives the classic feel of navy.
I didn't even try this one on because like the other tees, the light ground was far more prominent. And in the case of this shirt, the light ground is "oat" which is a heathered oatmeal color that is not what I am looking for. Should have caught that before ordering, but I was drunk on Breton stripes.
2. Look on Resale Sites, Someone May Be Selling It!
I went to eBay and looked for J. Crew Stripe, since some may try to pass it off as non-Factory since the labels are the same. And I found it… in gray. It was good used condition, said worn only once and a small hole in the side. I still have my original gray and white shirt and like it and wear it often, but it's not in as bad of shape and also… it doesn't make my heart sing. But I bought it anyway for about $17.
The hole was 2" in length and there are two tiny holes at the belly button, just like on my navy and white shirt. Also it stinks of some nasty-ass detergent, cat pee, and smoke.  I checked Poshmark, and found three people also selling the gray version of this shirt. They were selling it for more than the eBay person so I went with eBay.  I shouldn't have bought this. My mission was to find The One and The One is navy and white, not gray and white. However, I now have an alert set on eBay in case someone does list a navy and white version!
While searching eBay and Poshmark, I found a ton of striped tops from other retailers. One was a black and white striped ribbed top from ModCloth via eBay that could be off the shoulder, or just a wide neck. It's similar to their Roller Derby Date Top, but longer in length and more ribbed of a knit. I ordered it and it's pretty freaking awesome. It's that type of off the shoulder that if need be, you can wear with a molded cup normal bra with the straps slid down. It's opaque, stretchy and thick and not clingy and I think you should expect to see it soon on the blog or Instagram paired with a funky print full skirt. Yeah, eBay and Poshmark are dangerous places to visit if you're easily swayed off course and my stripes love is pretty intense…
3. Go with Brands Known for This Type of Item
I own a Lands' End striped tee, and while I like it, it's not The One. I also own this one from L.L. Bean and it's nice, but it's not right for me. A fabulous reader from France gifted me a classic Breton tee from Armorlux and it's amazing, but the white is prominent and there's something about those wide navy stripes that I adore. St. James also has the mainly white ground, so I decided to check out the retailer I regularly recommend for Breton tees – Boden.
No idea why I ordered this in a 14; I know Boden tees run big. But for some reason I did. And just as expected, it's too big. It looks very ordinary, reminds me very much of a striped tee I bought in a panic a year or two ago. I went to visit relatives down south and it was far hotter than expected; the whole family ran to the only clothing store in the vicinity, Walmart, and bought a couple shorts and lightweight tops. One was a navy tee with white stripes that got the job done, but looked so very… mom. It looked as though it should have been tucked into pleated khaki knee-length shorts and finished off with a pair of white sneakers and a sun visor. This Boden Short Sleeve Breton was a better quality and more expensive equivalent of that Walmart striped tee. And yeah, too much white.
It's nice; if I had to compare to the one from J. Crew Factory, this one is much nicer quality, fit, and fabric. This one is not sheer, and the arms fit quite nicely (though a touch long for my 5'3" self). I ordered this one also in a 14, and think the 12 may have been too snug in the chest and upper arms. If I didn't already own a dozen striped tees in this same exact white ground/navy thin stripe combo I would keep this one because it's pretty classic and well made. I'm glad to know the shirt I regularly recommend is actually this classic, well-made, and flattering.
4. Consider Having the Piece Custom Made
WTF, who is going to spend a ton of money on having someone custom make you a TEE SHIRT. Are you KIDDING ME? But I decided to check out Etsy and see if there's any striped tee sellers out there. Who knows, there may be someone who makes striped tees, maybe I can send one of the gray ones as a pattern if they have the right knit… you never know until you search, right?
Well there's a couple retailers out there who make striped tops on Etsy, and the navy stripe is the same width as the white. But these retailers are in other countries, the material does not look correct, and the reviews are mega meh. So I did investigate, but I didn't go this route.
5. Look for Inspiration; Visit Blogs with a Similar Aesthetic for Ideas Where to Shop
I looked at the pile of bags that need to be shipped back, all with lovely but not right striped tops. I looked at my drawer full of striped tees, my beloved Old Blue on top, mocking me with that worn azure armpit. I opened my phone, and went scrolling through Feedly, procrastinating on taping up the returns. And I came across this post from Girls of a Certain Age. Omigod… is that MY SHIRT? I headed over the J. Crew and this shirt comes in navy and white, and gosh it looks more like Old Blue than anything else I have seen online. Is this THE ONE????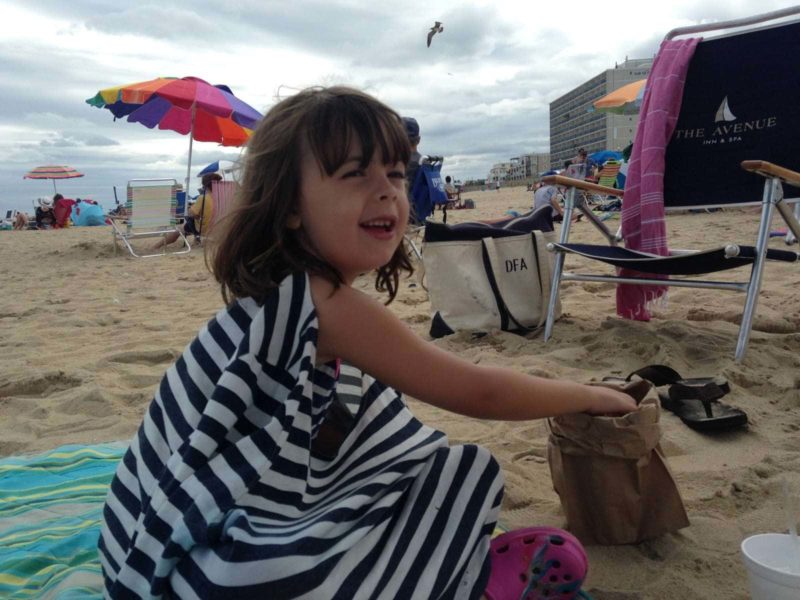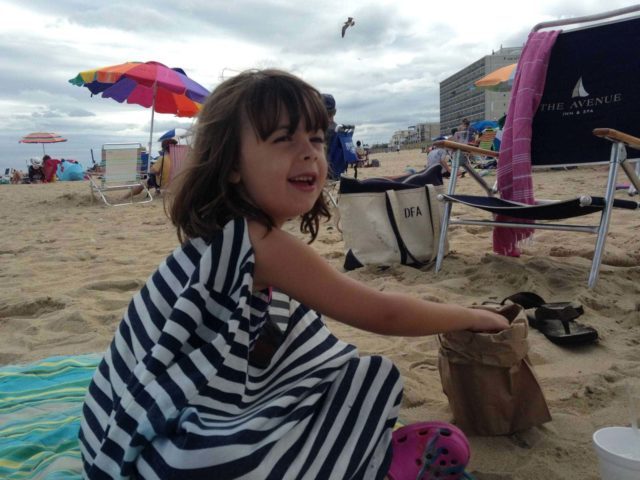 Emerson at the beach in my beloved striped shirt – see those tres chic armpits and the holes in the front? 
I ordered two in Large and one in XL and will be sure to report back. Now, let me end this post and get these returns to the post office, I need my money back to buy more stripes!
Shop My Picks for Striped Tees: