As a blogger, I have the opportunity to receive free products for review. While this can seem pretty nice, it's hard when the free product I receive underwhelms, and that happens more often than not. And then there's Mary Kay, who impresses me on a regular basis. I must admit, growing up I felt Mary Kay was a bit cheesy. And then they sent me some products to review through BlogHer, and not only did I like them but I liked them so much that I'll continue purchasing some of the products. Each time I am asked to review Mary Kay, I jump at the chance because I know I am going to be impressed and very well may find a new favorite beauty product.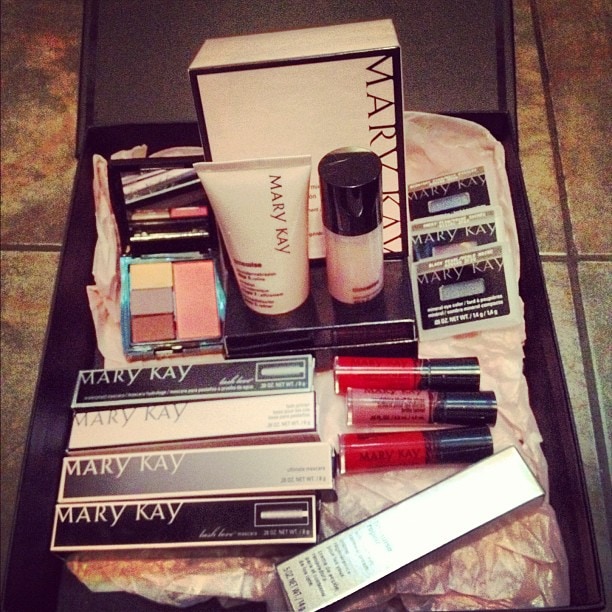 Recently Mary Kay sent me a box of goodies – a collection of their best sellers as well as some new products. And let me tell you, I have some new favorite Mary Kay products because of this.
Mary Kay® Ultimate Mascara™ in Black
I had been a DiorShow mascara girl for years. When Mary Kay sent me their Ultimate Mascara a while back, I was shocked to find that I liked it BETTER than DiorShow. Mary Kay's Ultimate Mascara has a wand that looks quite ordinary, but it does a phenomenal job of separating and lengthening. The wand makes it possible to do multiple coats without creating spider lashes, and the final result rivals false lashes. As someone who wears contacts and has seasonal allergies, I love the fact that while Mary Kay Ultimate Mascara washes off easily at the end of the day for me, it stays put through the day. This mascara is as close to perfect as I have ever found. Seriously.
Mary Kay® Lash Love™ Waterproof Mascara in Black
Mary Kay sent me my beloved Lash Love mascara in a waterproof formula, and I couldn't be more thrilled. The formula dries very quickly, feels soft on the lashes, and will not budge. I wore it swimming, photographing a wedding on a very hot and humid day, and hiking without a single smear or flake. However, it came off quite well with some makeup remover wipes. Many waterproof mascaras fall short in delivering volume and length, but Lash Love Waterproof is almost as fabulous as the traditional formula. I'm quite a fan and will be buying it again.
Mary Kay® Lash Love™ Mascara in Black
Lash Love is a pretty awesome mascara for those who like long, fluttery lashes. The wand really separates and coats every side of your lashes without any clumping. My lashes looked really long and felt soft and natural. This has become my go-to workday mascara because it's not as pumped up as the Ultimate Mascara, but it still makes my lashes look long and lush and natural. The other day I was in the bathroom with a coworker and she said I was lucky to have long eyelashes. I told her I had pretty average lashes but a fabulous mascara. Have you ever had a mascara so good that it starts a conversation? If not…seriously…check out Mary Kay's line.
Mary Kay® Lash Primer
When lash primers came out a few years ago, I tried them out and hated them. They were heavy, hard to use, and didn't make my lashes look any thicker or longer. I like the Mary Kay version, though. It's as if they took all the negative feedback from traditional primers and made something that actually works. The spiral brush makes it easy to lightly coat each individual lash. I had the best results when I would curl my lashes first and then do a gentle wiggle of the primer brush through my lashes. While still damp from the primer, I would apply mascara and then use the mascara wand to bend up the lashes until they dried. This way, my lashes maintained curl under the weight of the products, plus they got all the plumping and lengthening benefits of the Lash Primer. While this isn't something I would do on an average day, I have liked using the primer for nights out because it really amps up the lashes!
Mary Kay® NouriShine Plus™ Lip Gloss in Mango Tango, Rock 'n' Red, and Café Au Lait
I like the packaging of these lip glosses – short, fat tubes that can easily fit in a tiny coin pocket or clutch purse. The formulas are creamy, smell a bit like birthday cake, and feel good on the lips. Café Au Lait has become my go-to day gloss; it is a hair darker than my natural lip color, shiny without sparkle, and can be applied without a mirror. Rock 'n' Red was a bit too bright for my taste, but I did like it as a layer over a darker burgundy lipstick. Mango Tango was a fun color for summer, with just a hint of tan and since then has become a fave with a fresh face and my fair skin. Like other glosses they would wear off with time and eating, but they kept consistent pigment (no ring around the lips), and kept my lips feeling soft and conditioned.
Mary Kay® Compact Mini
I received one of these compacts from Mary Kay in the past and I think it's brilliant. The compact itself is attractive, and it has a good clasp that will stay shut in your makeup bag, a big mirror, and a compartment to hold brushes. The compact is magnetic so you can put your favorite combination of products in there – six shadows, two blushes, or any combination of these. For the compact, I received Mary Kay's Mineral Eye Color in Golden Vanilla, Truffle, Lavender Fog, Midnight Star, Sweet Plum and Black Pearl, as well as Mineral Cheek Color in Shy Blush. The shadows have a lot of pigment and last a long time, but I wasn't a fan of the slightly crumbly formula (which is quite typical for mineral shadows). Shy Blush Mineral Cheek Color is very similar to NARS Orgasm, my daily blush; I put one on each cheek and couldn't tell the difference. Since it's a mineral product, it has high pigment (a little goes a long way), and lasts all day. The only negative is the size of the blush; while I appreciate it being able to fit into the compact, the blush was too small to get proper coverage on my blush brush, and therefore, without some finagling, I wasn't able to get even color on my cheeks.
TimeWise® Microdermabrasion Set
Since I am closer to 40 than 30, I have been checking out a lot of products that will keep my skin looking soft and young. I have tried a few microdermabrasion kits – some fabulous, some meh. The two-step Mary Kay TimeWise® kit is fabulous. You start with the exfoliator, which has tiny crystals that feel a bit like sand, and you massage it on wet skin for 1 to 2 minutes. You can feel it working without scratching. Rinse (and it did rinse quite easily – no crystals in the eye or stickiness), and then apply the replenishing serum. I LOVED the serum. It didn't make my face greasy or sticky, just smooth and hydrated and happy. This kit really did make my face glow, but didn't make it red or irritated. This is a combination that is effective yet gentle enough that you could use in the morning before heading to work. I have only used it twice, but I do feel that with repeated use it will improve my skin texture.
NEW Mary Kay® TimeWise Repair™ Volu-Firm™ Eye Renewal Cream
I faithfully use eye cream every morning and evening and always wonder if it's making any difference. I have dark circles, bags, fine lines, puffiness, and I rub my eyes a lot. I always hope that an eye cream is at least not making things worse, but I also never see it actually improving anything. That is until I used this eye cream. Within three weeks I saw an improvement in the appearance of under-eye puffiness and sagginess and not only did I notice but my husband noticed too. The product comes with a slanted metal applicator to apply the cream, but I found that a bit awkward and have been applying it with my ring finger. I love that it really absorbs; there's no greasiness, and I can put my makeup on soon after without it slipping or fading. There was no irritation, no heavy fragrance, and it feels good on the skin. This is a product that I will surely buy again.
If you'd like to learn more about Mary Kay, visit their website, Facebook page, or their YouTube Channel. Also, you have the chance to win some Mary Kay products of your own!
Giveaway: This giveaway is now closed and the winner has been notified. Thank you all for entering!
I was provided with Mary Kay products to use and review, and was compensated for this post, however all opinions are my own.
Follow Me | Twitter | Facebook