This article may contain affiliate links; if you click on a shopping link and make a purchase I may receive a commission. As an Amazon Associate, I earn from qualifying purchases.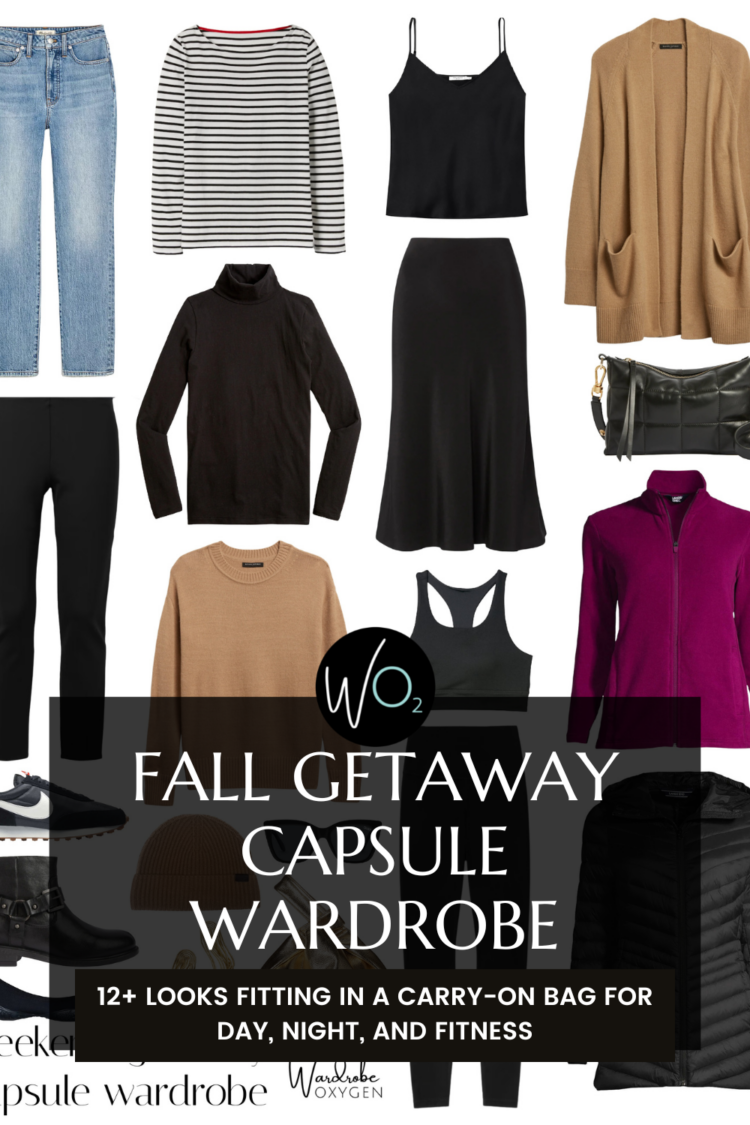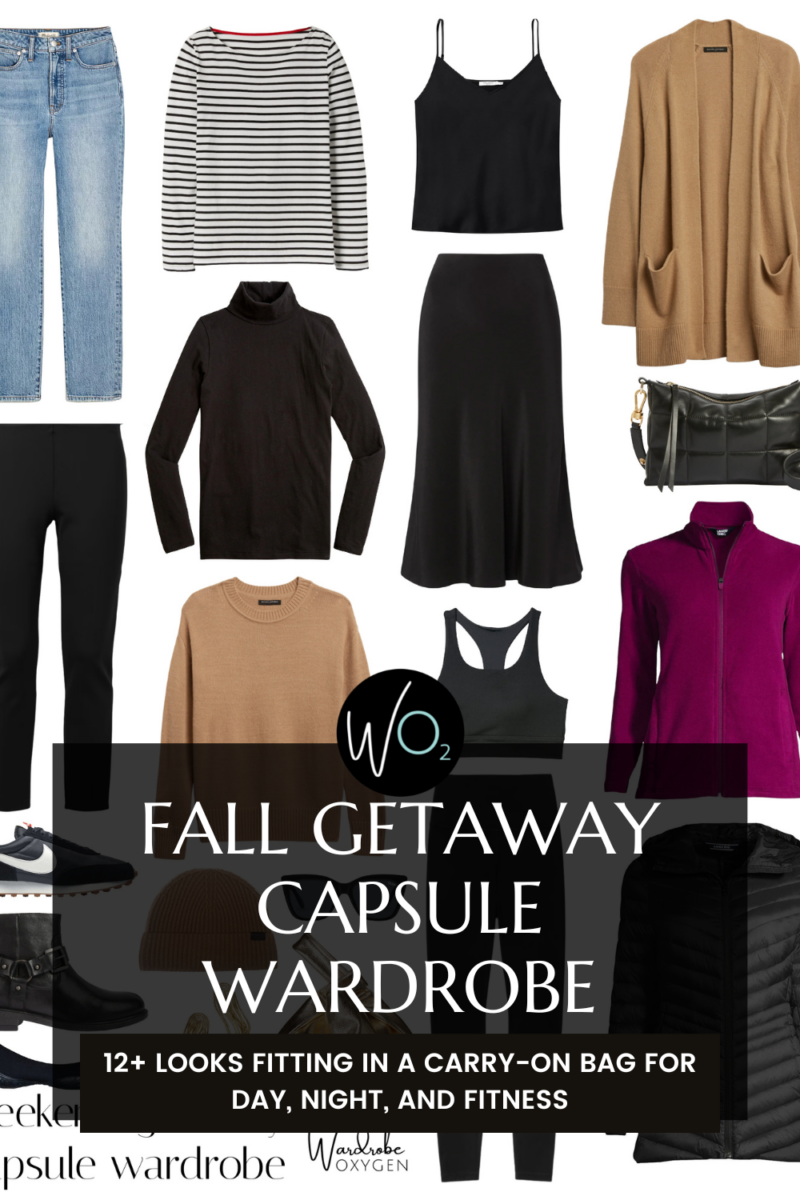 This fall getaway capsule wardrobe is inspired by my friend who is packing for a similar vacation. She was packing for a variety of activities and wanted to have everything fit into a carry-on bag for a short flight. I based it on the type of clothes she may wear and activities she may partake in.
While this fall getaway capsule wardrobe may not be your personal style, I hope it shows you don't need to buy travel clothing to have versatility. Mixing and matching is more on trend now than it has been in a while; this is a time where you can mix cashmere with athletic leggings, distressed denim with washable silk, chunky boots with a bias-cut skirt. The key is confidence (and a few spotlight-stealing accessories and cosmetics don't hurt!).
Fall Getaway Capsule Wardrobe
For this fall getaway capsule wardrobe, I stuck to a very simple color palette – black and camel. Black is great for travel capsules because the pieces can dress up or down more easily than other colors. However, a lot of these pieces (especially the camel ones) could be switched out with your favorite color/s.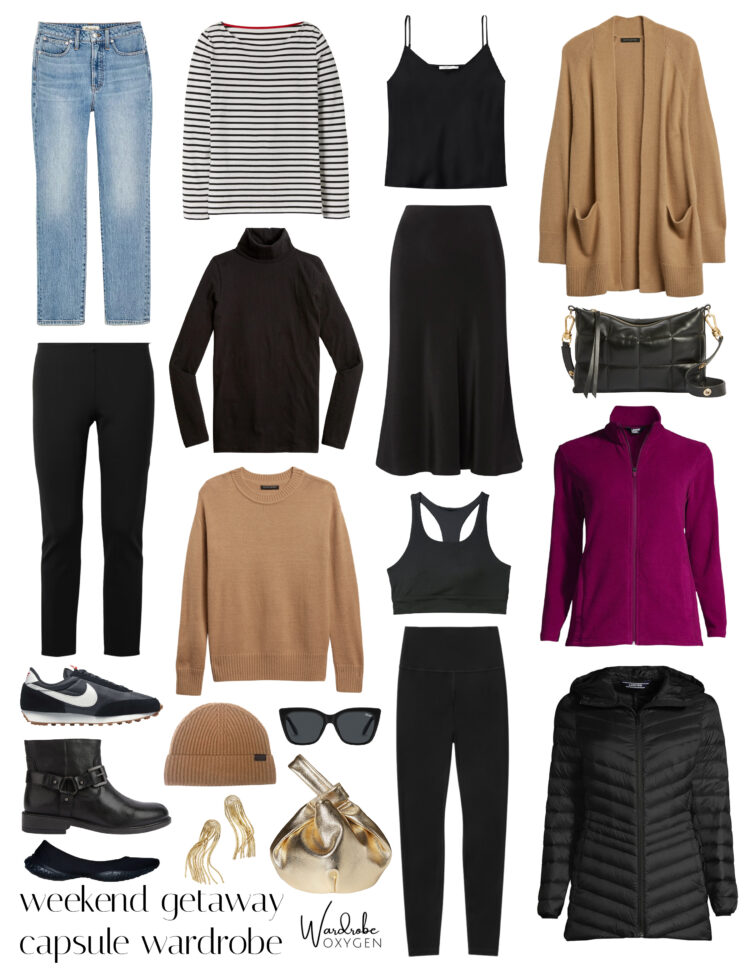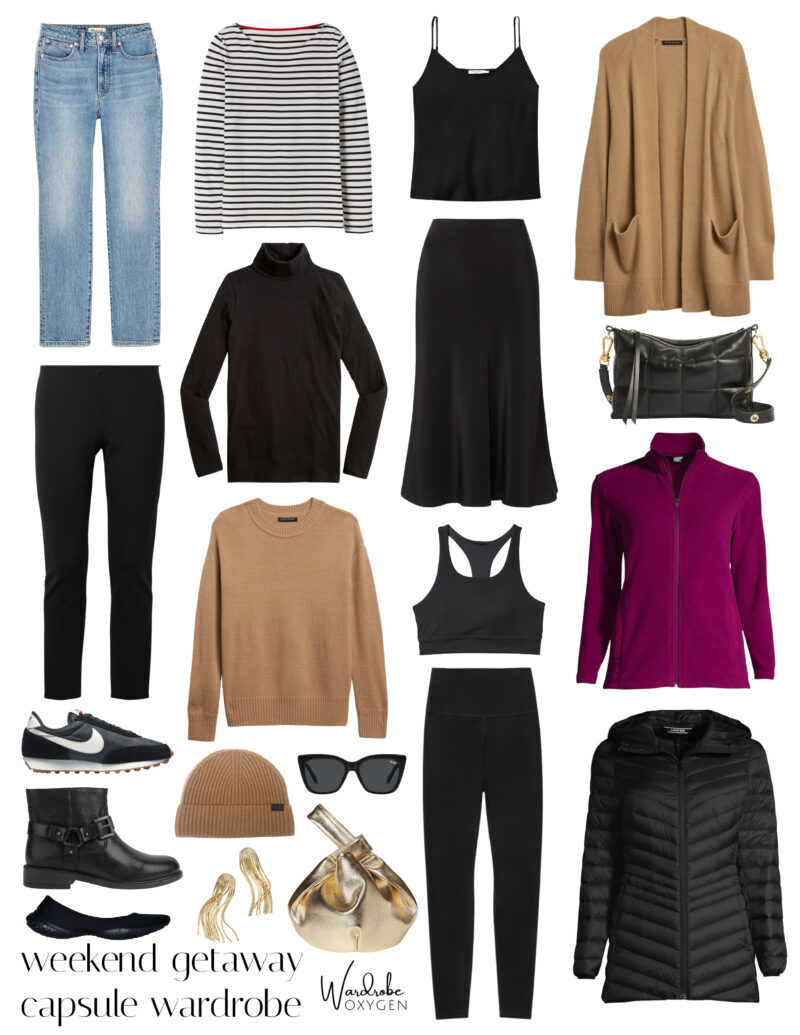 Shop this Capsule Wardrobe:
vintage-inspired jeans with a hint of stretch (petite, standard, tall, and plus) | black ponte knit pants (sizes 00-40) | black and white Breton striped long-sleeved tee (sizes 0-22) | black tissue-weight turtleneck (XXS-3X) | camel crewneck sweater (XXS-XXL + petite) | black washable silk camisole (XS-XXL) | black washable silk skirt (0-18) | black sports bra (XS-XL) | black athletic leggings (XS-6X) | camel long cardigan in same fabric as the crewneck (XXS-XXL + petite) | black quilted leather crossbody bag | plum fleece jacket (standard, petite, and tall; this link has it in plus sizes) | black packable down jacket (standard, petite and tall; this link has it in plus sizes) | black sneakers | leather booties with a waterproof sole | lightweight ergonomic black ballet flats | camel cashmere beanie | black polarized sunglasses | gold statement earrings | gold lightweight dress bag
not pictured but below: copper lipstick | matte red lipstick

Why Did I Put These Things into my Fall Getaway Capsule Wardrobe?
I figure I should share the why with this capsule wardrobe. Why these items and not other items. Some of the things I was thinking as I put it together:
12 Sample Outfits from this Fall Getaway Capsule Wardrobe
I made 12 different outfits from this capsule to get you thinking about how to mix and match. I tried to think of some things one may do for a fall getaway – from going to the theater to helping a cousin move into their new apartment. To see any of these looks larger, simply click on any of the images. There will be arrows on the left and right of the images to scroll through. To return to this page, click the "X" at the top of the screen.
Employ the French tuck, and just tuck the front few inches of the sweater into the skirt, pants, or jeans. The cami can be a full tuck, a French tuck, or left out over pants. If you have room in your bag, consider a wrap belt to cover the waist of the skirt and to cinch the long cardigan. Styling your pieces elevate your ensembles.
Know the power of makeup, if it's something you are comfortable wearing. A bold lip, a smoky eye, a shimmery cheekbone can take simple pieces and elevate them for evening or festive occasions. When it comes to hair, I recommend always traveling with a bit of gel or pomade so if your hair is not behaving, you can slick it back into a ponytail for an elegant evening look. Use a hair-colored elastic or if your hair is long enough, wrap a bit of it around the elastic and secure with a Bobby pin underneath.
Packing for a Fall Getaway
When it comes to packing for a fall getaway, it's smart to list all the expected and possible activities you may do. Not what you would love to do, but looking at the time available, the items already on the agenda, and being realistic. This helps you narrow down what you need versus what you dream of needing.
Expect the unexpected. You spill coffee on the blouse you planned to wear multiple times as you wait for your flight to your destination. You get a stomach bug and the idea of structured clothes in your condition is torture. It rains, though the forecast said it would be sunny all weekend.
Don't try to be a different person on vacation. It's easy to think you'll suddenly be this chic minimalist when you're more of a quirky creative, or that you'll be so elegant in that metropolitan city no one will know you're a tourist (they will, and they don't care). Wear dark sunglasses so you can People Watch and gawk without being obvious.
Care for your feet, wear a crossbody to protect your essentials while having your hands free, and stay hydrated. If you feel good you will automatically look better. Have fun on your getaway!