This article may contain affiliate links; if you click on a shopping link and make a purchase I may receive a commission. As an Amazon Associate, I earn from qualifying purchases.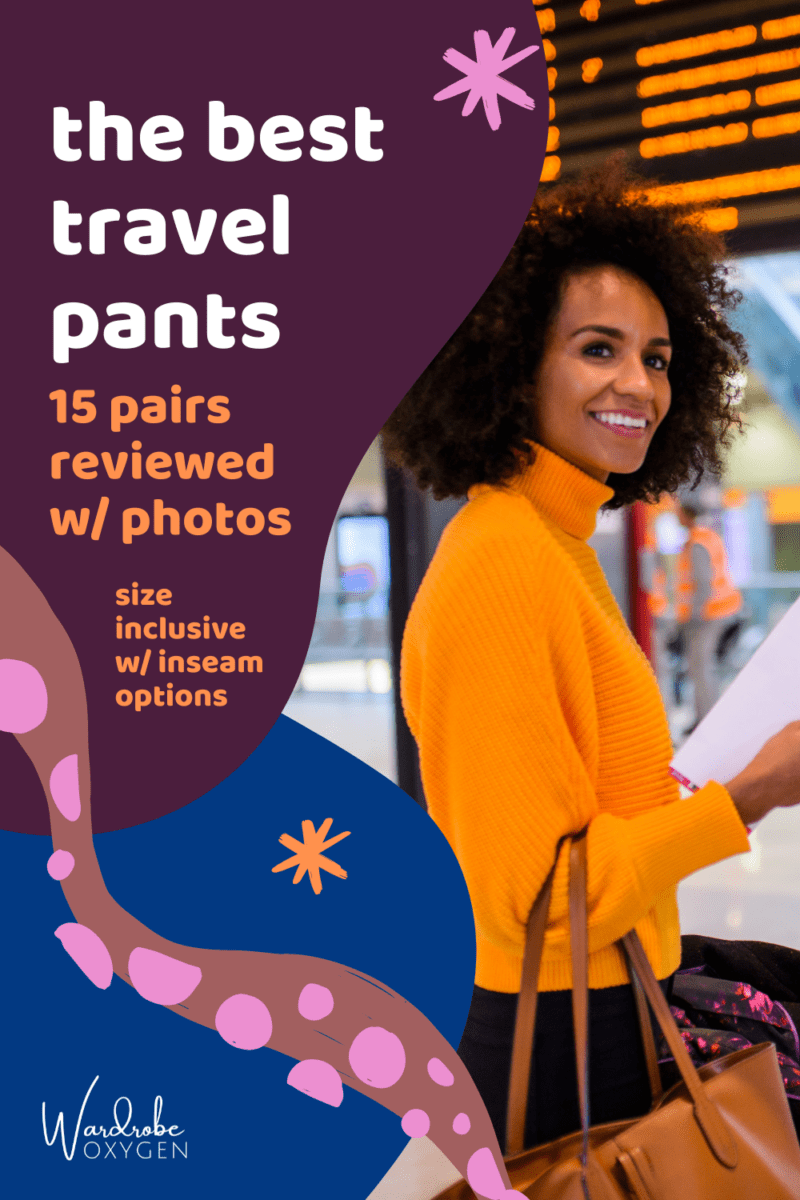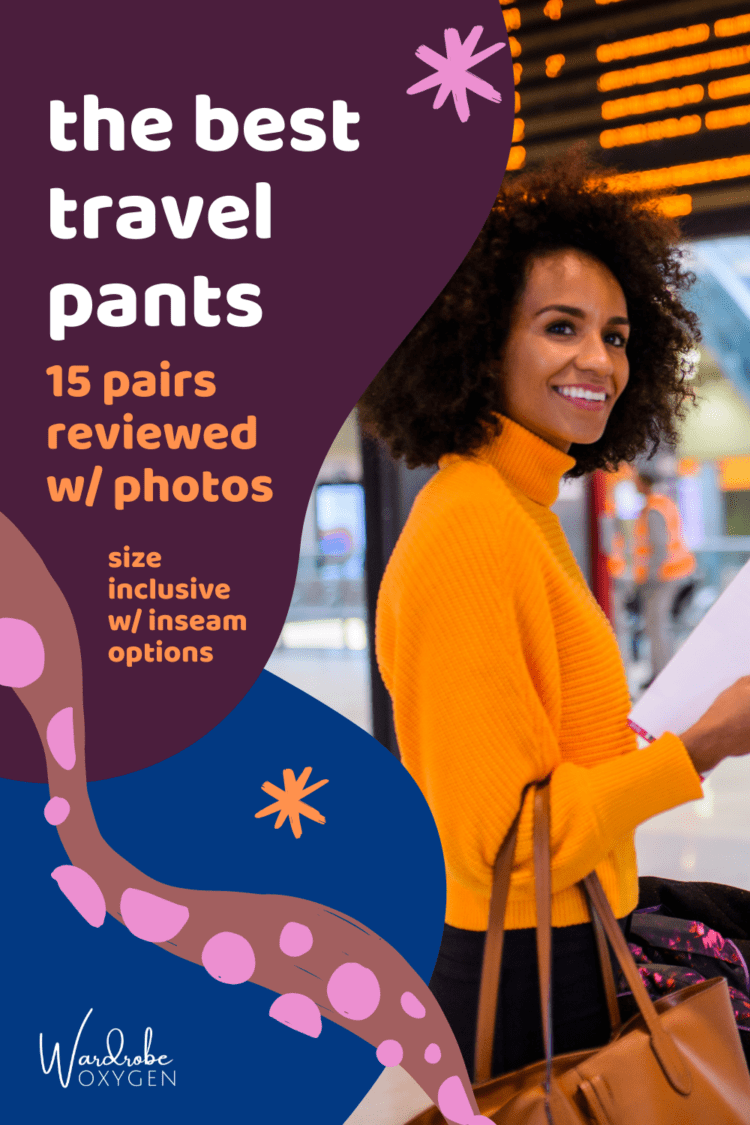 This is a review by Grace Mitchell, who is a member of the Wardrobe Oxygen Community. In the Facebook group, Grace asked for advice on finding the best travel pants and received many recommendations. She figured that many others may be looking for a similar item for their wardrobe and asked if she could share her quest for the best travel pants here on Wardrobe Oxygen. I enthusiastically said yes, knowing this could be a valuable resource, especially for those who desire extended sizes or inseam options. Take it away, Grace!
The Search for the Best Travel Pants
Don't you just hate…pants?
Like many women, I have a hard time finding pants that fit me well, suit my taste, and are appropriate for my lifestyle. Though I am an unusual size/fit (more about that later), the real problem is the clothes! So many styles with gappy waists, useless or no pockets, awkward seaming, or a single too short inseam option. So many weird shiny fabrics and narrow, binding bands of elastic and buttons that dig into your flesh and snaps that won't stay closed!
Pants are so bad, in fact, that I've all but given up on wearing anything other than leggings or joggers in recent years.
As pants are such a perennial problem, I groaned aloud when I realized that I really needed a new pair to take on a trip to Greece. Due to the crazy restrictions on carry-on luggage on the airlines we'll be flying (17 lbs?? Really??), I need to pack light.
What I Desire from The Best Travel Pants
I need a pair of pants that will carry me from the overnight flight to the next day's sightseeing and then out to dinner, and be able to do it all again the following day. I need something I can wash out in the sink if necessary, that will dry fast and not wrinkle. Something I can wear five of eight days without anybody noticing. I need The Perfect Black Travel Pants.
How does someone go from wearing no pants to wearing the same ones for multiple days running? My approach to finding these unicorn pants would have to be broad, my search exhaustive. I queried friends and online groups for suggestions and checked every retailer I could think of. 
I read travel blogs and looked at what they recommended. I clicked on Instagram ads and opened my mind to stores I hadn't thought about in years. I made a list of qualifications for the perfect pants, and I ordered every pair that looked to meet most of the list.
In the end, I ordered more than twenty pairs of pants, all similar in scope, and compared them not just to one another, but to the ideal I'd built in my head.
Searching for Extended Size Travel Pants and a Longer Inseam
To build that ideal, I started with as neutral a look as possible at my own body. I am a 42-year-old woman, six feet tall, and generally a size 18. I measure 43-38-49, with a full-length inseam between 32" and 34", depending on the shoes.
I am very long-waisted, with my weight carried mostly in my butt and legs. I needed pants that came in a size I could conceivably wear. As I'm sure you can imagine (or you know firsthand!) that automatically excludes a whole lot of oft-recommended pairs.
For example, many travel bloggers love the Halle Pant II by PrAna. Those only come up to a size 16. Another favorite, the Rectrek Pant by Outdoor Voices, maxes out at an "XL" that fits a size 12-14. Other pairs, like the Dream Pant from Everlane come in big enough sizes, but are limited to a too-short inseam. Just based on my size, without even considering my build or fit preferences, more than half of the pairs I considered initially were removed from contention.
What I Needed From Travel Pants:
After filtering out the pairs that simply would never fit, I needed to think more carefully about the criteria for which I was looking. It wasn't enough, I told myself, to find a pair of pants that fit my measurements. I had *needs* for these pants. So I made the following list:
Black. I wanted to be able to wear these for days running, and my wardrobe is absolutely built around black as my go-to neutral. No other colors were considered.
Stretchy/easy to move in. The pants needed to be able to see me through both long flights and active days. I wanted them to be soft and comfortable, not stiff and unyielding.
Wrinkle resistant. Same as above–for what I wanted these pants to do, they needed to be crease-proof. I wanted to be able to ball them up in my backpack if needed.
Fast drying. This was less vital, but still something I'd prefer. I see myself throwing these over a balcony railing or shower rod to dry, and I'd prefer they not still be wet when I want to put them back on.
Ankle length. This trip is happening in the late spring, so I want to be able to wear my perfect pants with lightweight tops and even sandals. That said, I really don't like the look of very-cropped pants or capris. I want something ankle length–what manufacturers seem to be calling ⅞ length. For me, that means a target inseam of 28"-30".
Lightweight. Like I said, these are for spring. I want something that isn't going to get too hot.
POCKETS. I want to be able to put more than a stick of gum in my pockets. Deep, usable pockets are key. If they zip or Velcro closed, even better.
Minimal bling. These pants are meant to be a backdrop, to be worn a lot and not noticed. I don't want a lot of labels or other identifying characteristics.
Other things, I decided I cared about less. The pants could be fitted or straight legged. They could have an elastic, pull-on waist or a drawstring or a full zipper and button combination. While I didn't want anything obviously sporty or obviously hiking pants, either one could conceivably work, if they were understated. Finally, I decided not to give myself a budget. If I could find pants that I would really wear for days, I wasn't sure I cared how much they cost.
What follows is my review of many of the pants I tried. For the sake of brevity, and in a couple of cases because of shipping issues, I've skipped a few, but this is the bulk of them. Though it's unlikely that your body is a perfect match for mine, I hope my observations will still be helpful if you, like me, need some unicorn travel pants. Good luck!
The Quest for The Best Travel Pants: 15 Styles Reviewed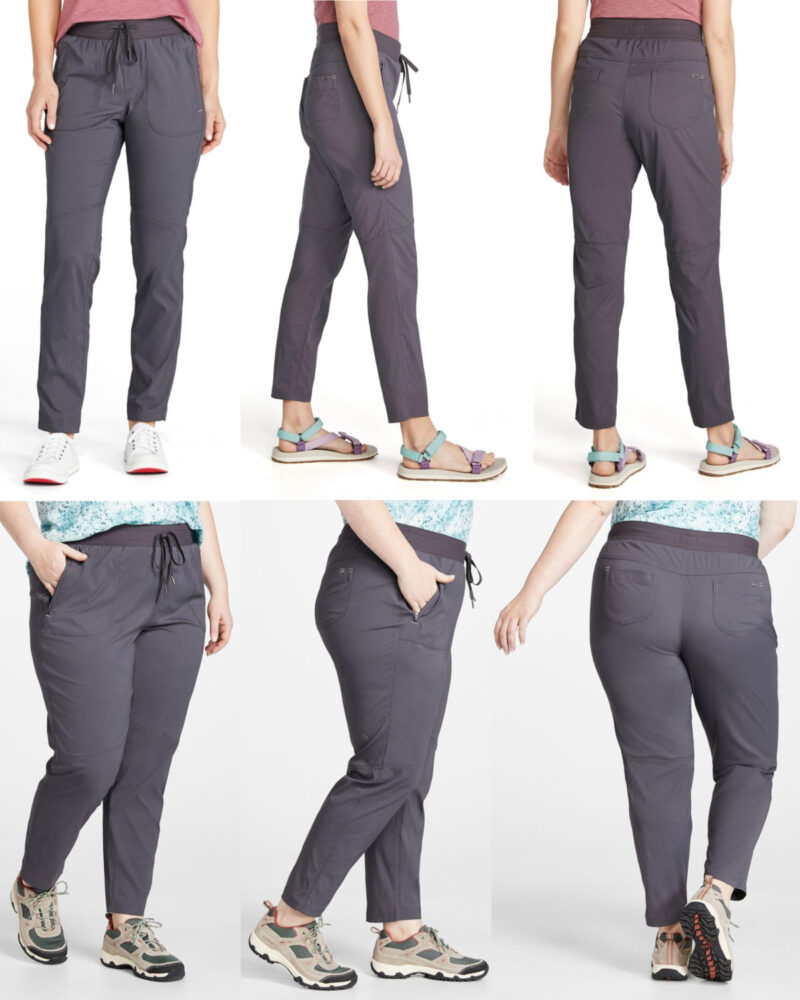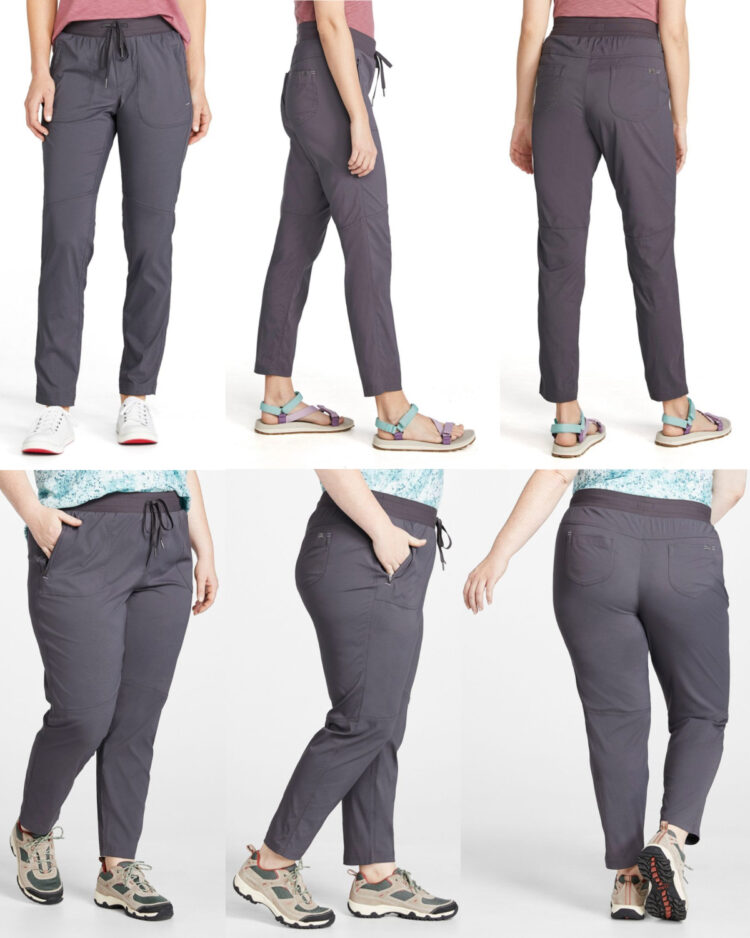 I generally like L.L. Bean for quality and find their fits to be pretty good, and I was interested in these in particular because I own the Vista Camp Shorts and wore them all summer last year. The pants, I figured, would likely be the same wrinkle-free, quick-dry fabric. And they are. They're a 93% nylon 7% spandex ripstop blend that is both lightweight and soft, which dries quickly and moves with your body while you have it on. It's also UPF 50+.
After consulting the sizing chart, I ordered the 1X, which is the same size as my shorts. The pants come in "Medium Tall,", with a 30" inseam, but only through size XL (a lot of retailers do this and it makes me crazy–would it really be so hard to carry the talls through plus sizes?), so I ended up with the original, 28" inseam.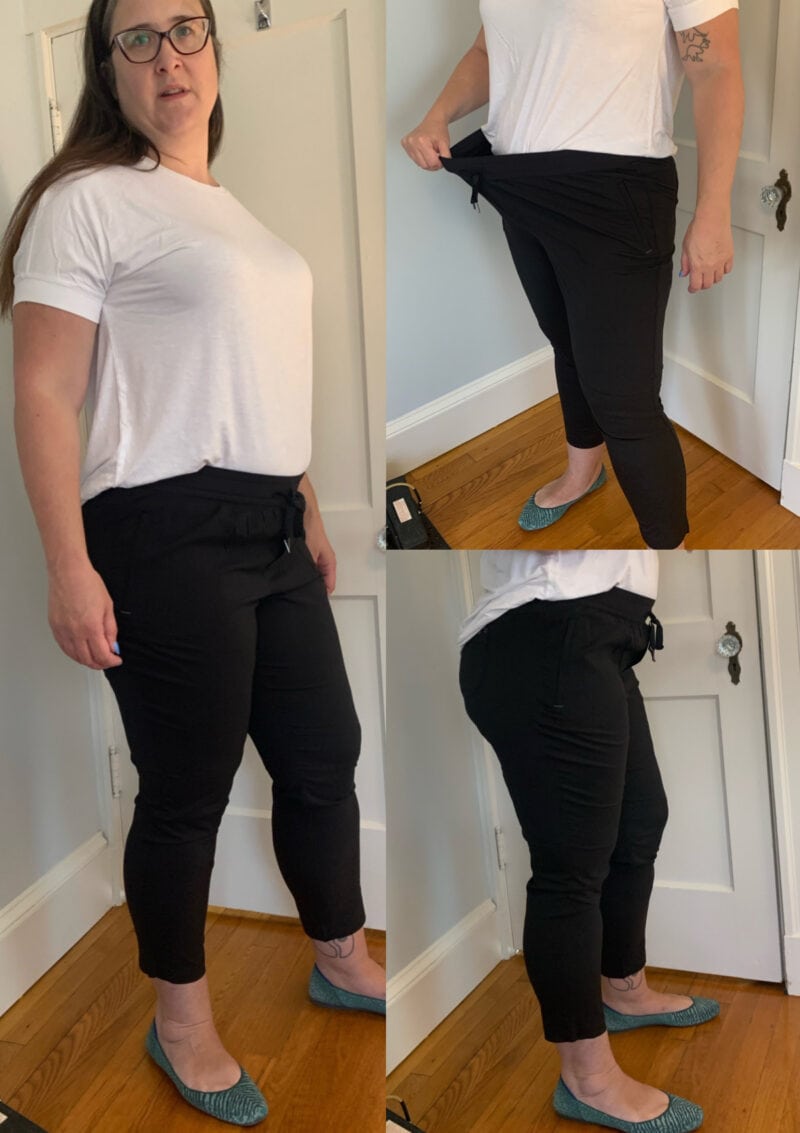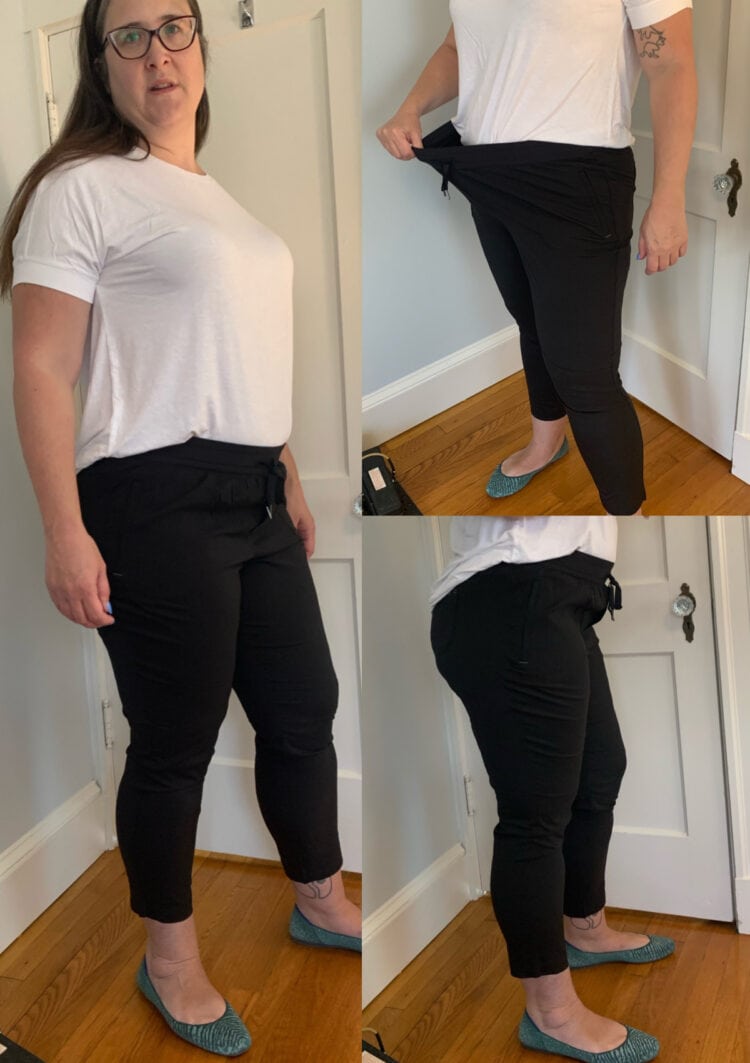 It was clear these pants wouldn't work as soon as I got them on. Though the fabric was a winner, and I had no objection to the drawstring waist or slim leg, the waist was too big (a look at the size chart tells me the 1X is for 39" waists, but these seemed bigger, maybe because of the lower rise) and the rise too short. I also didn't like the smallish patch pockets in the back. The deep, zippered side pockets are fantastic, though, and I think these could work nicely on someone with a different shape.
The L.L. Bean Vista Camp Pant, Slim Leg comes in six colors, up to size 3X. Retail price is $69.95.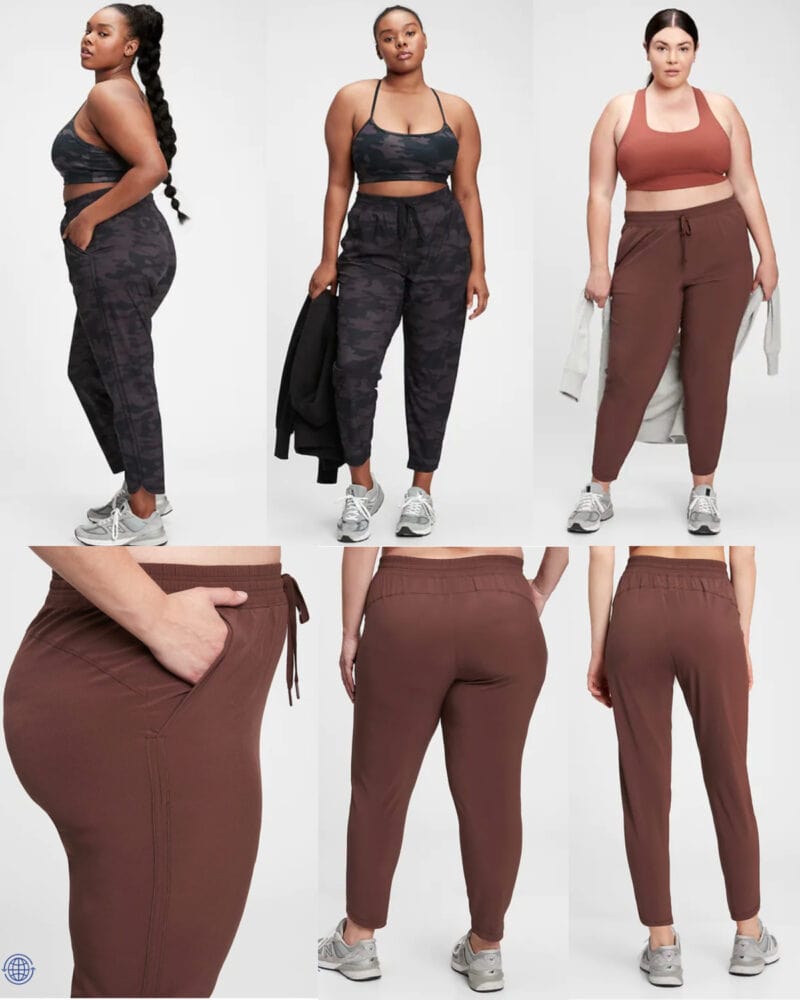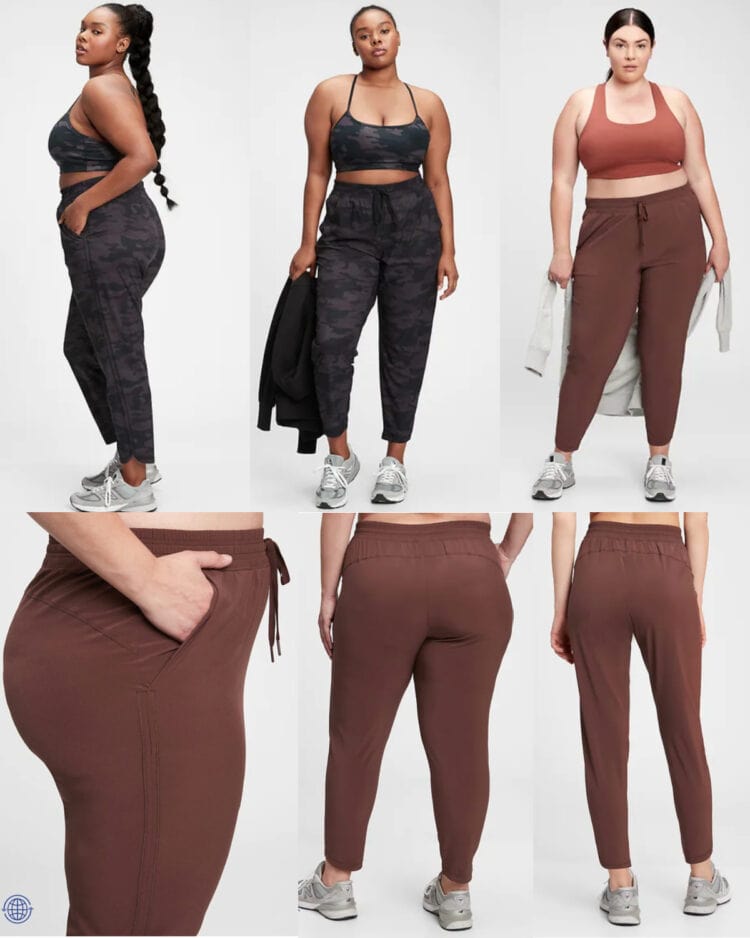 It's been a long while since I've had any luck with pants from Gap, but these were recommended by another Wardrobe Oxygen reader, so I thought I'd give them a try. They're made of recycled polyester, in a very lightweight, slightly shiny finish. They have an elastic drawstring waist, front slant pockets, and no back pockets. They've also got a tulip-hem detail at the ankle, which I really liked.
I ordered these pants in size XXL Regular, as Gap, like L.L. Bean, ends their tall sizes at XL (petite is even worse–they end at a L!). The 30.5" tall inseam would likely have been better than the 27.5" regular one.I didn't like these even before I put them on–the fabric is so insubstantial and the pockets left much to be desired. However, they were a hard no once I actually tried them.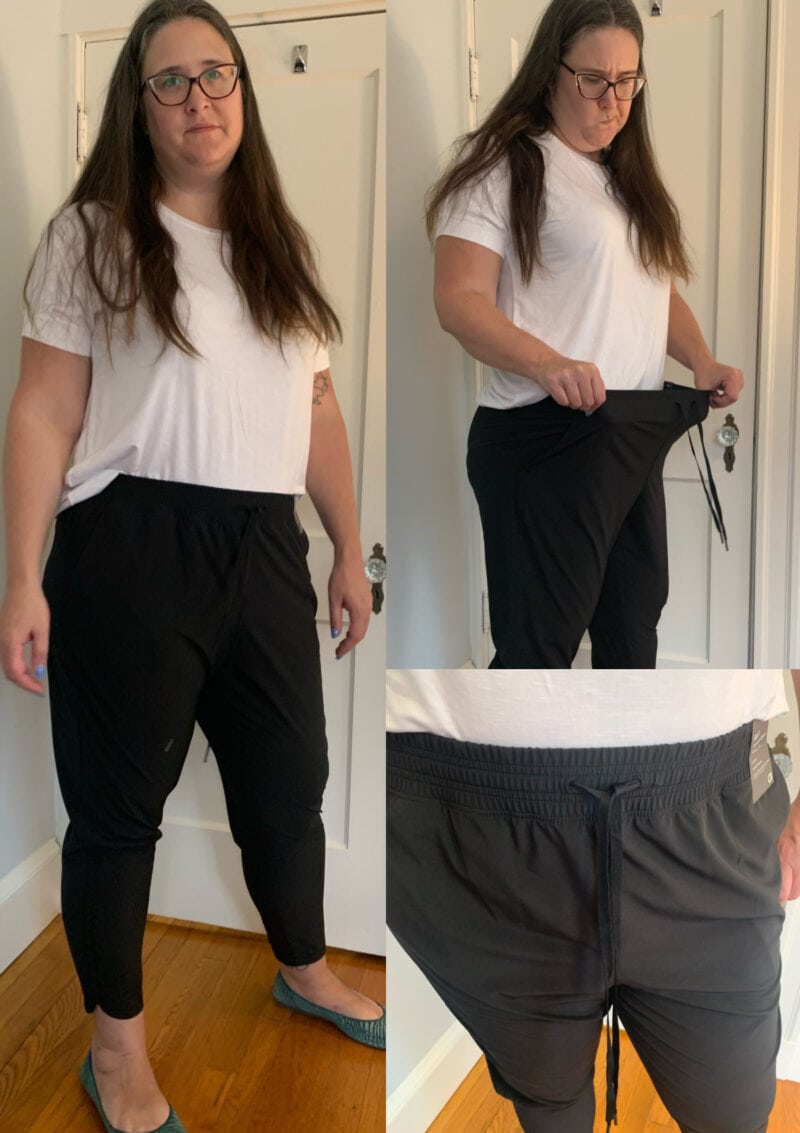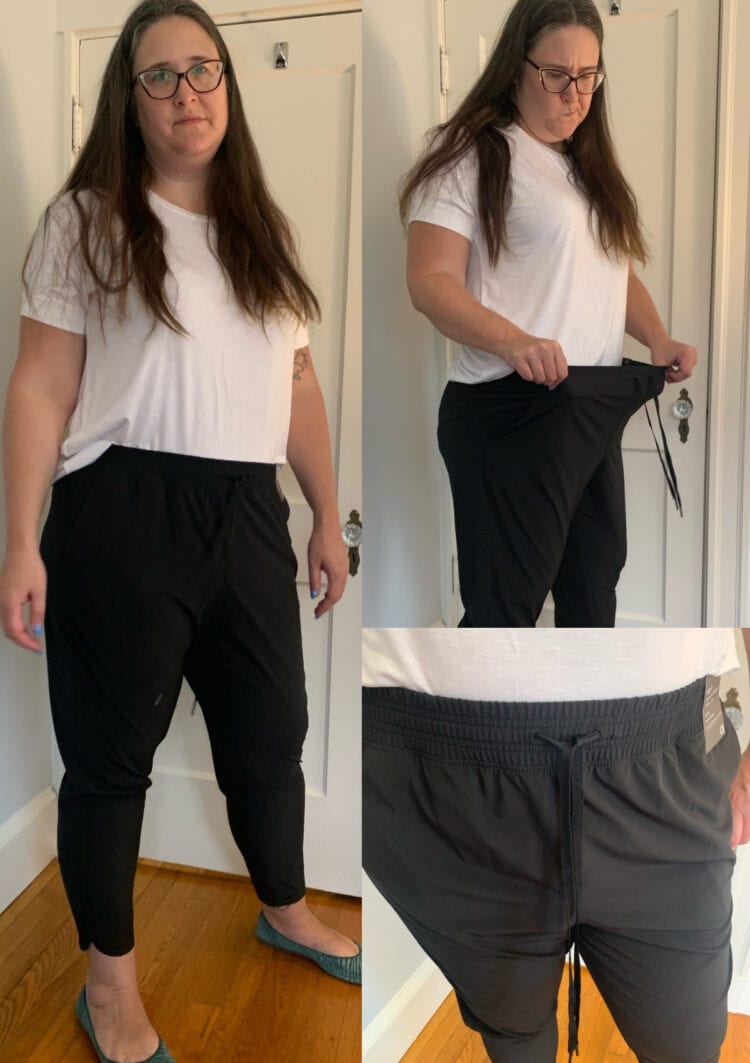 The top half of these pants, from the waist to the knees, was far too big, while the lower legs bordered on too tight, and they were definitely not quite the length I was hoping they'd be. The size chart puts me between XL and XXL, so I guess it's not surprising they didn't quite work out. If I'd liked them better, I may have tried the XL Tall, but I knew there was no way the lower legs would work in a smaller size, and I didn't really like them anyway, so these were a no-go.
Gap's GapFit Recycled Runaround Joggers are available in 7 colors, up to size XXL, for $69.95.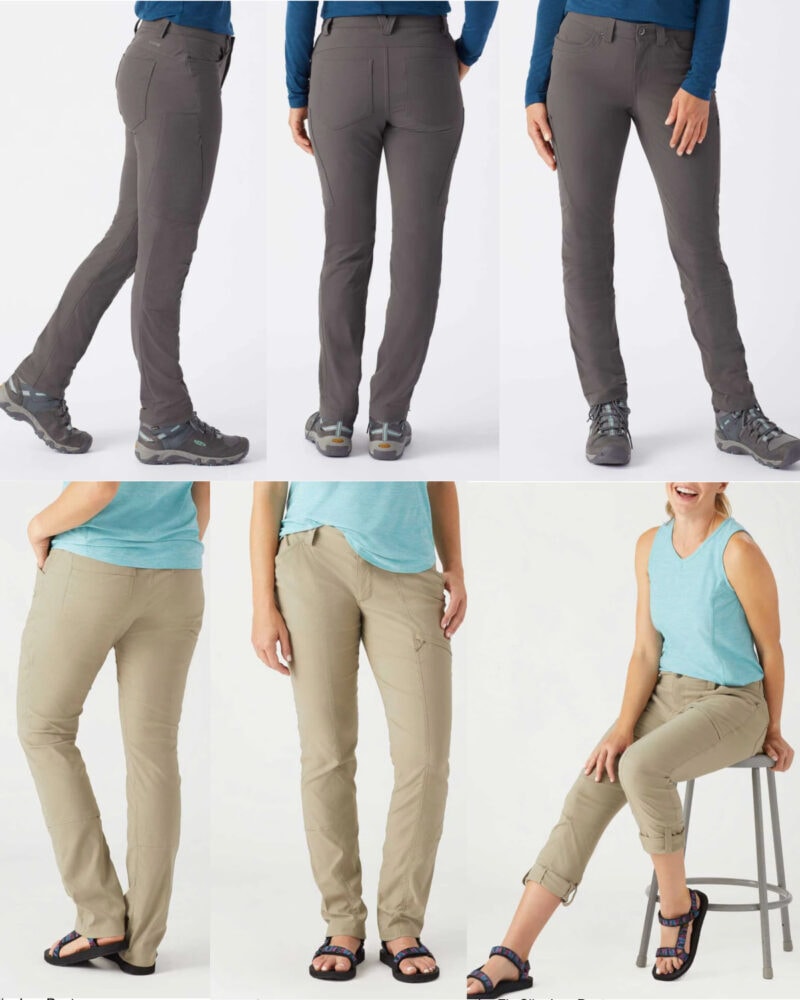 I have a number of friends who swear by the quality and fit of Duluth Trading Company. My luck hasn't been great there in the past, but I knew they were likely to have pants that fit my list of criteria, so I had a look and came away with two pairs.
The first, the Dry on the Fly Slim Leg Pant, I ended up hating. They're a quick dry 97% nylon and 3% elastic fabric, but heavier weight than most of the other pants I tried. They've got elastic in the waist, but also a zipper and snap situation that did not work for me at all–the snap kept popping open when I moved! The waist was too low and there was a super weird seam down the front of the leg.
I ordered a size 18 with a 29" inseam, even though the sizing chart indicated it might be slightly too small, and it was in the hips and thighs. The Duluth Dry on the Fly Slim Leg Pants are available in three colors and three lengths through size 18, and they retail at $74.50.
The other Duluth pants I tried, the Flexpedition Slim Leg Pant, were a bit better, but still a no-go. Though the size chart would have me think otherwise, they were too big around the waist, but also too tight in the thighs. They were a good fabric, 89% nylon and 11% spandex, with plenty of stretch, and I liked the pocket situation, which included low-profile zipping cargo pockets on the legs as well as front slant pockets and back patch pockets. Like the others, the Duluth Flexpedition Slim Leg Pants come in 3 lengths, up to size 18. There are four colors and they retail for $79.50.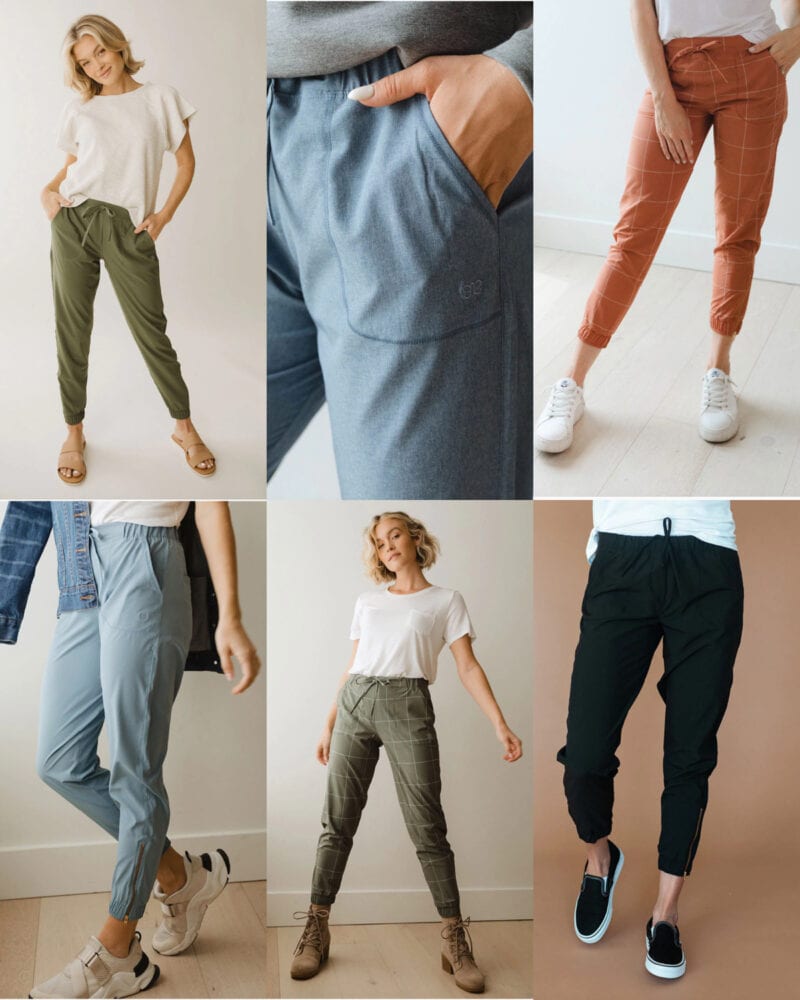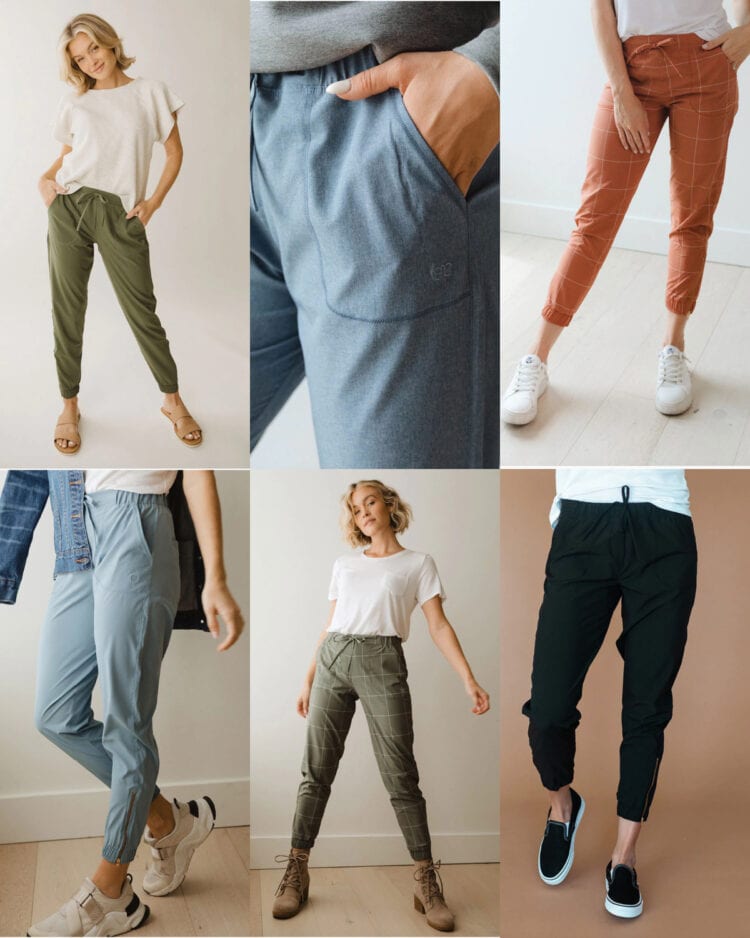 When you spend days looking at pants, pants start finding you. Specifically, they find you through social media ads, which is where I first saw the Jetsetter by Albion. I don't typically buy things via Instagram ad, but I had promised myself I'd keep an open mind as I went through this process, so I checked it out and saw that these pants come in Tall up to XXL, so I decided to give them a try.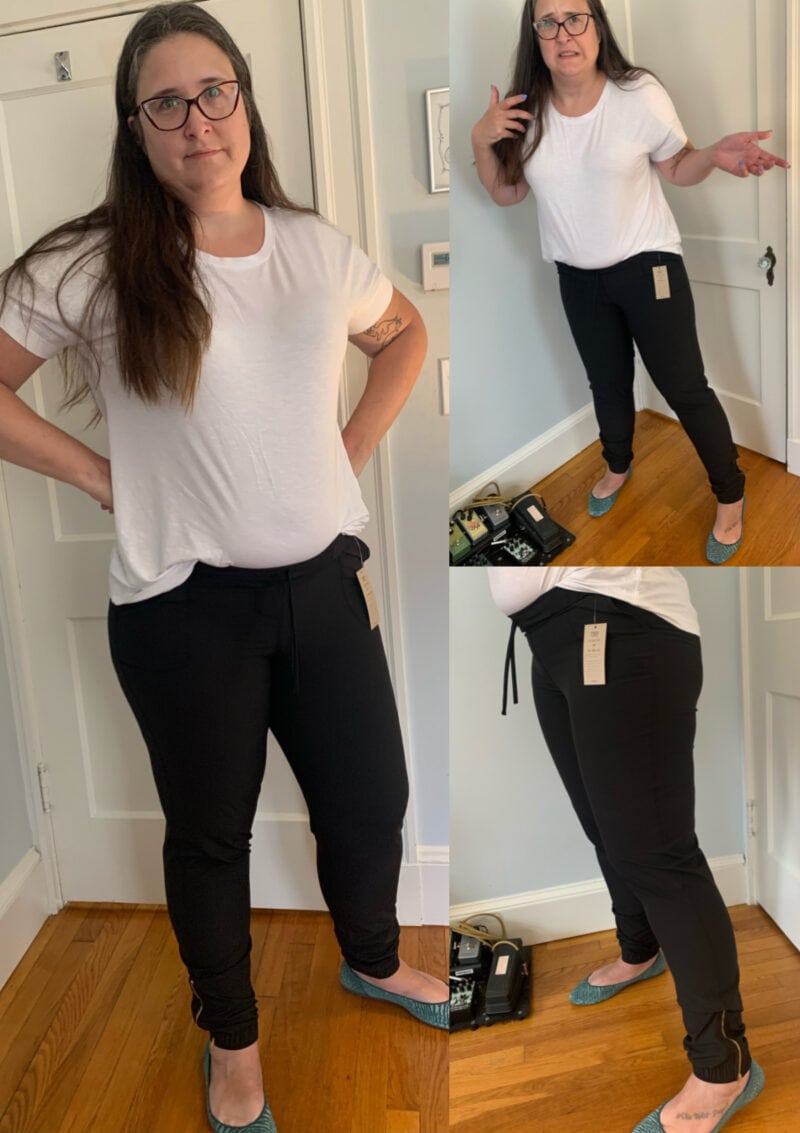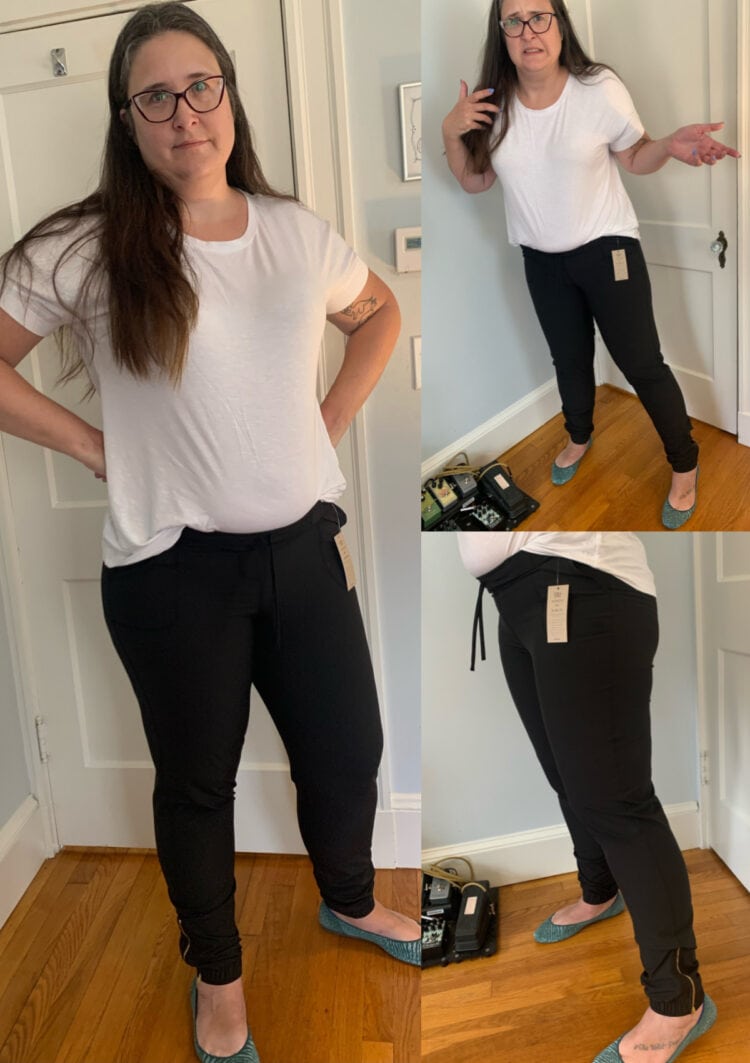 They're terrible. Though I ordered the size their size chart indicated I should, these pants are skin-tight all over. They're also made of a crinkly athletic-feeling fabric, have teeny tiny pockets, and bear a large, gold zipper at each elasticized ankle. These were a hard no.
The Albion Jetsetter Pant is available in a whole bunch of colors and patterns, XXS-XXXL, with most sizes in three lengths. They retail for $88.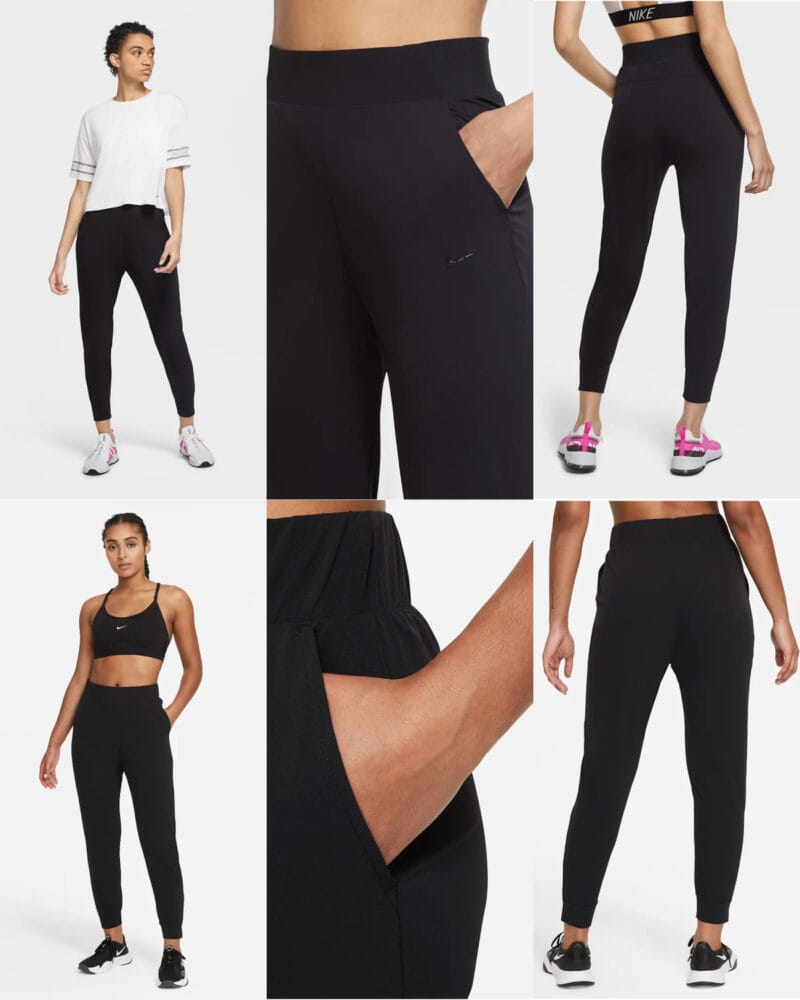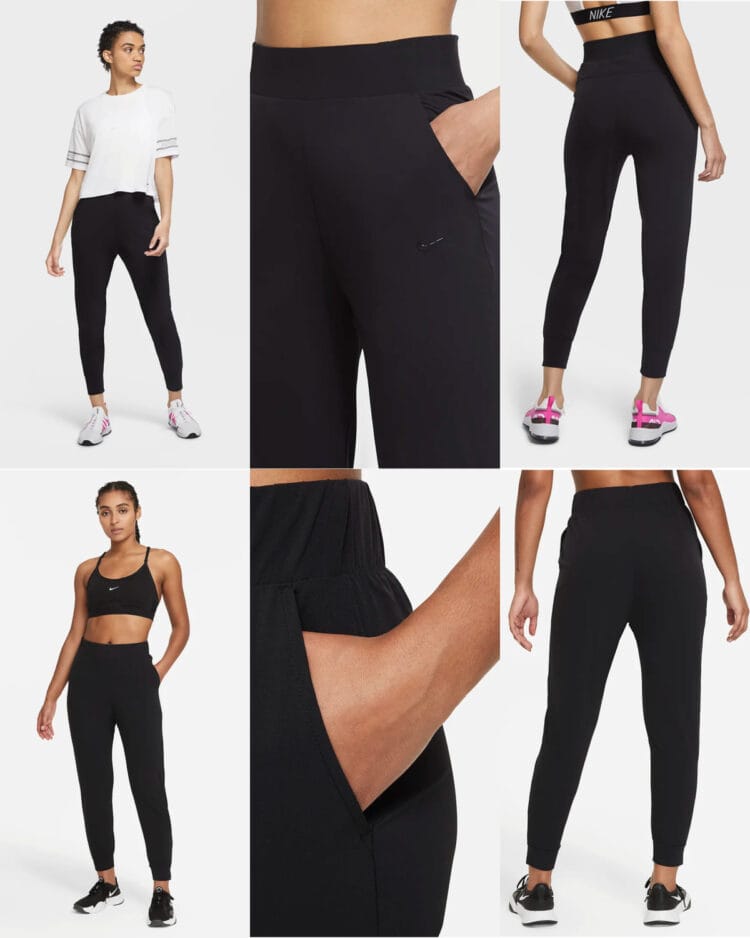 Though I knew I didn't want anything too athletic-looking, a detour into golf pants while plumbing the depths of the Internet brought me to the idea of trying out some pants from Nike. I have never, to my knowledge, worn Nike clothes, but I was surprised by their available sizes (both of these pants come up to a 2XL) and they seemed to check my boxes, so I decided to try them. The names of these two styles are similar, but they are *not* the same pants.
I ordered the Bliss Lux Training Pants in 2XL Tall, which fit perfectly, and I loved the high, wide waistband. The pants are definitely athletic, though, made of crinkly nylon, with a big swoosh on the side and shallow pockets. If I worked out, I'd have kept them.
The second pair, the *Woven* Bliss Lux Training Pants, are closer to what I was actually after. They're made of a less crinkly, more matte, slightly heavier fabric. Again, the high, wide waistband was great, the fit in a 2XL was good, and the Nike swoosh on these was almost imperceptible at the waist. Unfortunately, this style doesn't come in tall, and they're just too short–meant for someone 5'8" or below as per the website. The pockets are also a disappointment.
Both of these pants retail for $90. The regular training pants come in three colors, the woven version is black-only.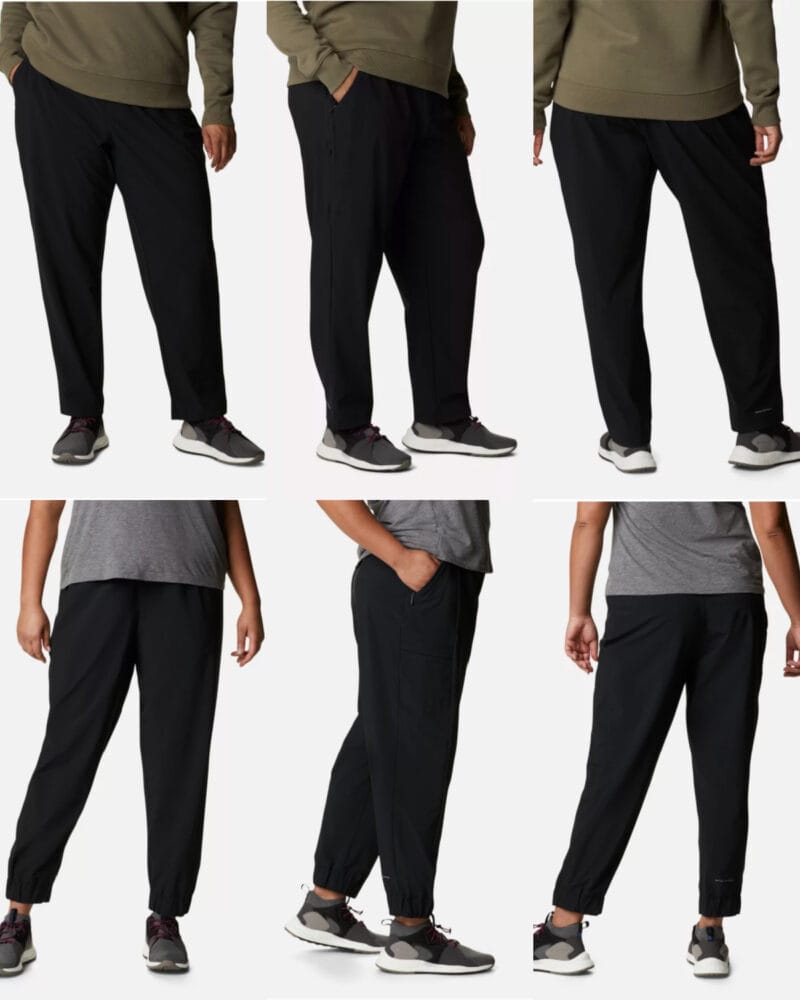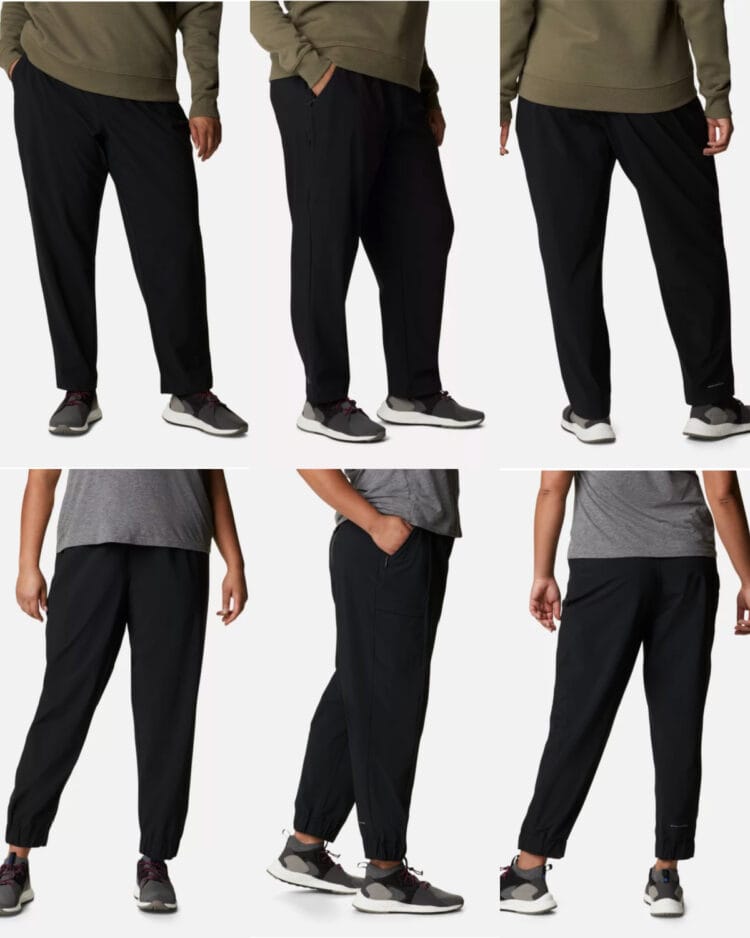 When I started this search, Columbia was one of the first brands that came to mind. I've always been a fan of the company and their clothes, and I knew they offered extended sizes in at least some styles. When I started looking, I was not disappointed! I ended up ordering four different styles.
One of them, the Pleasant Creek Core Pants, I liked right away. They're a medium-weight, high-rise, slim-fit pant with deep, zip-close pockets and an elastic waist. The initial size I ordered, based on their sizing chart, was an XXL. They were all over too big. I liked them enough, though, that I thought I'd try the next size down.
That's where it got complicated. See, Columbia has a whole line of "Pleasant Creek" clothes, and I accidentally ordered a different style of pants, the Pleasant Creek Joggers, in an XL. They're a very similar style, just with an elasticized jogger ankle. Same stain-repelling, non-wrinkly, SPF 50+ fabric, same high waist.
One thing to note is that the side pockets, which are zippered, are weirdly far back, more on the butt than the hip. There are also two labels, one on the back hip and one on the ankle. The Pleasant Creek Joggers are available in five colors/prints in sizes through 3X and retail for $70.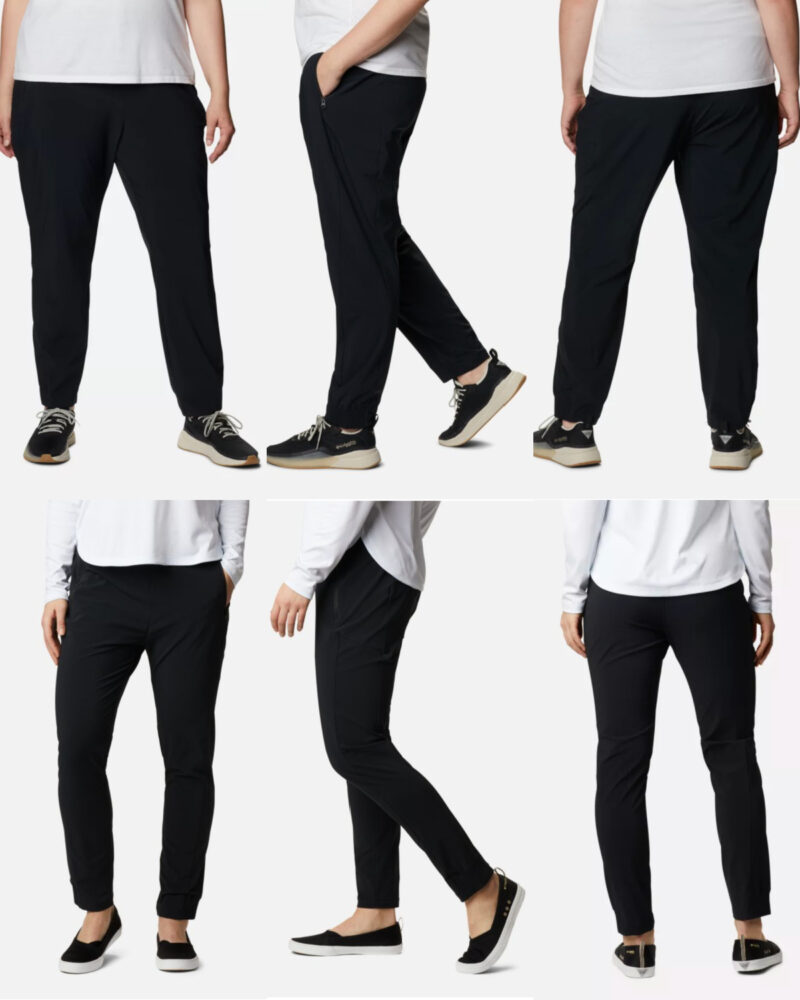 The other pair of Columbia pants I really liked was the PDG Tidal II pants. PFG is Columbia's fishing gear line, so I guess these are technically fishing pants? But they're great. Lightweight, water repellent, easy care fabric, deep, zipping pockets; and a partially-elastic flat front waist. The waist is a bit lower than I'd prefer, but definitely not too low.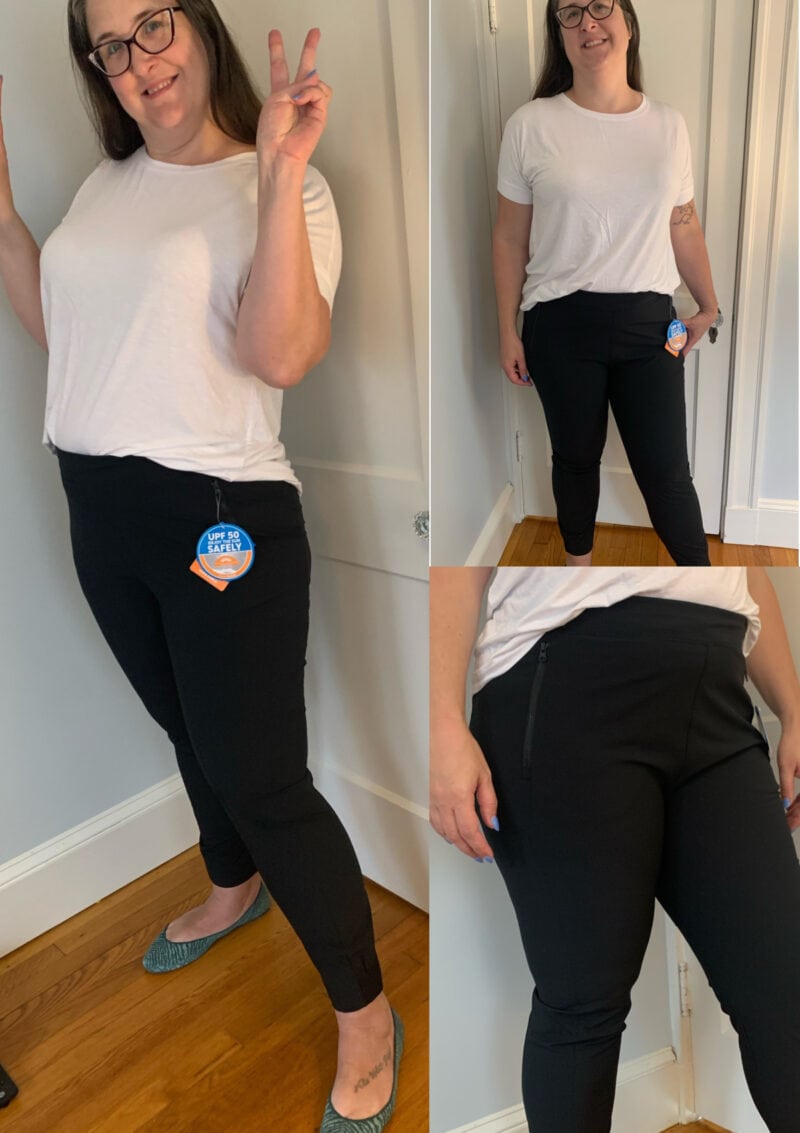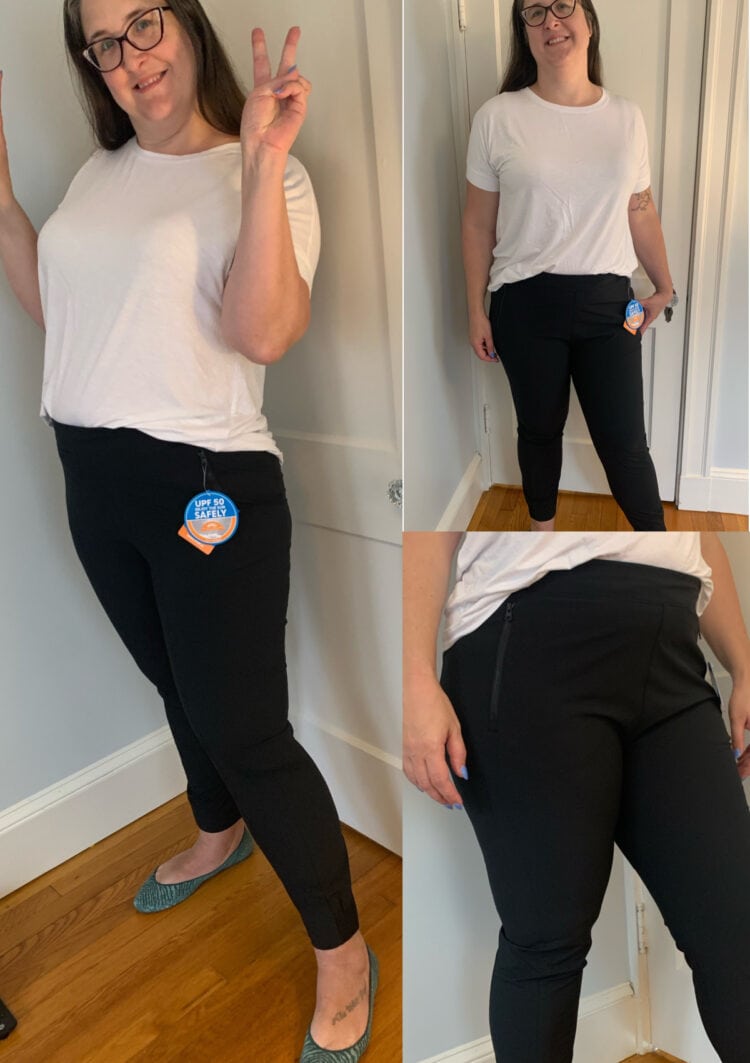 Like the other Columbia pants I tried in an XXL, though, these pants were too large. The XL was a good all-over fit. The only thing I don't like about them is the biggish label on the back of the waist identifying them as part of the PFG line–but it could be removed or covered. They're available in black or navy, in sizes through 3X with three inseam options. They retail for $55.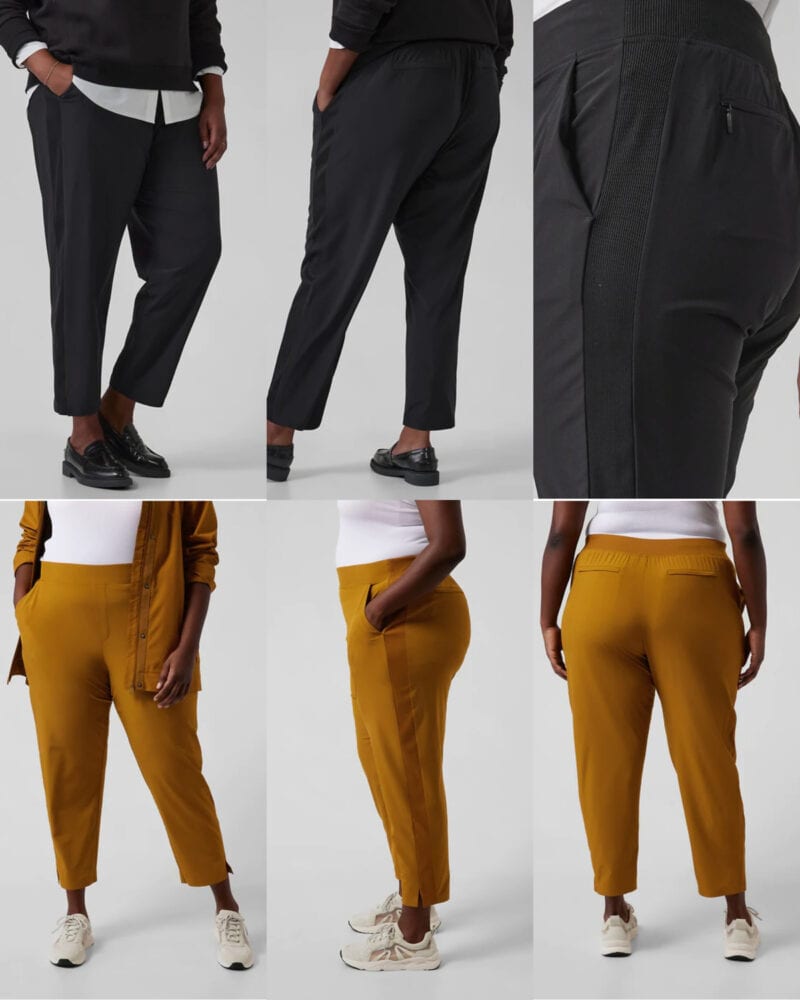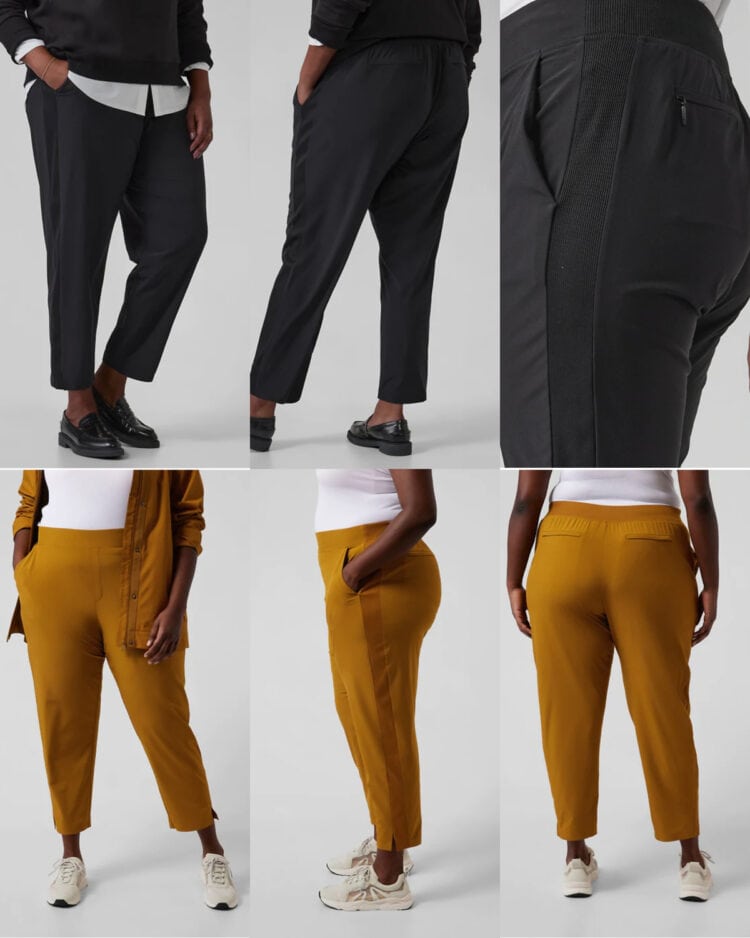 I almost didn't order the Athleta Brooklyn Ankle Pants. At a 27" inseam in the non-tall sizes, and with tall only available through size 16, they didn't fit my criteria. But they were so heavily recommended, that I decided to give them a try anyway. They're a very lightweight, wrinkle-resistant recycled poly/spandex fabric with SPF 50+, and they feel fantastic on–lightweight without being so insubstantial you feel naked.
I ordered these pants in a size 18, and they fit well in the waist, with a bit of unexpected extra room through the hips and thighs. They have deep front pockets and zipped back pockets and are pull-on styled. They have a small slit detail at the ankle that I really like, but it's paired with a textured side stripe that I really don't. They're available in six colors, in sizes through 26 in the regular length, 16 in tall, or 14 in petite. They retail for $89.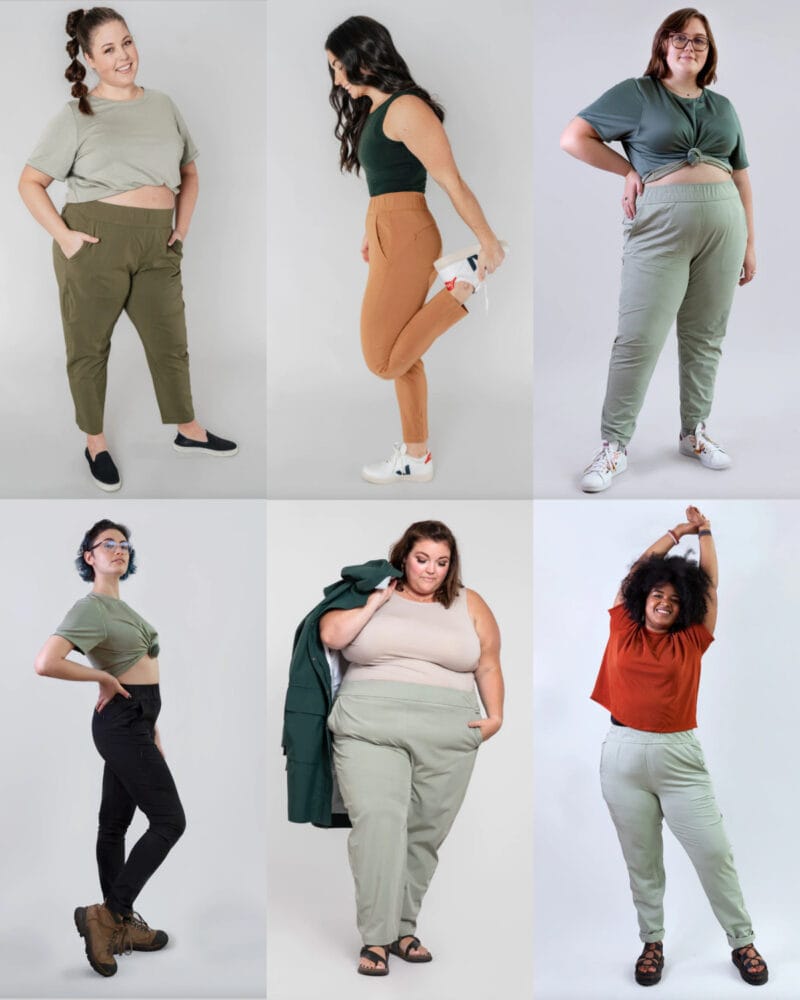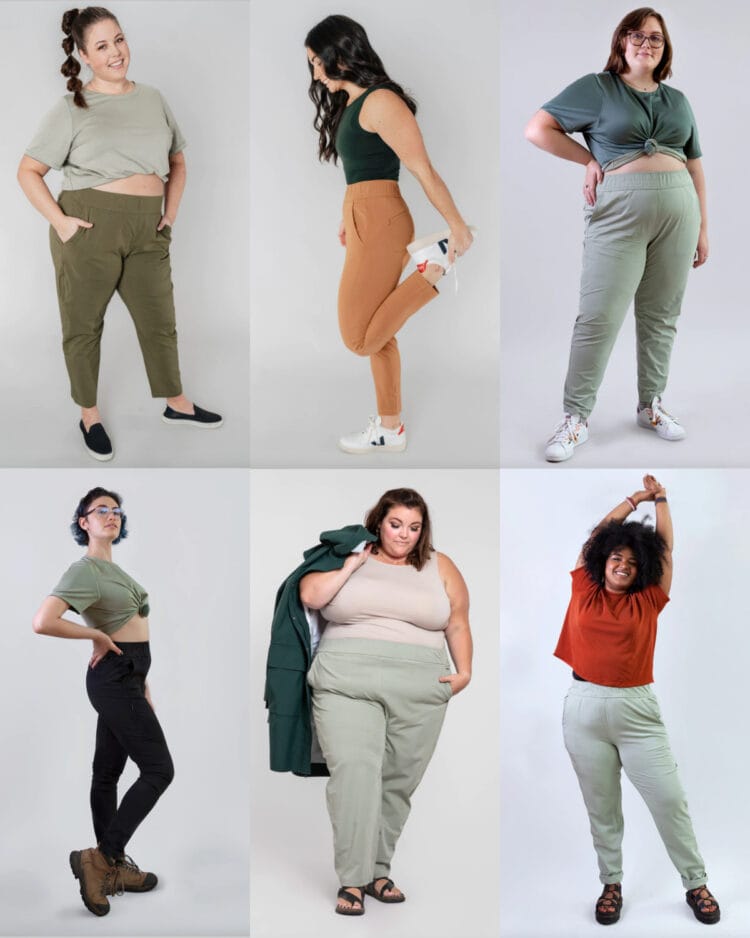 Alder Apparel has been on my radar since Lissa reviewed them on Wardrobe Oxygen. (Please read Lissa's great Alder Apparel review for a lot of information about the brand's sustainable practices and transparent supply line.) I had a look at their site and came away having ordered the 28" Open Air Pant. Alder Apparel is a company dedicated to size inclusivity, so I–for once–didn't have to order the biggest available size!
The Open Air Pant is available through size 6X, in two lengths, and in eight colors! The size chart put me between an XL and a 2XL, so I ordered the 2XL, in the 28" length.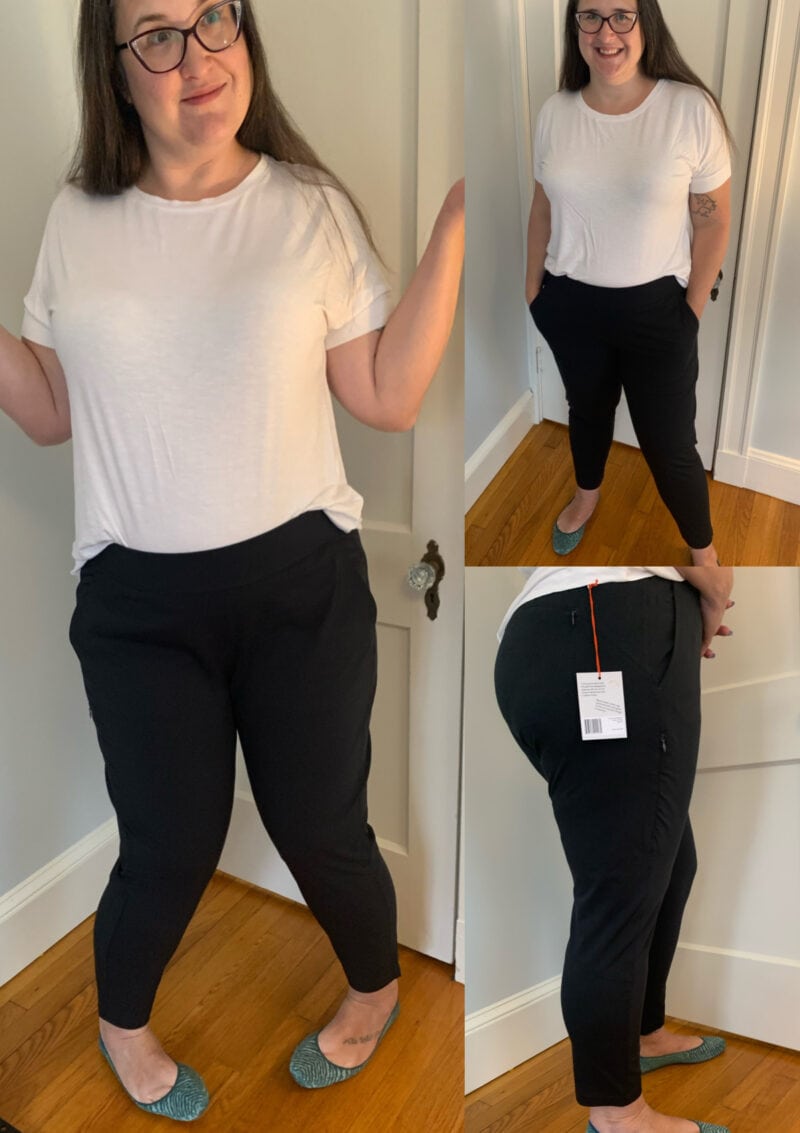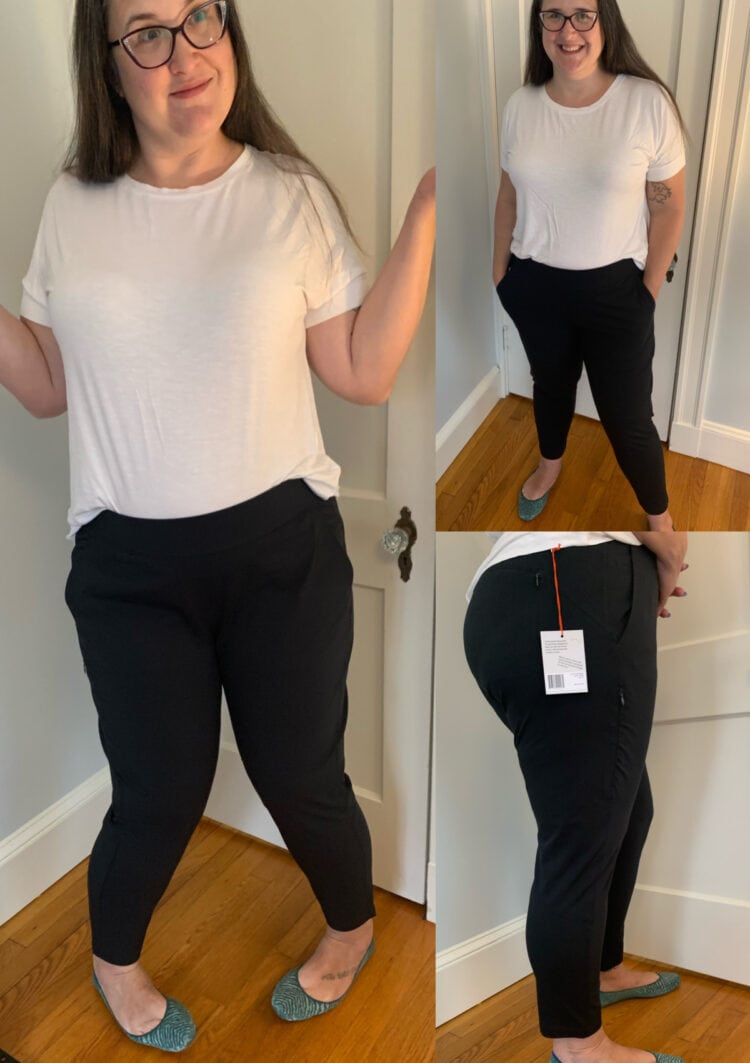 These are great pants. The fabric is a mid-weight blend of 94% modal and 6% spandex. It's comfortable, flexible, and apparently dirt and stain repellent–without being shiny or looking weird. I have every reason to believe it would dry quickly and prove wrinkle-resistant.
The pants feature a high, wide elastic waistband, deep front pockets, zipped back pockets, and an extra, almost hidden, zipped side leg pocket. There is also a carabiner clip at the hip. The fit on these pants is also good. I'd love a 29" or 30" inseam, but the 28" works, and I am pleased at the waist-to-hip ratio and room in the calves.
Another thing to recommend about Alder Apparel is the website-ordering-through-delivery process. The website is full of great pictures, letting you see the pants on a variety of bodies. The package was beautifully wrapped in a custom fabric bag and really felt like a gift to open. Retailing at $155, these pants were the most expensive option I tried.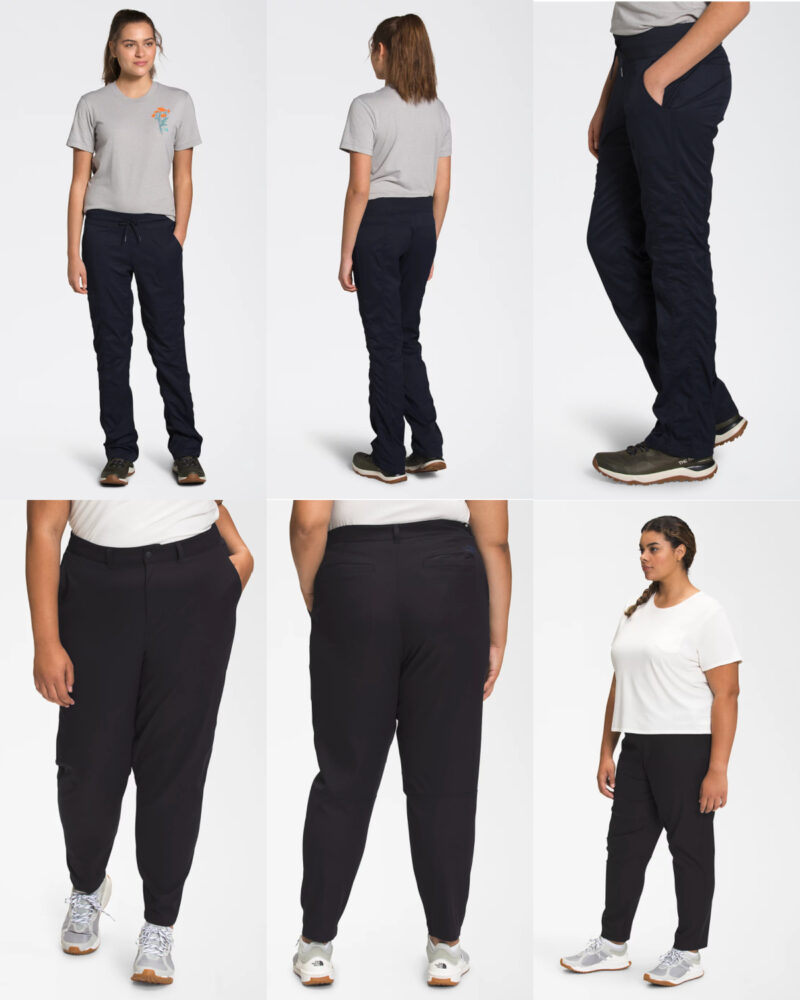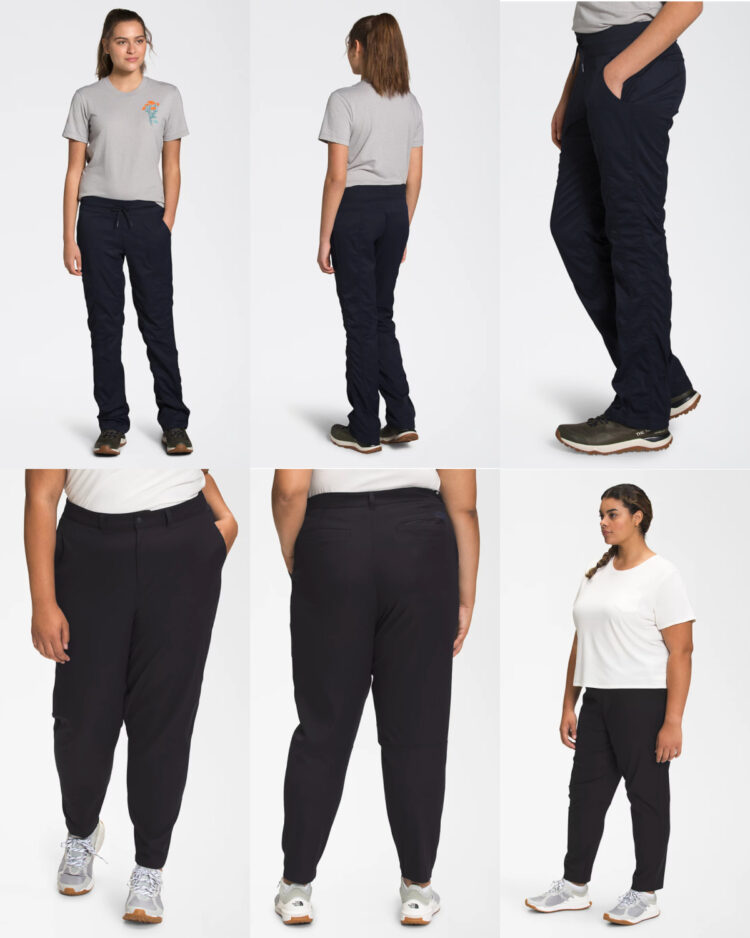 Several years ago, for a trip to Alaska, I bought a North Face jacket that I really like. It fits well and is comfortable and has held up well. With this jacket in mind, and after reading a few reviews of the Aphrodite 2.0 Pant, I ordered two pairs of potential pants from the company.
The first, the Aphrodite 2.0, was a no right out of the bag. These are clearly hiking pants, are full length, and have really weird ruching that makes them appear wrinkled all the way down the leg. That said, were I to have any need of hiking pants, I'd keep them, because they fit great and felt good on, with a nice 94% polyester 6% elastic fabric and really good, deep pockets, including a small zipper pocket.
I ordered these pants in an XXL in the regular length, but they come up to 3X in three lengths. They're available in three colors, and retail for $69.
I almost didn't order a second pair of North Face pants, because I was so irritated about the sizing. The Standard Tapered Pant is a plus-sized offering, available in sizes 16W-26W. However, the North Face sizing chart offers no indication of the measurements for these sizes, so I had no idea what size to order.
Since the pants looked promising, I ended up ordering an 18W. And they're an almost! The waist is too big, as is often the case for me in this size, but if it weren't, I'd consider keeping them. (They're also available in non-plus sizing, but only through size 16.) They're made of slightly heavier weight fabric, but are still soft and reportedly sweat and moisture-wicking.
They have a full snap and zipper waistband, are nicely fitted through the leg and have nice deep front pockets with a zipping interior pocket. These are black-only in the plus sizes, which is another irritation since they're available in four colors in non-plus. They retail for $99.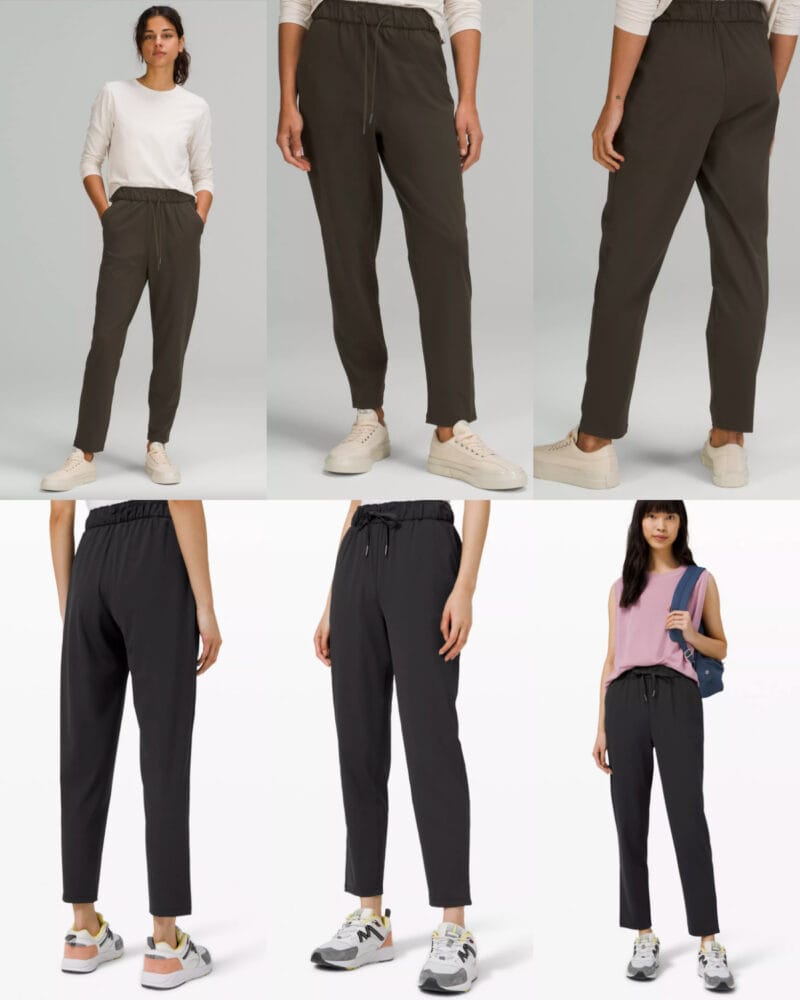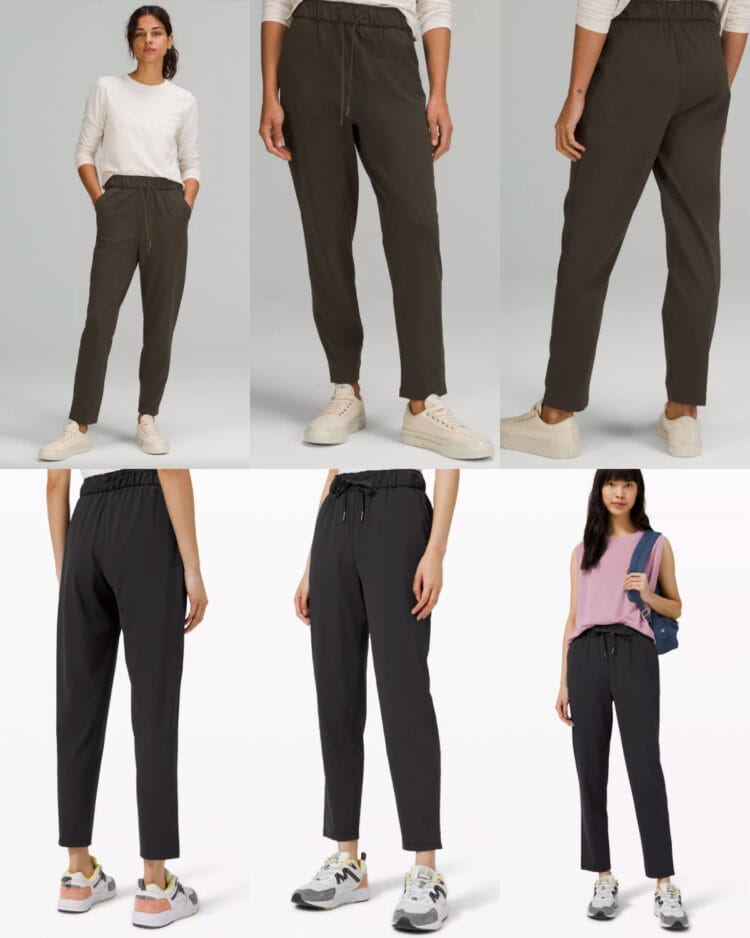 I hesitated to order Lululemon pants, as I had a bad experience with a pair of their leggings, which looked and felt awesome and then pilled after two wears. The Lululemon Stretch High-Rise Pant, though, looked like what I had in mind, so I ordered them in a size 18. They are a much looser fit than the rest of the pants I tried; based on the model on the website this is by design. They fit well in the legs and length and are just slightly too big around the waist and pelvis.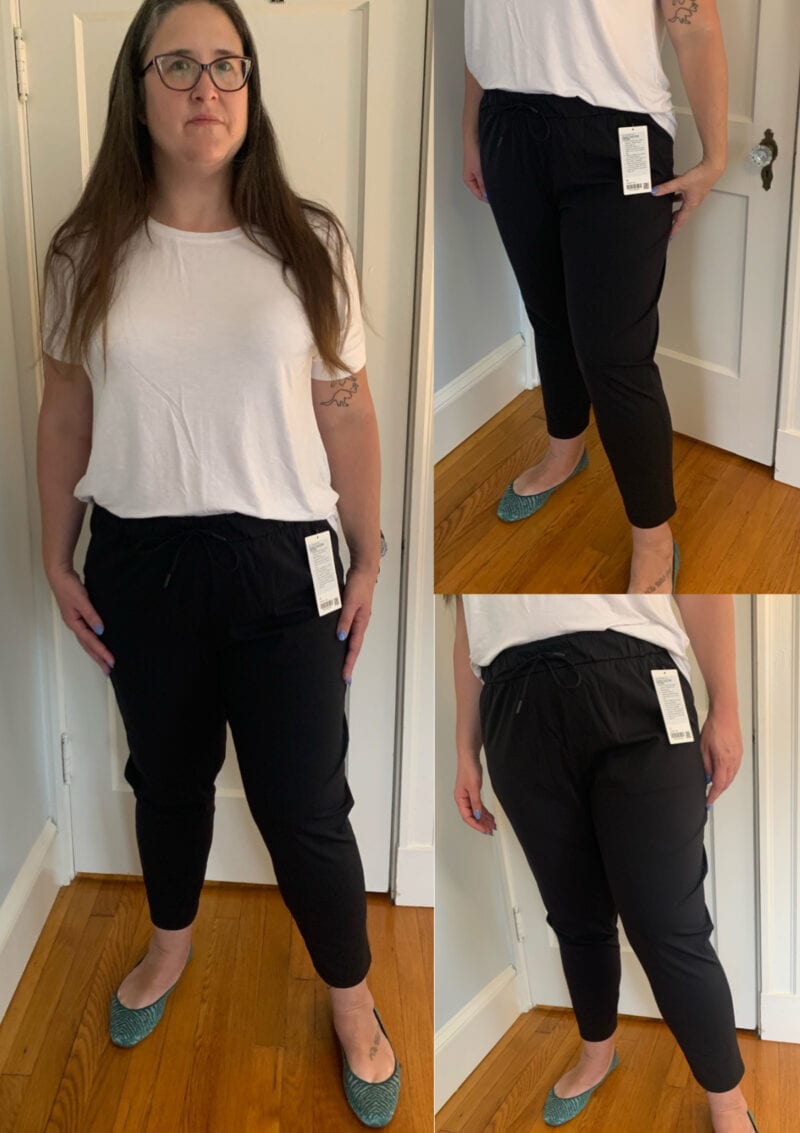 The fabric is a 69% nylon and 31% Lycra blend, so they're very soft and stretchy, but not shiny or particularly lightweight. They're very comfortable and move well with my body, and I expect they'd wash and dry out well and quickly. There are only two pockets, but they are deep and usable. These pants are available in five colors, through size 20. They retail for $118.
The Verdict: The Top Three Best Travel Pants Reviewed
When I went looking for The Perfect Black Travel Pants, the Alder Apparel Open Air Pant was what was in my head. They meet every criteria I listed: they fit great, and they come with the huge unexpected bonus of being from a company worth supporting. There was truly no contest regarding which pants were The One(s). Not only will I keep them, I am already wondering if I need them in another color.
That said, it's not lost on me that the "winner" of my pants contest is also the by-far most expensive option. So, like Real Simple before me, I'll offer a budget-friendlier option: The Columbia PFG Tidal II Pants are fantastic. They look and feel a little sportier/outdoors-ier than the Alder Apparel pants, but they also tick the boxes and offer an unexpectedly good fit. At $55, they're only a bit over ⅓ the price of the Open Air Pants and they're a *good* second place. I like them so much I'm keeping them just as a back-up. 
I'm also thinking of keeping the Lululemon Stretch High-Rise ⅞ Pants. They're a very different silhouette than the Alder Apparel or Columbia options, and they're *so* comfortable. With their elastic waist and drawstring, they read a bit more casual than the other two, and I can really see their potential place in my wardrobe as well. 
I'm exceptionally pleased with the outcome of this experiment. Not only did I find multiple reasonable options, I found something that doesn't feel like settling. Well-fitting, practical pants from a sustainable, woman-owned, and truly size-inclusive brand. I absolutely intend to spend a large part of my visit to Greece in the Open Air Pants, and after I do, I'll come back and let you know how they did.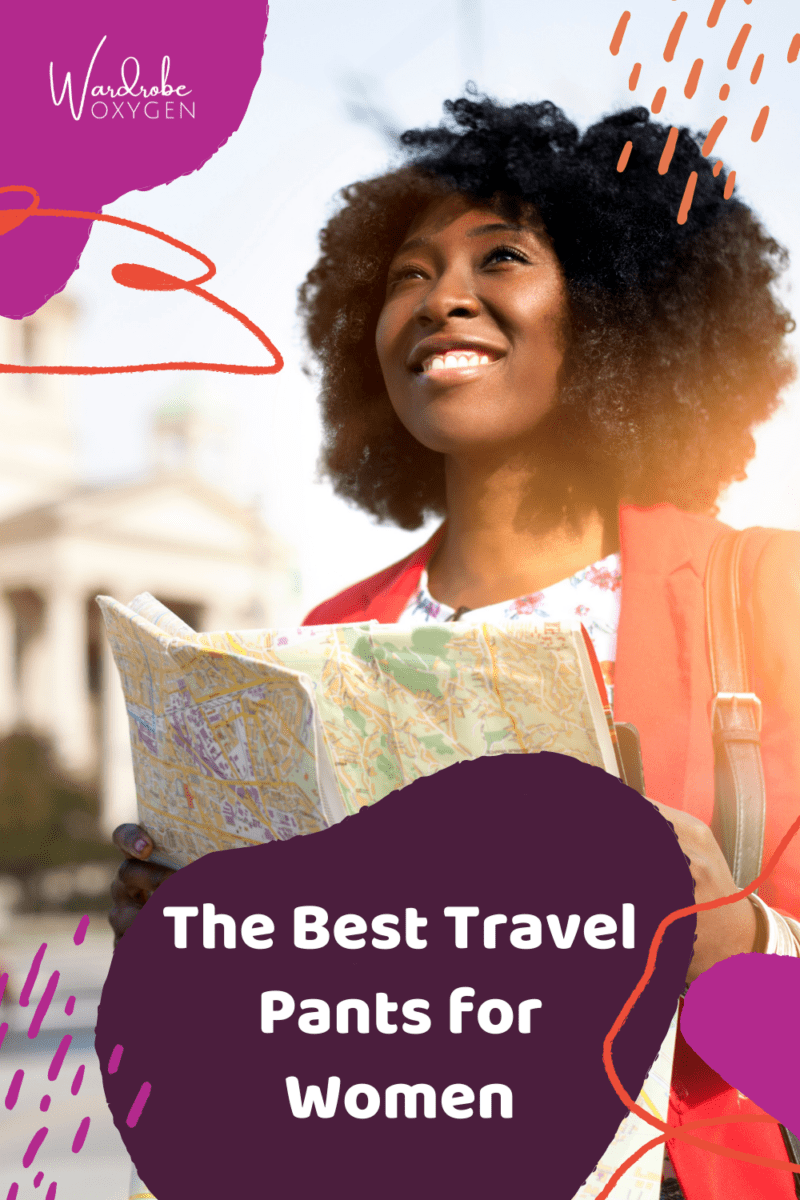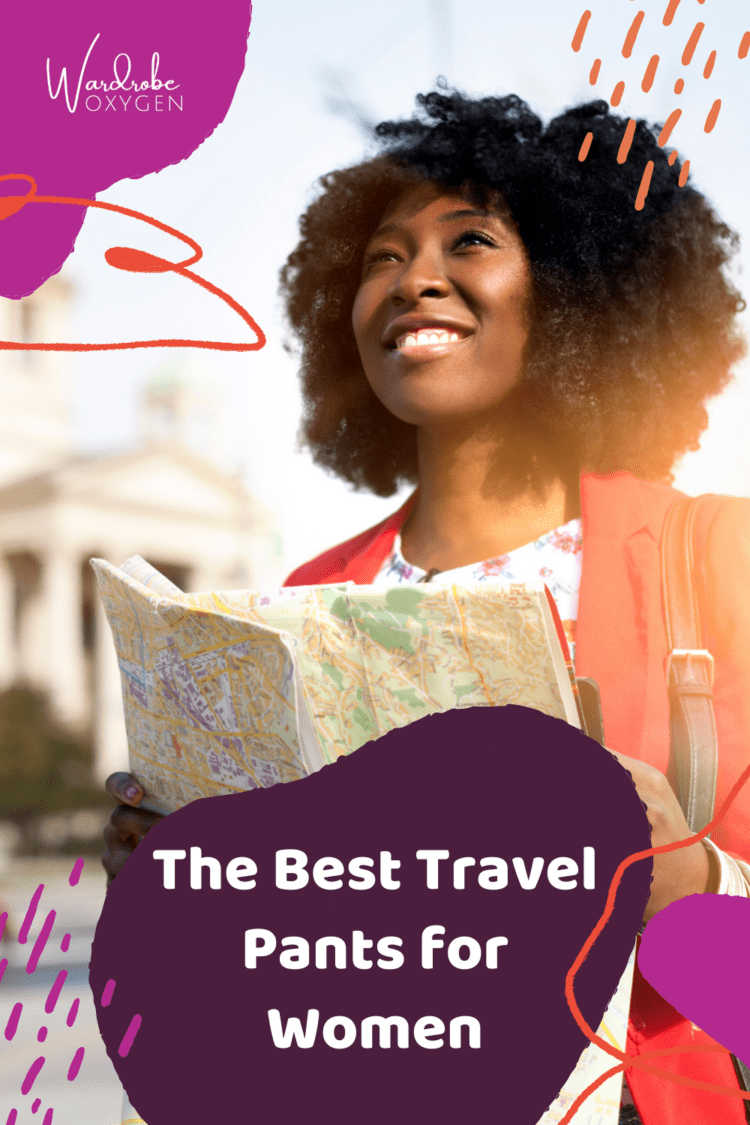 Shop the Post:
Thank you so much Grace, for sharing your quest for the best travel pants! I know I found this extremely useful, and I know others will as well! If you have too been on a quest for the best travel pants and have a different brand or style not mentioned here, please share in the comments!