This article may contain affiliate links; if you click on a shopping link and make a purchase I may receive a commission. As an Amazon Associate, I earn from qualifying purchases.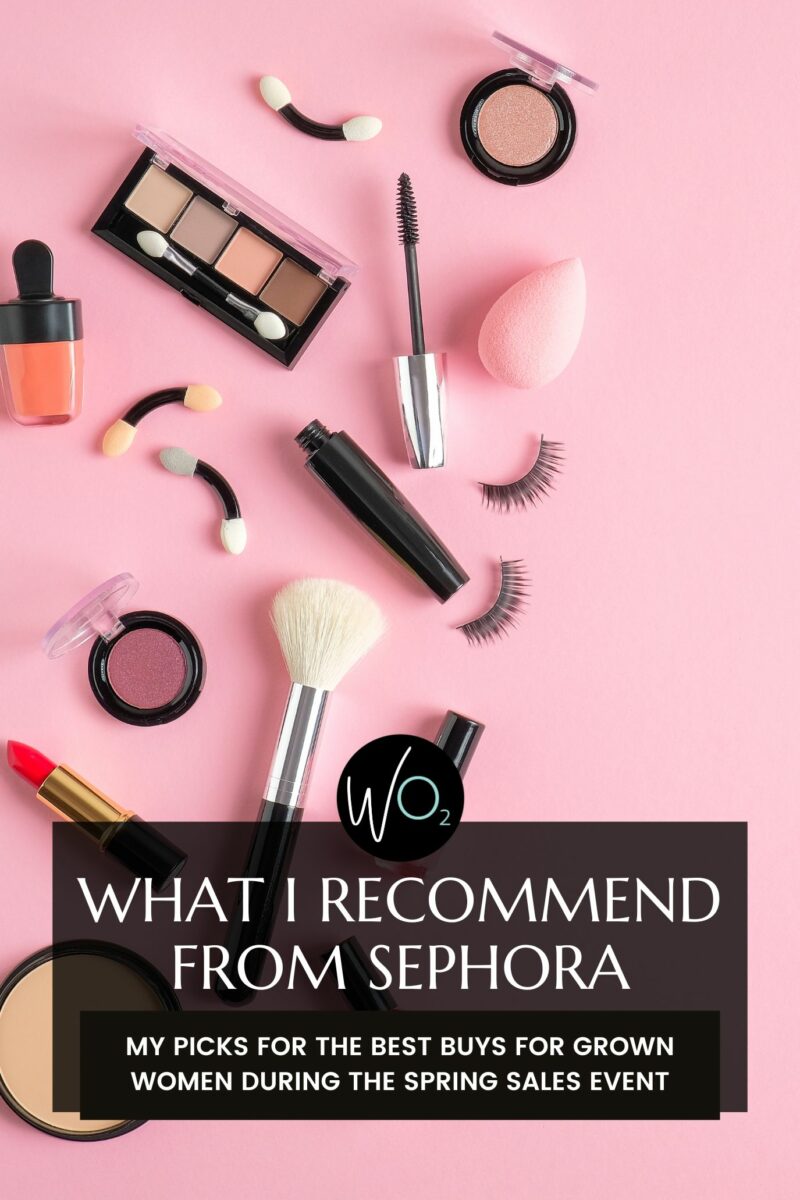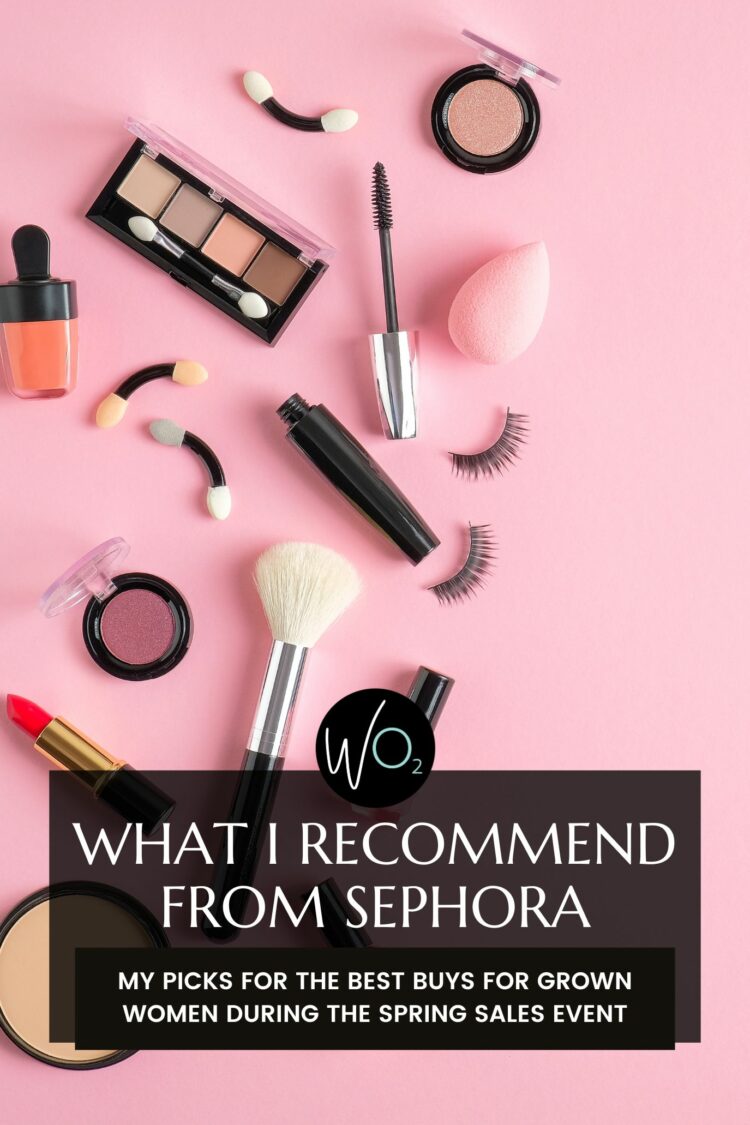 I know, every single influencer, blogger, newsletter writer, podcaster, and beauty website is sharing their must-buys during the Sephora sale and it can be overwhelming and annoying. But I figured I'd share what I bought at the Sephora Spring Savings Event because they may be different from others, and I know my beauty reviews do well on Wardrobe Oxygen. Here are my honest thoughts on what's worth getting from someone who isn't makeup obsessed and as she gets older, wants progressively simpler and simpler skincare and beauty routines.
I originally wrote this post in 2022, but figured it made more sense to republish it with updates than make a whole new post. A lot of the content has updated as I have changed a lot of my makeup products in the past year.
Why The Sephora Spring Savings Event is Worth Shopping
It may feel as though Sephora has one of these deals every month, but in fact, a discount of up to 20% at Sephora only happens twice a year. Sephora is known for makeup, but the company carries a wide range of skincare, haircare, body care, and wellness products as well. And unlike department stores, Sephora mixes high-end with more budget-friendly yet highly rated brands (and has an affordable in-house brand that is 30% off during this event).
A lot of the products sold at Sephora are sold at other retailers but rarely go on sale. From night creams to eyeliners, electronic devices to brushes, shampoo to self-tanner, they are all up to 20% off for this limited-time savings event.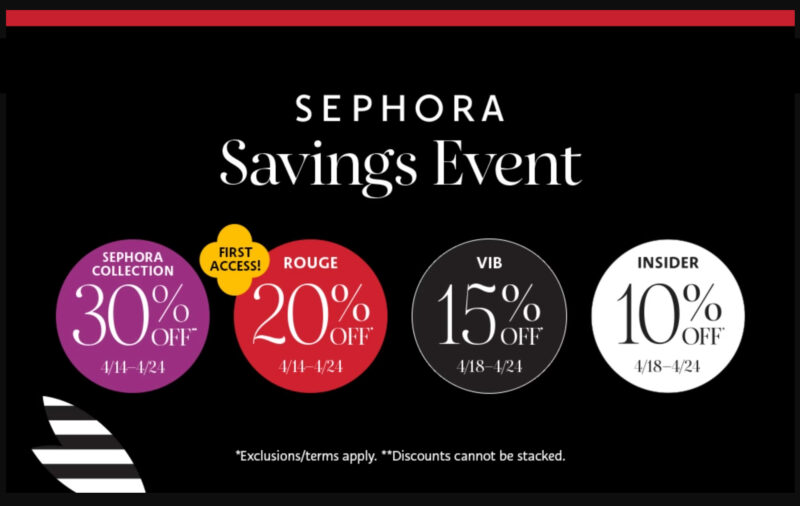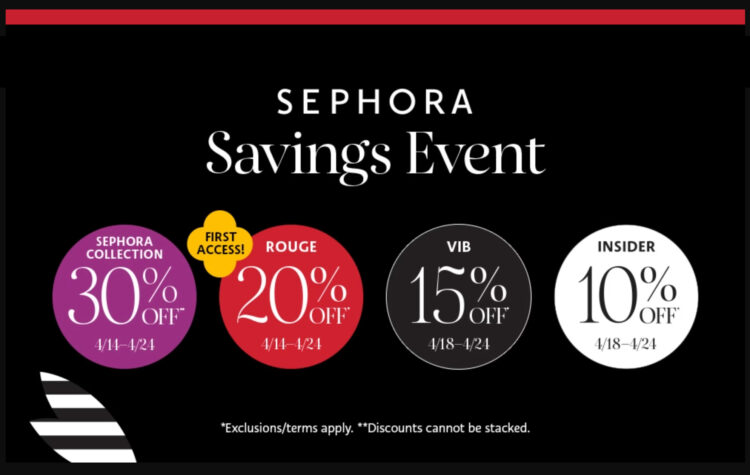 What is the Sephora Spring Savings Event?
From April 14-24, Sephora Rouge customers get 20% off their purchase. From April 18-24 Sephora VIB customers get 15% off. And from April 8-24 Sephora Insiders get 10% off. For all tiers, the promo code is SaveNow.
Items sell out quickly, so it makes sense to shop as soon as you can, which depends on your tier of being a Sephora Beauty Insider.
What is the Sephora Beauty Insider Program?
The Sephora Beauty Insider program is free, and essentially is a program where you earn points per purchase. The more you purchase, the more points you get, and the higher level you get in the Insider program. The points you earn you can use towards free gifts and samples, or save up to get $10 off a future purchase.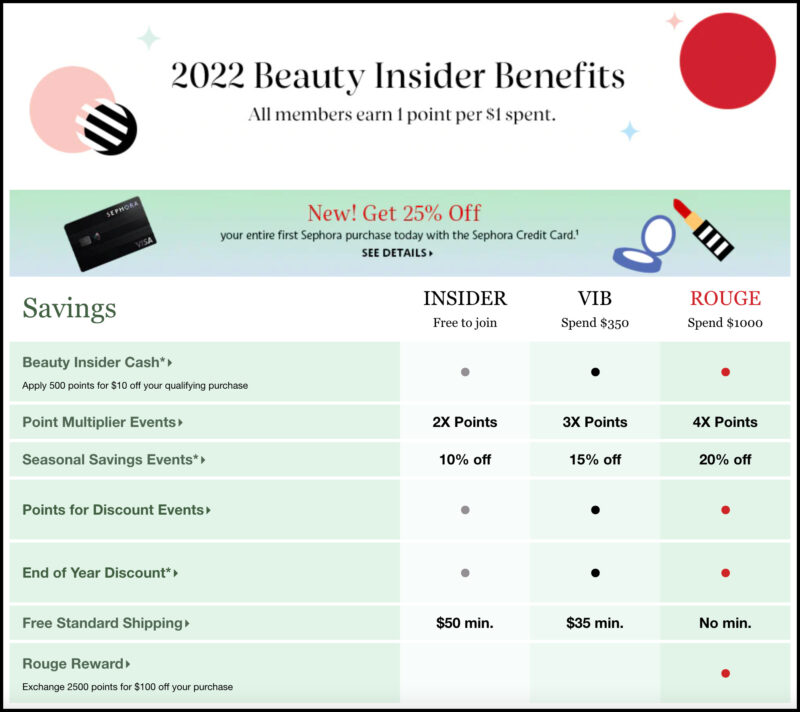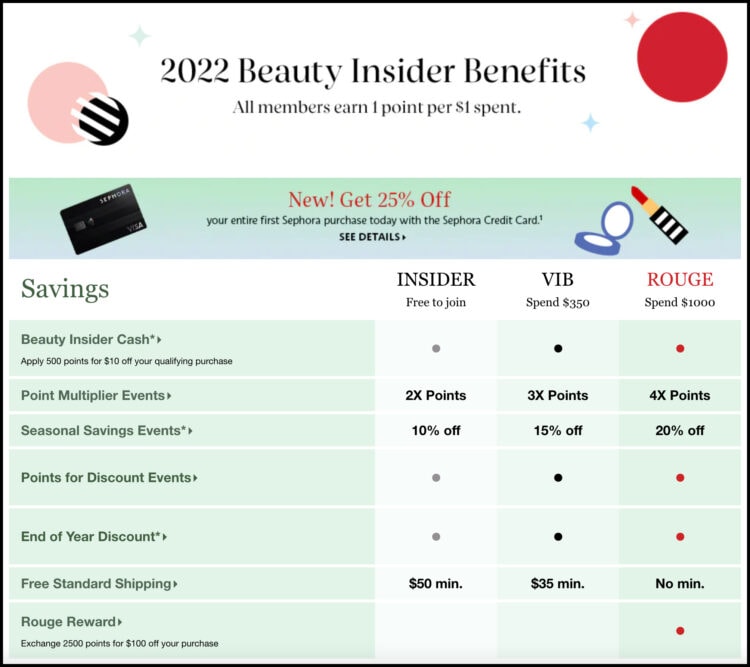 You can sign up to be Beauty Insider at this link and are automatically Insider level, able to get 10% off your purchase starting April 7th. Signing up is free, and emails are relatively minimal from signing up at Sephora.
On top of being able to save during the Sephora Spring Savings Event, as a Sephora Insider you also will get a free birthday gift, the ability to attend special in-store events, accrue points for free products and $10 off purchases, and much more.
What I Bought at the Sephora Spring Savings Event and Recommend
Below are only the things I have either bought more than once and adore, or am buying new during this sale and why. Here is a carousel of the items or scroll down for my explanations as to why they are worth your time and money.

Urban Decay 24/7 Eyeshadow
I took me until my 40's to realize the benefits of a high-quality eyeshadow. One that doesn't disappear, doesn't crease, doesn't migrate, and isn't too yellow or too pink or too gray or too shimmery or too heavily pigmented or too complicated. Because eyeshadow has gotten so complicated in the past years I'd rather go without.
But I like the look of eyeshadow, how it hides the veins and redness. How it contours and adds drama. I just want a My Lids But Better color, and Urban Decay's Tease is like that color, but a bit more dramatic. I take a crease brush (mine is Trish McEvoy but this Sephora one looks similar) and just wiper blade in the crease with this color. Then I take a brush like this and go along my lower and top lash lines.
Since the color of this eyeshadow is close enough I don't have to freak out about blending to perfection. And because it's so close to my lid if I rub my eye or tear up, I won't look like a hot mess. But because this is a really great formula, a rub of the eye doesn't make it disappear. At the end of a long day and night, I will still have Tease on my lids, and in the right place still looking great.
Now if you want some festive shiny drama, check out the 24/7 Moondust shadow in "Space Cowboy." Tap your finger into it and tap right in the center of your lid near the lashline, like right above your pupil. Then tap it a bit or get fancy with a brush and soften the edges. Just that will look cool and shimmery but not too try-hard. I wear this shadow over Tease, it's a great product to day-to-night your makeup.
Grande Cosmetics GrandeLash
This stuff works. I've tried fancy Rodan + Fields and I think this works just as well. I tried budget-friendly The Ordinary and it didn't work as well (and has a crappy brush/tube combo). My lashes are longer, I don't have any irritation or darkening of skin or weakening of lashes. I use GrandeLash… at least three nights a week. Sometimes I forget, sometimes I feel my lashes look long enough so I skip a night.
Lashes fall out, so you can't use GrandeLash until you're happy with the length and stop buying it. Nope. Once you get the length you desire you can do it every other or every third night to maintain and extend the length of your tube. But you have to keep using it to keep that length; I've tried and slowly lost all the length.
If you haven't tried, get the mini. If you have, stock up on the big size with this sale. I know I am!
Grande Cosmetics GrandeBrow
This stuff also works. I don't know if the GrandeBrow formula is different from GrandeLash, but the brush is different and better applies the serum over the area where you want to grow brows. And while it won't give you back pre-90's era brows, it will fill sparse brows and thicken the brow width in general. It has also helped me, someone who has brows that end short, grow a "brow tail."
I went from buying a kazillion products to try to replicate hair and researching microblading to just using a bit of pencil or tinted gel from pretty much any brand that carries a dark taupe shade. So for me, the price is justified.
The mini runs out super fast, faster than the GrandeLash because you apply more each session. I think it's a waste of money and you should try the 8-week size. That's how long it takes to see results, anyway.
While I'm discussing brows, not Sephora products but my favorite brows products are this pencil/gel combo from Julep and this pencil from NYX. A brow expert once told me if your brown hair is going gray, even if you color it, a taupe pencil will look more natural than brown. I'm a convert and now only buy taupe brow products!
Caliray Come Hell or High Water Tubing Mascara
It's been a while since I've reviewed tubing mascaras. Last review, I was a die-hard Thrive Causemetics gal. But my last tubes seemed more watery, the formula taking longer to dry, clumping more, and the tube drying out faster. After years of being a Thrive Stan I started looking for a replacement and came upon Caliray.
A tube that is 100% recycled ocean plastic, a water-resistant "tubing" formula that won't give me raccoon eyes even if I sweat or cry, and it comes in a mini version? I tried it, I loved it, and I will be buying two more mini tubes during this sale.
I have bought the full-size tube of Caliray Come Hell or High Water Mascara and it's fine… but I find mascaras get weird before you get to the end of the tube and this one is no different. Buying the minis means I can use the entire product before it starts acting up. If you find the same with mascaras, consider trying a brand that carries a mini/travel size. More and more brands are carrying them!
Rare Beauty Soft Pinch Blush Brush
If you're like me, your blush brushes have always been big and soft and fluffy (and before that, small and fit perfectly into the compact). But maybe like me, you're finding powder blush to look a bit too… something and are digging the concept of cream and liquid blushes and how they look natural and glowy.
I bought this brush a few months ago because applying non-powder blushes with my fingers was giving me uneven results and I just wanted it to be simple like it was with my fluffy brush and NARS Orgasm. Well this brush from Rare Beauty does just that.
I'm a fan of the cream blushes from Flyte.70 (not sold at Sephora), especially "Look of Love." It's not pink or peach or rose, it's like a blush and a bronzer had a baby. And I tap tap tap this brush in "Look of Love" and then tap tap tap on my cheek from the apples up near the eyebrow. And then if I don't want to mess with shadow, I'll use this same brush and blush and tap tap tap right on the crease area of my eyelid and it will make a natural-looking contour.
I've used this brush to blend out liquid blushes too (my daughter has this one from Rare Beauty in "Bliss" and I sometimes borrow it). No need to be fancy, just tap tap tap and it will blend and in the right place on the face. It makes cream and liquid blushes as easy as shimmery powder and a fluffy brush!
Rare Beauty Liquid Touch Concealer Brush
I don't own this brush, but based on ow much I like the Rare Beauty blush brush, I added this to my cart for the Sephora Spring Savings Event. My current concealer brushes are either super precision cover that one dot, or else a synthetic larger version of a dome brush that blends but doesn't get into little corners, nooks and crannies. And fingers aren't what they used to be for blending and precision. This looks like a brush that will get around the eye, the mouth, the nose without getting everywhere.
Living Proof Perfect Hair Day Advanced Dry Shampoo
This is the advanced version, the one with the lighter silver can, not the original with the darker can. This IMO is the only dry shampoo that disappears on brown hair and can disappear with some strategic finger rubbing of the scalp to not break up curls.
With summer coming, it makes sense to get another can. I use it much more in the heat than the cold. And the small travel can sells out fast but if you can get it, it's TSA-approved size and enough for you and your teen to get through a 12-day road trip together.
Urban Decay Heavy Metal Glitter Eyeliner
I think this liner and the dry shampoo are the only items that were also on my 2022 Sephora Spring Savings Event list! But I adore this liner. As grown-ass women, it can be hard to know how to have "festive" makeup and not look try-hard. A smoky eye on some grown folks looks cool and on others it can look harsh or messy or overly done. A red lip? Same. Some can rock it, some look like they did when they were 4 and got in their mother's dressing table.
My go-to as a grown-ass woman is a hint of glitter. Glitter can look great with no other makeup, can elevate a "no makeup makeup" look, can desk-to-drinks up your day face, and it's nice to have in your arsenal when you're invited to an occasion where glitter, and the more the merrier, makes sense.
This liquid liner is essentially a clear gel with glitter suspended in it. You paint it on the top lash line in dots, no need to have a steady hand because the glitter isn't evenly suspended in the gel. Tap tap , grab some more, tap tap across the lashes. I do it after applying mascara; if some gets on the lashes that can look fun.
This glitter gel doesn't have fallout like shadow, it doesn't get into eyes if you sweat or rub or cry, and it comes off easily with a swipe of micellar water and then your evening cleanser. I currently own "Goldmine" and "Glamrock" but have owned other colors in the past and liked them too. If in doubt, go "Midnight Cowboy" which works with silver, gold, or pretty much anything else.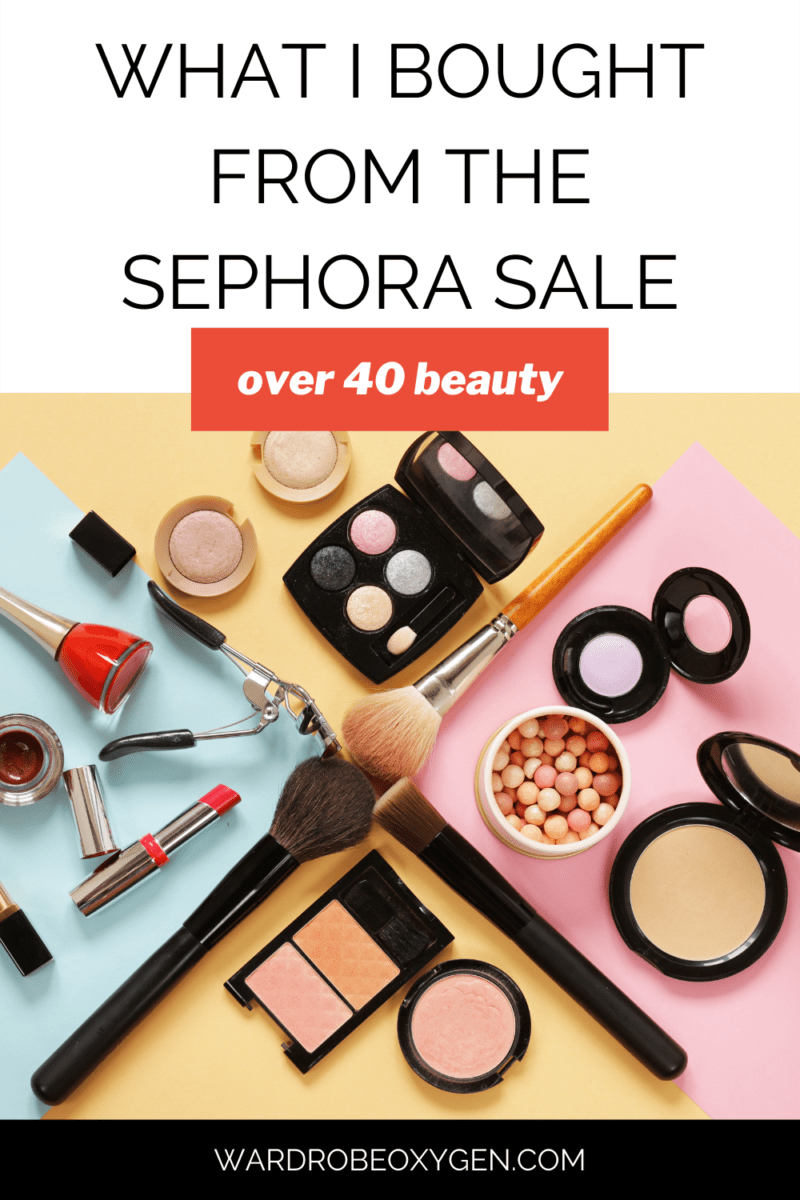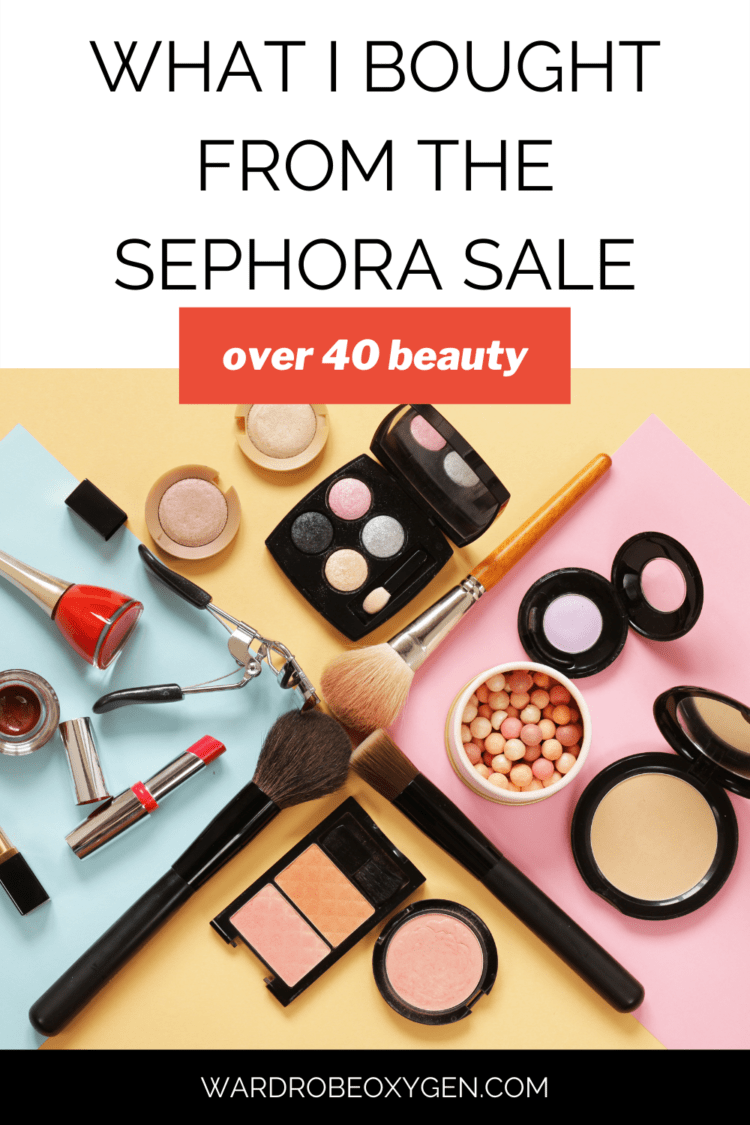 Shop My Picks:

I want to hear from you!
So what are you buying at the Sephora Spring Savings Event? What awesome product do you love and think other grown-ass women would adore? Share your picks and reviews in the comments!