This article may contain affiliate links; if you click on a shopping link and make a purchase I may receive a commission. As an Amazon Associate, I earn from qualifying purchases.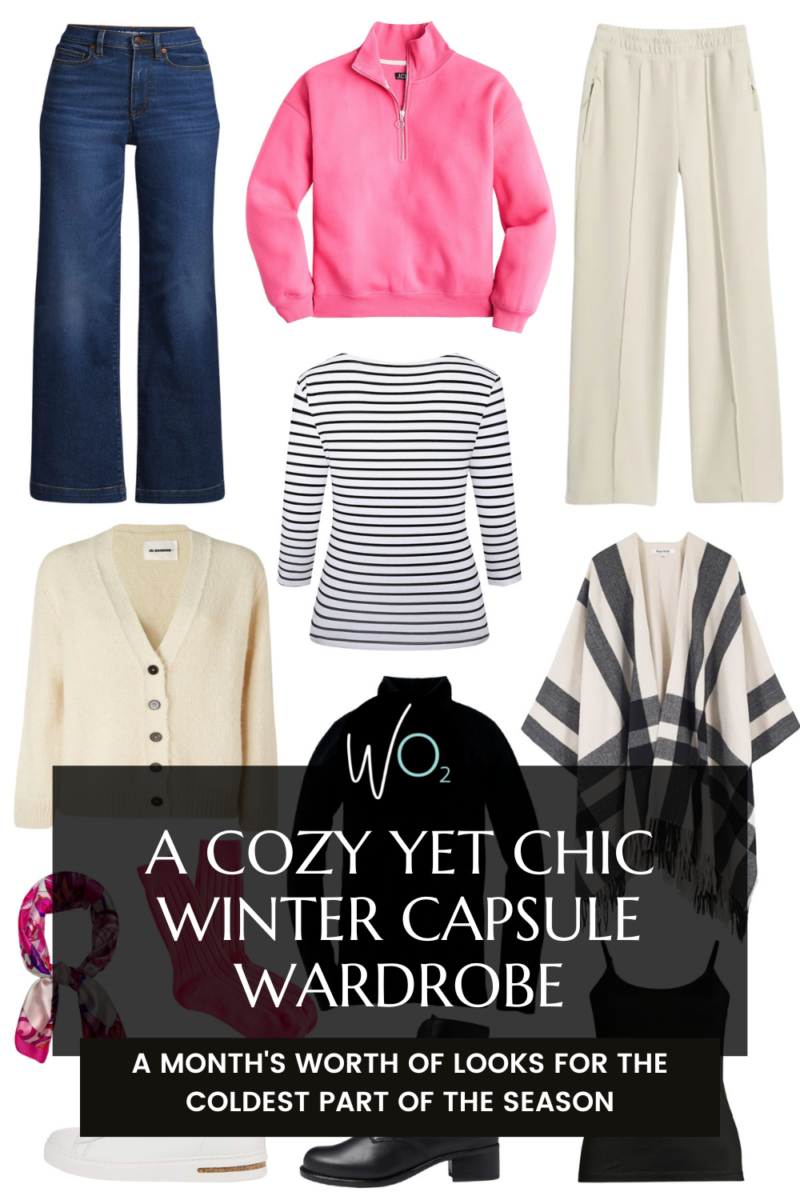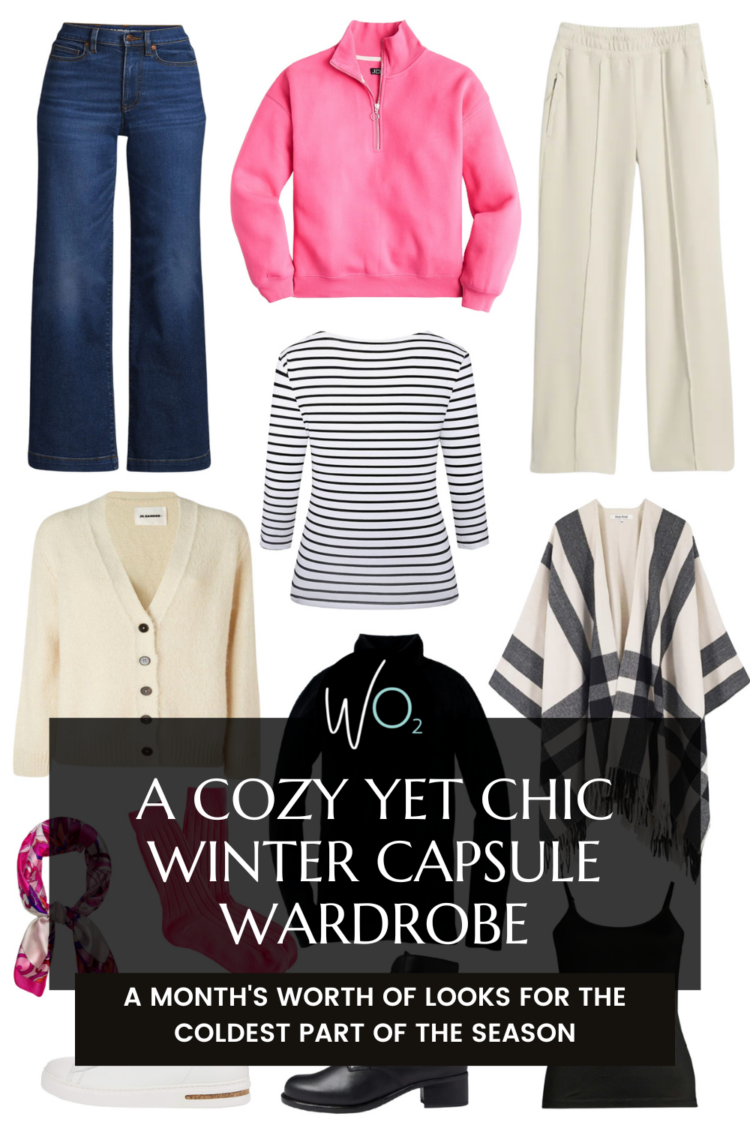 Welcome to Deep Winter, the time of year after the holidays when the days are dreary, the temps are low, and many of us are feeling a bit overwhelmed by the "New Year New You" mentality of January and exhausted after the holiday season. We may be a bit softer or a different clothing size than we usually are, and what we need right now is not a resolution to be a different person but a mentality to truly care for who we are, wonderful, right here and right now.
To inspire you to care for yourself right now but still maintain style, I created this cozy chic winter capsule wardrobe full of snuggly fabrics, styles to work with a fluctuating figure, yet enough polish for a day in the office or a night on the town. And I hope you can find similar pieces already in your closet!
Come January, I want nothing to restrict me, dig into my stomach as I sit, require fancy underpinnings, cause foot pain, or make me uncomfortable in any manner. I'd rather spend a half hour applying lotions and potions to my face or doing my makeup this time of year than spend even ten minutes in my closet and I know I am not alone. I created this winter capsule wardrobe for those of us who prioritize comfort but also want to look chic and pulled together.
This cozy chic winter capsule wardrobe is available in at least sizes XS-3X. If an item isn't available in at least that size range, I link to a worthy equivalent. This capsule wardrobe is free of extreme trends so that come spring you can pack it up and have it ready for next January when you are on a sequin and velvet hangover, wanting to live in sweats but knowing you need to get out of bed and live in the real world. Also, a lot of these pieces will transition into early spring with ease.
You know I am a fan of color, and this capsule isn't super colorful, only having a pop of pink with a few select items. I did this because I find that loungewear and athleisure look more luxe when in neutrals, and because I know then these pieces will transcend trends and still look chic next year. If pink isn't your jam, the pop of color can be anything you desire, even another neutral. Don't like black? You can replace those pieces with gray, camel, brown, even navy (as long as the jacket and pants are a match).
My capsule wardrobes are guides, not gospel. I hope this collection of chic cozy pieces in this winter capsule wardrobe inspires you to see your existing closet in a new light, seeing how you may be able to recreate this or part of this with what you already own.
A Cozy Chic Winter Capsule Wardrobe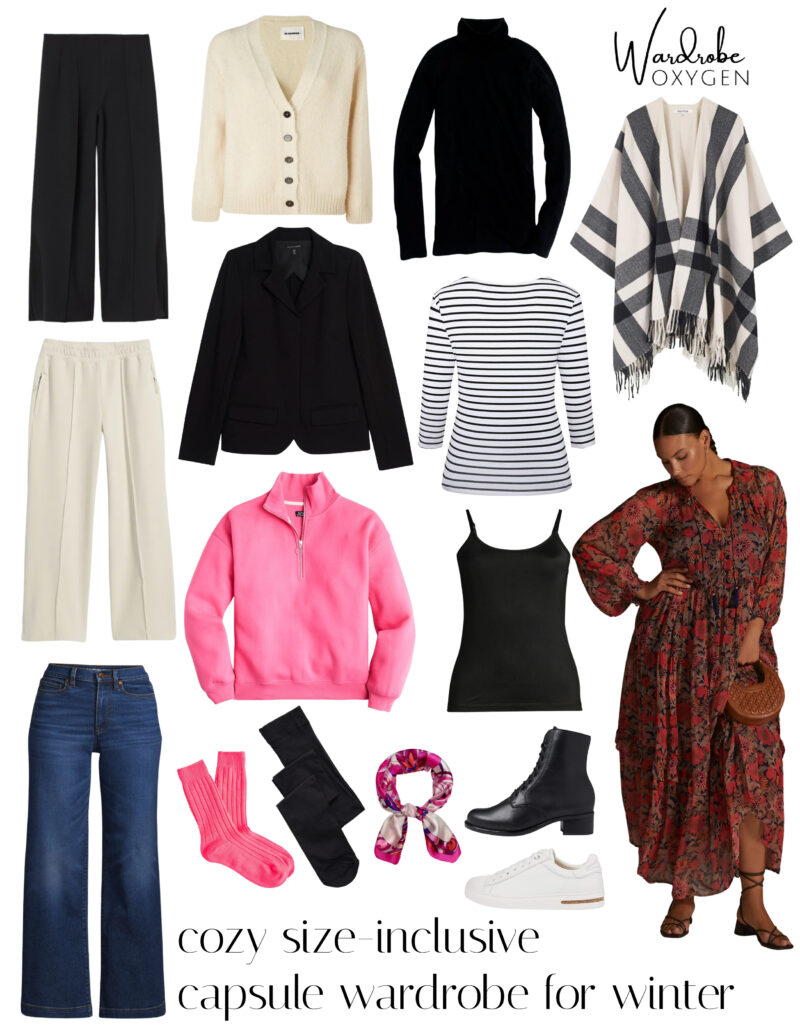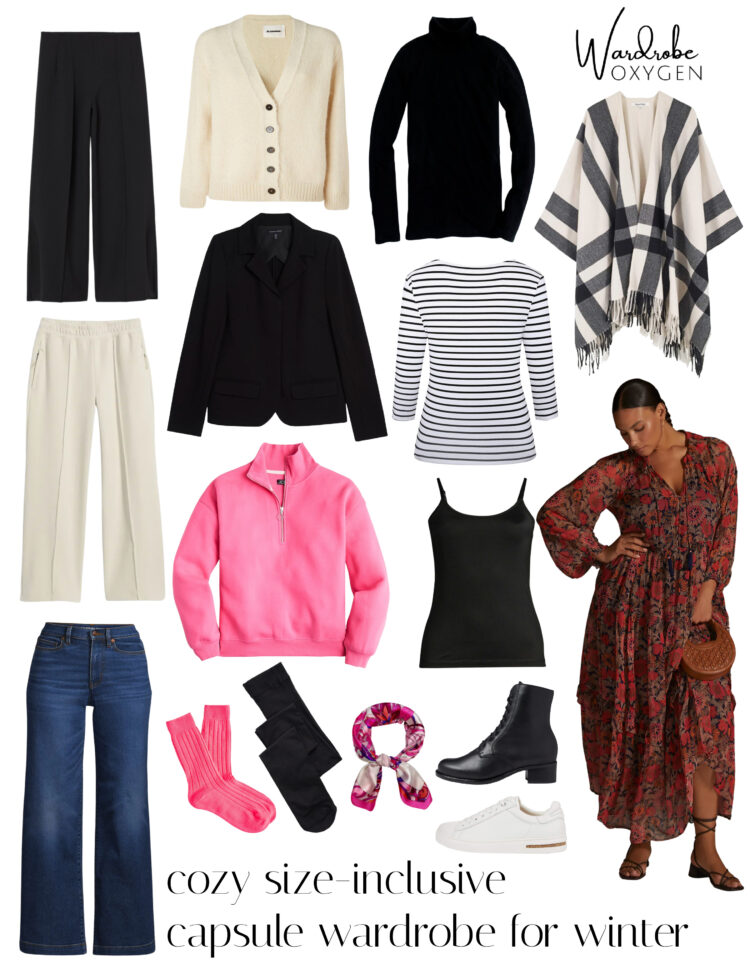 Shop this Cozy Chic Winter Capsule Wardrobe:
black ponte wide-leg pants (00-40) | ivory knit pants (XS-4X + petite/tall) | wide-leg jeans with stretch (4-26 + petite/tall & inseam options) | ivory wool-free cardigan (00-40) | black ponte blazer (XXS-5X) | pink zip-neck sweatshirt (XXS-3X) | black Tencel turtleneck (XS-3X) | Breton stripe top (XXS-XXL; link to similar in 12-42/44) here is another on Amazon that looks similar | black insulating camisole (XS-3X) | ivory and gray ruana (similar in plus size/longer length) | floral dress (XXS-3X + petite) | pink socks | black merino wool tights (A/B-G) | pink print scarf | waterproof black leather boots (come in widths) | off-white leather sneakers

22 Looks from this Capsule Wardrobe
Below are 22 thumbnails of potential outfits made from this winter capsule wardrobe. Tap any image below to see larger. There will be arrows that pop up so you can scroll through the looks (on your mobile device you can swipe to view the next look). If you are on a mobile device and the footer ad is in the way, you can tap the "X" in the top right corner of the ad to remove it. Tap anywhere outside the image to return to this screen:
These looks have added items: bags, slippers, jewelry, and some cosmetics to complete them. I chose versatile pieces that transcend trends and have the quality to last for years. All the beauty products I own and love (use WOXYGEN15 at Flyte.70 for 15% off). The slippers have arch support to stay cozy and comfortable. I own that beanie and wear it all the time, indoors and out. The bags are all from brands I know and trust. And all the jewelry is from Missoma, an ethical and sustainable jewelry company that receives rave reviews for quality from members of the Wardrobe Oxygen Community.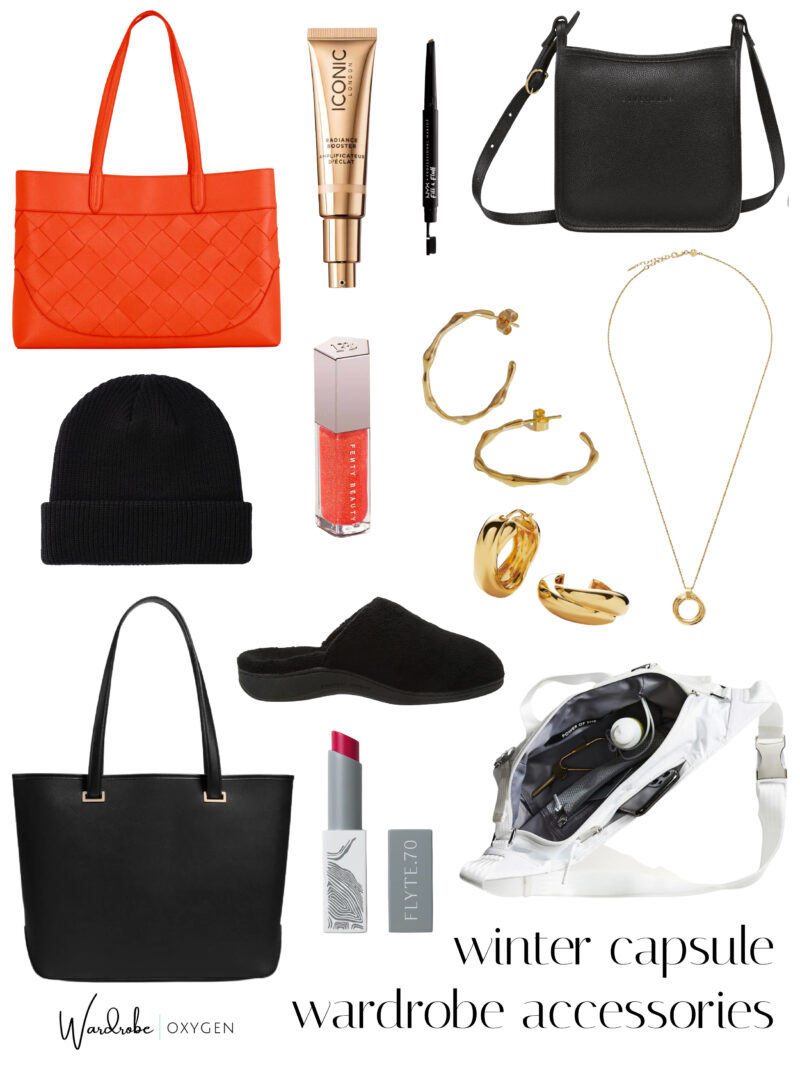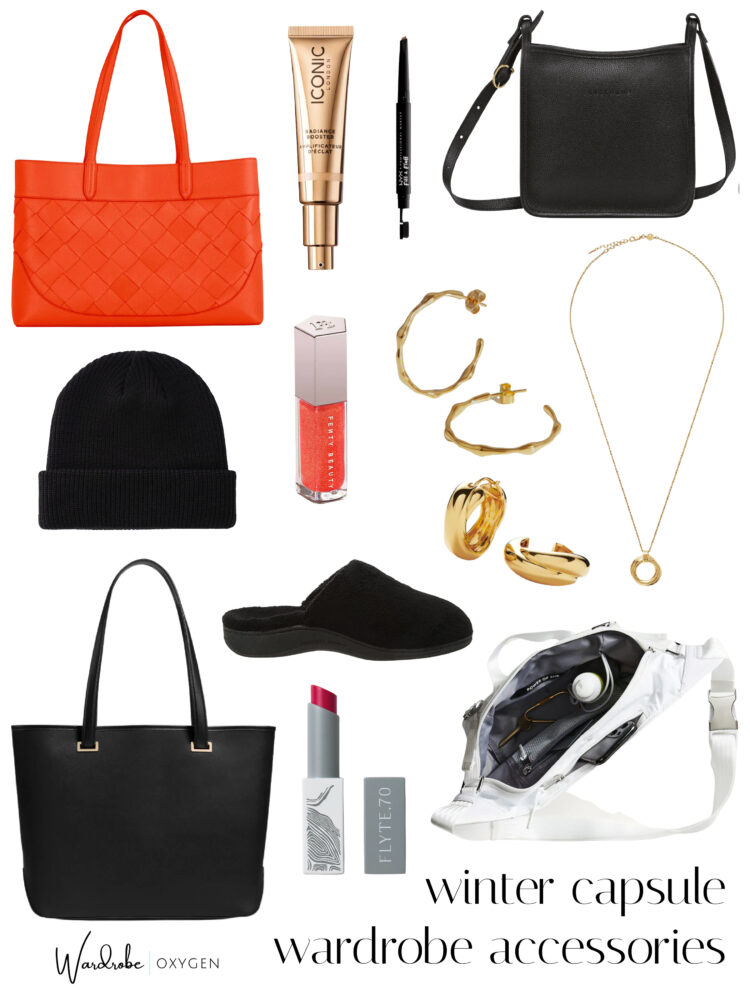 Shop the Capsule Wardrobe Accessories:
orange leather tote | radiance booster (I wear Shell all over my face alone or under makeup; you may want to start just on cheek bones etc.) | brow pencil (I wear this in taupe; a brow expert told me any person graying, even if they color, may find taupe looks more natural) | slim black leather crossbody bag | black beanie | lip gloss (my favorite alone or over any lipcolor to transform it) | wavy gold hoops | chunky smaller gold hoops | gold necklace (starts at 22″ length with extender) | black laptop tote (on sale!) | black slippers with arch support | berry hydrating lip stain | white belt bag/crossbody (other colors available)

I made 22 looks with each bottom styled at least six different ways with the ability to have each pant styled at least eight ways. And if you add items already in your closet this look can go even further.
Add a longer sweater coat to wear over the dress (with or without the turtleneck) and over the knit pants with any slimmer knit top underneath.
A tailored pair of wide-leg trousers in a tweed, classic plaid, or suiting fabric can elevate a lot of the looks created. Add in a sweater blazer or a relaxed/boyfriend-style wool blazer (single or double-breasted).
If you have dressier or work occasions, look for a flowing silky piece to go under blazers and cardigans (Ravella is a great resource for silk shells, tees, and camis up to 3X).
Mix in the sweaters and knit pants you already own. This may seem obvious but we often get into such a minimalist capsule mindset we may restrict our style more than we really need to.
Add a wrap belt. ADA Collection makes the best leather wrap belts on the market and they now have each of their iconic styles available in extra length. Use it to cinch the dress for a different effect, to cinch a long sweater coat over the dress, or to cinch the ruana to create a new look for a cozy winter must-have.
Why Did I Pick What I Did for this Capsule Wardrobe?
This cozy chic winter capsule wardrobe is inspired by my own closet and contains many pieces I myself own. I'll break down my fit tips and how you can swap out these items if your personal style aesthetic isn't quite the same:
You survived 2022, you deserve to start this new year with comfort, style, and a bit of peace. I hope this cozy chic winter capsule wardrobe helps you find some peace with your wardrobe during the coldest months of the season!