This article may contain affiliate links; if you click on a shopping link and make a purchase I may receive a commission. As an Amazon Associate, I earn from qualifying purchases. 
2014 is the year where I embrace comfort, embrace my current body, and pardon my French, stop giving a fuck what strangers think and just be happy. It's easy to get caught up in what is "flattering" or "age-appropriate" and end up feeling frustrated and stressed out. I believe in dressing for respect and dressing appropriately for the situation, but the so-called rules about what I should wear because of my height, dress size, bra size, or the age on my driver's license are being thrown out, along with all that body and age anxiety.
Other than bathing suits, I think one of the most anxiety-inducing garments of clothing are shorts. I think of shorts and only think UGH. They ride up and make you look like you're wearing a diaper. They're always too short or too long or too tight somewhere. They show off cellulite and veins and chicken skin that can glow in the dark and… well I could go on but what's the point? UGH SHORTS.
However, I live in the DC suburbs, where is gets very hot, and very humid. I'm sick of sweating my gams under maxi skirts and cropped pants. I AM WEARING SHORTS, DAMMIT! So here's the shorts I have recently purchased that don't ride up and look like a diaper, aren't too tight or too baggy. They get me out there, let me have fun and enjoy the heat like the rest of society!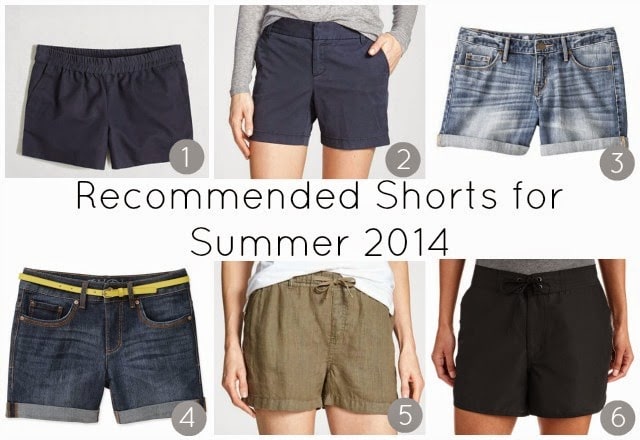 1. J. Crew Factory Pull-on Short
Sadly these are out of stock online, but they may be in your local brick and mortar location. They're heavy textured cotton twill, a full elastic waist that reminds me of Emerson's wardrobe, and slant pockets big enough to hold keys and a cell phone. A 3" inseam seems indecent, but I bought them in a 14 which is a bit baggy, they sit on my hips instead of my waist and give me a comfortable amount of coverage. I personally adore the elastic waist, I don't tuck tops into shorts anyway so why not have some comfort?

2. Caslon Clean Front Five-Inch Shorts
I have purchased these multiple years and always love them. For me, I find buying the regular instead of the petite and then going up a size from my dress pants gives me the length in the rise I desire and then I just single cuff the hem for the length in the hem I desire. They wash great, no issue with shrinking, and each year they have classic colors and then a couple fun prints. If you prefer a bit more length, Caslon has the same shorts with a nine-inch length.
3. Mossimo Mid Rise Roll Hem Denim Shorts
Teensy bit of stretch to make them comfy, a rise that doesn't cause a muffin top but doesn't look dorky, an on-trend wash (more washes in store), and a leg opening that isn't too wide but isn't skin tight. Again, I went up a size so they could hang a bit on my hips. If you desire a longer length, Mossimo's Boyfriend Short is a great alternative.

4. Faded Glory 4.5" Denim Cuffed Shorts
These aren't the BEST denim shorts in the world, but they fit well, are comfortable, and aren't terribly dorky. They run a bit small and two shorts of the same size will fit differently, so try on in store before purchasing. I plan to distress these (using this DIY) to make them more me, but as-is they're a decent weekend chasing after the kids or puttering around the house short.
5. Caslon Drawstring Linen Shorts
These are the perfect humid summer shorts. They are supposed to look rumpled, they don't stick to you, they have a flowy loose fit, but they don't make you look dumpy. I have them in black and consider them my "nice" shorts for cookouts or lawn seats for a concert, but am considering a second pair in a print to jazz up simple tees and tanks.
6. Catalina Swim Short
These are shorts for kayaking Sunday mornings, going for a bike ride, taking Emerson to a water park, or doing anything where I could get really sweaty or wet and just want something comfortable, that won't ride up, and will dry quickly. They have a clean, simple look that doesn't scream BOARD SHORTS. These have a built-in panty which wigged me out at first, but it's comfortable and makes things easy (and doubles as a swim bottom when you are at a water park or another place where you don't really want to wear an actual bathing suit all day). Oh, and they have pockets – hooray for pockets!
Follow Me | Twitter | Facebook | Instagram