This article may contain affiliate links; if you click on a shopping link and make a purchase I may receive a commission. As an Amazon Associate, I earn from qualifying purchases.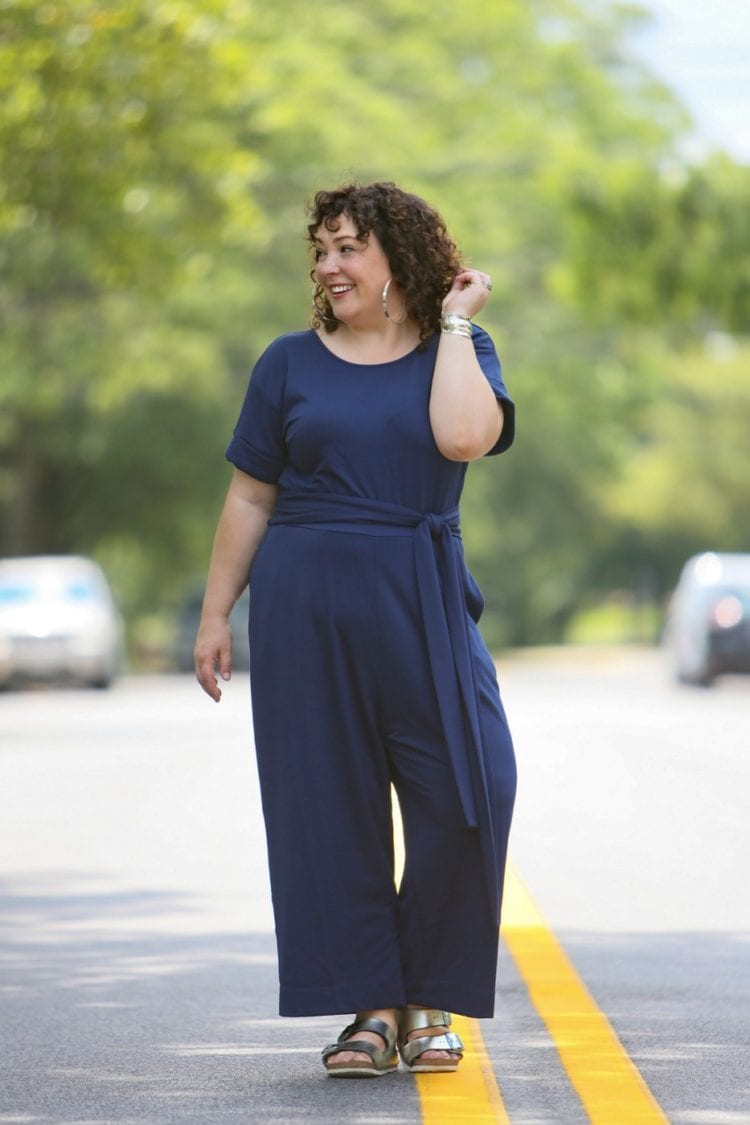 Every time I scroll through social media it seems I see influencers wearing Ori, ads for Ori, women in Facebook groups discussing Ori. What is Ori? It's a line of plus-size soft, comfy, and versatile wardrobe essentials. Each piece is thoughtfully designed and made in small batches and some are made in Los Angeles, where the company is located. With easy returns and exchanges, it's a pretty safe new-to-you brand to try out even without being able to shop in person. Available in sizes 12/14 to 30/32 and some styles available in 10/12, Ori is a nice addition to the plus-size retail landscape.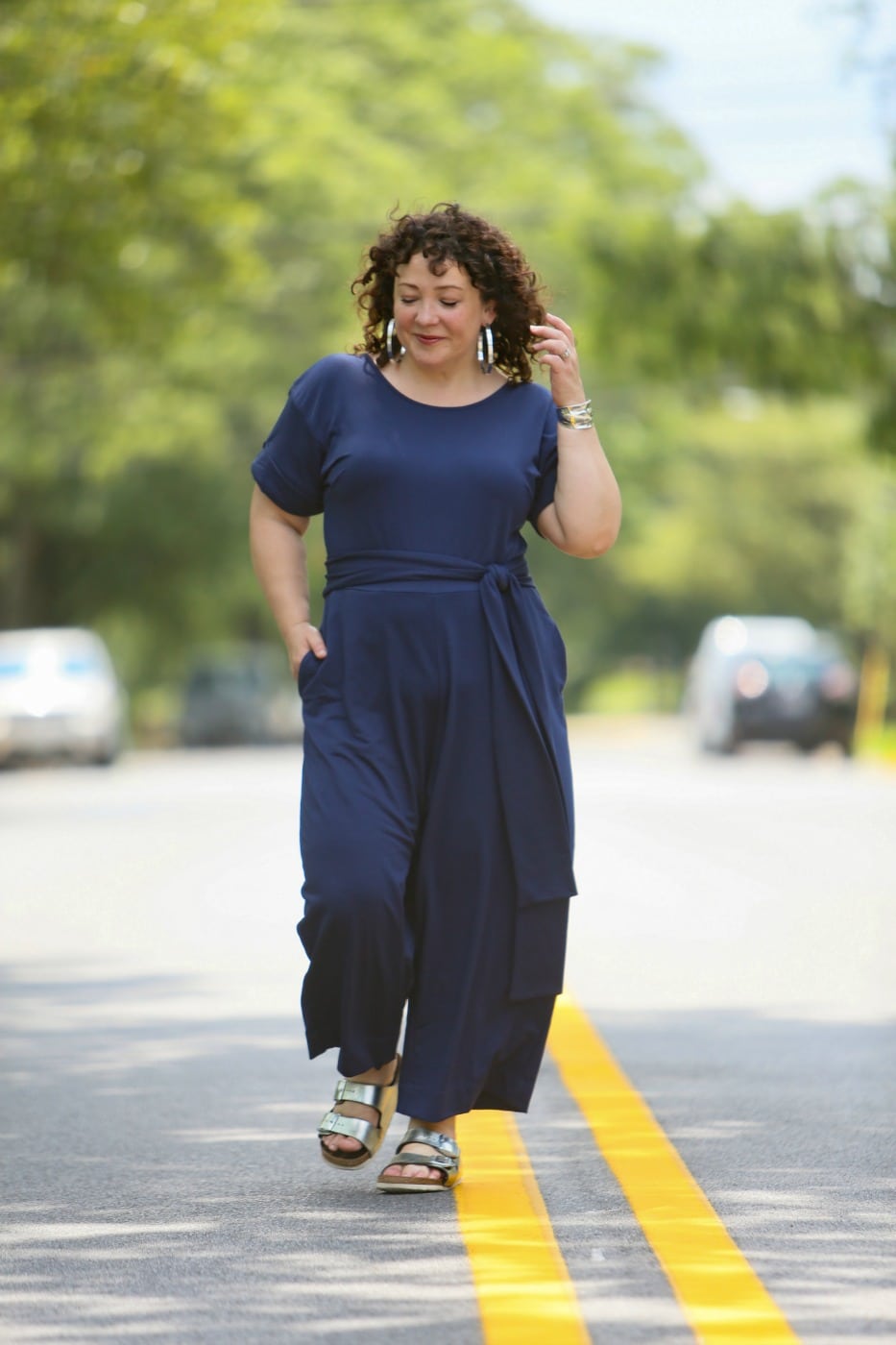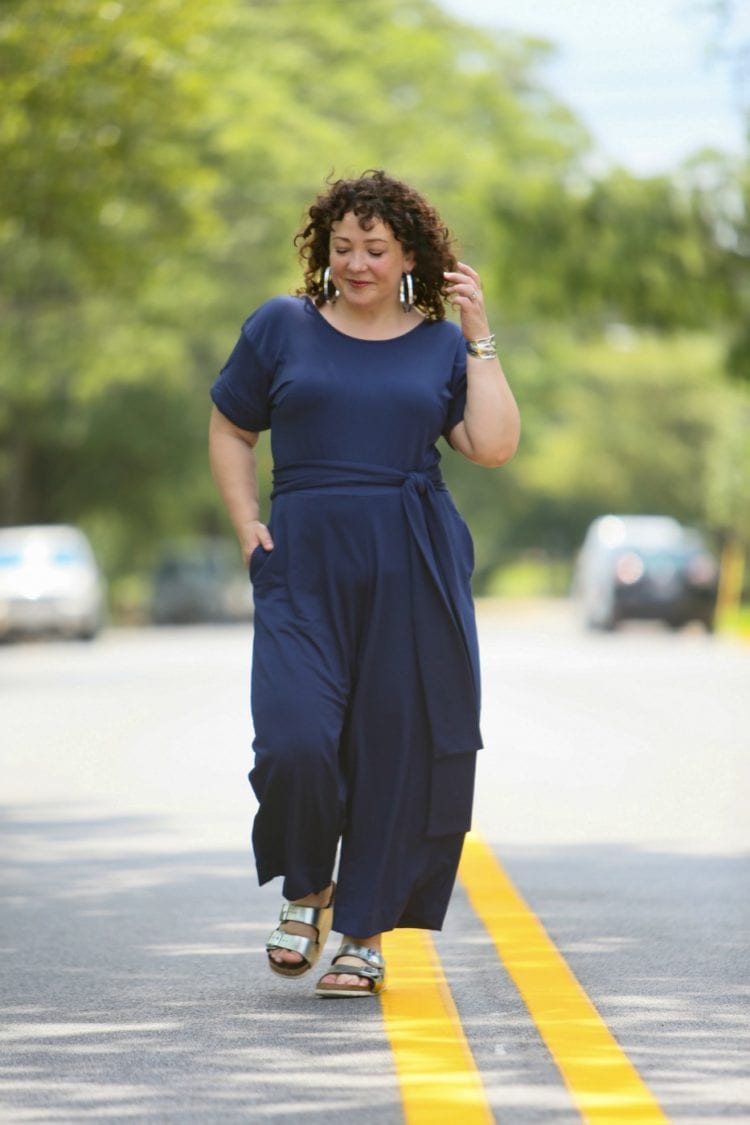 Full disclosure, I am friendly with one of the people behind the brand Ori. I connected with her when she worked for a different brand I featured on Wardrobe Oxygen and I've followed her on social and we've kept in touch as she changed companies. Two weeks ago after seeing the line over and over and over on social and seeing the brand was carrying some pieces in 10/12, I went to their website and made a purchase of the Ori French Terry Jumpsuit. What's funny is Ori must have had their ears burning because once I completed the purchase I opened up my email and had a message from the brand offering to gift me a free piece from their line. I am glad I paid for the jumpsuit with my own money so I could be as brutally honest as possible with my review of the Ori French Terry Jumpsuit. At the time of writing this, Ori does NOT have an affiliate program; I am not compensated in any way by the brand for this review. I recommend reading this to understand how blogs and influencers make money.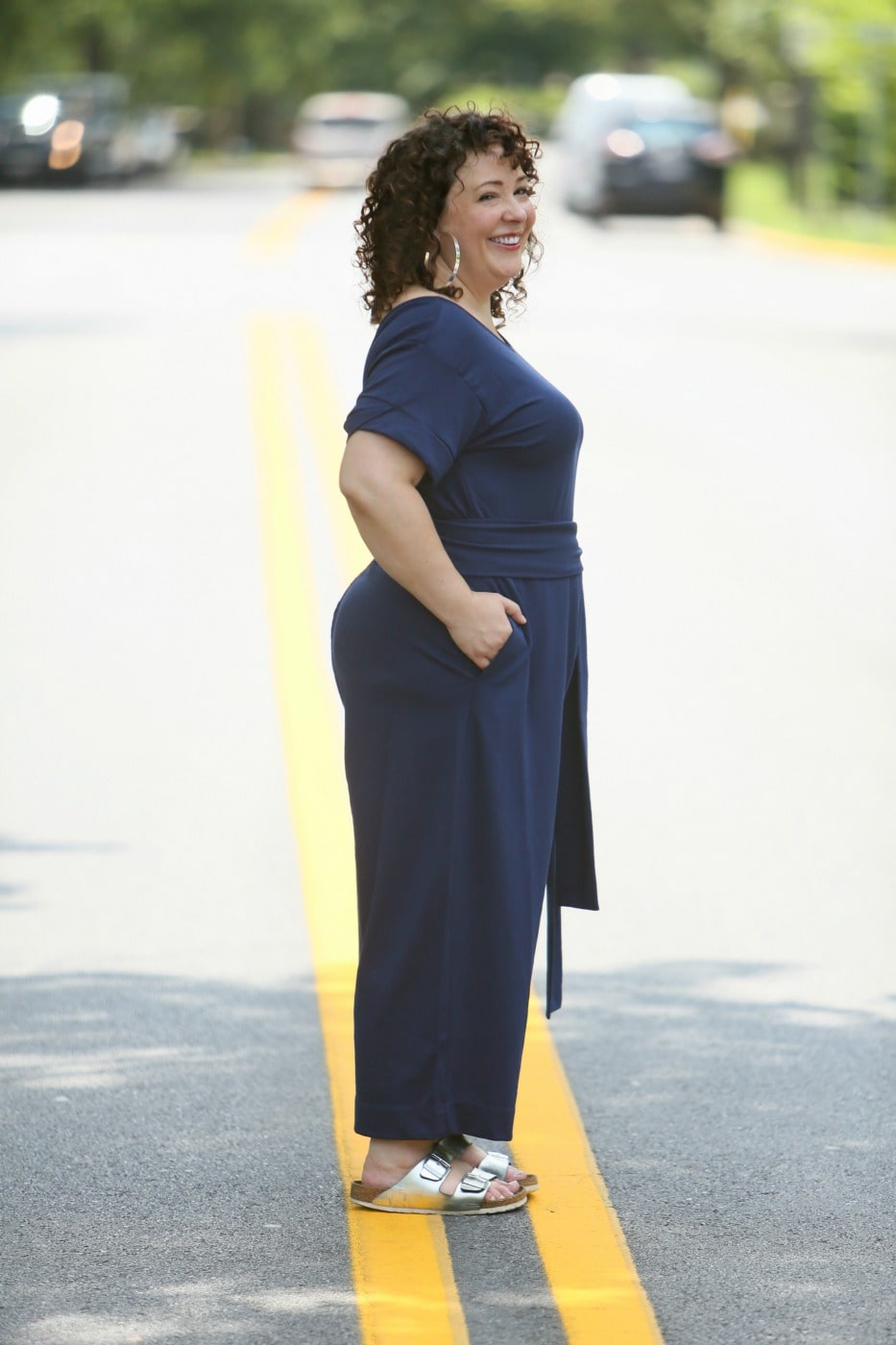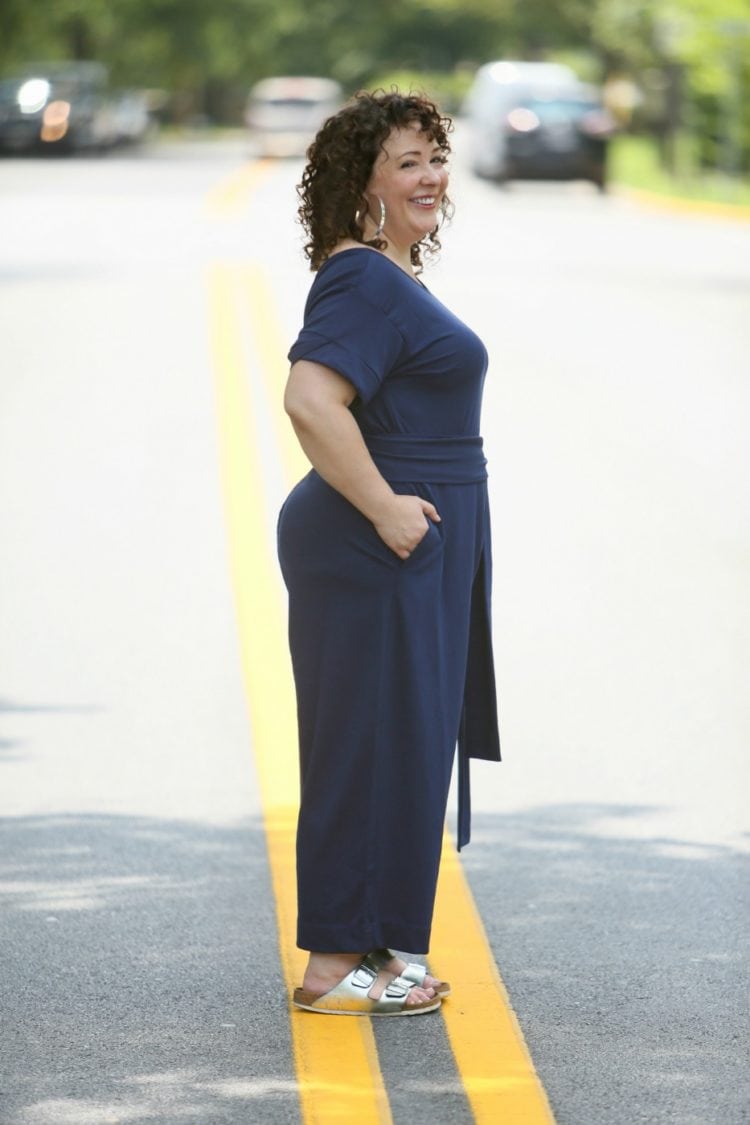 Ori Everyday French Terry Jumpsuit Review
The French Terry Jumpsuit is one of the pieces that Ori carries in 10/12, and that is the size I ordered. Available in black and Midnight Blue, I went with the blue knowing I own a heck of a lot of black and wanted to switch it up. The jumpsuit cost $86 and shipping was free. I received it in less than a week, carefully packaged. The jumpsuit is made of French Terry which is heavier than jersey but not as heavy or stiff as ponte. It has a tight weave that looks luxe enough to wear to the office or even glam up for some social events, but is truly comfy like wearing summer-weight sweats. Ori states this jumpsuit, which is 65% Poly, 30% Rayon, and 5% Spandex can be machine washed cold or warm and tumble dried low. The jumpsuit comes with a long self-belt and no loops on the jumpsuit so you can choose where to have the belt lie or wear it without the belt. The jumpsuit is designed to be able to zip up and down without being a contortionist; on the Midnight Blue jumpsuit the heavyweight zipper is a shiny rose gold.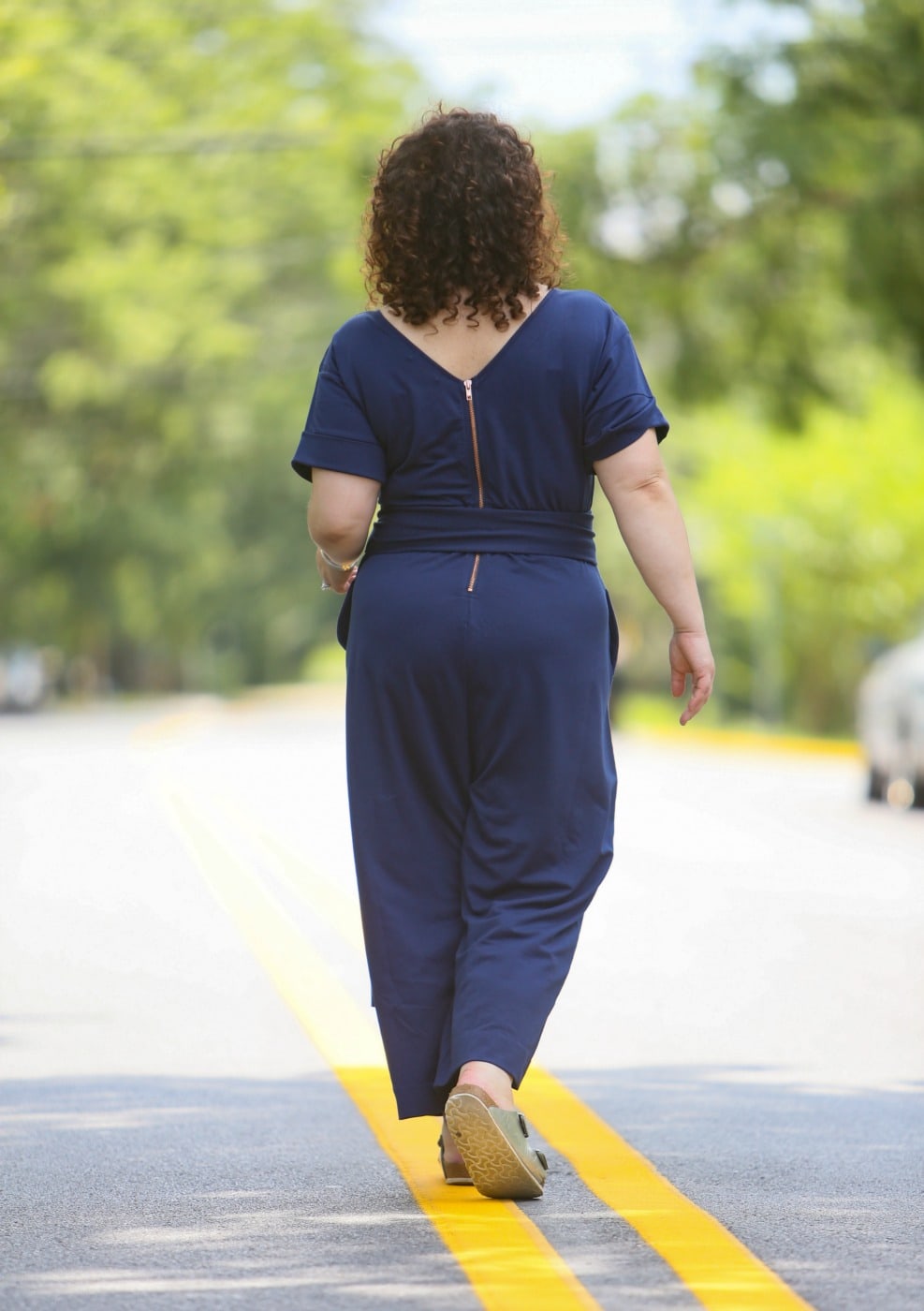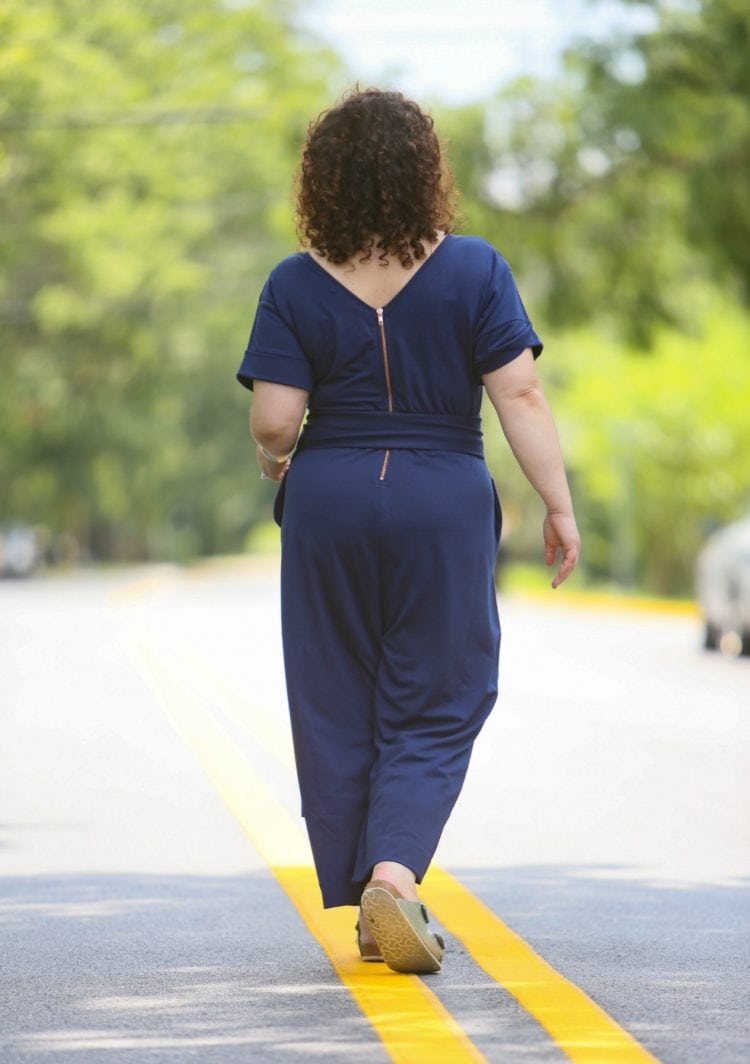 This jumpsuit is hella comfy. Like it's the kind of piece I could easily wear every day. I love that without the tie it's more relaxed but not schlubby looking thanks to the waist seaming and shape. The sleeves have a cuff sewn in place which makes it look more refined while also giving a bit of weight to have the sleeve hang nicely. I am 5'3″ and this hits at a cute ankle length for flats or heels (I tried it glammed up with my Margaux Uptown Sandals and some gold hoops) but it's the kind of cut that if you are a few inches taller it will hit in a stylish cropped length.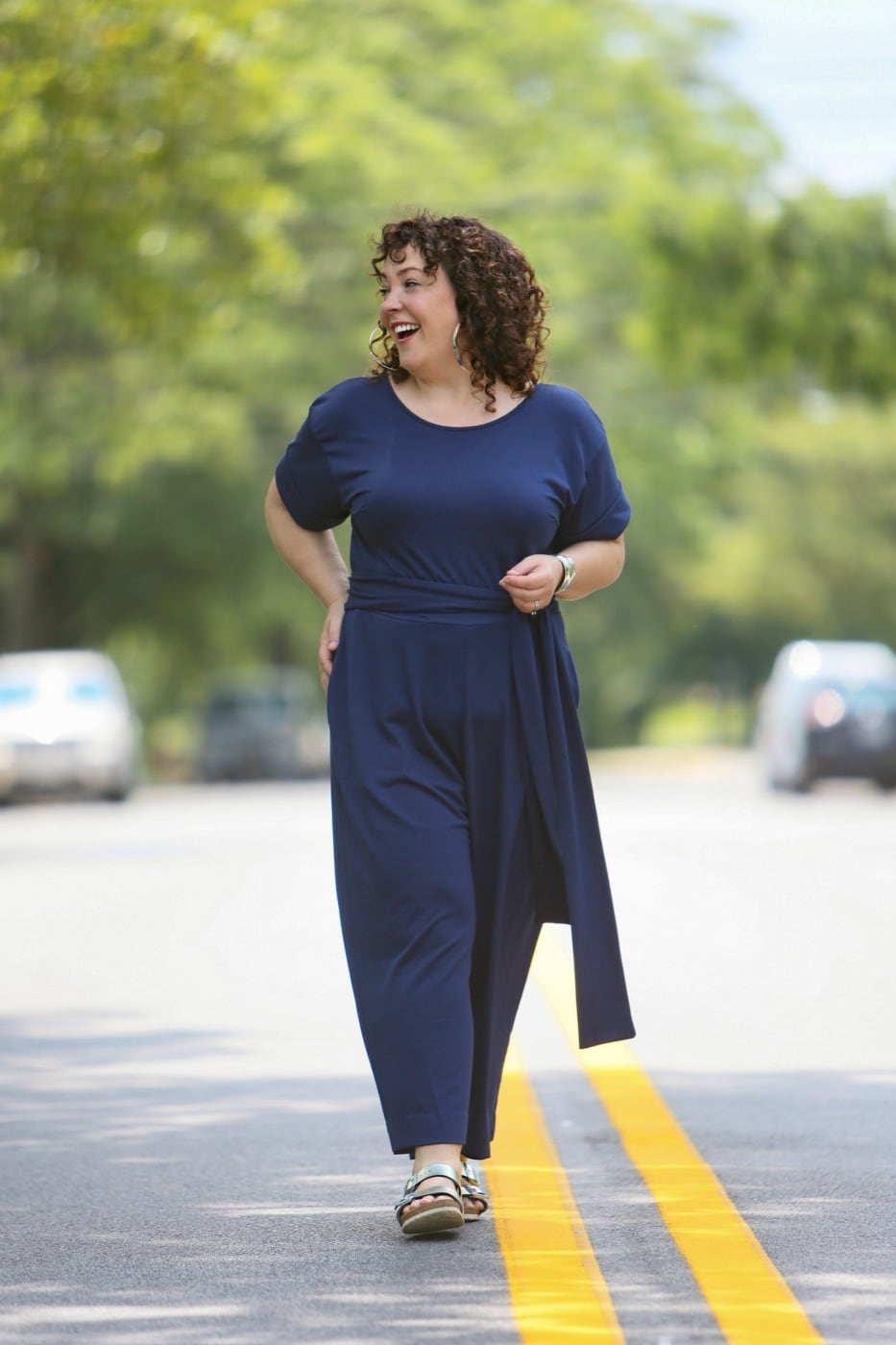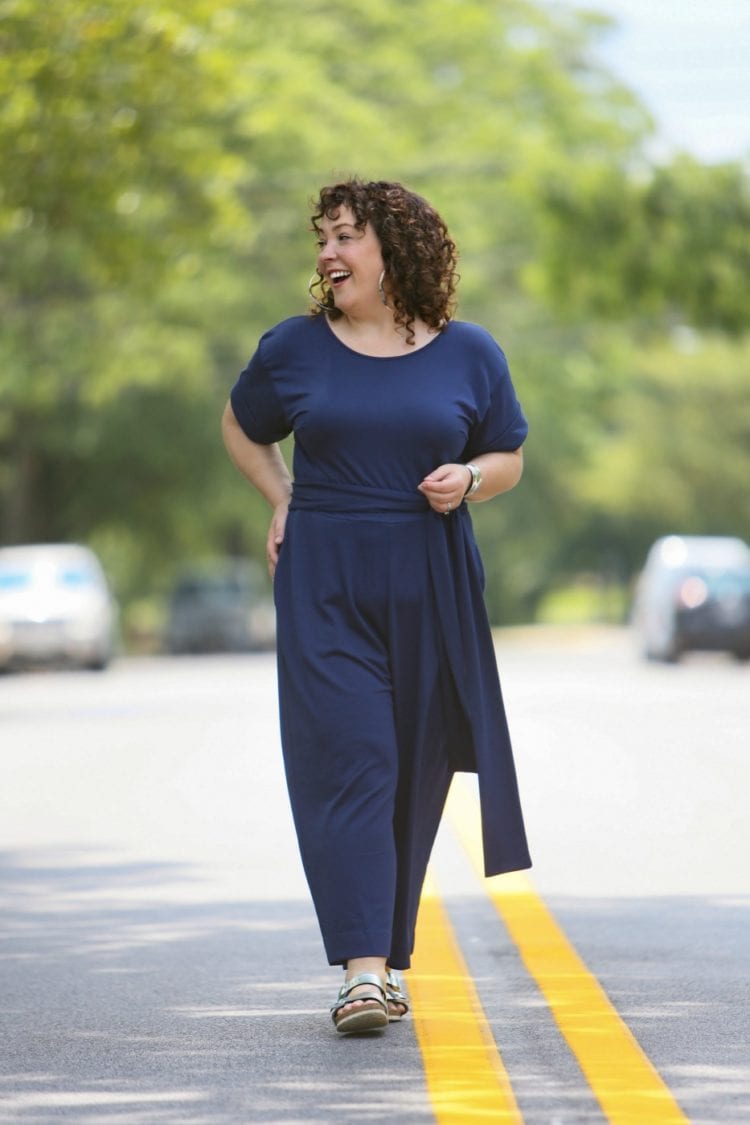 The Ori site says this runs roomy and if in doubt size down. I would agree with that assessment. I like the relaxed fit, but as a 5'3″ woman who usually wears a 12/14 in mall brands, I find the crotch to be a bit low and everything a bit roomy. Not a dealbreaker for me, but those shorter than I may find the crotch too low and possibly the neckline too wide.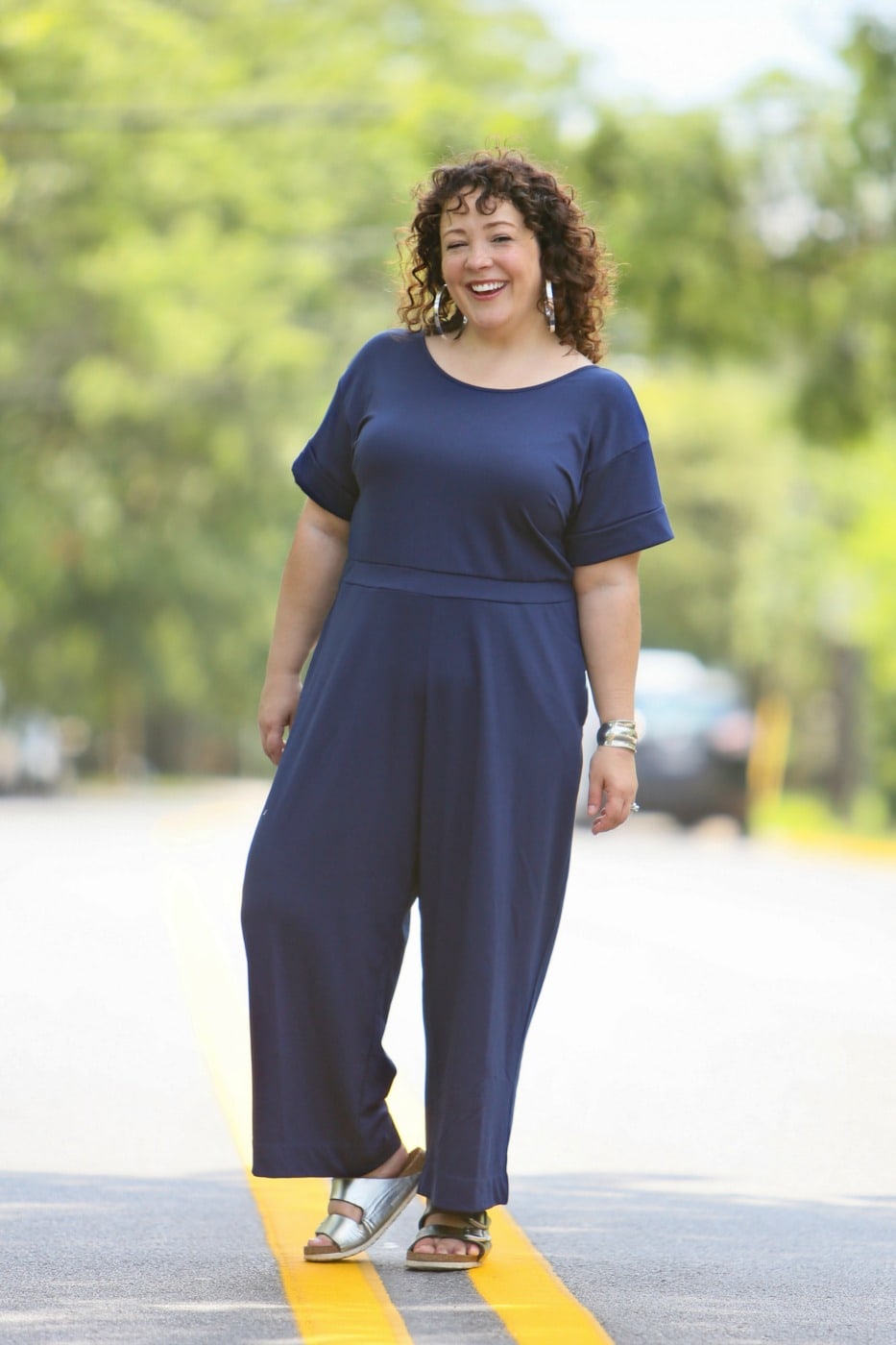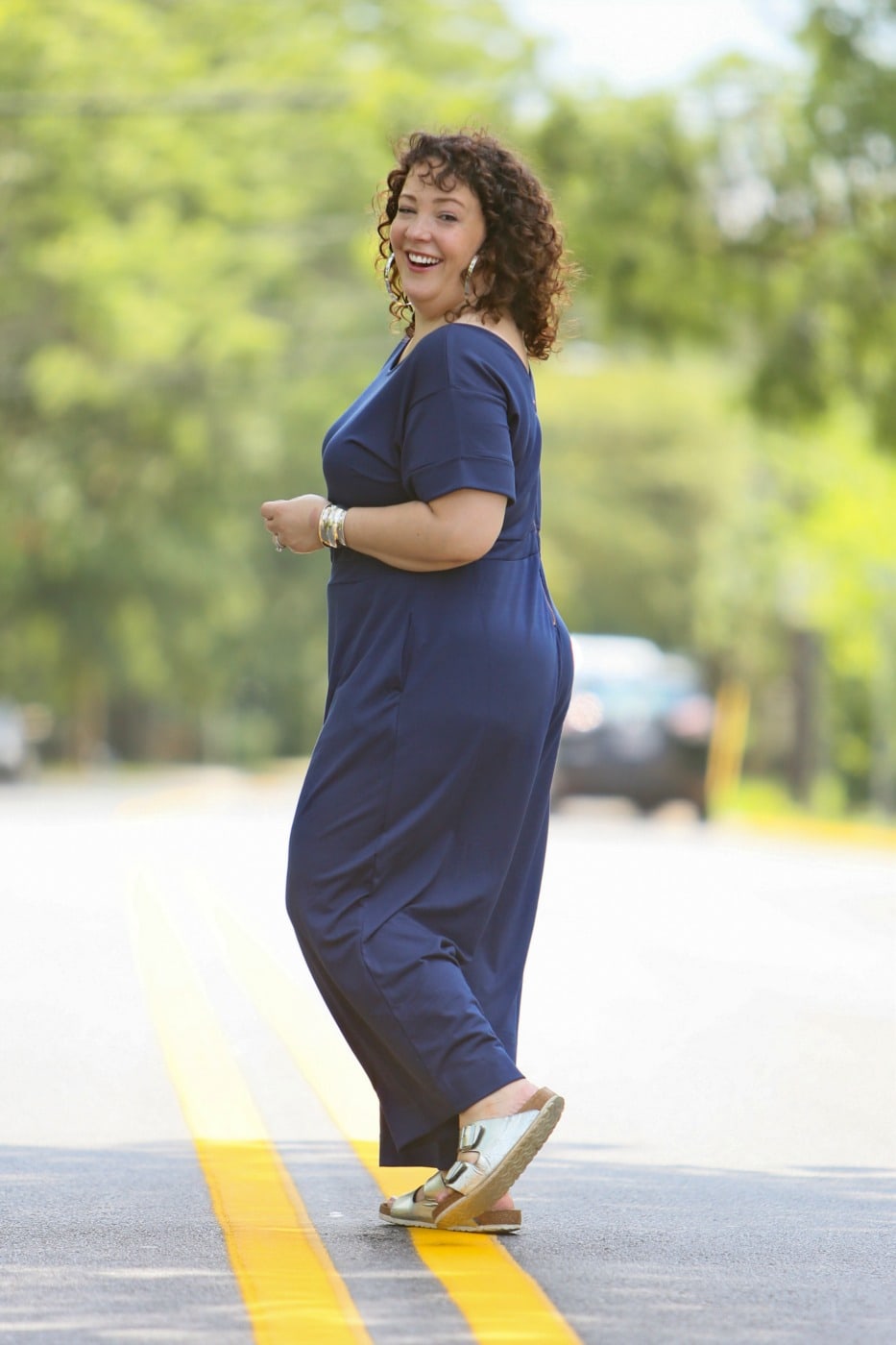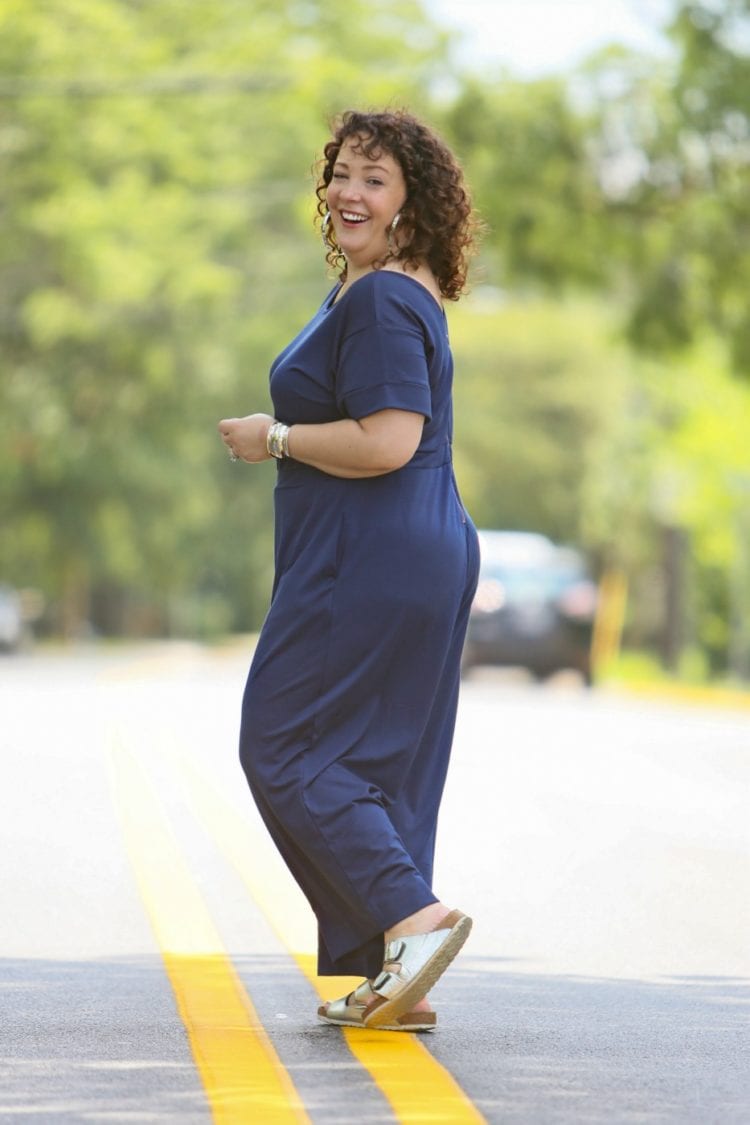 The zipper is truly well-placed. I do have to pull the fabric up a bit to get it, but the fabric is so stretchy it doesn't stretch out or hurt the garment. The zipper moves easily too, so you shouldn't have any trouble and it unzips enough to make it easy to step in and out of it. The jumpsuit has deep pockets that can hold a large smartphone. The self belt is so long you can be creative with it. While I knotted it to the side, it could be tied in a bow in the front or back, wrapped twice and held with a brooch, or even replaced with an obi belt or some other type of scarf or belt for an accent. The two photos above show how the jumpsuit looks without the belt.
Having this jumpsuit for only a week, I have already worn it three times. I have yet to launder it, but once I do I will come back and update this review with how it fared in the washer and the dryer.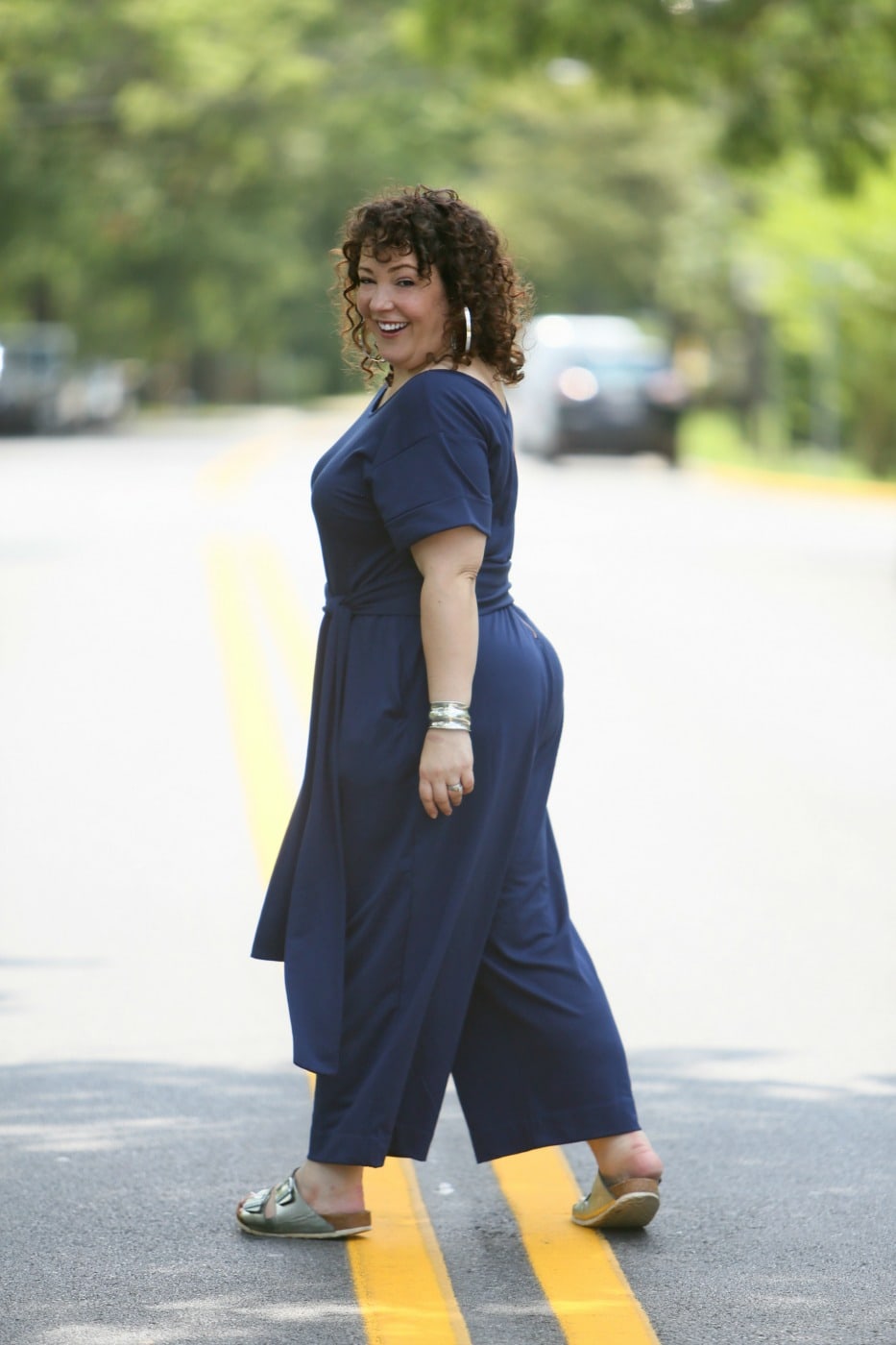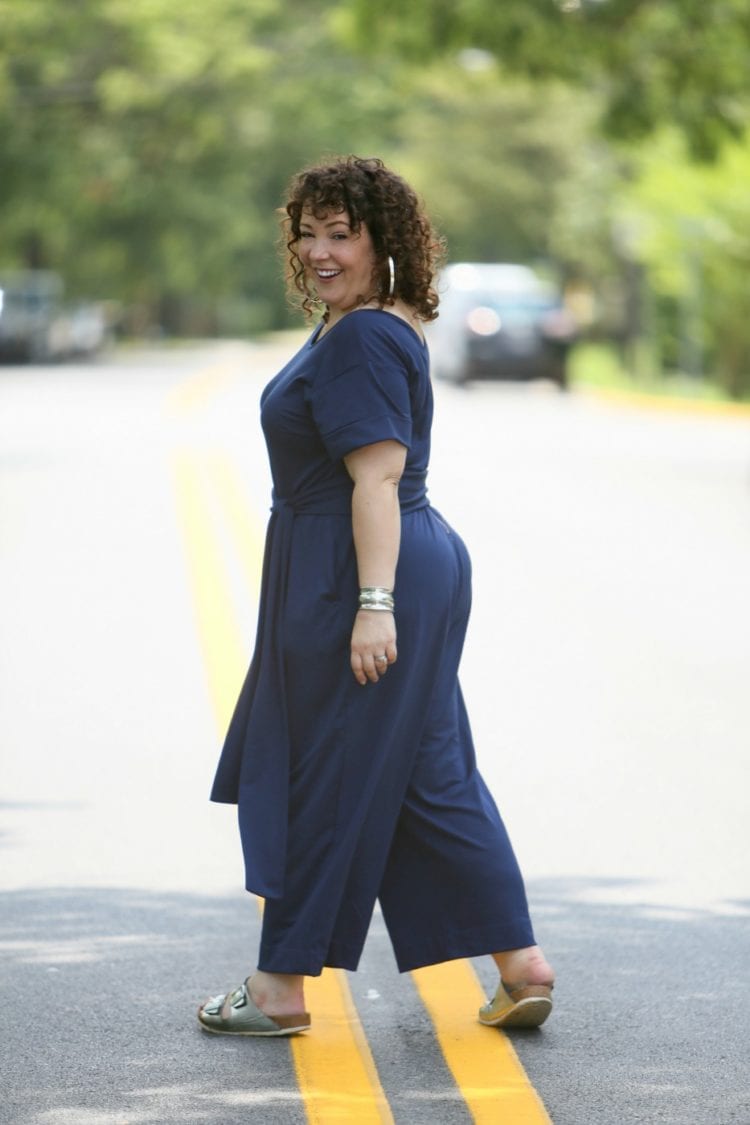 Not only does Ori make clothes, but they also have a really wonderful inclusive community. Their blog is a treasure trove of body positive and fashion information, and I adore their Facebook group. Have you tried Ori? I'd love you to share your thoughts on this brand in the comments!