February 11, 2014
Review and Giveaway: Suave Professionals® Moroccan Infusion Body Care
giveaway
I was slow to the argan oil craze, but looking back I wonder why I waited so long. Known to be rich in nutrients and antioxidants, Moroccan argan oil is great for the body from head to toe. I know own many beauty products that include Moroccan argan oil and love how it penetrates deep, hydrates, and protects. When BlogHer and Suave asked me to review the new Suave Professionals® Moroccan Infusion Body Care line I was excited!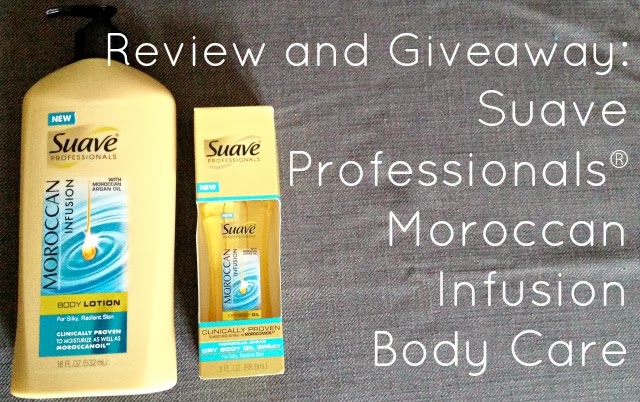 For the first time, Suave® Body Care is launching products in the Suave Professionals® line, offering women everywhere access to premium quality products with the finest skincare ingredients. Suave Professionals® Moroccan Infusion features authentic argan oil from Morocco and this new premium range claims to leave skin looking and feeling beautifully silky and and leaves skin radiant. The Suave Professionals® Moroccan Infusion Body Care line includes Body Lotion, a daily moisturizer that absorbs quickly for up to 24 hours of non-greasy hydration, and Dry Body Oil Spray, a non-greasy formula that absorbs instantly, locking in long-lasting moisture. I received one of each for this review.
I'm not usually a fan of dry oil, I worked for a beauty company many years ago that carried it and while it felt dry going on, it always left some weird oily residue on my clothes. I have to say Suave Professionals® Moroccan Infusion Dry Body Oil Spray truly is a dry oil spray. I can spray it on my arms and legs, rub it in, put on clothes and not be a smeary mess. If you want gleaming shoulders and knees, this is the product for you. It made my skin look so soft and supple, a perfect product for a winter getaway to a tropical locale where you can don sundresses and want radiant skin.
The Suave Professionals® Moroccan Infusion Body Lotion has a lightweight silky formula that really does absorb quickly. No need to apply to warm skin right out of the shower, I found this lotion could even be applied to dry winter skin and not just see results but have it absorb enough to put clothes on right away. While I did feel the lasting effects of the lotion and do believe it provides 24 hours of non-greasy hydration, this lotion didn't offer enough hydration for the cold winter days we're experiencing. I found it worked best as a layer over a heavier cream, or as a touch-up of moisture later in the day. I do feel it makes the skin look silkier and more supple than a traditional lotion, and it has the classic Moroccan argan oil scent.
I must say Suave® has yet again figured out how to provide quality at a nice price. If you are a fan of Moroccan argan oil, I suggest you try out the Suave Professionals® Moroccan Infusion collection. Find more information about the Suave Professionals® Moroccan Infusion Body Care products at Facebook.com/SuaveBeauty. When you visit the Suave Beauty Facebook page, check out the tips for radiant skin as well as style advice from celebrity stylist Brad Goreski. Also be sure to enter the "Radiant Wishes" sweepstakes for a chance to win Suave Professionals® Moroccan Infusion products, a spa day or a trip to Los Angeles.
Giveaway
This giveaway is now closed and the winner notified. Thank you for entering!
Follow Me | Twitter | Facebook | Instagram